Golden Press Studio has raised the bar for print shops on social media.
Their attractive, simple, and truly professional photographs and videos set them apart. They're not just another print shop: they're a full-service branding agency.
"We are a branding company that is so good, the branding markets the business," owner Jonathon Overmeyer.
From how to get started in video to why Golden Press refuses to send a price sheet, this interview is an honest look at a brand that's making big inroads – even if they're still small.
"This is what we want to do: print shirts, do cool designs, take cool photos and videos, and create content for the screen printing community to help people," Jonathon explained.
Does it get any better?
Check out Golden Press on Instagram and on YouTube!
---
This transcript has been edited for length and clarity.
Bruce and Steven: You guys have been cranking out videos!
Jonathon: It seems like that's all we do! I don't know if we even print shirts anymore! That's how much video stuff we've been doing.
I've just checked out your YouTube channel and…do you have a whole production team? How do you do it?
We have two guys who are just extremely talented individuals. Everything you see on YouTube or social media is those guys. I print and run the business and try to look pretty for the camera. All the fanciness – that's them.
Give us a little background.
In December it will be 5 years in business! We started in our two-car garage a few blocks away the current studio. I had been part of the t-shirt game – the typical story, a national touring band and dealt with the merchandise. I knew the language that screen printers spoke, screen fees and everything!
So about 5 years ago I was working a full-time job as a window cleaner. My boss was kind of like: look, you can't clean windows forever. You're too talented. What do you want to do?
That's how it all started. Just a question. I mentioned that I had been looking into screen printing, that I loved creating things, that I loved working with bands. I told him I actually thought I could do it better. I wanted to provide a good quality shirt and better service and a different way of doing this.
I started as a side hustle. That became a full-time hustle. I don't know why we call it a side-hustle…it's absolute mayhem. You have to learn how to screen print and get going. I started it after my full-time job and having a brand new baby. I don't suggest that to anybody. We grew the client base for a year, and then my boss at my window cleaning company asked me if I wanted to buy the window cleaning company off of him.
It was a good opportunity, so I was like: I should run two businesses! One isn't enough. So I took that one and the first year I was running two businesses.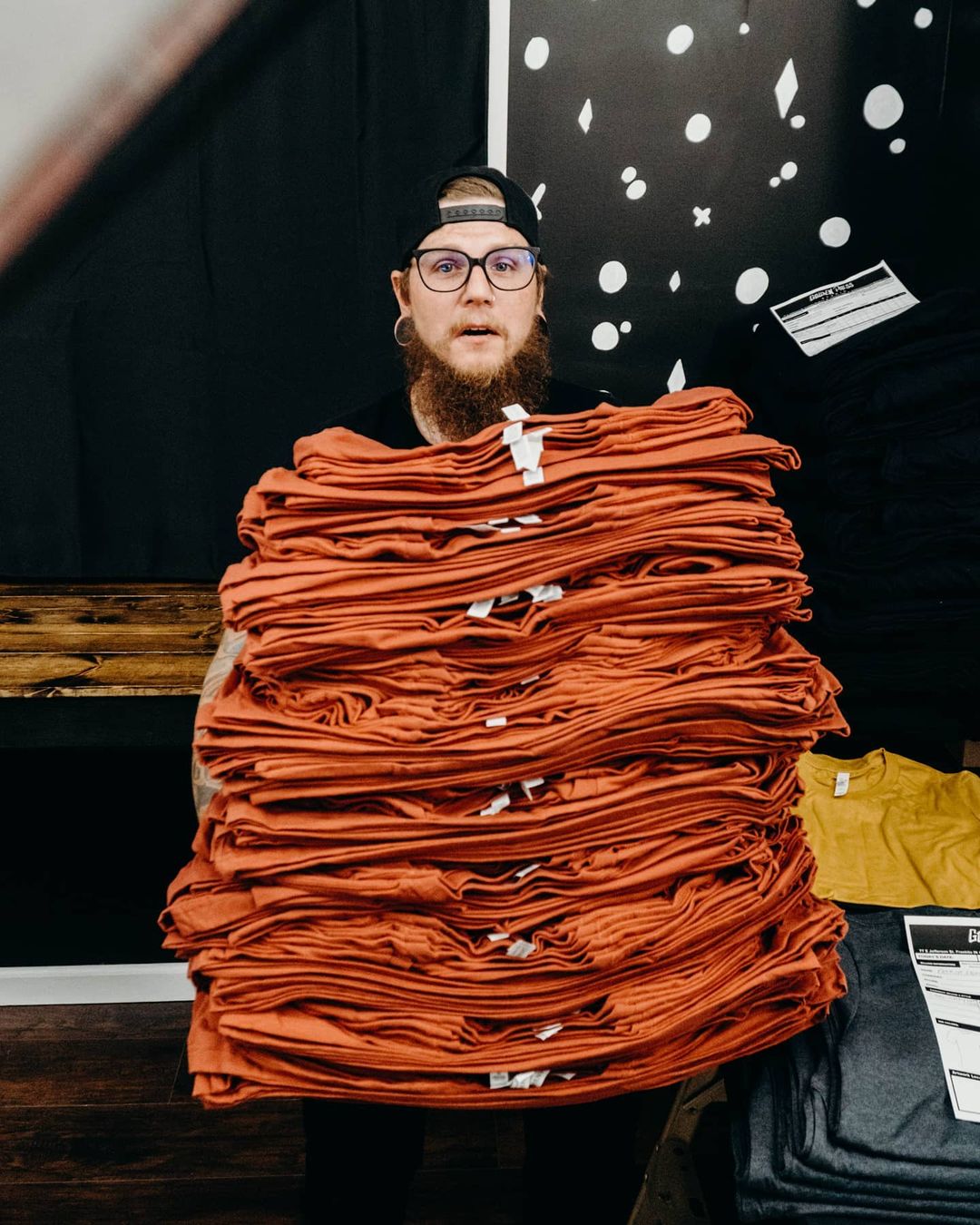 Are you still doing the window cleaning?
That's such a sensitive question!
No, I'm kidding. COVID destroyed that business. But it was a really cool blessing in disguise. All of my attention went toward Golden Press while I had a few window cleaners out doing work. I handled the business side of things. But my focus and energy was toward Golden Press. Every day it was a battle: what if I just didn't have this window company on my plate?
Steven: Bruce, what was it like when you had a job and ran Printavo at the same time?
Bruce: I did a lot of UI design and software development full time. I took calls after hours…it was tough. Things got intertwined at some point. I would get a call during the day and have to choose whether I answer it, or even accidentally answer a customer's call while I was at work.
It was not a great situation to be in. The balance is hard. You eventually shift from one to the other. Every time I thought about something else, it was hard to dedicate full attention to the other. Maybe you set one as a hobby, or have a great manager running one – but it's tough.
So tell us about Golden Press. You don't have a big setup. Tell us about it.
The studio is very deceiving to a lot of people. They think it's some big industrial space in a warehouse. But it's literally a 1,200 square foot rectangular storefront in downtown Franklin, Indiana. Where we do photos and printing is just about 600 square feet with a small added loft for computers and a couch. So we just work out of 600 square feet and people are blown away by it. It's really small!
I had a space in the front for retail – we're getting there. Things are shifting into us expanding printing. That's what is happening now!
I was blown away by how much you focus on branding, the appearance, the videos. It's insane! Shops will drool over the quality. Was this a conscious decision? How did this happen?
So what happened – Cory, my designer/photographer, the guy that does a lot of things – he was with me when it all started. He came out to the garage and helped with designs. We just made this effort: when we came into the space, we spent a lot of time remodeling the place from top to bottom. As we transitioned from garage to studio, Cory mentioned that he wanted to take really good quality photos of me printing and the merchandise.
I didn't realize he was a real photographer. He just went for it. "You take photos?!" He showed me what he was doing and I knew we needed it to beat the normal. It's more than an iPhone picture of a shirt on a platen on Instagram. It's not too fun to look at that after a while! So Cory was just like, I'm going to build this theme in our feed. Attractive photos to engage people, get them talking, make them excited because it looks so good.
We took photos for a year Monday through Friday, super consistent, posting every single day. We were very strict and particular about it. That was about creating the rhythm for every day – post a photo, create engagement, and help the screen printing community.
About a year into it, I asked Cory to do a video of the space because I liked how it looked. Cory had never done video and was worried it was a whole new world. He did some shots and hit up our videographer now. He asked for pointers and Jared, the videographer, said it was about 25% done.
I thought it looked good! Let's post it! But Cory told me to have a sit-down conversation with Jared. So I paid him to come out and do a legitimate video of the studio. I remember the day: Labor Day 2019. Met with Jared at Starbucks, had a conversation about doing videos, and he told me that he could charge a lot of money to do a good looking video that people will forget about in a month – or you can hire me and we can produce high-quality video consistently to engage with your following.
I was sold right then and there. I hired him that day. He quit his other job. That's how we get this beautiful video!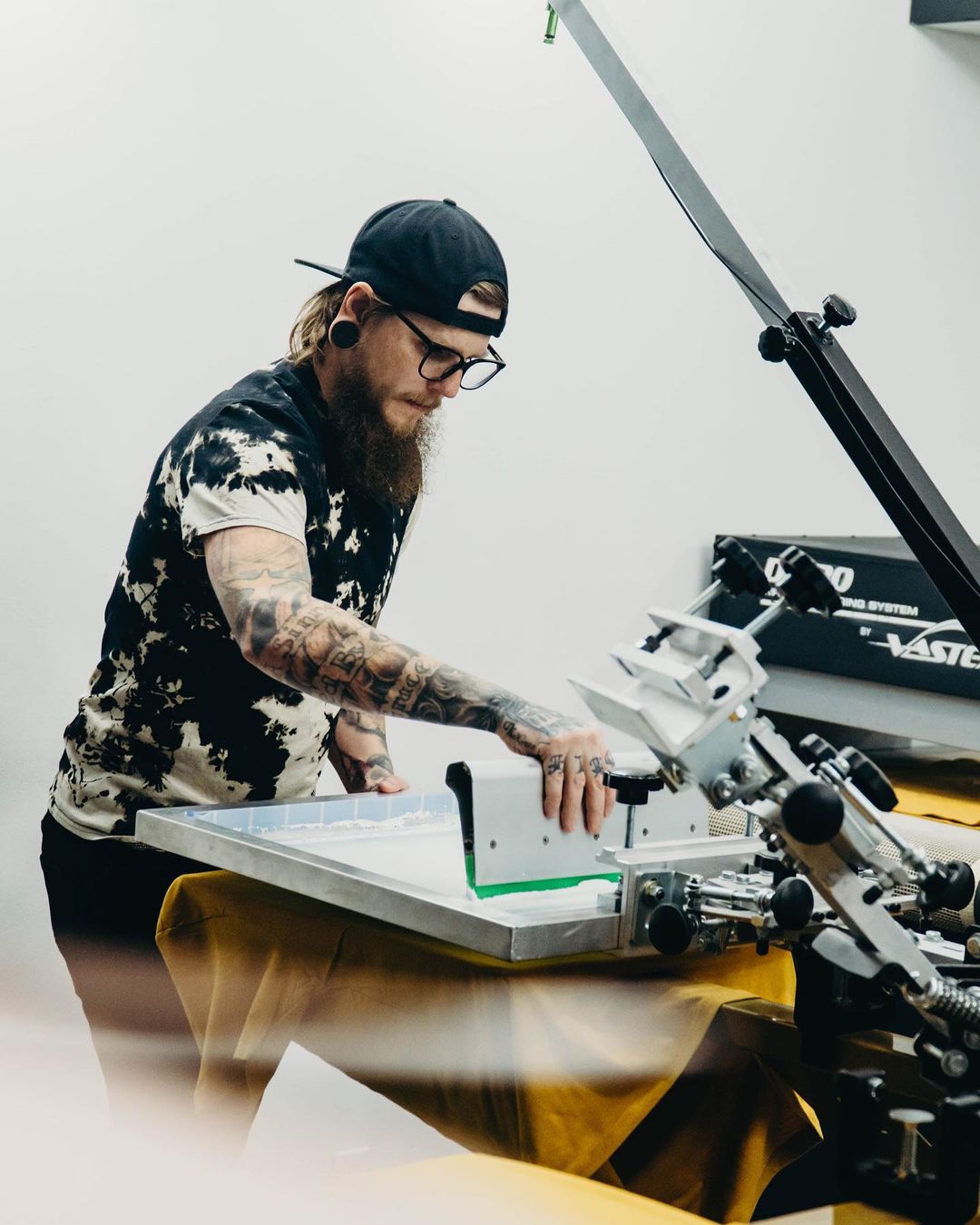 What is the focus for your videos? Does it drive sales, or is some part of a longer-term goal to have a YouTube channel?
It's several different points. When we had this initial meeting, we created a gameplan for making video for the studio. But look, I love the video. It's so much fun and so rewarding to show what we do. If I didn't make any money off Jared, I'd be happy.
We created a gameplan so we can offer this video content to our customers. So we're a complete branding company. We can design your logo, screen print shirts, take photos of whatever you need, and even do video and content creation. So we still have the piece of paper in the studio with this business plan.
Within 5 months we started landing clients in the mold of that business plan.
So were they current customers, or new ones?
We used the network I have – churches, clothing brands, coffee shops. We just pitch the entire package to them now. So many of them were like – yeah, of course. Let's do it.
It slowly sprinkled in but about halfway through this year we landed monthly clients that have us on retainer. We do a shoot day, we create content from that. So we have about 6 clients that have us on a monthly retainer now.
So one thing COVID has taught us is to care less about the t-shirt. You all see the t-shirts as a by-product of what you do.
That's so true.
So we had a videographer student join us [at Campus Ink]. He really brought a lot of energy and momentum to the team.
I'll be super transparent with you guys. I love the look and the way our videos come out. But it takes a lot for that to happen.
I've experienced a bottleneck in the business now. Our biggest thing is to give back to the screen printing community. How else do you learn? You go on YouTube and literally watch as many videos as you can. Now we are in a position to create and share that content for the community.
We want it to look better, to flow, to be captivating. But people don't realize that for us to do a video, we have to set aside all the bigger orders. We have to pick a 25 shirt order, and I may print 5 of those shirts while we make the video. So I had to take up my entire day, not print shirts, but it's to give back to the community.
Obviously you have high-quality video. But how could a shop get started in video?
It all started with burning screens, printing the art, printing shirts.
Now it's like: you have to finish this outline tonight! It feels like school. We make the outline to know what shots we need, how it all lines up – and really, there's a lot of backend stuff we do to plan for these videos. That's what makes them look good.
You often can't get everything done in one day. If we're talking about some kind of screen printing process, we have to wait for an order to come in that's right for it. Or we have to make some custom art and do it that way. There are just so many steps to make one video happen.
If anyone isn't doing video now, video is scary. There's so many questions. What should shops try to do?
Are you willing to spend money on a camera?
Are you willing to spend the time to learn about the camera? It's not simple – you don't just hit record.
And then, are you serious enough to spend the time and money to learn the software to edit the footage?
If you're willing to do those things, jump on it. Crank that out. But if that is too much to ask, hire someone.
People don't know our videographer has 15 years of experience! That's what you're seeing. You're not just seeing a fancy camera and software. You're seeing the story we're trying to tell in each video. That comes from Jared's brain!
Consistent content is really hard. The thing I think customers don't want to see is people talking to their selfie cam every day.
I'm with you. Look, I'm totally a Gary Vee guy.
This is my advice. The quality, at the end, doesn't matter. The quality of the content is what matters. If you pull out your iPhone and set it up on a tripod and talk about the benefits of using a specific piece of equipment, and it brings value…that's enough. That will work. That's what will make that video be seen and shared.
You can have a great 4k video and if it's just fluff, it's not going to matter.
We're trying to give something extremely valuable and have it look absolutely amazing so they'll come back and look at the next one. That's our double-hit.
The most important thing is really consistency. We started our YouTube channel this year and we threw a video here and there, doing a shop vlog. Now we post a video on YouTube every Wednesday – with everything else we're doing, we've made time to film a video every week.
We edit Monday and Tuesday, then post on Wednesday for consistency purposes. Since we've done that, YouTube has grown a lot and engagement has really gone up.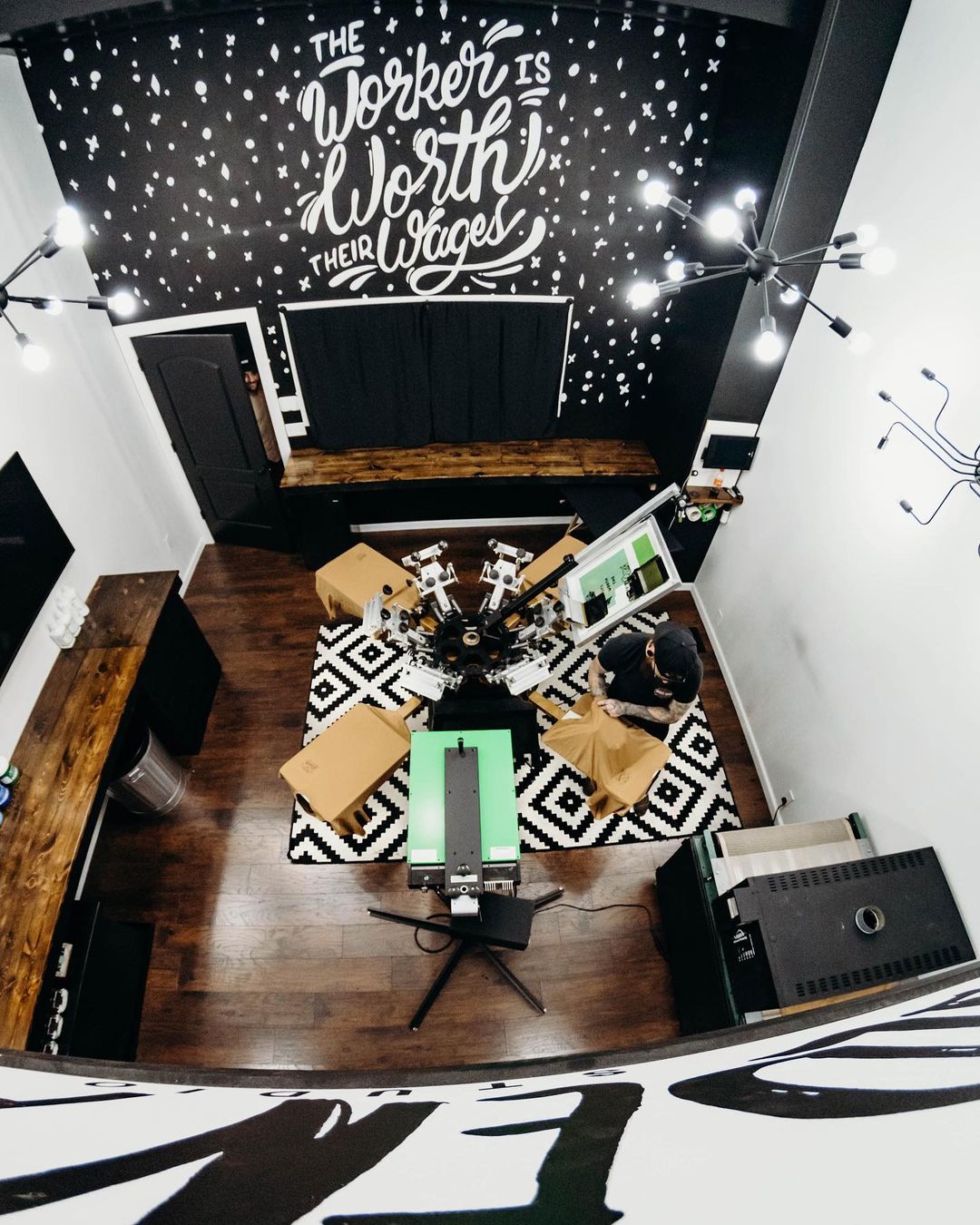 This is the interesting trade-off when you value the long-term. You may have to take a little hit now. For you, that's fewer shirts coming off the press. But it's important to go down the right path.
We made that sacrifice early on. We went from a garage to a commercial spot. We have overhead! That sucks!
But for me, that wasn't the problem. As soon as we got into the studio and took nice photos, our orders ramped up ridiculously. The hit was that when we hired our videographer, it was like we started 5 new businesses.
Photography, video, design, branding, screen printing…
Yeah, exactly. At this point, the overall quality and presentation gets people to immediately jump. When people see it, they want to hire us.
A cool example: Cory creates really nice photos for these company's Instagram feed. We meet with them and tell them we do video, shirts, all these things – and they just wanted photos for their Instagram!
For our last vlog on YouTube, we had Jared capture the behind-the-scenes of what Cory does when he takes photos. It was kind of a mutual benefit.
So we took b-roll of the coffee shop while we were there. I sent the video to the shop and they went, wait…maybe we do need video!
People are hiring us for screen printing, photography, design, and videography. These are simply tools to fix problems in businesses. So what's the problem? Getting customers in the door? For a coffee shop, how do they get people to consistently come in to buy pastries and coffee? Customers have to see it over and over in really good quality.
That coffee shop – we've seen a lot of testimonials from their customers that prove how our work improves their business. A nice photo of a pastry brings a customer in, for example. They'll say that when they're in the shop.
It's that simple engagement. Good quality photos and videos will bring people in and engage your customers.
I think that's what printers do with apparel anyway. We want it to look so good that their audience will rave about it. It's amazing how you've transitioned that to the other work – you've made it easy to say Yes.
How do the monthly packages work? We're trying to redo Printavo's pricing…(laughs)
So we have done the trial-and-error with these packages. We quickly learned that we're not a marketing company. We are a branding company that is so good that the branding markets the business.
So people were asking for help with SEO, Facebook ads, email…
Yeah! That's our problem! Customers would say: "We need to see your ROI!"
And we're like: no. That's not what we're here to do. We're here to make really good stuff. These things WILL work for your business because they worked for ours.
People would ask us to send over a price sheet, which really frustrates me. I've never sent one for screen printing. Every single screen printing order is 100% different, however you look at it. We didn't want to put into cookie-cutter boxes.
Instead of making tiers of service, we realized the goal is to get this business to make more money so that we get more business from them. We want their design, screen printing, everything!
So every month we have a strategy meeting with them and ask them their goal for the month. What do you want this content to do for you this month? Are you trying to hire people, maybe? Let's create a video that talks about the culture of your business. That's our job: make that video so good that you feel like you have to hit them up.
We pitch a price point to each client. We don't lock them into a product for a set price. That price we want them to pay can shift – say let's do more photos, and less video – and we try to just split it up and even it out across the board to fit the needs of our client that month.
Since we did that, it's been awesome. We take care of things in the meeting. They feel value and they see results.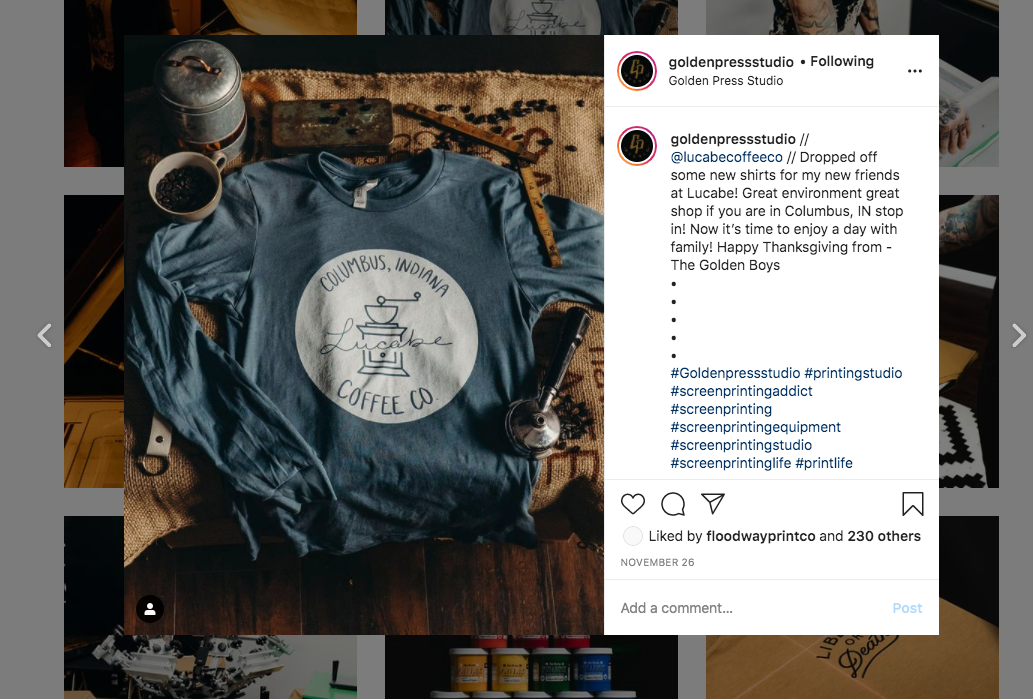 One cool thing that's happened is that so many of our customers are blown away when they see their shirt on our feed. They're blown away. "You took pictures of my shirts being made?" Clothing brands sell clothing by getting their products out in cool and creative ways. Customers take those photos of us making their merch and share them. We send them out…and those customers are ecstatic. They use it for their site, for Instagram, everything.
We get business just because we take that extra step.
For example: I found a clothing line on Instagram. I just followed them, liked some photos. I really liked their stuff.
A week later, they sent me an email and asked to talk.
A few emails in, they switched all of their screen printing to us. Because they could see their ideas be created by us. That was enough!
You're so right. It's amazing. It's like Yelp reviews for restaurants. You make such a fast judgment. But what's next for Golden Press Studio? When's the ROQ coming?
At this point, I come in to work and I'm like: what am I doing? So many things are changing! 2020 is a pivot year, but I feel like I'm pivoting every day.
We've had a lot of conversations where we are at our end game. All of our chips are on the table. This is what we want to do: print shirts, do cool designs, take cool photos and videos, and create content for the screen printing community to help people. End game is to bump up our space a little bit.
We're outgrowing 600 square feet…all of the little things you don't think about. Want to record a tutorial? My squeegee is making sounds in the background of the video. So I have to stop while they make a video. We care about that kind of detail. So we actually do need a new space where we can have different studios: photography, video, and printing. They all need different things.
That space is in the game plan. I signed a three-year lease for this place. We're probably going to buy a building if it pops up. I'm done renting. I want to buy a headquarters.
I didn't want to start a screen printing shop that has a huge warehouse and 5 ROQs going at the same time. That was never the idea. My new idea: we need a headquarters to film, do everything we do, and designate some areas for each activity so we're not interfering. Overall, it's still to create a 100 Golden Presses. I want 100 small shops. We're the umbrella, but if people are interested in screen printing then I want to give them an opportunity to create income.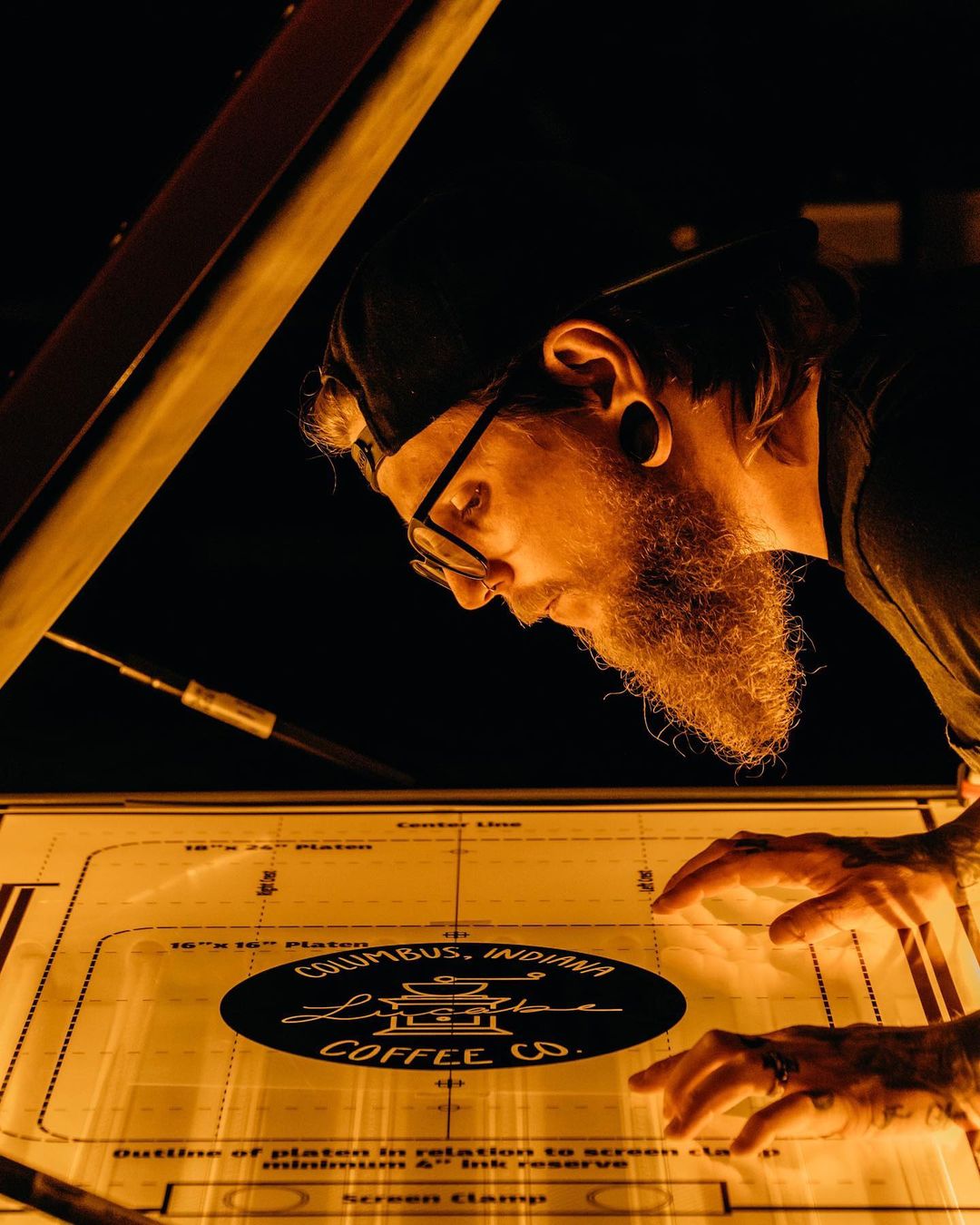 Franchise!
Yeah! The reason I started screen printing was to have more income coming in so I could start a family. I wanted to create a job so I could love what I do and provide for my family.
So I want that opportunity to give someone a jumpstart, and give them instruction and protection so they're not going in blind.
We'll have to follow up on the progress. Check out Golden Press on Instagram and on YouTube! They're so helpful.
Thanks so much for sharing where you're going. It's so cool to see shops use shirts as a bridge to the next step. The honesty is great – and the tips are wonderful. We'll have to visit you in Indiana soon!