Heat transfers are a profitable and simple way to print custom designs on t-shirts. But they're also practical for printing on everything from hats and hoodies to obscure items like shoes and umbrellas.
But how do you price your heat transfers? And who should you sell heat transfers to?
Supacolor's Mike Modgill and Rum Walia join the PrintHustlers Podcast to discuss pricing heat transfers – and much more.
Mike and Rum have joined us on the podcast before, but this time we dive into pricing and more details about how heat transfers can really work for your business.
Read on to learn more about pricing your heat transfers – and download an exclusive Heat Transfer Price Calculator!
---
The Basics of Pricing Heat Transfers
You can price heat transfers with a very simple formula. You simply add together:
Your desired margin
Your press charge
The price of the heat transfer.
You can also amortize additional business costs into your heat transfer prices.
For example, Supacolor has a flat-rate 2-day shipping charge of $15 for their heat transfers. You can add that as a setup fee for the entire order, or have heat transfers shipped in bulk and spread the fee across several orders.
Let's discuss what each element of the heat transfer price equation (Markup + Press Charge + Heat Transfer Price) really means.
Margin
This is simply the amount above the price of the heat transfer that you charge. 30% to 50% margins are an ideal target.
Supacolor recommends charging a different margin depending on your customer and the complexity of the job. A wholesale account may get a lower margin, while a retail customer would likely receive a higher margin.
Press Charge
This is a flat, per-piece charge that's applied to each piece. Consider this the "fee" for using your heat press for the product.
While SanMar suggests starting with a $1 press charge, Supacolor claims that $0.60 is a reasonable fee.
"Nobody can tell you that $0.60 is the press charge you should go with no matter what. You're going to have to make adjustments to these numbers. SanMar, for instance, recommends going up to $1." – Rum Walia of Supacolor
We show you how to more accurately calculate your press charge later in this article.
Heat Transfer Price
Supacolor has a 20 piece minimum order quantity and flat-rate, 2-day shipping.
This means, for all intents and purposes, calculating the actual price of the heat transfer is very easy. You can just add the shipping cost ($15) to each heat transfer.
Like a screen printing shop, Supacolor gives bulk discounts.
Their products are arranged by sizes. Heat transfers were traditionally sold in sheets, so there was incentive to purchase as many logos as possible for a given transfer. Supacolor's system doesn't require you to play that kind of game.
Download Supacolor's Heat Transfer Price Calculator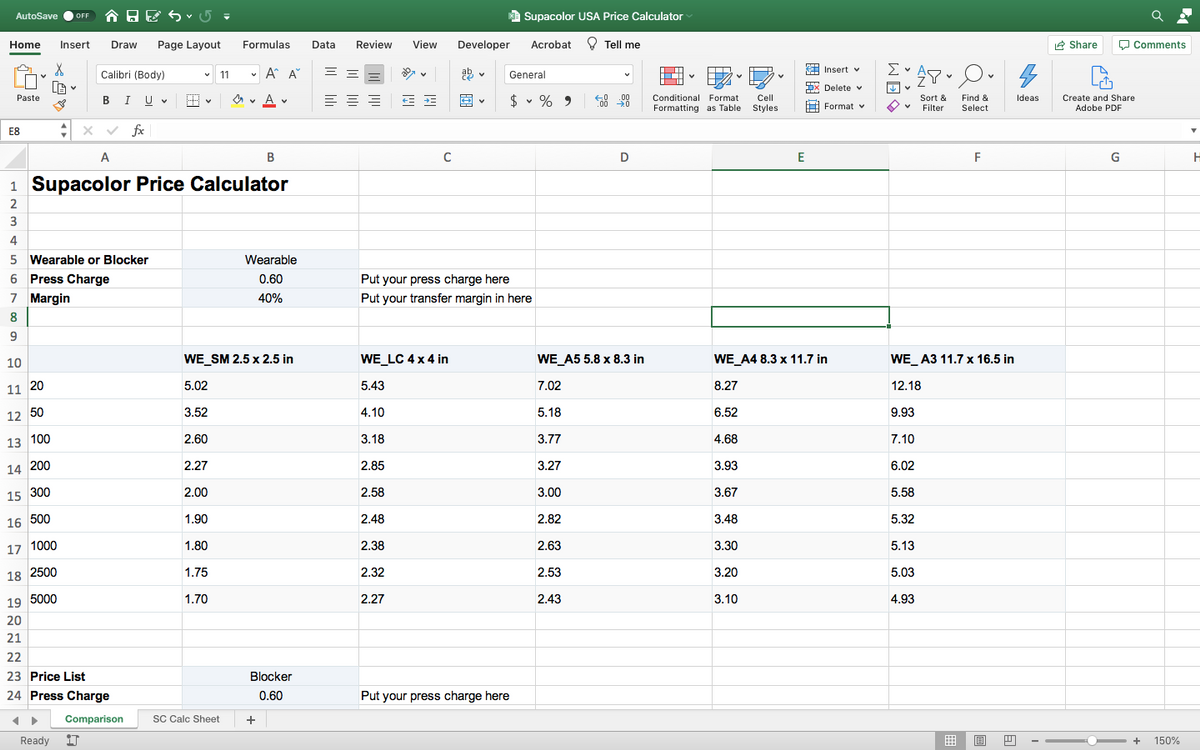 You can use Supacolor's Price Calculator (download below) to easily price heat transfers.
Note: Printavo's Price Matrix Uploader lets you upload CSV files easily.
Rum Walia from Supacolor uses a simple tiered approach to build his price matrices. He has a Retail pricing tier and a Wholesale pricing tier, each set with slightly different margins and press charges.
"It's about building the pricing by using the Supacolor price calculator, making sure that your margin and your press charge is suitable, and then copying all of this information into Printavo's price matrices." – Rum Walia
The price matrices are broken down into Transfer Size (across) and Quantity (down).
Supacolor's transfers come in 5 sizes, so Rum and his employees can quickly quote small or large prints with this setup.
Download Supacolor's Price Calculator below to try it for yourself!
How to Calculate Your Press Charge for Heat Transfers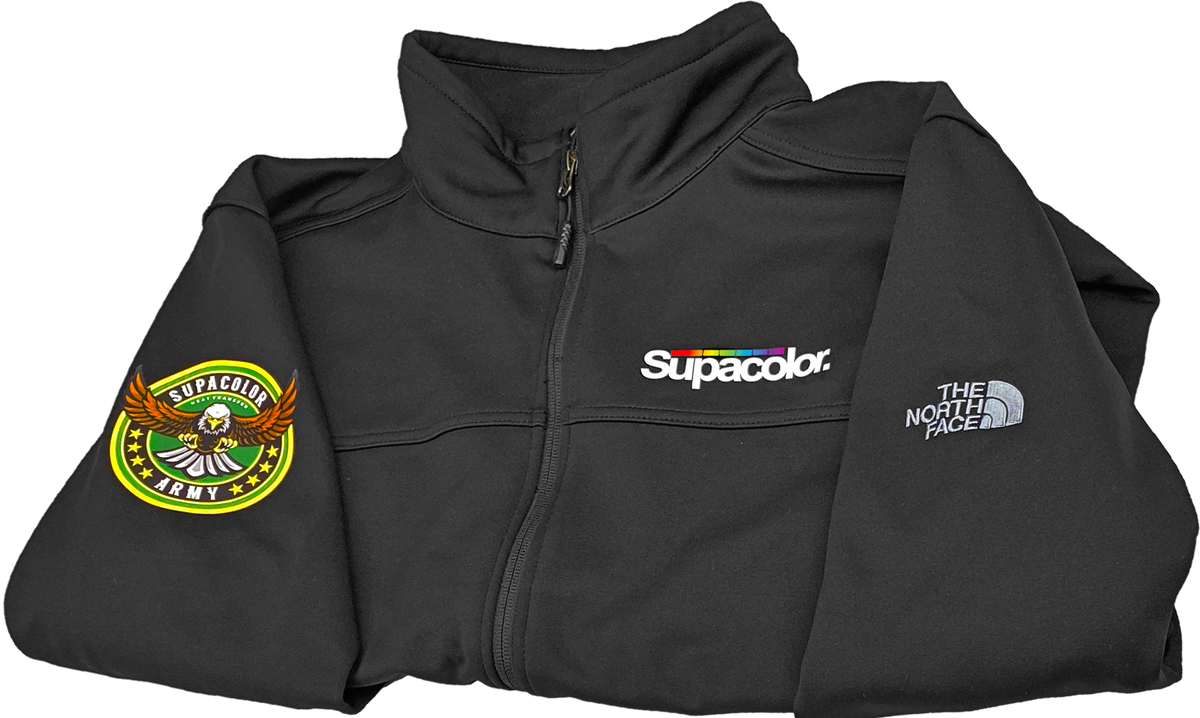 Find out your labor cost: let's use $12 an hour as an example.
Find out how many products you can press per hour: most shops can press around 60 products per hour.
Divide the labor cost by the number of products printed per hour: $12/60=$0.40 per print
Then, double your labor cost: we can assume an $0.80 press charge is appropriate here.
Keep in mind complexity and difficulty when pricing items like umbrellas. "Pressing an umbrella isn't easy," explains Mike from Supacolor.
Additionally, consider dye migration in your heat transfers. Test every material that you're new to working with. Blockers prevent dye migration with heat transfers – and you'll need to upcharge for your time and materials appropriately. You can see Supacolor's different types of transfers here.
What Should Your Margins Be For Heat Transfers?
Heat transfers, ideally, can be sold for 30% margins for wholesale customers and 50% margins (or higher) for retail customers.
Wholesale customers include large businesses that order hundreds of pieces at once, entire school districts, and other mass orders that repeat over time. Retail customers include online fulfillment for businesses and organizations, small custom brands, direct custom orders, and other orders that are directly sold to the consumer.
Why You Should Use Heat Transfers
Heat transfers let you say "Yes, we'll print that!" more often to more customers. 
Think about the type of screen printing jobs that you turn down:
Unusual or complicated art
Highly technical or challenging processes
Short-run, high-color prints
"10 screens for less than 50 pieces"
Instead of turning away small orders, you can quickly quote and spec out heat transfers as a suitable replacement.
Normally, these types of orders would require a lot of time to setup and screen print – with minimal return. Small run orders and complicated prints are the bane of a screen printer's existence, after all. The process requires too much time and effort to waste on projects that only yield a few dollars (or none at all) in profit.
"If you're saying no to your customer, somebody else is probably saying yes. If you leave the door open for them to go someplace else and try something new, you also leave the door open for them to leave. Not all business is great business, but Supacolor allows you to say yes more often, and do it at an accessible price and minimal investment."
Additionally, heat transfers are fairly low risk and the equipment required is minimal. The odds are good you already have a heat press in your shop. If you don't, you can almost certainly afford the small cost and risk that a heat press require. Most employees can learn to heat press very quickly. They'll certainly need much less practice than a traditional screen printer, and they'll achieve decent results almost immediately.
Heat Transfers: Ideal for Online Stores and Fulfillment
Have a customer that can only order sporadically? Use online stores (like Printavo Merch) for fulfillment?
Or, to approach it from another angle – have fickle customers that want a lot of different designs?
Both of these market segments are crucial. But they're difficult to service. Managing online fulfillment is not a simple task, as it turns out. "[Heat transfers] have taken a lot of complexity out of their business. They don't have to deal with the DTG machine, the setup on press, the pre-treating. It removed a bottleneck for them," Supacolor's Mike Modgill notes.
You can stock multiple designs, hold them in your shop, and press them as needed with heat transfers. Maybe one of your stores will go viral. "The transfer is itself an on-demand product, just like buying something from a store. If you need them, you can get them really quickly from Supacolor," Mike adds.
Design, Test, Try Again – With Low Risk
Heat transfers are a way to keep up with rapidly changing trends – without risking high-cost pre-printed apparel at the same time.
"Shops that do a lot of fulfillment begin by being talented at creating and designing. What they're finding is they're having to spend a lot more of their life not creating and designing – but managing production and organizing production and dealing with complexity."
Use heat transfers to experiment with new techniques, materials, and styles. Try new marketing campaigns and designs with virtually zero risk – just purchase the transfers if they sell.
Thanks to Supacolor!
Supacolor sponsored PrintHustlers Conf 2020, Printavo's fourth annual conference to boost the screen printing industry forward. Watch here.
Supacolor's heat transfers really are the best. We've seen them, purchased them, and worn them. A huge thanks to Rum and Mike from Supacolor for spending the time with us (again!) to share their own pricing secrets.
Questions? Feedback? Leave us a comment!