We sit down with Danny Sweem from The M&R Companies for an honest conversation about screen printing, DTG printing, and where the entire textile printing industry is heading for 2020.
Located just miles from Printavo's Chicago offices, M&R is a trusted partner for thousands of print shops across the world. Their Roselle manufacturing facility is a giant operation that produces equipment for a worldwide market.
M&R's famous blue screen printing presses have a reputation for lasting decades. Now, they've taken the leap into digital and hybrid printing with their Digital Squeegee and Maverick products. But the global pandemic represents a huge speed bump for the textile industry as a whole.
We discuss M&R's future, what's in store for the industry, and much more in this episode of the PrintHustlers Podcast.
---
How did you become M&R's CEO?
"Rich Hoffman (M&R's founder and legendary CEO) called me during 2018," Danny recounts.
"Our companies were having a dispute, so I thought he wanted to talk about that. He said, 'Are you sitting down? Would you like my job?' So after some meetings, I convinced the equity group that owns M&R that I could have the job."
What kind of background do you need to lead a company like M&R?
Danny has a long history in the print industry. He took an active leadership role during pivotal growth periods for brands which powered the industry: Rutland and Nazdar.
Danny was VP of Sales at Rutland between 2001 and 2006, then spent 2006-2017 at Nazdar managing their textile printing research and development department.
"The difference with M&R is: we're making things from an electronic and mechanical standpoint," he says. "We have a creative group, a technical group, and the opportunity to interact with all of those groups was similar to how we interacted at Rutland in the ink category. The processes and structure are similar."
Did you know the Digital Squeegee would be so important when you started?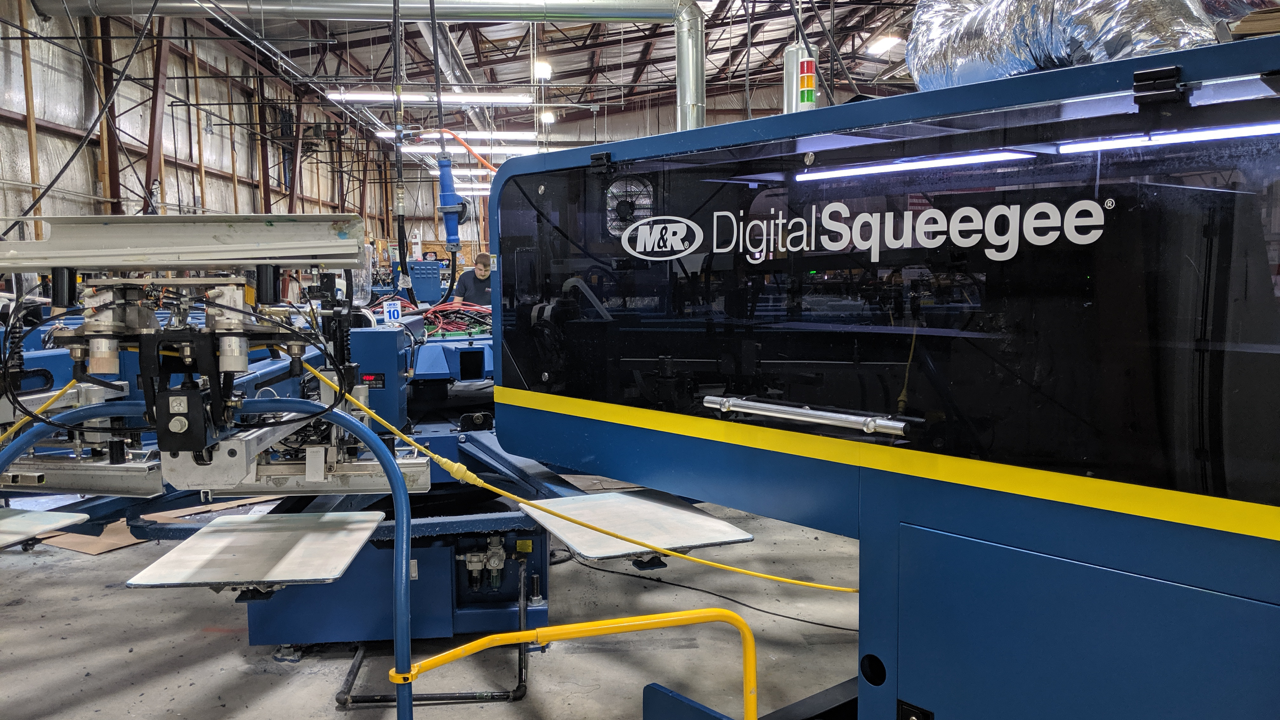 "Rich Hoffman and M&R deserve the credit for the Digital Squeegee," Danny says.
"We had conversations before I joined M&R about the Digital Squeegee." Nike was even interested in something like the Digital Squeegee as the next phase of impressive digital embellishment techniques.
Danny is thankful for what Rich Hoffman saw in him, running with the torch and embracing the new technology. "Rich knew I was familiar with this technology and it's part of why he tapped me to be his successor […] my job has been to hype and promote it as much as possible."
Is digital printing taking over the screen printing industry? Or is it another tool for print shops to use?
"Screen printing has its niche and is well suited for large production runs, so I don't see it going away," Danny tells us. "But the speed-to-market piece with digital printing is very important."
Danny recounts that owning a sporting goods store makes him appreciate retail channels. "Digital allows you to pull off the just-in-time delivery concept, and it's also suited to feed e-commerce sales."
While screen printing is great for brick-and-mortar, digital has paired well with e-commerce sales. "By no means do I see DTG printing replacing screen printing, but the shift toward digital garments will continue until it reaches some kind of equilibrium."
What's M&R's goal with digital printing? To drive prices down?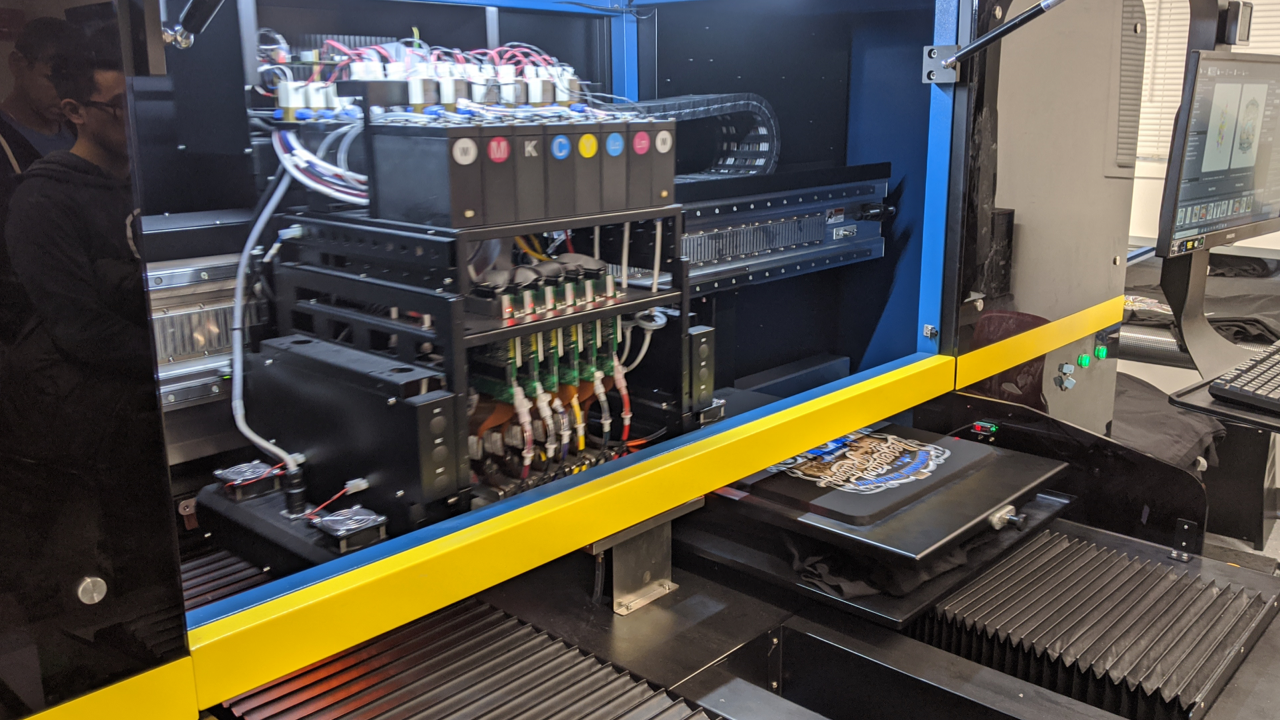 "There's an element of value tied to capability and creativity," Danny explains. M&R's goal isn't to make DTG printing cheap. It's to offer something truly valuable.
"We're trying to have the best options at the best price. The motive isn't solely to lower the price. But it's to deliver a premium value and offer that competitive value proposition to our customers." The Maverick DTG printer has emerged as M&R's killer play. "There's a sunrise and a sunset to this kind of technology, just like with computers and iPhones," Danny says. "We're in the sunrise of this Maverick program and the technology will continue to develop," he adds.
This explains why M&R has moved from selling its once cutting-edge M-Link DTG machines to servicing them. "The reason we stopped with the M-Link was because it had hit the end of its cycle. A lot of print shops still do great prints with those machines. But the industry moved past it."
How active is M&R in the global screen printing market?
Danny tells us point blank: "40% of M&R's revenue is not from the US. We're big in Latin and Central America."
M&R's legendary durability and reliability is an asset to the brand all across the planet. "We also have a strong service organization. We can usually get someone there to solve your problem quickly, no matter where you are in the world."
But how did they pull this off? They've partnered with local distributors and leveraged their knowledge of their local industry – all while keeping the M&R brand consistent. "We work with those dealers and technicians [from across the world], and they're trained and certified here [at M&R HQ] in Roselle."
What's up with the new Rebel screen printing press? SHIRT KONG is always posting about it.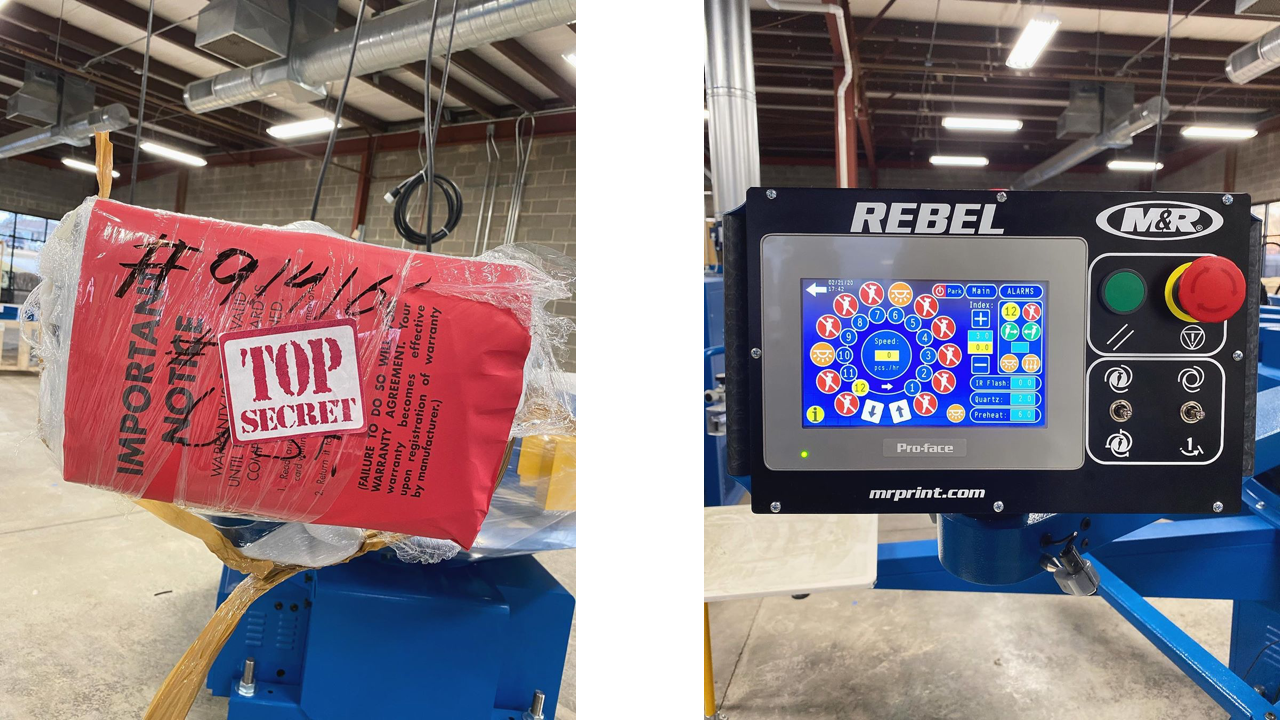 "The pandemic screwed up the launch," Danny jokes, "But if I say too much, Thomas Trimingham [M&R's marketing leader] will strangle me."
The Rebel is a new press that M&R has pioneered during the past year, with legendary screen print shop SHIRT KONG getting the very first model. "It's a niche between the Sportsman and Gauntlet screen printing presses," Danny says.
He adds: "Once the stay-at-home order is lifted, we'll show them to you on the show floor at M&R HQ here in Illinois."
What can business owners learn from your experience running a 600 employee company?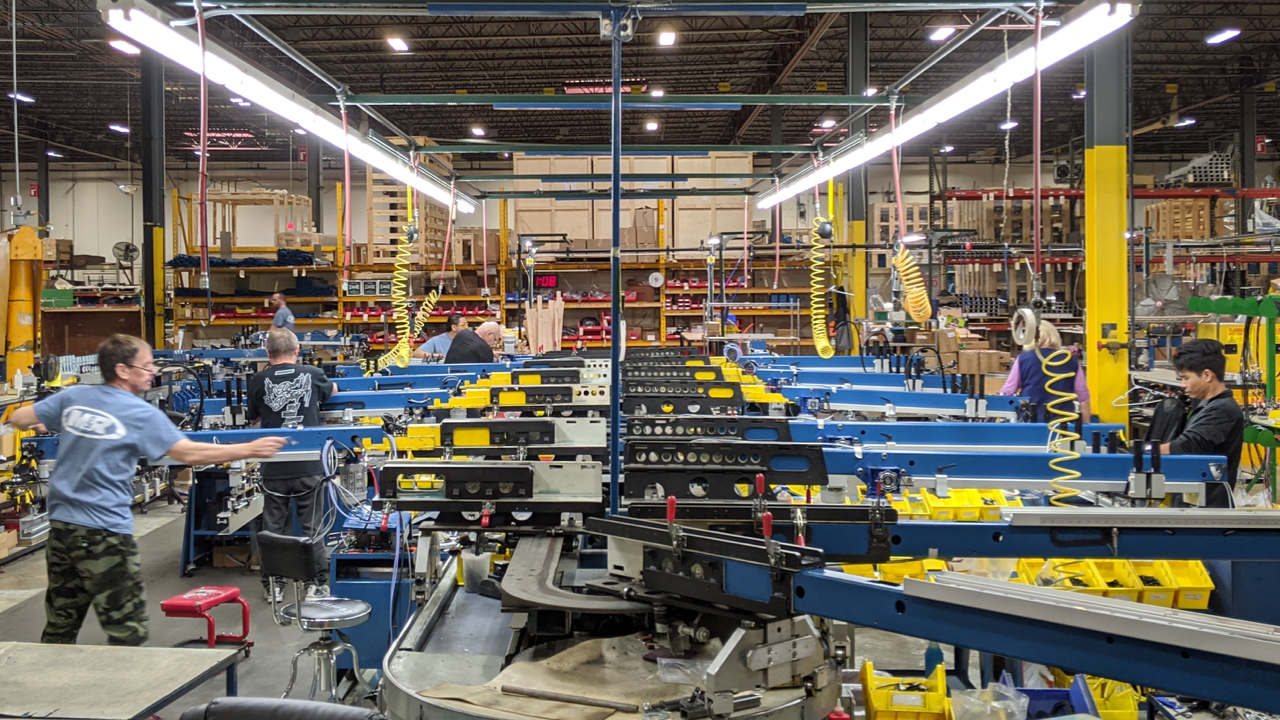 Danny has some amazing words for any business owner. He prizes communication and authenticity. He explains both in detail.
Communication. "You have to create a safe environment for people to debate the best ideas. Create some pride of ownership for their work. If you get the trust of your people to go anywhere and do anything in your organization, that's powerful. I like people that are genuine, and honest, and own their mistakes. It's how we live our life at M&R. It's our culture."
Authenticity. "Don't pretend you're something you're not. Don't be Rich Hoffman if you're not. Be honest about things. It's a different style – but it's worked well for me. I couldn't be more proud of the people I work with. They really feel deeply about the blue equipment all over the world."
So what kind of tactics can you learn from Danny, given that he's responsible for organizing the efforts of 600+ employees?
"Good communication is not just 'transmit.' It's 'transmit and receive,' so you need to listen better than you're speak and create an environment where you can do that."
What's M&R's plan for the next year in this new business context?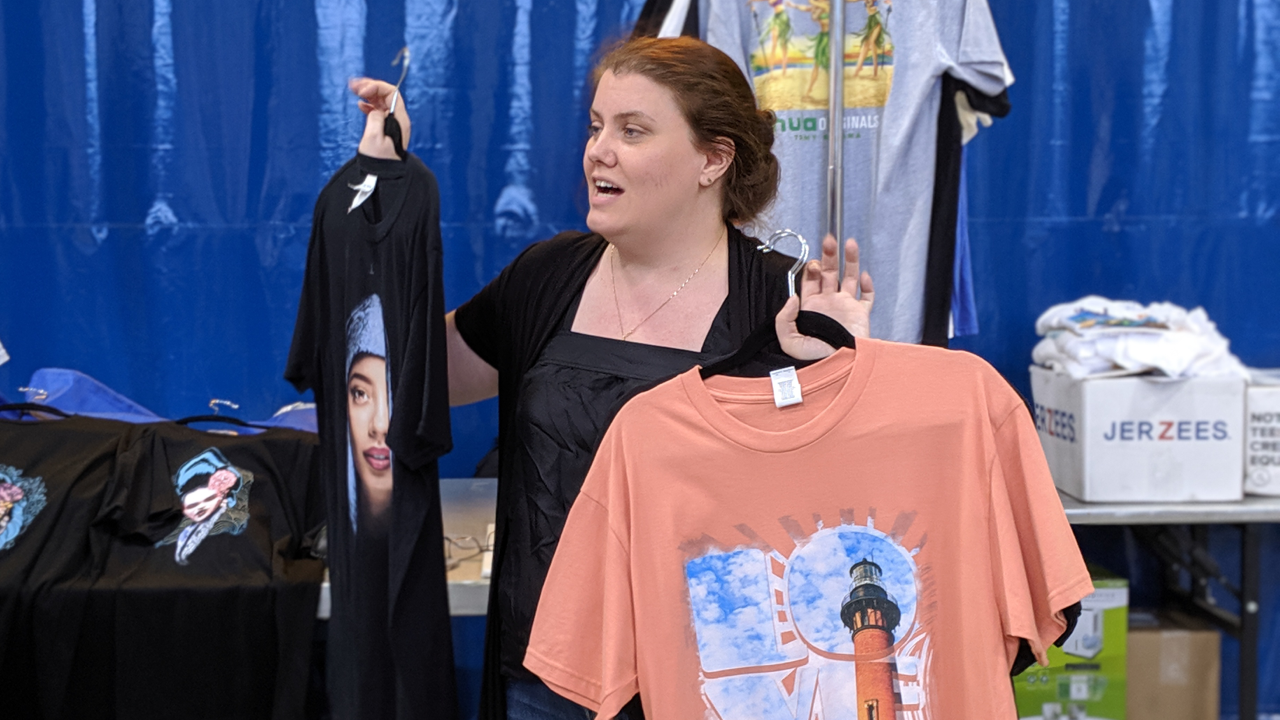 M&R, like many other businesses, has been hit hard by the pandemic. "It has slowed dramatically, and almost all of our markets are shut down – with just a few exceptions," Danny says. "Our best guess is that the May 4th open date for Illinois will be extended to late May. People in the factory have been severely impacted by furloughs and that's been very difficult."
That doesn't mean that M&R is pivoting to a new strategy. "Our engineers are still working on the future. They're working on the 2021 product line right now, so disrupting that is a huge challenge."
While demand has dropped during the crisis, it's not all bleak. Digital still looks like a bright spot. "We expect an increased demand in digital printing coming out of this pandemic. So we're making a play in the digital category," Danny says.
Some of M&R's customers are considered essential, so things haven't come to a complete stop. "Our parts department has remained open. We're still working in Poland, so we can make equipment there and ship it from Europe."
The staff that remains at M&R has been re-purposed in the short term, with sales teams reaching out to customers and offering resources to help make it through the next several months: "A number of our customers are really hurting. They're in trouble, and we're going to help where we can."
What do you say to screen print shops that are discouraged right now?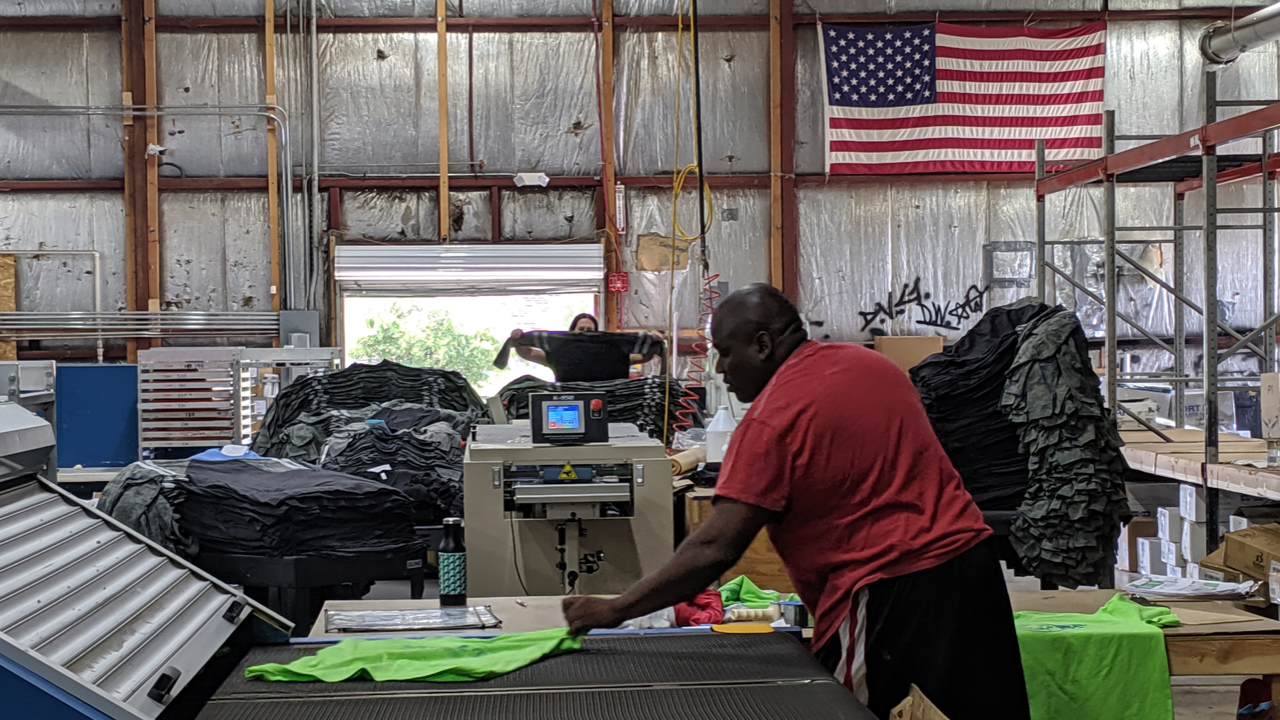 "People still need t-shirts," Danny says. He offers a positive look into human psychology: yes, this event has changed the world. But we still want to be part of our tribe, and t-shirts are a big part of how we signal that to each other.
"The t-shirt is a personal billboard. You don't put on one that you don't believe in, that doesn't reflect your personal attitudes and outlook on life."
But things will be tough over the next year. "Our industry was hit harder than most. We're just above the cruise and airline and hotel industry. Baseball, football, soccer, schools, the whole thing has been impacted. But it will start coming back. Retail will be the first channel for screen print shops to get product out through."
Just like we've documented, M&R sees that print shops have stepped up and used their creative grit to power through this entire mess. Danny's final words are a dose of realistic optimism that we all need:
"People have been wildly creative. They're making masks, they're making gowns. They're pivoting. I was on the phone with a customer printing a huge number of masks and gowns. You'll see new things come out of this. The industry will not die, it will not go away. Batten down the hatches, survive the next several months, and we'll have new ideas and thoughts and concepts. We'll be more creative than ever. The industry will be stronger than ever in a year from now. I promise you that."
---
A huge thanks to M&R's CEO Danny Sweem for taking the time to chat with us.
We've got three more amazing articles for you:
Printavo's team thanks the thousands of print shops across the world that rely on us to keep them running.
From our shop management platform to Printavo Merch's easy online stores, we're here to help make your business simpler.