I'm Steven Farag, owner of Campus Ink in Champaign, Illinois – yes, I'm a real shop owner!
When I talk to other shop owners, I've noticed that more and more screen printing shops have made the switch to Printavo to manage their operations with shop management software.
It's not enough to run your shop off a blackboard anymore – there's just too many moving parts to be successful without some way to keep track of everything.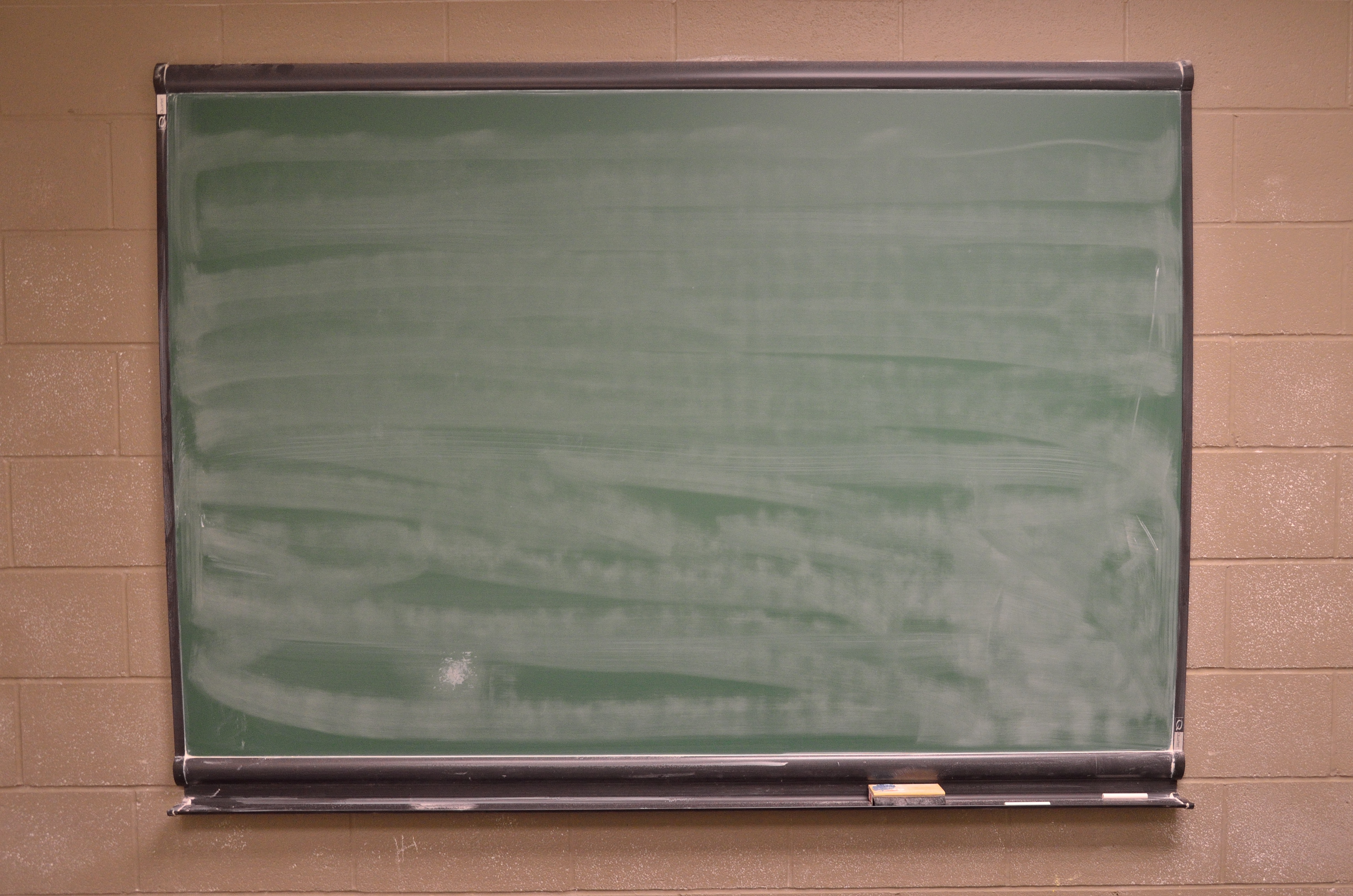 Stop running your print shop with a blackboard. There's software for that.
Still considering which shop management software to use for your custom printing shop? I want to make my case for Printavo!
So why are shops that do screen printing, embroidery and other custom printing jobs switching to Printavo?
Printavo is easy.

Printavo is flexible.

Printavo doesn't restrict you.

Printavo manages & stores your art.

Your entire company can use Printavo.

Printavo is constantly evolving.
Here's what you're missing out on.
1. Printavo Is Easy
It's easy to learn to use Printavo.
Why? Because Printavo is designed with simplicity in mind, right from the start.
First, you can access Printavo from any device with an internet browser & connection. There's no complicated setup process for new users: just log on to Printavo's website and you can access the full shop management platform.
Since Printavo is cloud-based, it loads quickly. Its light user interface doesn't require a powerful computer – you can load it off most tablets and smartphones seamlessly.
Second, getting your team on-board is simple: first-time users can navigate through Printavo's essential features with ease – right from the start. There's no steep learning curve. If you can read a calendar, you can use Printavo!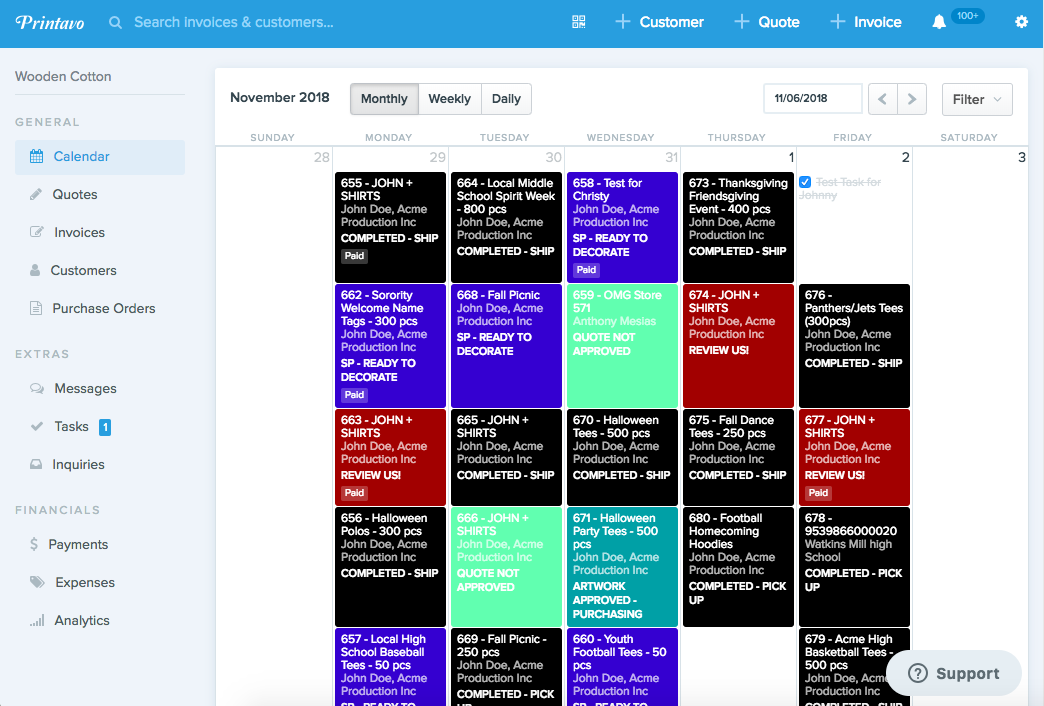 Everyone knows how to use a calendar. That simplicity is the core of Printavo's user interface.
Third, Printavo is designed with screen printing, embroidery and custom print shops specifically in mind. Centered around the shop's calendar view, it's difficult to get "lost" in the software. Jobs don't get misplaced or forgotten – everything is simply organized and highly visible.
2. Printavo Is Flexible
Just like every business has a different story & personality, every print shop is different!
The goal of Printavo isn't to force you to run your business one particular way. Instead, Printavo is designed to adapt to your workflow. Spending a little time today setting Printavo up to work with your shop will save you many hours down the road.
Automate repetitive tasks, simplify complicated multi-step processes and adjust the software to your shop's requirements – all from one simple settings menu.
Printavo's most fascinating possibility is flexibility. Simple doesn't mean limited!
You aren't limited to one type of printing – screen printers, embroiderers, sign printers, engravers and more use Printavo as their primary shop management software.
You define the tasks for your workflow and the software adapts to it.
Complicated decorations, different process flows for custom jobs and descriptive notes about details? No problem with Printavo.
A great example of Printavo's flexibility? Pricing.
Does your shop use one price matrix for DTG printing, another for custom embroidery, and a third for sign printing – on top of your screen printing pricing?
Maybe you don't even have a price matrix yet!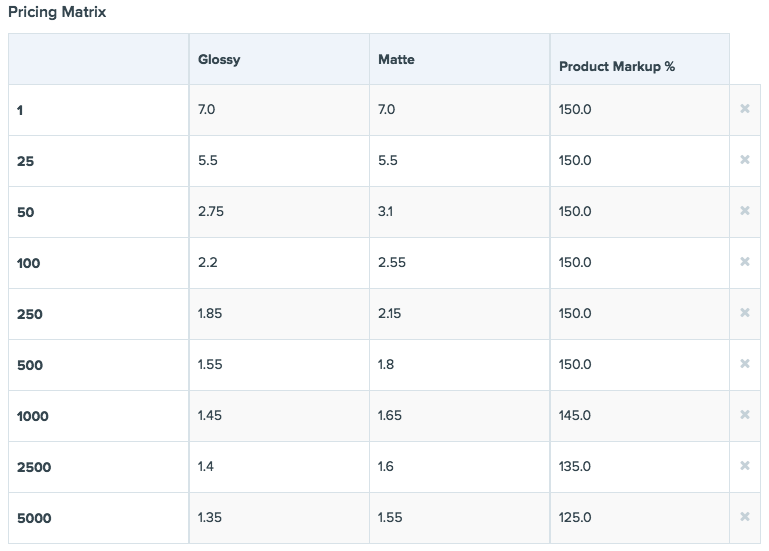 Price it right, every time. You can edit & control every aspect of your pricing with Printavo custom pricing matrices.
Don't worry – Printavo's custom pricing matrices allow you to generate accurate, high-quality quotes & invoices with:
Printavo's goal isn't to tell you the exact methodology that goes into every print job.
Instead, it's designed to allow you the freedom to create custom invoice statuses – then associate unique actions with those statuses.
For further flexibility & customization, you can append unique tasks for complicated jobs.
Have different stages of a large job that require different employees to collaborate? With custom tasks, everyone knows what needs to be done – and where each job stands in your process.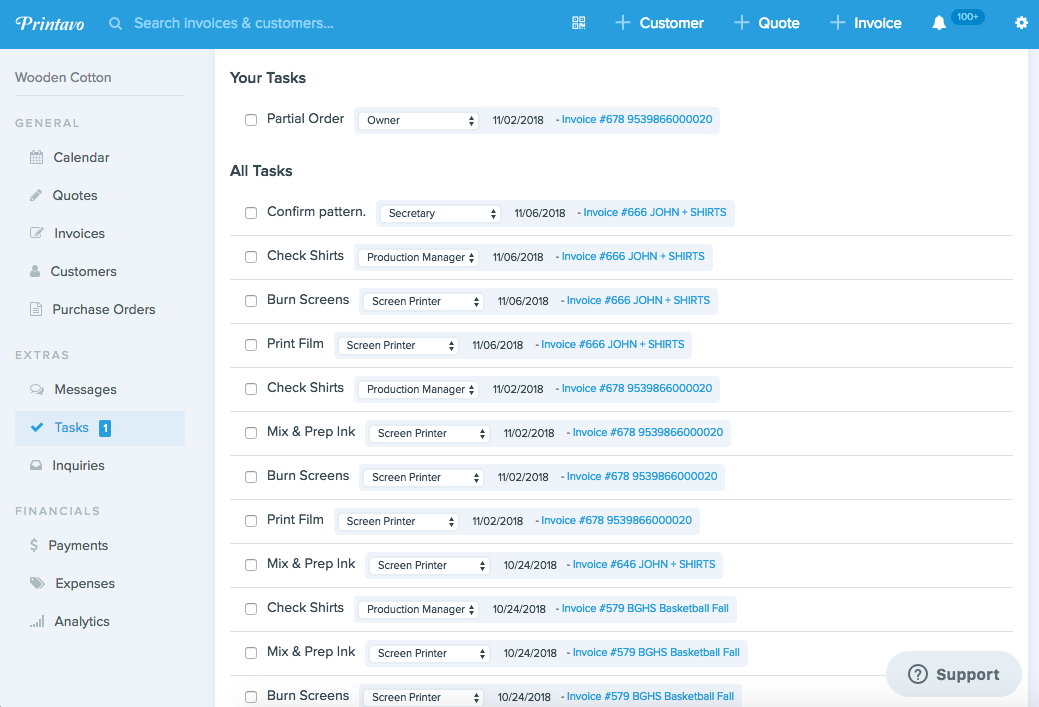 Customizing tasks for your workflow is easy with Printavo. Everyone knows what to do and when to do it.
Look – Printavo doesn't do everything for you. It does the things that take the most time and require the most resources so you can focus on what you love: running your shop & growing your business.
I took my own implementation of Printavo a step further with Zapier. What's that?
It's a great tool for automating processes that I found too repetitive or time-consuming – no coding or expertise required. I even gave a talk about automation in my shop at Printavo's 2018 PrintHustlers Conference.
If you're adept at coding or have your own developer, Printavo's API is totally open – meaning there's tons of untapped potential for automation and operational flexibility built directly on top of it.
3. Printavo Does Not Restrict You
Start with your free trial: no credit card required, easy cancellation (no contracts!) and access to the full range of Printavo features for you to explore.
Since Printavo is cloud-based, you can operate & manage your shop's workflow from anywhere, anytime. Check up on the day's tasks over coffee, add that new job over lunch and revise tomorrow's plan of action after dinner – all from your smartphone.
You don't need to be on-site or locked down to your desktop to manage your shop's operations with Printavo.
Once you're signed up, Printavo doesn't have any user licenses: you can have every employee in your shop use the software for free.
No more confusion about who needs to do what or when that big job is due. You can have them log on to Printavo and easily see what's coming down the chute.
Don't want your newest & unproven employee to have access to every job? You can control each user's access and ensure everyone sees and controls exactly what they're supposed to.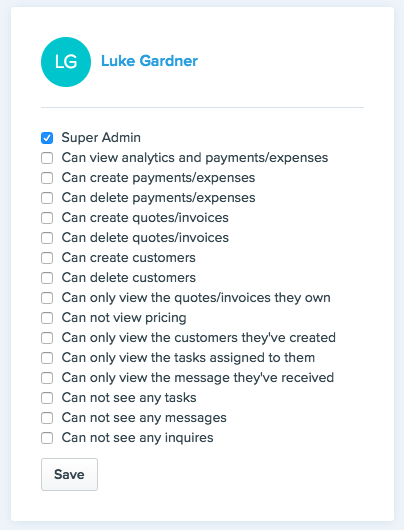 It's easy to set up Printavo user accounts with specific privileges: let everyone see exactly what they need to see.
4. Printavo Manages & Stores Your Art
The art approval & management process is an "unknown cost" for most print shops.
Printavo simplifies it: store your high-quality art files directly in Printavo. Kept securely on the cloud, your art travels with your invoices. No more scattering huge, valuable art files across a bunch of different Dropboxes and Google Drives: put it in Printavo, get approval and start planning your print.
Customers can see the art & quickly approve it directly through Printavo. Your printers can plan their process with high-quality art that's easily accessed.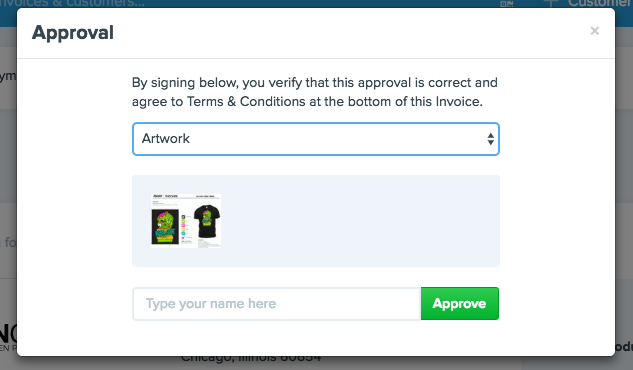 Customers e-sign their artwork approval with Printavo for easy communication. Not just accurate, but faster as well.
How much can keeping your art in a centralized, easily accessible cloud simplify your shop's workflow?
5. Your Entire Company Can Use Printavo. Even Customers.
The possibilities are endless: with unlimited users and control over what your users can do and see, Printavo is a one-stop platform for directing your print shop.
Each employee has their own account, with clearly defined roles & tasks assigned directly to them. Want autonomy in your business, with real transparency & accountability? Here you go.
Customers enjoy Printavo's interface. They can easily approve invoices, message your sales team and pay directly online. Try out Printavo's texting tool – and see how quickly orders can be approved and paid for. The clear communication will satisfy your customers & bolster your shop's professionalism.
Have great clients that need lots of orders fulfilled? You can take Printavo's shop management software a step further with your best customers: let them use Printavo directly.
With limited user access, your best clients can enter their custom orders directly into your shop's Printavo calendar.
Your clients can even upload artwork, enter work orders and communicate directly with your shop about their orders...without access to sensitive information about your business!
6. Printavo: Constantly Evolving
Maybe you've never had the pleasure of working with Bruce and his team.
One thing you'll learn right away is that they are attentively listening to your concerns.
Printavo doesn't rely on outside funding, offshore engineers or secondhand knowledge of the industry: they're constantly interacting with their partner shops to make Printavo better.
The best thing about Printavo? The team behind it.
They're engaged with partner shops through their awesome support & onboarding teams. You can even just reach out to Bruce directly!
Got a problem? You'll get real help, quickly and consistently.
Can't figure out a way to make something work? The odds are good that they've seen something similar before and can help you make your idea a reality.
Printavo actively solicits advice from partner shops (like mine!) and constantly updates their product: Printavo will never be "finished."
Most importantly: Printavo exists to ensure the long-term success of your business. The printing business is changing rapidly, so you want a team that's serious about keeping their software relevant.
With resources to help you manage your complicated decisions and software to make those decisions a reality, the team behind Printavo is serious about making your shop a success.
I Couldn't Do This Without Printavo
It took years to learn the lessons that made Campus Ink what it is today. As I learned the business and started to understand what really went into it, a tool as simple and flexible as Printavo became something that I couldn't live without.
Printavo's ease of use and short learning curve make it immediately valuable.
Flexibility is inherent in the software: you run your shop the way you like, and Printavo helps make it all happen. You don't have to run your shop "the way the software wants you to."
There's no restrictions on user counts, and you can use it from anywhere. Customers can even use the software to track and place their own orders. Send texts and emails with invoices to streamline collecting payment.
Printavo makes art approval & storage an afterthought rather than a burden. No more wondering if the customer saw the art!
Best of all, Printavo is made by a Chicago-based team that cares about your business and wants to see you succeed.
More and more custom print shops are going to turn to the Printavo team's awesome support and lightweight shop management software to help them organize their business, grow their capabilities and improve their services.
Want to join me – and them?
Schedule a personalized demo today and see exactly how Printavo could work for you.
We'll learn about your business – whether you do embroidery, screen printing, engraving, wide format printing or another variety of custom printing – and show you how Printavo could work with your shop to make running your business simpler, easier and clearer.