Take Control of Your Production With Our Print Production Software Management
Automate your entire print production process from job submission to approval and release.
Streamline your production process with our print production management software.
Our powerful software streamlines your entire print production process, allowing you to focus on what matters most – delivering high-quality results to your clients.
Simplified Job Management
Effortlessly manage your print jobs
With our print job management solution, you can assign jobs to different stations, create customized workflows to automate the production process, and easily batch and release orders to the print queue.
See exactly what's due for that month, week or day
Assign tasks to pre-production team
Notify Production Manager of any order issues
Remind press operator to take photo of first printed garment
Generate professional shipping labels for all your orders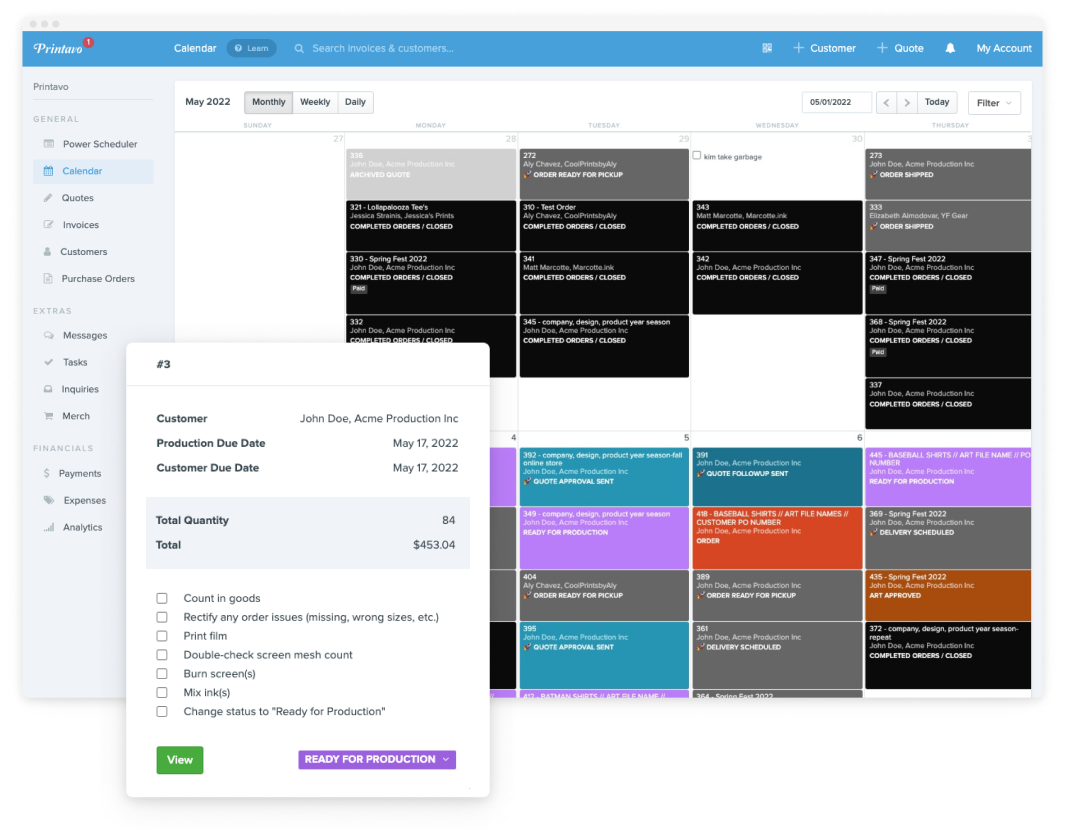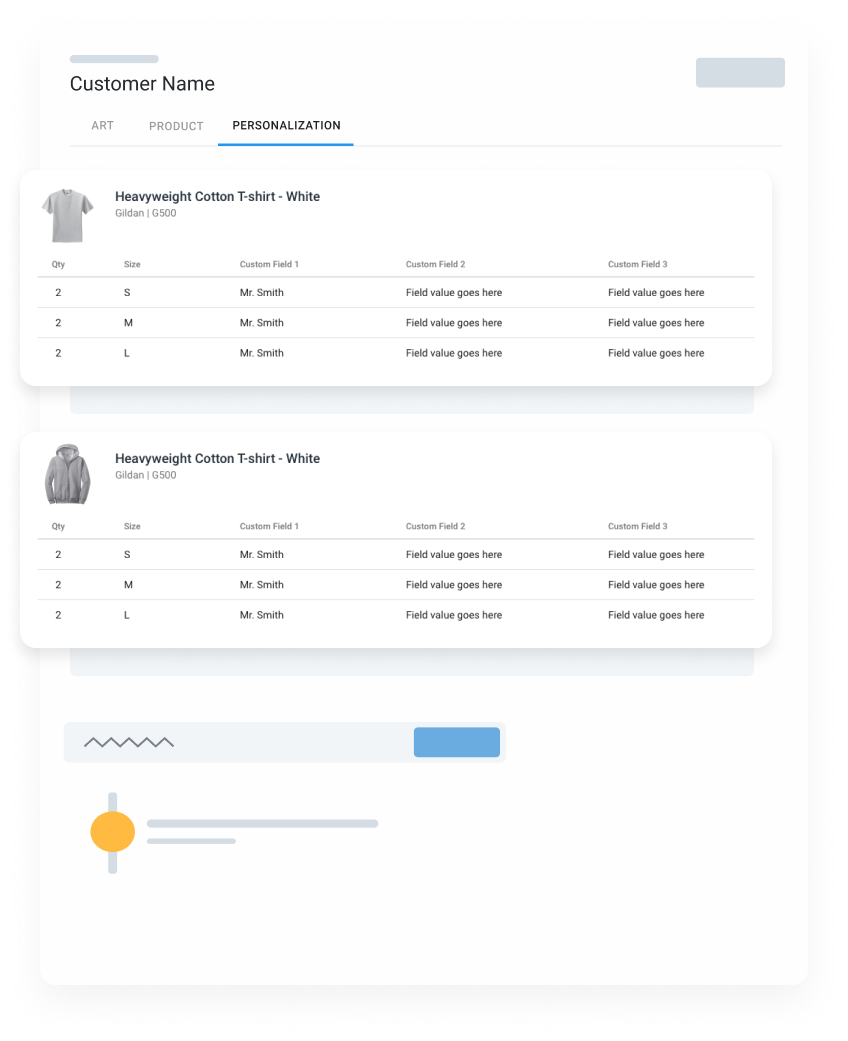 Simplified Vendor Management
Streamline your purchase orders
Easily order new product and generate and send purchase orders to your distributors ensuring seamless communication and accurate ordering of garments.
Use our database of AlphaBroder, S&S Activewear, and SanMar products, or upload your own to auto-fill line items swiftly
Create purchase orders to send to your distributors
Add tracking numbers to all purchase orders
Automatically notify your production department when everything has arrived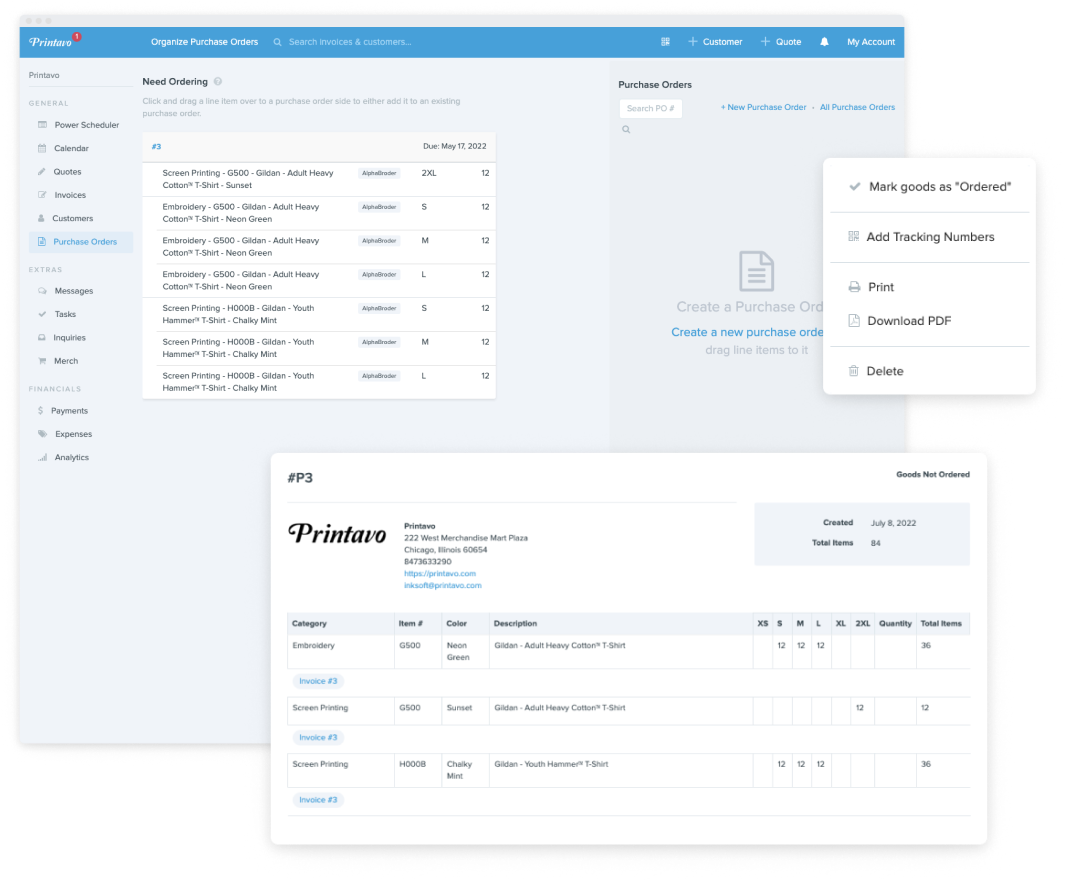 Print production management software – unparalleled productivity!
Take control of your print production process like never before with our cutting-edge Print Job Management Software. With just a few clicks, you can schedule jobs, assign them to specific stations, and create custom workflows that automate your entire production process. No more wasted time or resources!
Want to see our print management software in action?
Get a sneak peek with this video demo.
Shop management software for all job types!
Printavo is shop management software to make your team more productive, no matter how you print. Our print management software is easy to navigate, and will make your day-to-day operations smooth and hassle-free.

Whether you need help with keeping track of jobs, improving shop communication, reducing costly mistakes, automating customer approvals, creating online stores, or help with scheduling, Printavo will help you grow your shop and increase sales.
GraphicsFlow is the industry's only platform that makes collaboration between print shops and customers easier by simplifying the art creation process, from mockup to final design.
From order to delivery, InkSoft provides all the tools you need to sell custom branded merchandise so you can grow faster.
Print Production Management Resources
In a recent webinar with David Gross from Conde Systems and Inktavo Director of Product Education, Craig Mertens, we discussed the benefits, characteristics, and how-to's of sublimation.  Watch the full video below. If you haven't signed up for this exclusive...
Learn the best way to ship your custom products sold through online stores with Steven Farag from Campus Ink. No spoilage, every time!
We'll cut to the chase: last year, Printavo, InkSoft, and GraphicsFlow joined forces to create Inktavo.  Inktavo is a new family of software solutions to help print shops, promotional product distributors, and branded merchandise businesses succeed.  Look for this...