Order Management Software for Print, Embroidery, and Digital Print Shops
With Printavo's order management software, you can track orders, generate invoices, and create professional quotes with ease.
Simplified Order Management
Effortlessly manage your orders
Printavo simplifies the order management process, helping you stay organized and on top of all your customer orders. Say goodbye to messy spreadsheets and hello to streamlined order tracking.
Easily organize and track all your customer orders in one place
Reorder previous customer orders with just a few clicks
Notify Production Manager of any order issues
Automatically send email and text notifications to your customers when their order is ready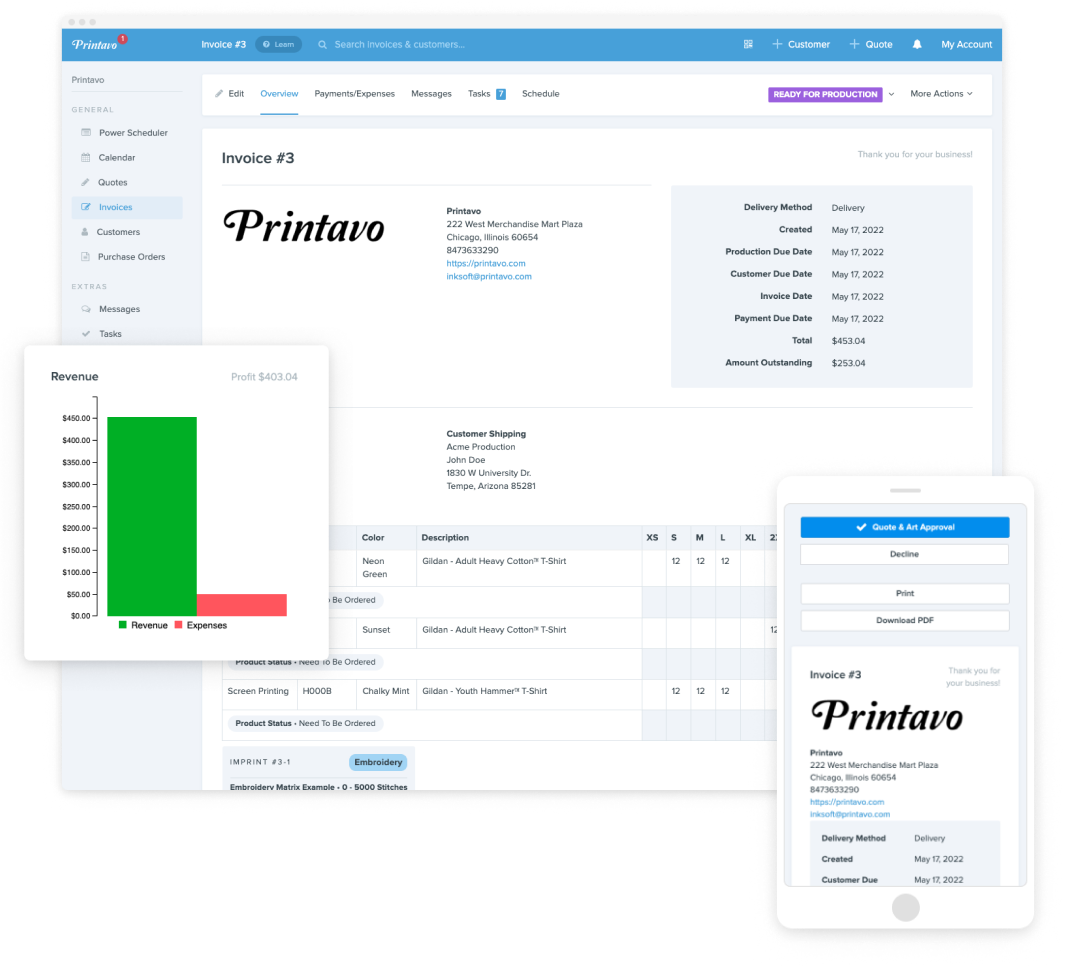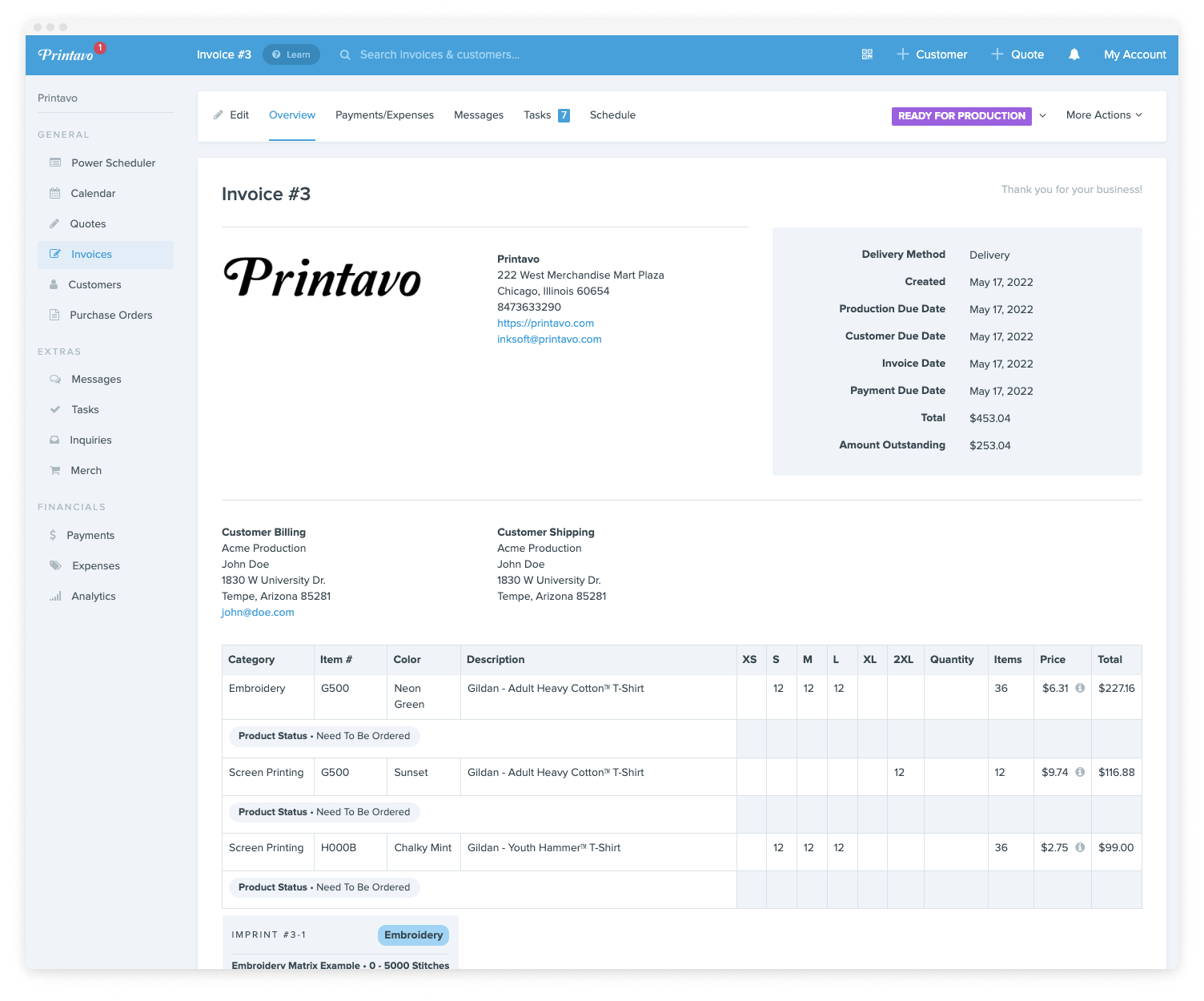 Professional Invoices & Quotes
Create professional quotes & invoices
With Printavo, you can generate professional quotes and invoices effortlessly and send them directly to your clients.
Request quote approval via email & text messages
Change invoice status when customer approved
Request 100% payment or request remaining balance
Create sharable invoices with a secure URL
Automate Customer Approvals
Get customer approvals in a snap
Obtain customer approvals quickly and easily with our built-in approval system. Eliminate back-and-forth communication and speed up the production process.
Request customer approval via email & text messages
Send customer art approval notification
Change status to "Art Approved"
Assign tasks to pre-production team once approved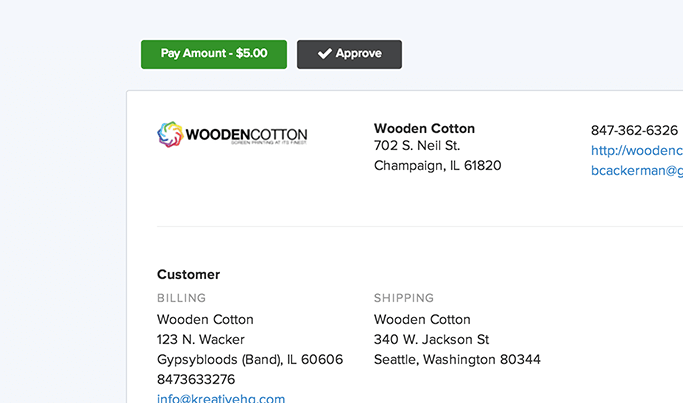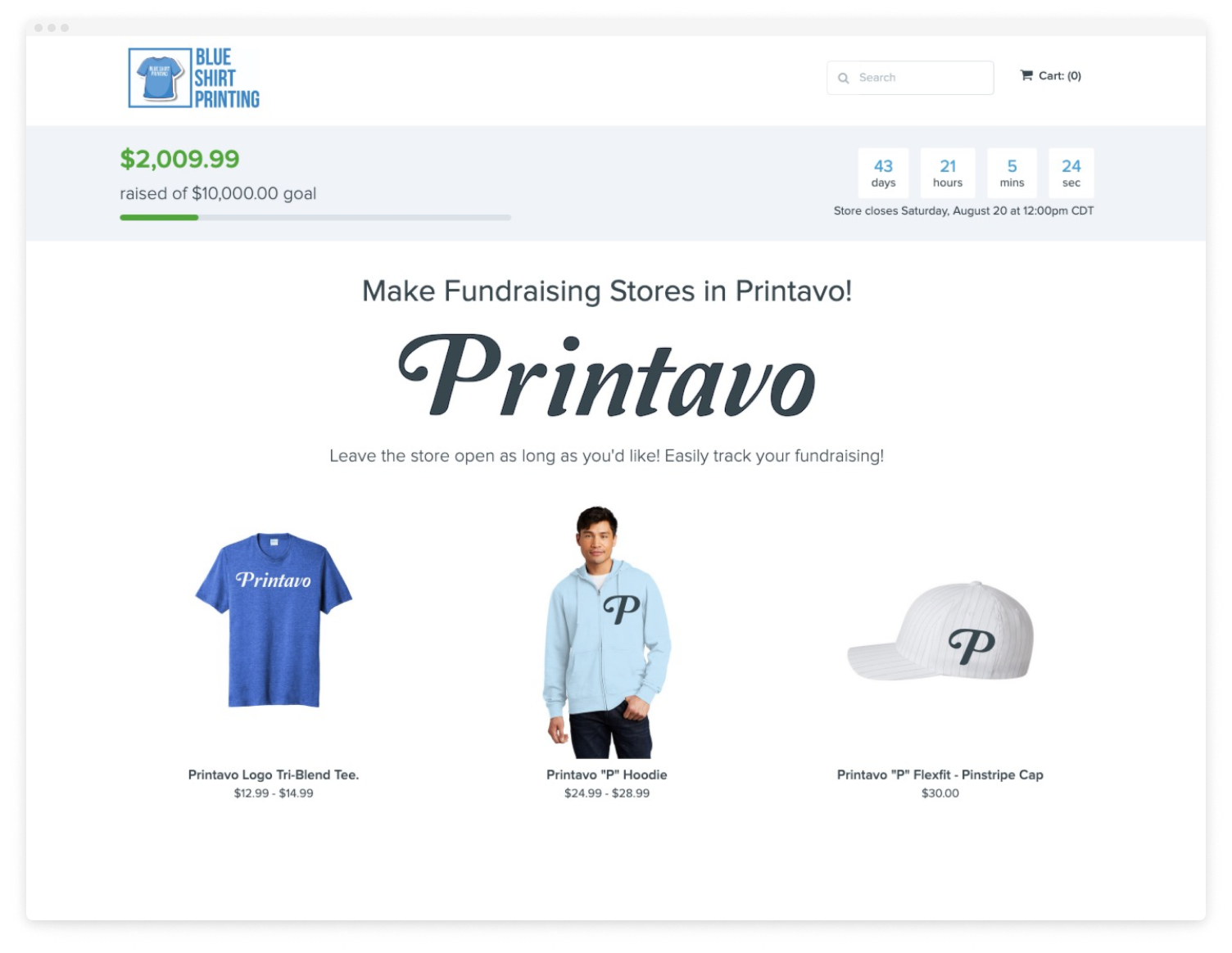 Group Ordering Simplified
Create online stores in minutes
With Printavo, you can generate professional quotes and invoices effortlessly and send them directly to your clients.
Simple group stores for team orders, fundraisers, company stores, and more
Customizable personlzations for names and numbers
Unlimited coupon codes
Pickup & shipping delivery methods
Fundraiser progress bar and payout reporting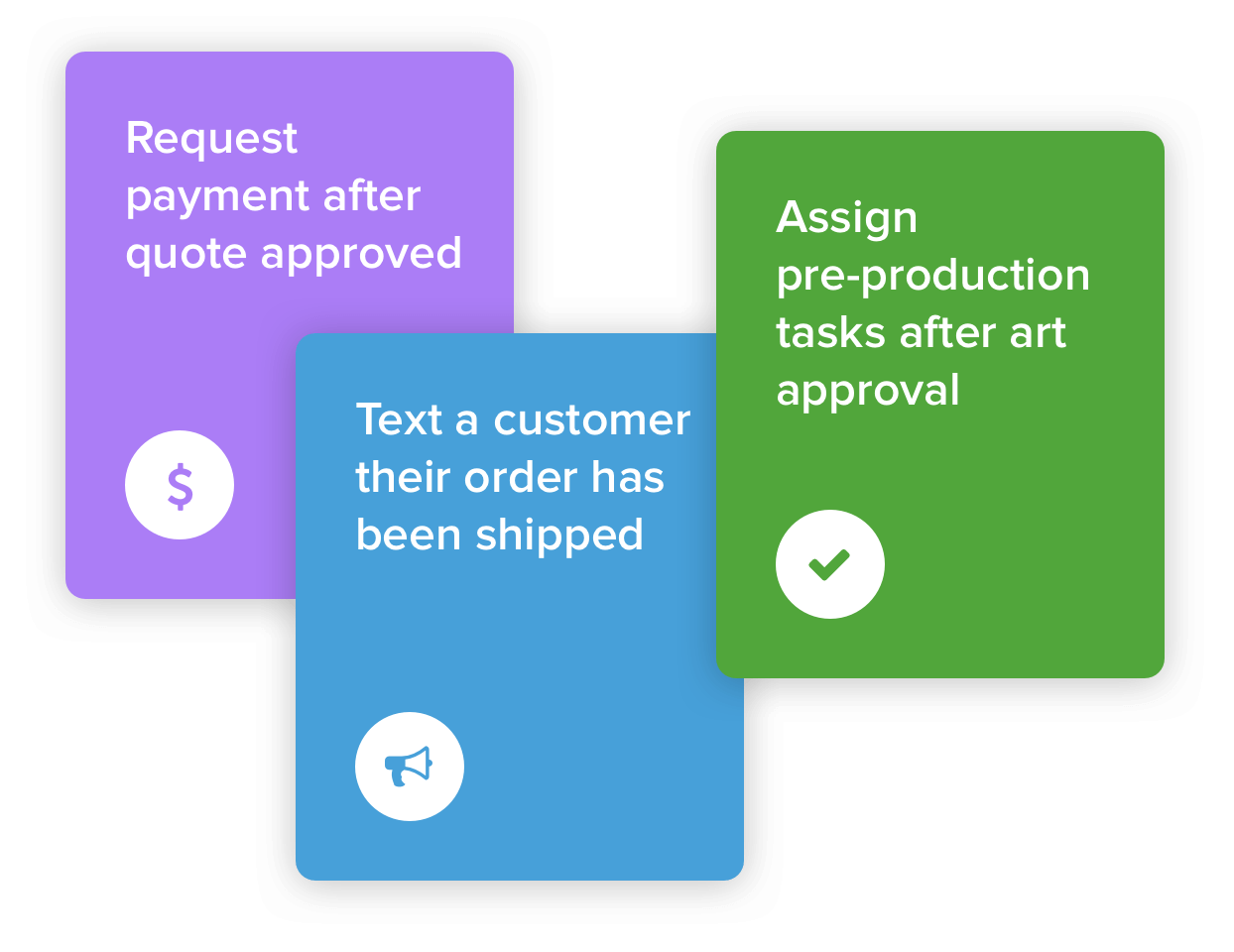 Print shop order management made easy!
Take control of your print shop like never before with Printavo's powerful order management software. Track orders, generate invoices, and create professional quotes with just a few clicks. Whether you're a small print shop or a large-scale operation, our user-friendly software will revolutionize the way you manage your business.
Take the guess out of pricing – try our built in pricing calculator
Automatically calculate the optimal pricing for print orders, ensuring profitability without sacrificing customer satisfaction.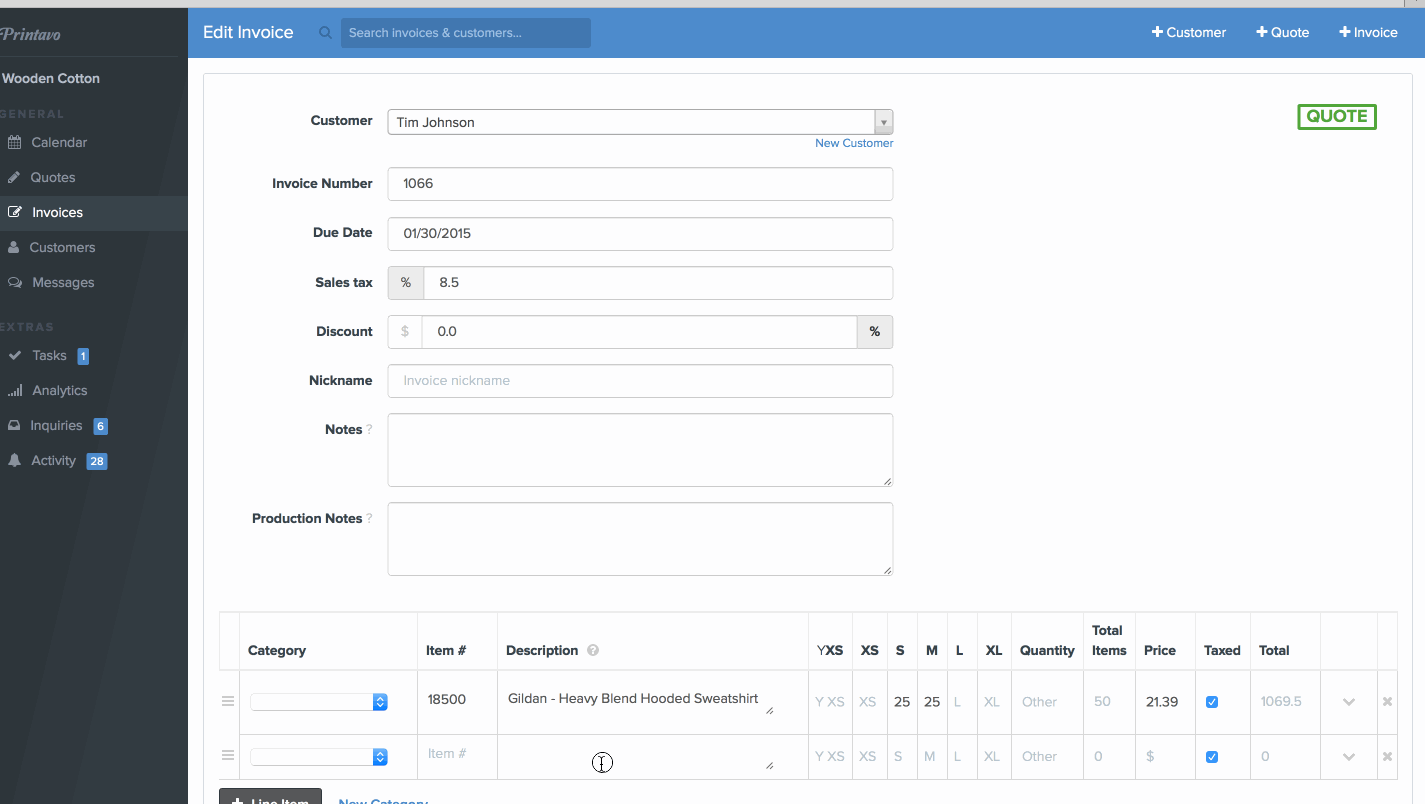 Shop management software for all job types!
Printavo is shop management software to make your team more productive, no matter how you print. Our print management software is easy to navigate, and will make your day-to-day operations smooth and hassle-free.

Whether you need help with keeping track of jobs, improving shop communication, reducing costly mistakes, automating customer approvals, creating online stores, or help with scheduling, Printavo will help you grow your shop and increase sales.
GraphicsFlow is the industry's only platform that makes collaboration between print shops and customers easier by simplifying the art creation process, from mockup to final design.
From order to delivery, InkSoft provides all the tools you need to sell custom branded merchandise so you can grow faster.
Want to see our print management software in action?
Get a sneak peek with this video demo.
Order Management Resources
ACH? Credit card? How should I ask for payment? There are many ways to get paid for your services - cash, check, magic beans - but two of the more common ways to receive money are via ACH (Automated Clearing House) and credit card. When it comes to ACH and CC...
We'll cut to the chase: last year, Printavo, InkSoft, and GraphicsFlow joined forces to create Inktavo.  Inktavo is a new family of software solutions to help print shops, promotional product distributors, and branded merchandise businesses succeed.  Look for this...
We followed several print shops to see what happened before and after they implemented Printavo's simple shop management software. The result was hours of time and thousands of dollars in savings.