ACH? Credit card? How should I ask for payment?
There are many ways to get paid for your services – cash, check, magic beans – but two of the more common ways to receive money are via ACH (Automated Clearing House) and credit card.
When it comes to ACH and CC payments, the ultimate decision of which method to request from your customer is up to you, but if you're on the fence, or if you'd just like to learn more, then we've made a handy list of pros and cons of each payment method.
It's also worth noting that Printavo allows you to select default payment methods offered to individual customers and/or to your entire customer base and even automate payment requests based on your workflow: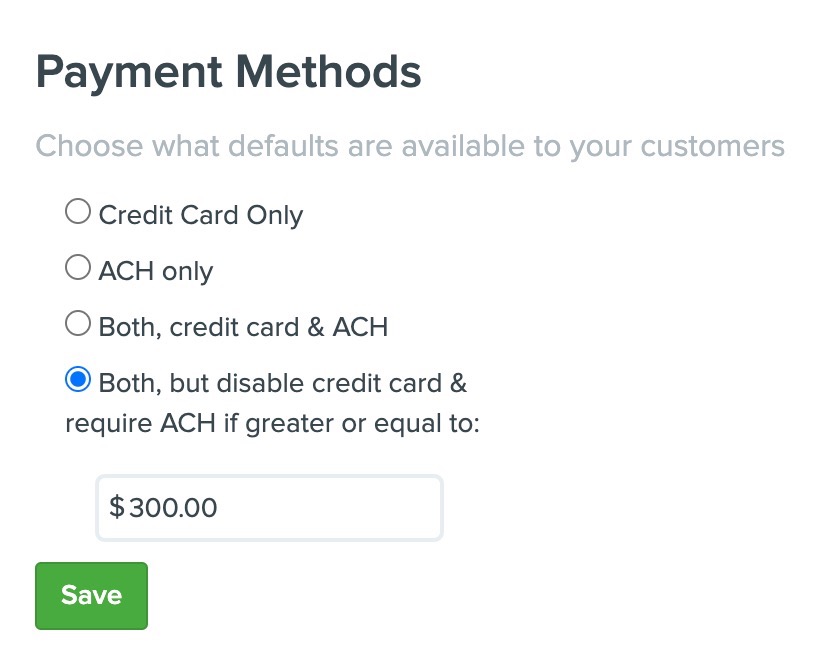 See the infographic at the top of the article or read the text below for our pros and cons of ACH vs CC along with some recommended uses.
ACH Pros
Fees are typically lower than CC
ACH Cons
Processing time is slower than CC (3-5 business days)
Payment authorization is not real time so payments are provisional and can be returned (e.g., due to insufficient funds, closed accounts)
CC Pros
Processing time is faster than ACH (2-3 business days)
Payment authorization is real time which leads to high-confidence payments
CC Cons
Fees are typically higher than ACH
Recommended use:
ACH:
High-dollar transactions with customers you know and trust

Transactions for jobs that don't require a rush so confirmed payment can settle
CC:
Transactions with new customers

Transactions for rush orders for faster payment settlement