Understanding the basics and best practices of the Automated Clearing House (ACH) system
Automated Clearing House (ACH) is an electronic payment system that facilitates secure transfers between bank accounts and offers businesses a smooth alternative to traditional payment methods such as credit card, cash, or checks. 
ACH payments are gaining significant traction in the decorated apparel industry. In fact, it was one of Printavo's most requested features because ACH can be a cheaper alternative to credit cards for collecting payment on large orders.
At the end of 2022, Printavo launched embedded payments, which gives customers the option to collect payment through ACH.  Printavo, too, allows you the option to offer ACH as a payment collection method from some or all of your customers.
However, if you decide to process ACH transactions, we want to make sure we're providing you with a solid grasp of the basics as well as tips for best practices to safeguard against potential fraud.
(And if you're collecting payment in Printavo, be sure to check out our Mega FAQ on all things payments.)
In this blog post, we will cover:
The steps and timeline of an ACH transaction

How ACH returns work and why they might happen

Best practices to prevent fraud when offering ACH transactions
The steps and timeline of an ACH transaction
Here are the 4 steps of how an ACH transaction would work between your shop and your customer once you've manually made or automated a payment request:

Initiation of Payment:

When a customer selects "Pay by Bank Account" in Printavo and submits their payment they are

initiating

an ACH debit to their account.

Customer Authorization

: When a customer provides their bank account information, including the routing number and account number, securely, into Printavo (or whatever payment platform), that customer is

authorizing

the payment.

Processing

: The payment request is sent to the ACH network. The ACH network then

processes

the payments, sorting and batching them to the appropriate receiving banks (your purchaser's bank).

Settlement

: Their bank processes the payment and

settles

it by sending a

provisional credit

to your account.
This entire process typically takes between 1 and 3 banking days.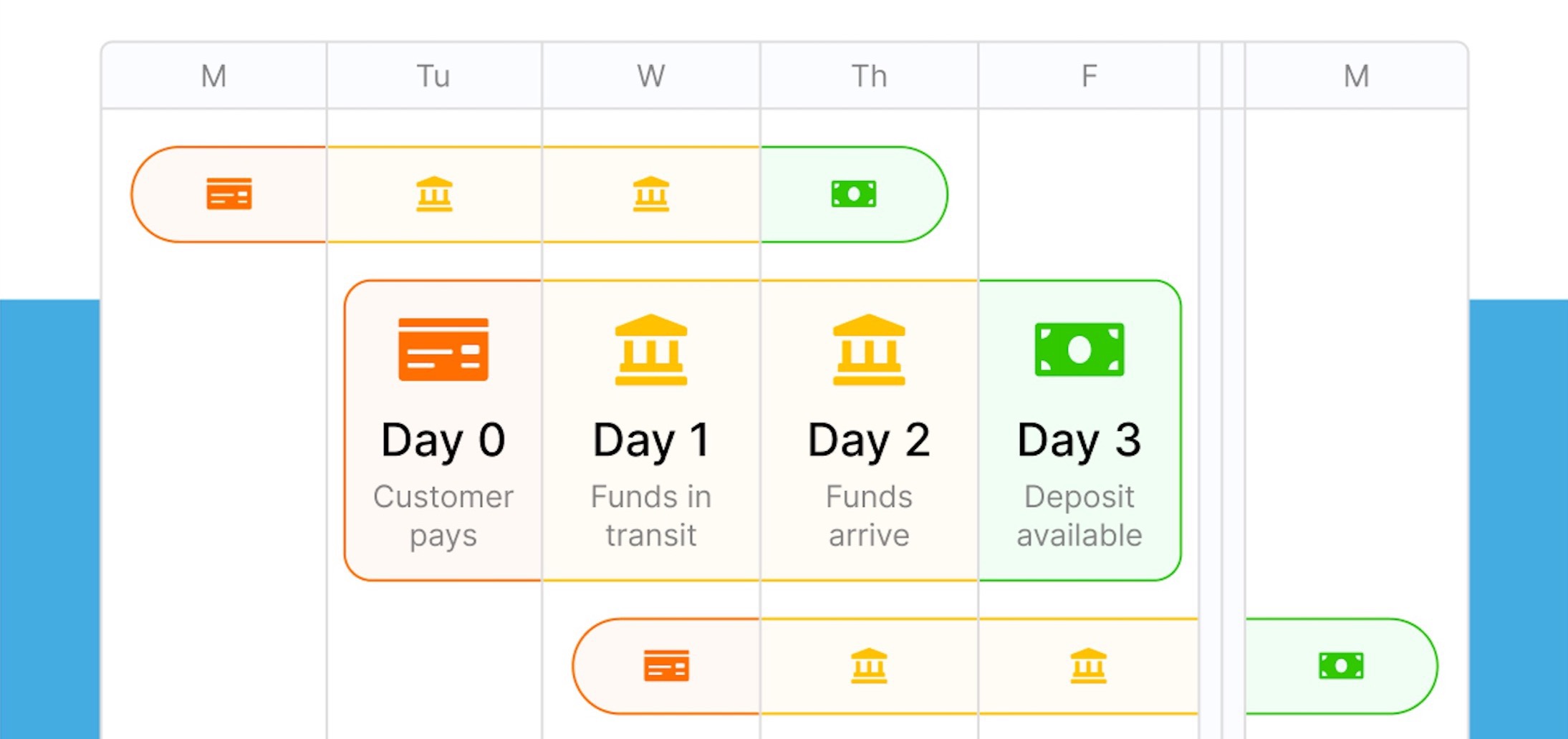 How ACH returns work and why they might occur
A returned payment is commonly referred to as an ACH return. While ACH payments are generally reliable, transactions are occasionally returned or rejected.. This is usually because of insufficient funds, incorrect account information, or even closed accounts. 
The ACH network has a structured process for handling returned transactions. Initiated by the purchaser's bank, this process can take anywhere from 5 to 7 banking days to complete. 
There are two primary types of ACH returns:
Soft Return:

A "soft" return occurs due to issues that can be rectified, such as insufficient funds.

Hard Return:

In contrast, a "hard" return is triggered by issues that cannot be corrected, such as a closed account.
Best practices to prevent fraud when offering ACH transactions
To ensure the smooth flow of ACH transactions and minimize the risk of fraud, shops should proactively adhere to several key best practices:
A Smooth Ride with ACH Payments
By getting the hang of ACH transactions and sticking to smart practices, shops can easily jump on board with this electronic payment method while keeping an eye out for any potential fraud hiccups. 
In the ever-changing world of online transactions, businesses armed with the right know-how and practical steps can make the most of ACH payments, ensuring both security and happy customers.
Questions?
Email us at support@printavo.com and we'd be happy to help!