What is ACH?
ACH (Automated Clearing House) is a payment processing system that allows individuals and businesses to send and receive electronic payments between banks. ACH payments are a popular alternative to paper checks and credit card payments, as they are often faster, more secure, and less expensive.
How does an ACH transaction work?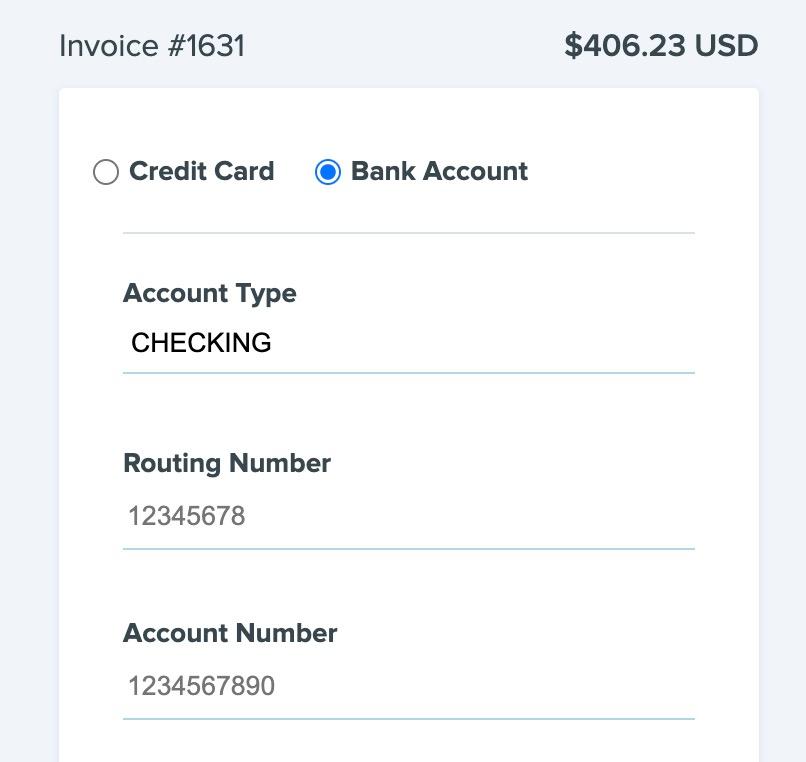 Here's how an ACH transaction would work between your business and your customer once you've made a payment request:
Initiation of Payment:

When a customer chooses to pay by Bank Account in Printavo (see screenshot above) they are initiating an ACH debit to their account.

Authorization:

Your customer authorizes the payment by providing their bank account information, including the routing number and account number, securely, into the payment platform.

Processing:

The payment request is sent to the ACH network. The ACH network then sorts and batches the payments and sends them to the appropriate receiving banks (your purchaser's bank).

Settlement:

Their bank processes the payment and sends a provisional credit to your account. This process typically takes between one and three banking days.
What are ACH returns?
Sometimes, ACH transactions can be returned or rejected due to various reasons such as insufficient funds in the account, an invalid account number, or an invalid routing number. When a payment is returned, it is called an ACH return.
The ACH network provides a process for returning transactions, which allows the purchaser's bank to reclaim the payment from the shop's bank. The return process is initiated by the purchaser's bank and can take up to five banking days to complete.
ACH returns are categorized into two types: soft returns and hard returns. A soft return occurs when a payment is returned to the purchaser's bank due to an issue that can be corrected, such as insufficient funds. A hard return occurs when a payment is returned to the purchaser's bank due to an issue that cannot be corrected, such as an account that has been closed.
To avoid ACH returns, it is important to ensure that all the information your customer provides for the payment is accurate and up-to-date. If a payment is returned, the shop will not receive the funds or the funds will be collected back, and an eCheck return fee will be charged. This fee can be passed along to your purchaser when recollecting the amount owed by adding a fee to the invoice. (This is good information to add to your Terms and Conditions in your Printavo settings. You can also create preset fees to charge your customer in the event of an ACH return.)
Overall, ACH payments are a safe and convenient way to transfer funds electronically between bank accounts. If you have any questions about ACH payments or need assistance setting up ACH payments, feel free to reach out to us at support@printavo.com.