PrintHustlers Conf is back for our third year!
Click here to get tickets today! You can save 15% with the discount code below.
If you're a relentless Print Hustler, you'll want to be in downtown Chicago at East-West University on July 12th and 13th, 2019.
New to the industry? Or a seasoned veteran? There's something for you.
Marketing and sales are rapidly evolving. Google updates its algorithm 500 times a year. Facebook and Instagram are the new channels for building truly authentic brands.
Customers are inundated with noise, obnoxious ads and social messaging...and they demand better service than ever before.
One-click custom T-shirt orders are no longer a dream – they're becoming what people expect.
There's no magic trick for success in the garment decoration industry: you've got to hustle and be the real deal.
Are you prepared to tackle this challenging environment? To make it all work in 2019, you'll need to be as flexible as you are persistent. Your marketing and growth efforts will pay off if you've got the knowledge, tenacity and connections. PrintHustlers Conf is where it all comes together.
Tell it like it really is – with people who really know.
PrintHustlers Conf is a place to learn.
But it's also a place to connect through candid conversations about the challenges we all face in the custom apparel industry. Pricing problems, production headaches, awful customers, flaky employees, marketing nightmares, software challenges – nothing is off limits.
Need a taste of what we'll share at PrintHustlers Conf 2019?
Last year we went in-depth into vital topics: utilizing contract printing, training new hires, leveraging automation in your print shop and even brand building in a challenging market.
We've hosted amazing conversations with Ryonet's Ryan Moor, the creator of Geico's caveman ad campaigns, and marketing gurus like Shelby Craig.
This year we'll dive even deeper and go further to provide tremendous value in an action-packed two-day conference.
Develop. Grow. Learn. Keep pushing forward.
We started PrintHustlers Conf because we know what it takes to really succeed in this industry: grit, relentless improvement, a great story – and even some luck.
What was missing? A place & time to get together with the people who love this work. A conference dedicated to sharing knowledge, building connections and pushing through the real challenges that we face.
No one person can do it all! You need a team of dedicated and passionate professionals from diverse backgrounds that want you to succeed. PrintHustlers Conf 2019 is where you'll meet those people. A rising tide raises all ships.
Save 15% if you make your reservation now.
The early bird gets the worm – and 15% off. That's at least a $30 discount!
Enter coupon code HUSTLE2019 at checkout & save on your booking.
This discount won't last, so get your ticket today!
---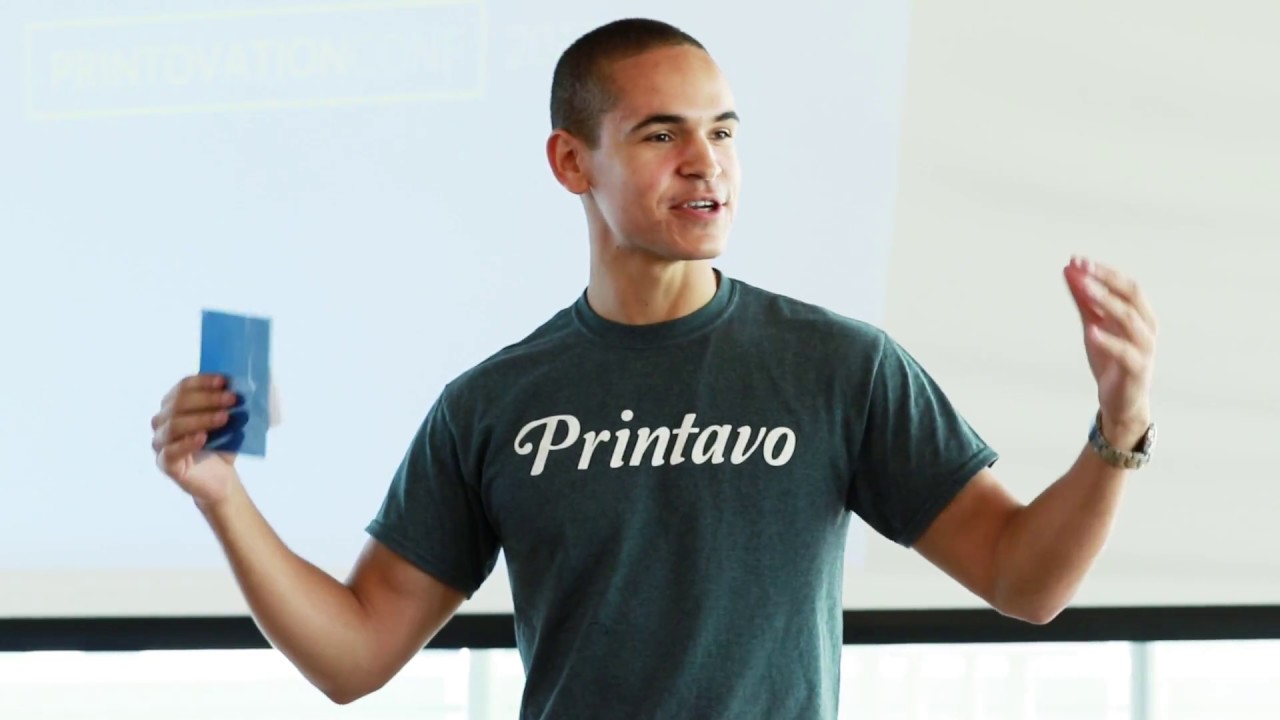 Bruce Ackerman, Printavo founder, at the first PrintHustlers Conf.
We love everyone that's part of Print Hustlers. That's why we're hosting this magnetic event. If you do one thing to develop your skills, grow your business and connect with like-minded entrepreneurs in 2019, make it PrintHustlers Conf. We know you won't stop there.
We will slowly roll out our list of speakers as we move into the new year. There are going to be some great surprises.
Only PrintHustlers Conf offers this amazing opportunity to focus on your business and learn from people who've successfully been there and done it.
If you haven't already, join our Facebook group & start making connections today!