For those in the business of apparel decorating, screen printing, embroidery, and custom promotional products, a free subscription to Printwear Magazine just makes sense.
This respected magazine provides insight into current trends and technologies in the apparel decorating industry and connects you to a worldwide network of peers.
With over 70,000 subscribers from businesses that offer custom printing services, it's one of the most renowned publications in the industry.
What Will A Free Subscription To Printwear Magazine Do For My Business?
Technology is developing faster with every passing year, and a free subscription to Printwear will help you keep your finger on the pulse of the industry's latest innovations.
You'll connect with the newest ways to ensure your business is eco-friendly by using sustainable practices. You'll learn about the latest trends in clothing for all ages, hear from your competition, and even follow the latest ways to keep your business ranking and relevant on the web.
Information about all of this (and much more) comes to you in each issue of Printwear Magazine – without costing your business a single penny.
I'm in the Apparel Decorating Industry, What's Next?
There's only one requirement to be able to sign up for the industry's leading magazine on apparel decoration: be part of the trade!
Whether you sell printed garments or are in the business of making them yourself, you qualify to get this incredible deal.
How Do I Get My Free Printwear Subscription?
Click here to be directed to the Printwear Magazine subscription page. You'll answer a few simple questions to make sure you're eligible to receive this offer.
It starts with a checklist of all of the industries that qualify. Find yourself on the list and check the box!

Next, you'll get an opportunity to select your subscription type. The basic free offer is what you'll want. Platinum and Gold offers exist ($220 and $99 respectively) with different perks.

Once you've selected the type of subscription, you want you'll get to pick whether you want your subscription in print and digital – or digital-only.

Next, they'll ask you for some basic information regarding where you want your subscription to arrive.

Finally, they'll ask you what your position in your company is, and how many employees you have.
Once you've filled out the form and hit 'Complete,' you're signed up for one of the apparel decorating industry's most respected magazines.
This is a great opportunity, at no cost, to keep your finger on the pulse of the industry. Don't do your business a disservice – get Printwear in your shop!
What Kind Of Articles Does Printwear Publish?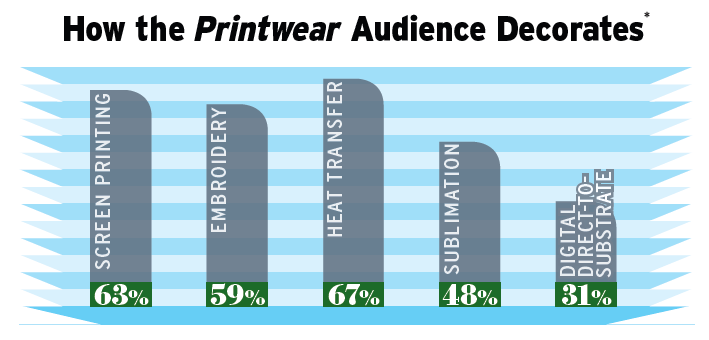 Their articles cover all aspects of the apparel decorating industry: Printwear's audience uses diverse decoration methods.
Printwear Magazine's goal is to become the essential publication for print shops of all sizes and experience levels.
Throughout the year they cover topics on seasonal fashion, changing clothing styles and trends, news about vendors and manufacturers, trade shows, and much more.
With your subscription, you'll have easy access to the latest news in internet marketing, software, printing techniques, and reviews of the latest products on the market.
Printwear Magazine is a shortcut to getting everything you need to know to keep your company at the leading edge of the apparel decoration market.
What If I Have More Questions Before I Sign Up For My Subscription?
Printwear believes that customer service is the cornerstone of providing an excellent product, and offers several great options for reaching out to them.
If you've got time to make a call you can reach their customer service department between the hours of 8:30 AM to 5:00 PM, Pacific Standard Time, Monday through Friday at 1-800-870-0904.
Can't call? Fire an email off through their contact form. Printwear is known for prompt support.
Discover new technology, trends, and news. Stay up-to-date with shop profiles and interviews with industry leaders. Connect with your industry and keep up with rapid developments. Claim your free Printwear Magazine subscription today!