E-commerce has rocketed to more than 20% of all retail sales in the United States.
Did you know it took 10 years for e-commerce to gain 10% market share – and then just 8 weeks to add another 10%? Take a look: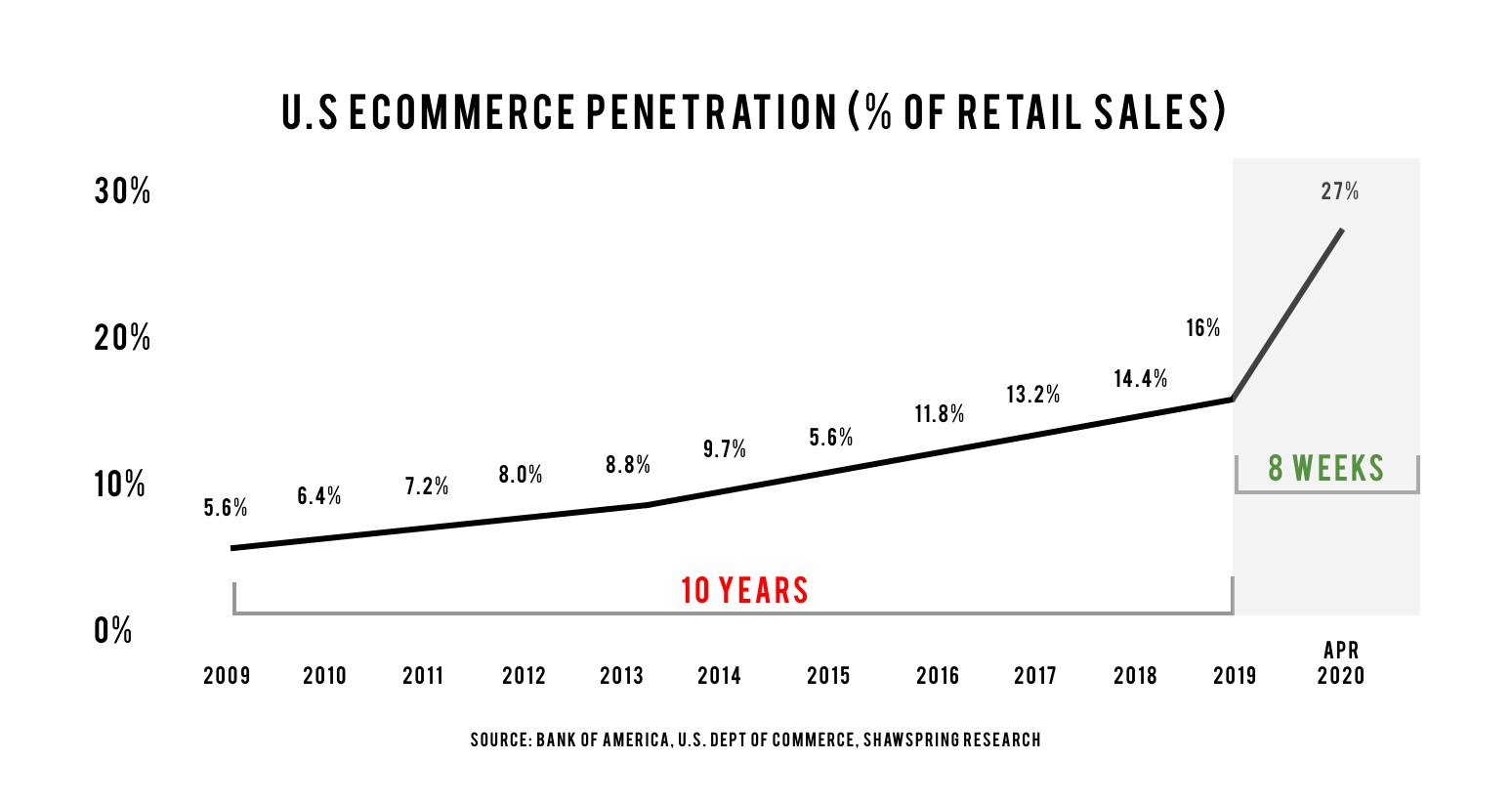 Using Merch stores to grow your business and expand your reach is how print shops thrive during this challenging time.
Here are 5 steps to setup and run successful Merch stores – based on advice and observations from the industry's best and brightest.
---
Step 1: Choose The Right Customers
Some customers are a better fit for Merch stores than others.
BEST FIT
Famous, viral, or widely-known and beloved
Big audience
Do fundraising
Need on-demand fulfillment
"Grandma would want one, too!"
Some successful Merch store clients that are the best fit include: professional sports teams, school districts, fundraisers, celebrities, politicians, corporate stores and popular bands.
GOOD FIT
Need to streamline order process
Don't want to distribute orders individually
Require merchandise (i.e. uniforms)
Some example Merch store clients that are a good fit include: schools, small sports teams, and customers that do frequent reorders.
POOR FIT
New organizations and businesses without an audience
Simple orders for a set number of pieces
No online presence to use for outreach
Some examples of clients to avoid are: startup brands, or any client's store that would be better as a simple custom order.
Evaluating customers
Who are your best customers right now? Some may be perfect for online stores. But other customers are better for traditional custom orders.
Break down their audience, their potential, and whether they simply need a Merch store to make life easier.
AUDIENCE: Evaluate scale and reach.
The ideal customer already has scale and reach.
Scale: they're already well known and have a broad network of supporters and fans that may want to buy their merch.
Reach: they can speak to their audience via social media, email, livestream, or some other outlet.
POTENTIAL: Evaluate the risk and possible payoff.
Is a simple custom order a better fit?
Risk: some customers are better suited for traditional custom orders.
Payoff: could dozens, hundreds, or thousands of additional people want merchandise from this customer?
NEED: Evaluate their need.
Not every customer needs a Merch store because they're going to sell thousands of items. Some need Merch stores for practical reasons: it dramatically simplifies order collection. Could this customer use an easy way to place orders for their most common goods?
---
Step 2: Set Your Store Up For Success
80% of Printavo Merch stores that made more than $10,000 had fewer than 9 products on sale.
The most successful shops offer three tiers of products: good, better, and best. They use countdown timers to create urgency. And they sell their Merch stores by sending a link to a finished store.
Use product tiers
Keep it simple with tiered product offerings.
GOOD: less than $15. Think tote bags, pens, mugs.
BETTER: from $15 to $30. Think screen printed t-shirts and embroidered hats.
BEST: from $30 up. Think hoodies, jackets, backpacks and other high-end products.
Use a countdown timer
Always use a countdown timer – even if you plan on keeping the store up indefinitely. Countdown timers create urgency. Customers think they only have a limited opportunity to purchase the merch.
More importantly: Merch stores with countdown timers outsell Merch stores that don't have countdown timers by nearly 2:1.
Use the Merch store to pitch to customers
Merch stores sell themselves. It's much easier to pitch a finished product than to explain how a Merch store could work.
Ready to pitch your store? Just send the customer a link to your finished Merch store.
When they see it, they'll get it.
---
Step 3: Set Rules and Prices
The goal? Mitigate risk, set expectations, and make money.
Setting clear rules upfront is key: agree to a timeline, communicate early and often, and use terms and conditions to your advantage.
Merch stores are a premium service. Price your products at least 10% higher than traditional custom orders to account for any additional time involved – particularly for fulfillment.
Communicate clearly about important dates
Be sure you inform customers of important dates for Merch stores.
When will the store close?
When will customers get their products?
When will you payout Fundraiser proceeds (if applicable)?
Agree to clear terms and conditions
Agreeing upfront to clear terms and conditions makes for happier customers.
At a minimum, you need to include:
Contact info (Email, phone, website, online store address
All important dates (Opening, closing, production, in-hand dates)
Minimum order size to fulfill (Either a quantity or dollar amount)
All important policies (Returns, fulfillment, any unique caveats
Price Merch stores at a premium
Merch stores are a premium service. Price them appropriately.
Some shops add $1-5 on top of their normal print fee.
Other shops charge a 10-30% upcharge.
Whatever you do, use online stores as a profitable service – not a drag on your business.
---
Step 4: Make Your Customer Do The Marketing (But Help Them, Too)
You have to help your customers market their Merch stores.
Your customers must share their Merch stores widely. This is simple. Once you pick customers with scale, reach, and potential, you can give them content to share with their audience.
Don't think you have content? You do! Use mockups, product shots, and simple text-based images. Email your customers several images and attach a witty or thoughtful caption. Ask them to share it with their audience.
Create pre-made social media posts
Mockups, product shots and simple text posts are all you need.
Use email – hard
Your customers HAVE to email their customers.
Email is the biggest win for marketing: no algorithms and no pay-to-pay – just straight to their inbox.
Think beyond the internet
Can they contact the media?
Is there a great story here?
Don't confine yourself to the internet! Everything flyers and custom signage to contacting the media for some coverage can help.
Get the word out!
---
Step 5: Fulfill Perfectly Every Time
Fulfillment is the final key to success.
The goal is to print exactly what you need and deliver it perfectly every time – and it's not as difficult as you think.
We suggest bagging-and-tagging every Merch store order.
Ideally, you can use a bag with your shop's logo – or throw in a postcard or sticker. You don't have to ship products, but it's a great way to earn more customers. Our suggested method for fulfillment is a layered system:
COUNT & SORT: Count in and sort products carefully by size or product.
PRINT: Use Printavo to schedule printing.
PRE-BAG: Lay out each order and match it to Printavo's packing slips.
BAG CHECK: Use Printavo to double-check that every order is present.
BAG IT: Always include a Thank You card.
---
The Short Version
CUSTOMERS Pick the right customers – they need scale and reach!
PRODUCTS Keep your product offerings simple – and don't offer too many products!
POLICIES Set the right rules and prices – make this work for you!
MARKETING Make your customers do the marketing – but help them out!
FULFILLMENT Print and ship only what you need – use a layered process!