Justin Lawrence from Oklahoma Shirt Company has been on our radar at Printavo for several years now. He presented at the 2018 PrintHustlers Conf and utilizes Printavo in his business. He's always willing to share his insights about the challenges around growth and leadership.
Justin started out with a subscription-based t-shirt club with customized designs focused on Oklahoma state pride and identity. From there, his business grew and matured. He realized he needed to expand beyond the subscription model. Justin started building a powerful brand that is deeply connected to Oklahoma City – in his own words, "becoming Oklahoma City's favorite screen printer."
We were fortunate enough to get some time to talk to Justin about his past year during ISS Long Beach 2019.
It's been a real challenge – he's nearly doubled the production capacity (adding two new automatic presses) and hired more than 20 new employees. Somehow, he also found time and energy to relocate his entire operation. Justin discusses moving, growing, and developing as a leader in this candid interview.
---
2018 was a big year for Oklahoma Shirt Company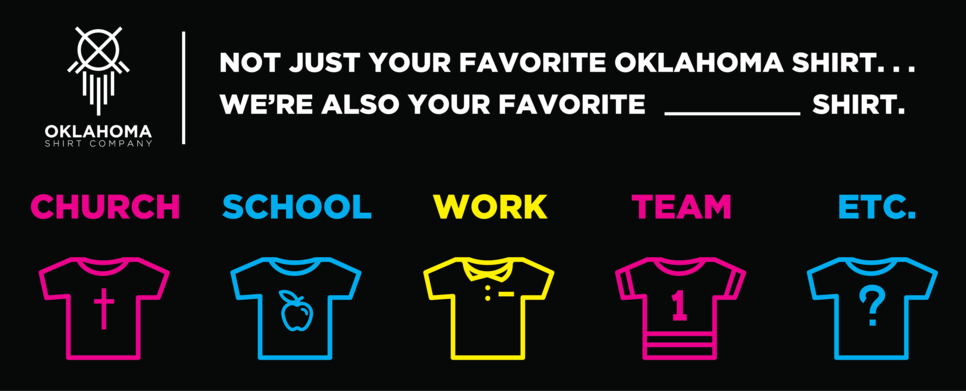 Justin recounts a busy year full of ups and downs.
Relocation. Justin's team jumped on an opportunity to move to a new space near downtown Oklahoma City. Things in Oklahoma City require taking chances on big opportunities instead of waiting for the perfect building.
Two new automatic presses and new dryers. Oklahoma Shirt Company upgraded their production capacity, virtually doubling their capabilities.
Staffing challenges. Hiring and retaining employees continues to be an ongoing challenge.
Building training processes. Once new roles were created, the first hires for those new roles really struggled. Building training processes and standards is becoming very important.
Hiring a personal assistant. Justin's ability to execute and communicate was being compromised by sheer volume. He finally hired a personal assistant.
Developing new values. Justin has thoughtfully approached his growth – it's centered around his role as a caretaker and his responsibility to other human beings instead of his desire to be the biggest or best.
They even got a shoutout from Wayne Coyne of The Flaming Lips.
Moving was painful, expensive, and hard on production
What did Justin learn from relocation? It's very, very difficult.
First, you will probably underestimate just how much production downtime you'll need.
Moving seriously cut into their productivity. Between planning, executing, and then dealing with the relocation, a lot of time was spent focused on the move instead of on printing.
Justin underestimated the amount of downtime that would happen – and suggests that it's better to really exaggerate how much downtime you'll need when you move your shop.
Justin hints at some expensive lessons that Oklahoma Shirt Company learned from being a bit overzealous about their skills. He recommends avoiding the urge to do everything by yourself. Get it done right the first time, even if it's costly. The savings are realized over the long-term.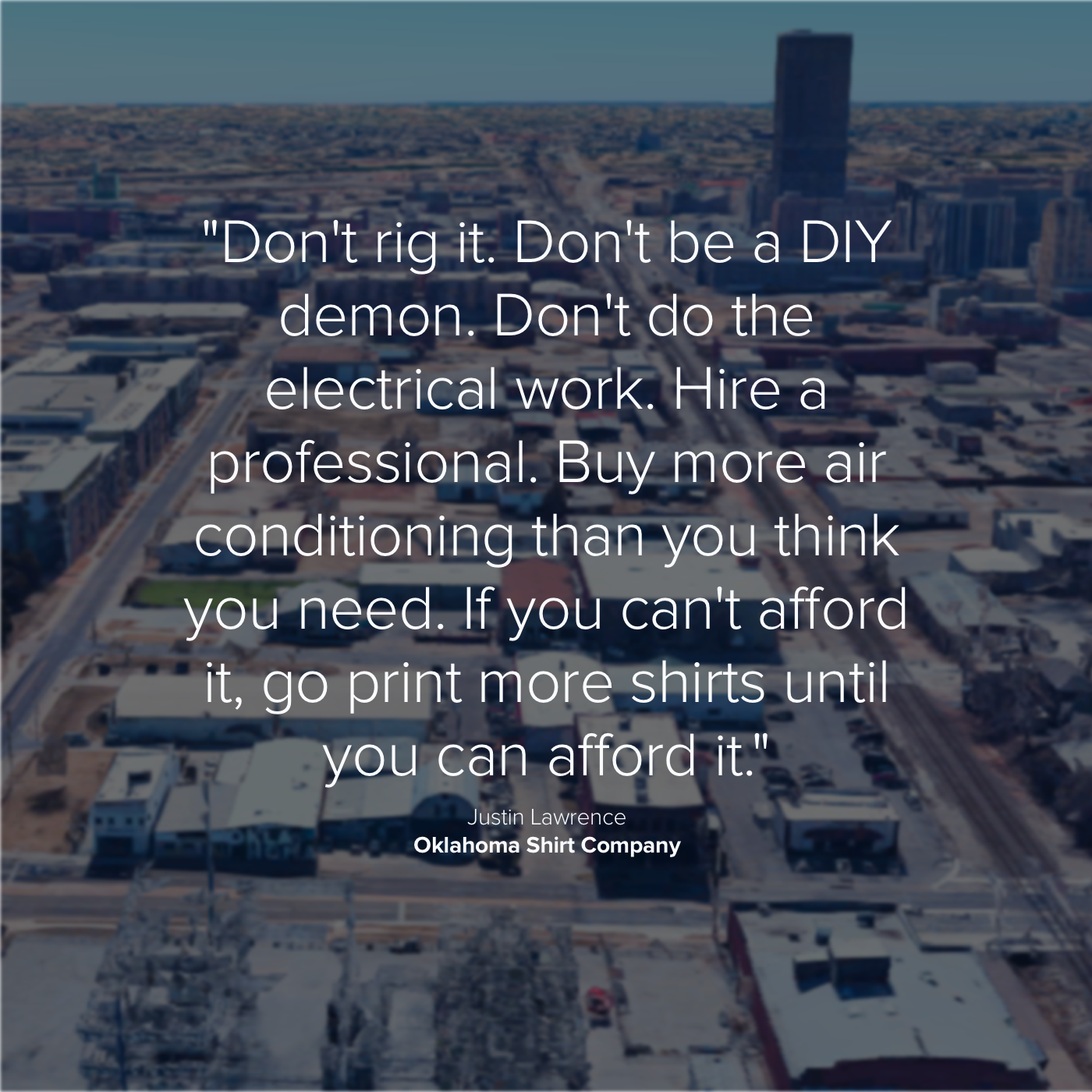 Going from 18 to 39 employees
Justin doesn't work with t-shirts much anymore, unfortunately. He's shifted into a role where much of his job is taking care of people and ensuring that he makes the right decisions for the health of his business – and the well-being of his employees.
"The best lessons that I learn as a leader often come at the expense of other people's careers. At the end of the day, we are still humans taking care of humans. I have to take care of my people. I have to slow down when I'm making decisions. My mistakes cost my employees personally. Oklahoma Shirt Company didn't define who these people were, but they were here and they gave themselves to this place. I could have cared for them better."
Staffing continues to be an issue. Scaling is a huge challenge that took its toll on Justin and the team. He's realized that his real role in the business is making great decisions that allow his employees to thrive. He's working on the business, not in the business.
New positions are really a pain point. There's no scaffolding for training. But each time you hire someone and then replace them in that new position, you can continue improving the role.
The Oklahoma Shirt Company Employee Handbook has grown from a simple W9 and non-disclosure agreement into a large and long document about the company's culture, workflow, its values, and even how to resolve issues through HR. It's not pretty (yet!) but it's value and implementation improve with each successive employee.
HR is not a joke – and not optional
It's hard to want to spend money on HR, right? It's not something that's easy to see the immediate value of – they're not printing or bringing in customers! But Justin suggests that's a backwards way of looking at things.
Without great HR in place, your employees grow restless and frustrated. Roles aren't clearly defined. Problems go unsolved. The backlog of issues grows longer and longer without a person dedicated to the humans on your team.
Who unclogs the toilet? Who does payroll? Who does HR? These nuts-and-bolts issues are not to be left to chance. Justin hired a personal assistant to help him handle the barrage of communication he has to handle. He hired his personal assistant around 32 employees, but wishes he'd done it earlier.
"Some of the smartest people told me to do this for the last two years. 'You need help.' I finally realized I'm not able to follow through, I'm not able to lead effectively, HR functions are failing, morale is low."
Stepping back and getting a second person on board to help with the task of managing 30+ employees – and hundreds of needy customers – helped Justin get back to the big-picture thinking that's most valuable in his role.
Where did the growth come from?
The simplest way to sum up Justin's growth and marketing strategy? Help make your clients successful.
Justin kept it local and got involved in his community, locking down his brand's role in Oklahoma City. He saw the opportunity for his shop to take its engagement to the next level.
How they did it: Oklahoma Shirt Company takes part in lots of events and outreach efforts.
Local philanthropy efforts. Not just an opportunity to give back to the community, but a chance to grow brand recognition while doing charitable work.
Protracted marketing efforts. Justin's long-term marketing and sales approach means constant engagement and content across multiple online channels.
Targeted cultural and entertainment event engagement. From festivals to concerts to sports teams, Oklahoma Shirt Company is present. They're striving to be top-of-mind for anyone that wants a shirt in Oklahoma.
Sponsorships and informational booths. Putting logos on sleeves and sponsoring events has had a huge positive ROI.
Giving shirts away for a cause. Sometimes the simplest and easiest route is to merely give away your product to a great cause that you support.
Leveraging nonprofits to boost your visibility. Justin tells us that nonprofits are highly motivated to share positive experiences – and typically are connected to other nonprofits that want to use your services. Don't overlook these lucrative opportunities to engage with the community and sell custom t-shirts and merchandise.
By being strong and consistent about putting Oklahoma Shirt Company in the public eye, Justin has kept his brand visible and built a larger network than he imagined was possible.