So your shop is open for business and ready to accept orders. Implementing a simple, repeatable process for building orders is how you fulfill jobs quickly — and make money! This short chapter will demonstrate how to best build and execute new orders, talk about how to get orders moving and provide relevant information for how to quote jobs.
Before you get started, there's one important thing to remember about quotes: it's not an estimate. Once a customer approves a quote, it is a legally binding cost that the customer has agreed to pay. This makes quoting your work correctly critical to the success of your business.
When a customer first approaches your business with a request for service, you'll need to gather a standard set of information that will allow you to take the job to completion. You want as little back and forth with the customer as possible. As the shop's owner, it's your responsibility to collect all of the information you need to complete the job correctly and on time. Make this process as easy as possible for your customer.
Finding the balance between too much and too little information is how to avoid waste and confusion. Getting the info you need the first time eliminates the need for additional follow-ups and miscommunication.
Here are 12 crucial pieces of information that you'll need from each customer. We've broken them down into customer information and order information:
Customer Information

Name

Billing and shipping address

Phone number

Additional contact person(s)

Budget

Order Information

Shipping address (are there multiple shipping addresses?)

Due date

What type of printing (two-color, one-color, embroidery, etc.)

Item type (Gildan 2000 Red, Allmade 200 Tri-Blend, etc.)

Color

Quantities and sizes

Artwork (provided by the customer or the shop)

Special order info (split shipments, name spellings, unique terms and conditions, etc.)
It may seem uncomfortable asking a person to name their budget, but it gives you an opportunity to showcase your expertise as a printmaker. If a customer has a $200 budget but wants to order 500 shirts with a two-color front and back print, you can save everyone a lot of time and offer more realistic options up front. Be clear on whether the customer is going to provide artwork versus expecting you to provide proofs from a concept. That will allow you to plan and schedule art prep for your production team and give your customer a realistic timeline for the job's completion.
After verifying the customer's information, you're ready to write your quote. The first step:
Date the job: You've gotten a due date from a customer, but it's essential for your team to be clear on two dates: the agreed-upon customer due date and the production date. Distinguishing between the date when the customer expects the goods in-hand and the production date provides control. It can also give you the freedom to reschedule and prioritize orders as production needs change, preventing you from losing business because of a scheduling mix-up – or needing to rush to get something done at the very last minute.
In Printavo, we built an easy way to set a customer due date and a production due date separately. The production due date is what we display on your shop's calendar and production notes.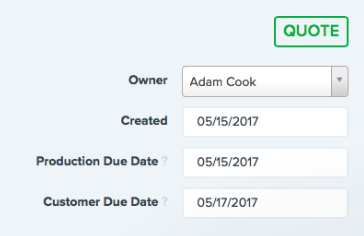 After planning out production dates, the next part of writing your quote is:
Inform the job's details: This step consists of giving your order a name that communicates what this job holds, as well as any special order information. Shops lose customers because they fail to track specific or special requests. It only takes one slip up for a customer to decide to take their money elsewhere. Sometimes this mishap can involve a split shipment, unique terms and conditions, or even just the spelling of a name. There are plenty of other legitimate reasons to lose customers, so don't make misplacing or losing information a problem for the people you print for.
It's important to have a name for your job and a designated place to house special order information. Customers appreciate the assurance of seeing that you're keeping track of their requests, and your team will be grateful to have all that information at their fingertips.
You want fields in your job quotes like this: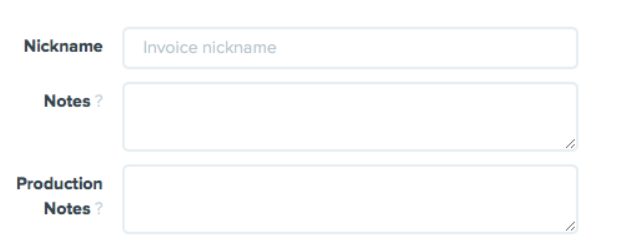 At Printavo, we add these features on every customer's quote to make sure you don't miss anything:
Nickname

is the title of the order that shows on your calendar.

Notes

are where you put customer-facing notes. These include special terms and conditions, shipping instructions and unique order requests.

Production notes

are for any internal-facing notes between your team. This creates a centralized channel for production communication. It's all right in front of your team, attached to the quote and viewable only by staff.
The next element to building out a successful quote is adding in the items, quantities and prices.
Adding items and pricing: There are five main pieces that every line item on your quotes and invoices should have:
Type/Category

Item SKU

Description

Sizes (optional)

Item quantity totals

Price
When all is said and done, each of the line items on your job quotes should look something like this:

All that's left to do is:
Attach your artwork*: The final step to a successful quote is adding your artwork. Whether it is customer provided, stock art, or designed by you – get it attached to your quote and approved by the customer so you can print and get paid.
If you're attaching artwork, consider the file size and file type of the art you're sending to the customer. If your file that requires software like Adobe Photoshop or Illustrator but the customer doesn't have that software, they can't see it. This is unprofessional and reflects poorly on your business. Or, just as bad, an image gets sent that is too small for the customer to see clearly. It may be beautiful art, but when the customer can't see it you're left looking unprofessional. This is another one of those unique industry challenges. When quoting a job out in Printavo, we've tried to eliminate this obstacle by allowing you to attach as many different file types as you want to each line item. It's easy to allow your customer to see large, full-resolution files and photos.
If you're not using a tool like Printavo, you'll want to be sure to attach a common file type like PDF or JPEG. Use a high enough resolution to give your customer a clear view of the art that will be on their order. You may even want to go one step further and give them a mock-up of the garment along with the artwork. The clearer the completed picture of their product, the better.
*There are quite a few things to keep in mind when approaching artwork approval with customers. First, this step is where most breakdowns occur. There is a lot of potential for back and forth over ideas, leading to miscommunication and mismanaged expectations. Second, you may receive artwork from a customer that is under no circumstances acceptable for you to print. This often creates a need for adjustment, which can elicit pushback from customers and potential frustrations for artists. Finally, you'll need to decide if you're going to charge an extra fee for designing or consulting on the artwork. It's important to communicate this up front, so your customer isn't surprised by what they think are hidden fees. Take a look at our chapter on artwork to get more in-depth practices on how to best navigate these challenges.
After attaching your artwork, your quote is ready for approval. Save it and send it to your customer.
---
Screen printing is a multi-billion dollar industry with customers from every part of the world. Every year, thousands of entrepreneurs discover their passion for screen printing - and they want to claim their cut of the billions and billions of dollars spent on custom printed apparel.
But the majority of new screen printing shops fail before they reach the 5-year mark. They fail because of poor business planning, dull branding, and a lack of ability to scale.
Your shop can be different.
This is an excerpt from our book, The PrintHustlers Guide To: Growing a Successful Screen Printing Business. Written by Printavo's dynamic founder Bruce Ackerman, Campus Ink's enterprising Steven Farag, and Adam Cook. The PrintHustlers Guide To: Growing a Successful Screen Printing Business is the next generation's guide for building your own lucrative print shop.
You can purchase a physical copy of the book on Amazon.
Previous chapter: Chapter 12: Setting Up Your Shop's Workflow
Next chapter: Chapter 14: Artwork

Coming soon!