Join Print Renegades in Los Angeles for a shop tour with a truly unique vibe. Started in 2012, Print Renegades serves a broad customer niche: "we can do one piece on our DTG printer or we can do thousands." 
The biggest tool they use to grow? Word of mouth. "Companies talk to each other!" The customer diversity has allowed them to be flexible and serve customers throughout COVID, even when other shops were struggling to drum up business.
Their shop has two spaces: production and their "artsy, green lounge" space where people can come to hang out. "We want to make it as inviting as possible," because so many customers come as referrals from other shops and really enjoy the vibe they've created. They'll offer print samples, drinks, and let customers have a hands-on experience right in their shop.
The artistic, fun-loving energy doesn't mean that they're disorganized. In fact, it's exactly the opposite: the organized, clean shop enables them to have street art all over their walls. "We have everything as organized as possible. That's efficiency!" Their shop is set up for comfort – everyone knows where things go, what they're for, and to look inviting for customers even in their production room.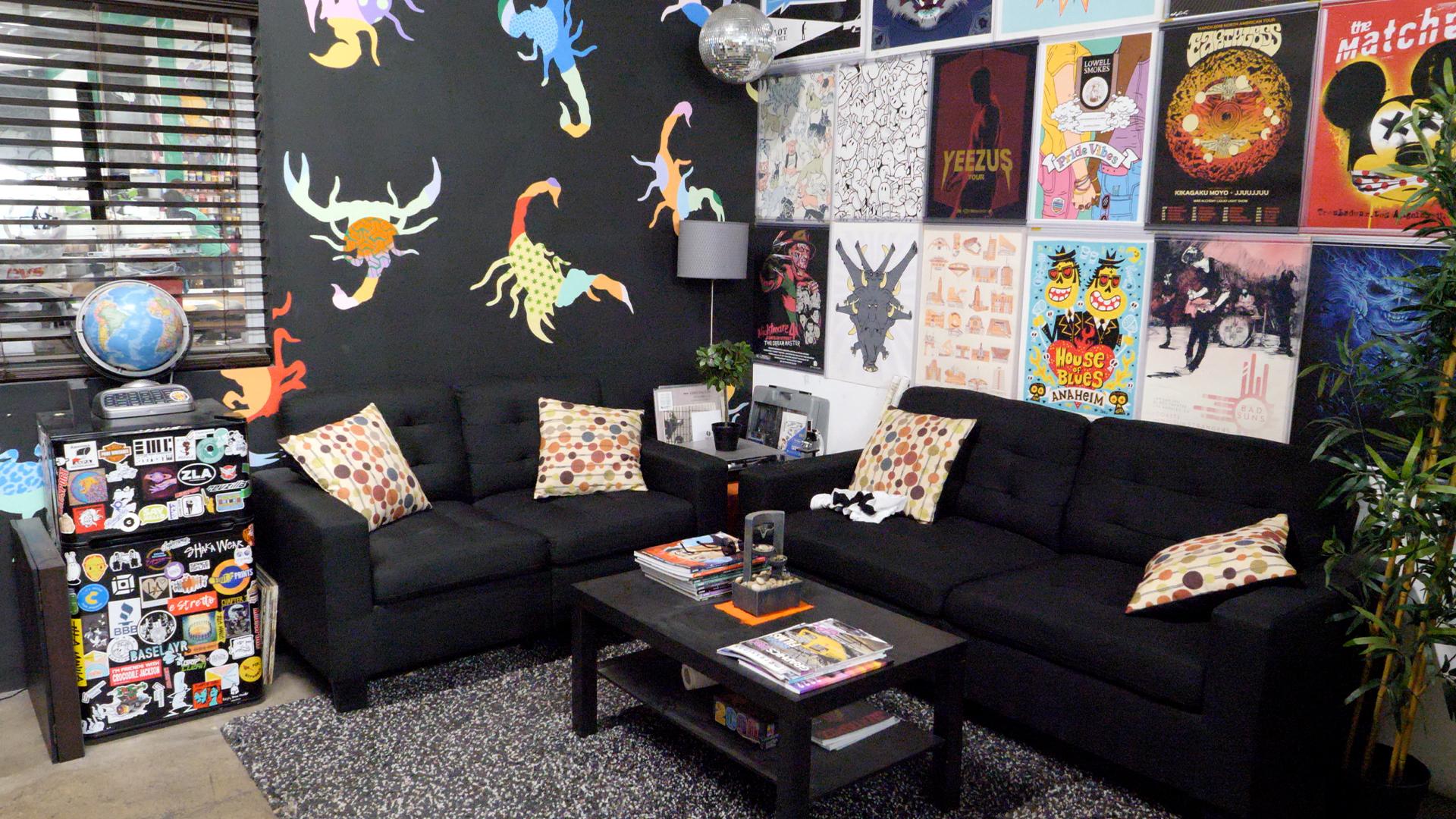 "We like to make it an art space with that gallery feel, so people feel like they want to come back and check things out." The same sense of organization extends into their screen room. They've labeled screens with mesh count and different colors for each mesh: "it's a visual representation so we know what to use, what to coat, and what orders are coming."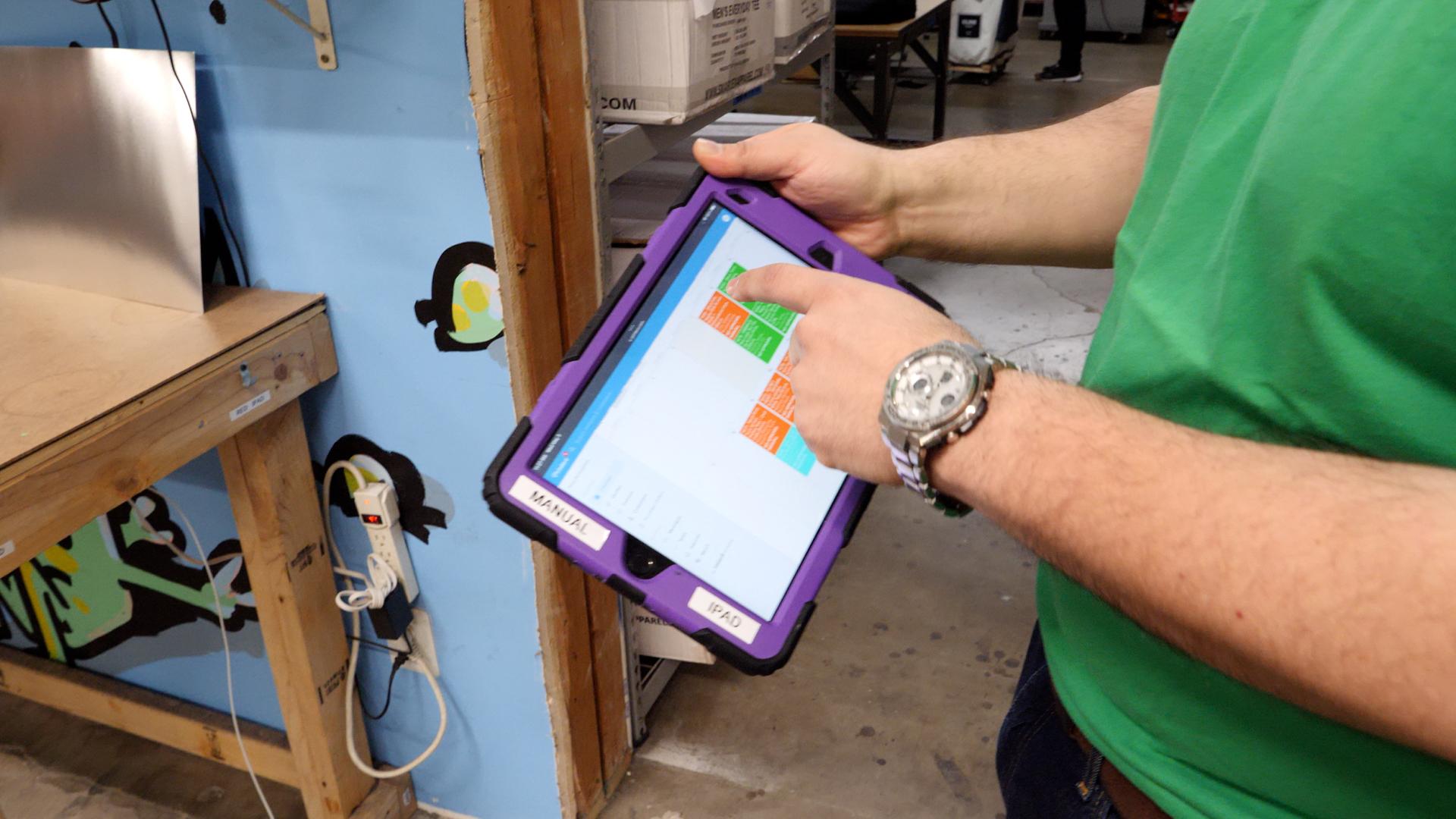 Their Printavo calendar is always visible on a big screen TV, and a weekly meeting steers the team rather than daily scrums. Interestingly, they try to cross-train every employee to do every job in the shop: "it's really helped with employee retention."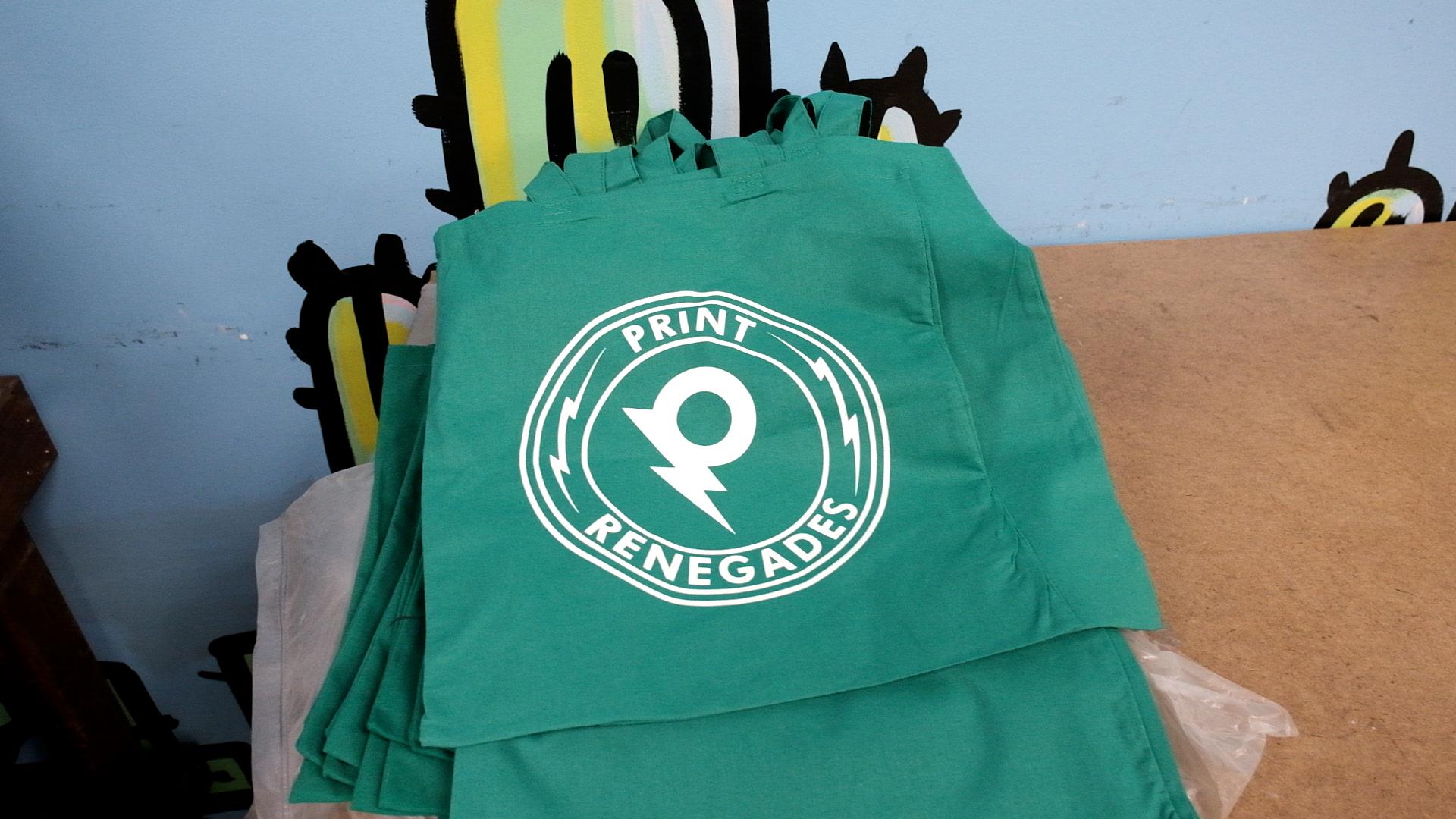 Print Renegades have always tried to limit their waste: "we try to produce just one trash bag a week, and all of the boxes that get shipped to us get reused." They use branded tape, but they also include a little sticker in each box to explain why you're getting a "random" box from a distributor instead of a custom Print Renegades box. 
When a shop like Print Renegades tries to do everything in house, things snowball quickly. The Print Renegades crew does a lot of different printing techniques to serve their customers: "We give them all of the options and then let them decide."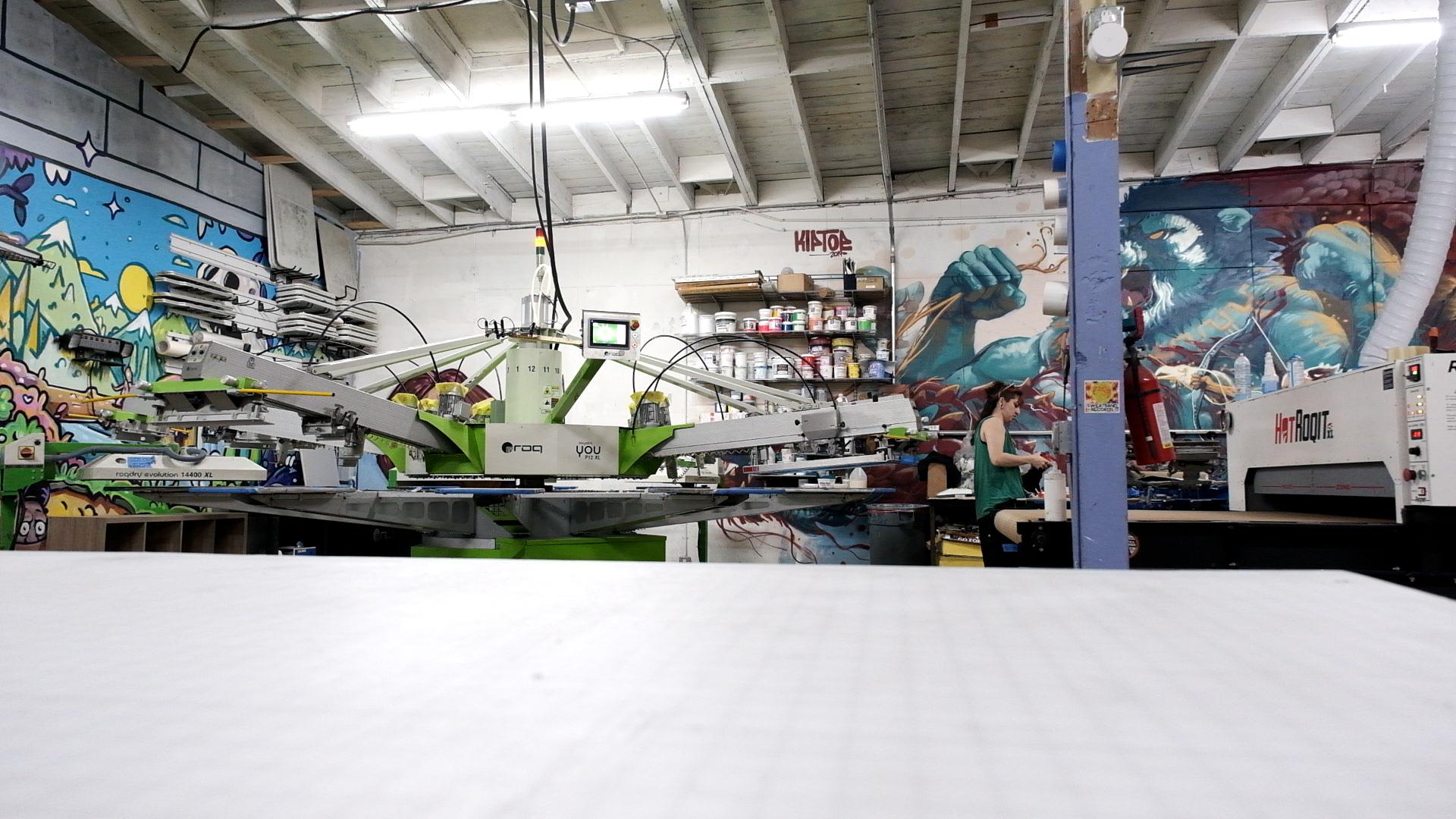 They've invested in embroidery and have two heads currently running. As space became available, they've dropped more ROQ presses into the shop and expanded into an adjacent space. Diving into poster printing has been lucrative too, despite the poster business "coming in waves" they've even invested in an industrial paper cutter to let them cut cardstock whenever they want.
"We even do DTF printed transfers with our DTG machine, which has really opened a whole new avenue for us," they told us. Poster racks let them pre-treat large quantities of t-shirts so that when orders come in they can quickly schedule and print jobs with confidence.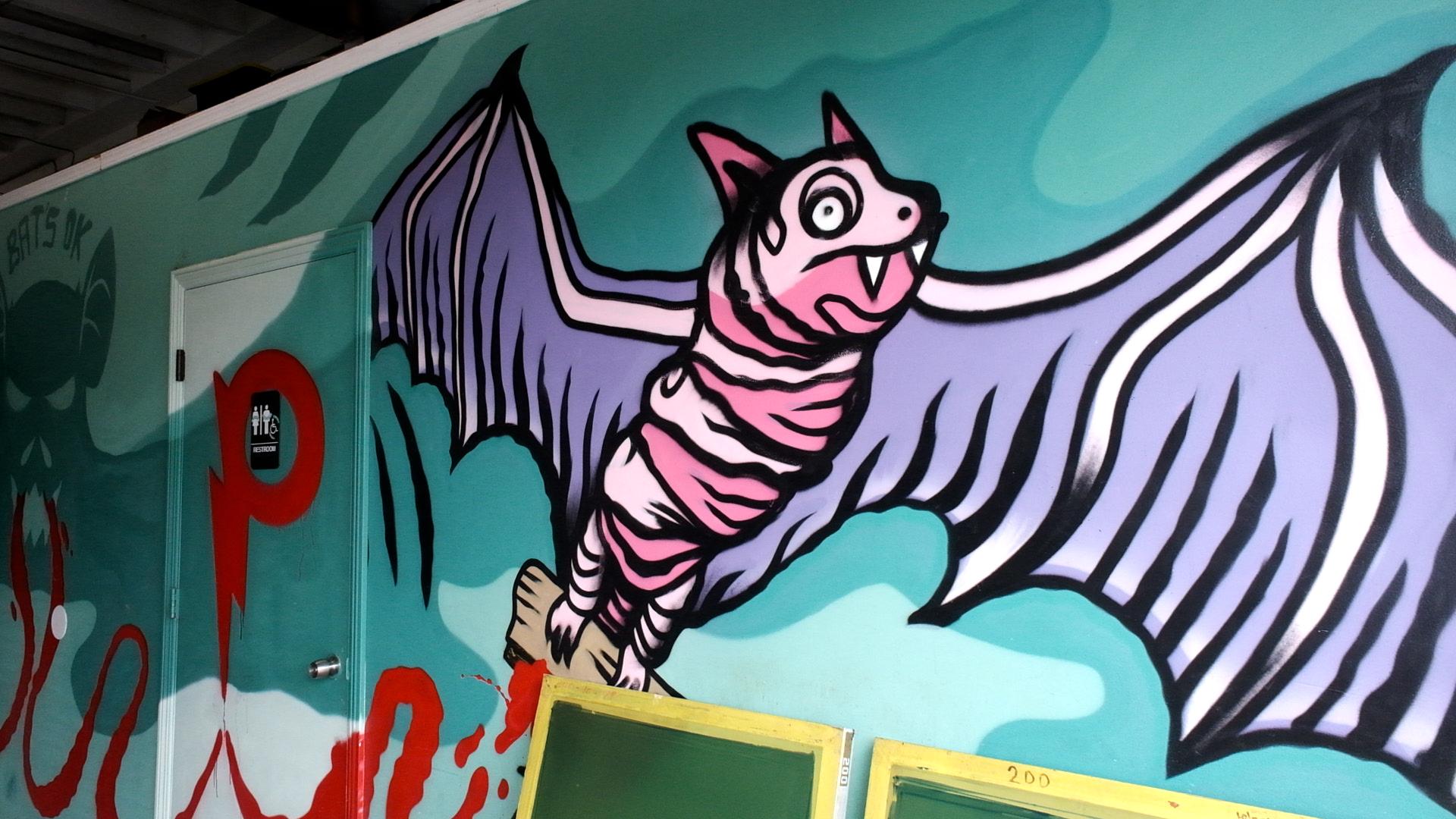 What really sets Print Renegades apart from other shops is their "WeWork for screen printing." They've got a full facility with all of the tools needed for screen printers to come in and learn, grow, and print. You pay a small monthly fee to access the space, schedule the time you need, and have full access to the space. Need to burn screens, or wash them out? Need just a weekend in the studio? Print Renegades will set you up for success. "People need a space to do this that isn't just their backyard or garage." Check it out at colabprint.com.