Dominic Rosacci (that's pronounced "like Versace with an R") and his team of skilled printers at Superior Ink in Denver have a meticulously organized and clean shop.
A lot of work has gone into making their shop appealing, comfortable, and open. That's not just because organized shops are more productive – it's because an organized and clean shop is a happier shop. With long employee tenures, a focus on sustainable practices, and an enjoyable atmosphere, it's no wonder that Superior Ink has such success.
Dom got his start in screen printing through skateboarding and snowboarding, two activities with dozens of custom apparel brands. He leverages those deep roots deep in the community by printing for skiing, snowboarding, and skateboarding brands – and even managing fulfillment legendary brands in the space.
As we've profiled more and more shops, Dominic's perspective stands out. Dom is uniquely thoughtful and open about how he approaches his business. "You're looking for one-word-answers…I'm going storyboard for you," he says.
Editor's note: Dominic's entire story is incredible – you should definitely read "Superior Ink's Superior Print Shop Culture: Sustainable Screen Printing," the article we did about him earlier this year.
---
"The shop is arranged in a giant circle"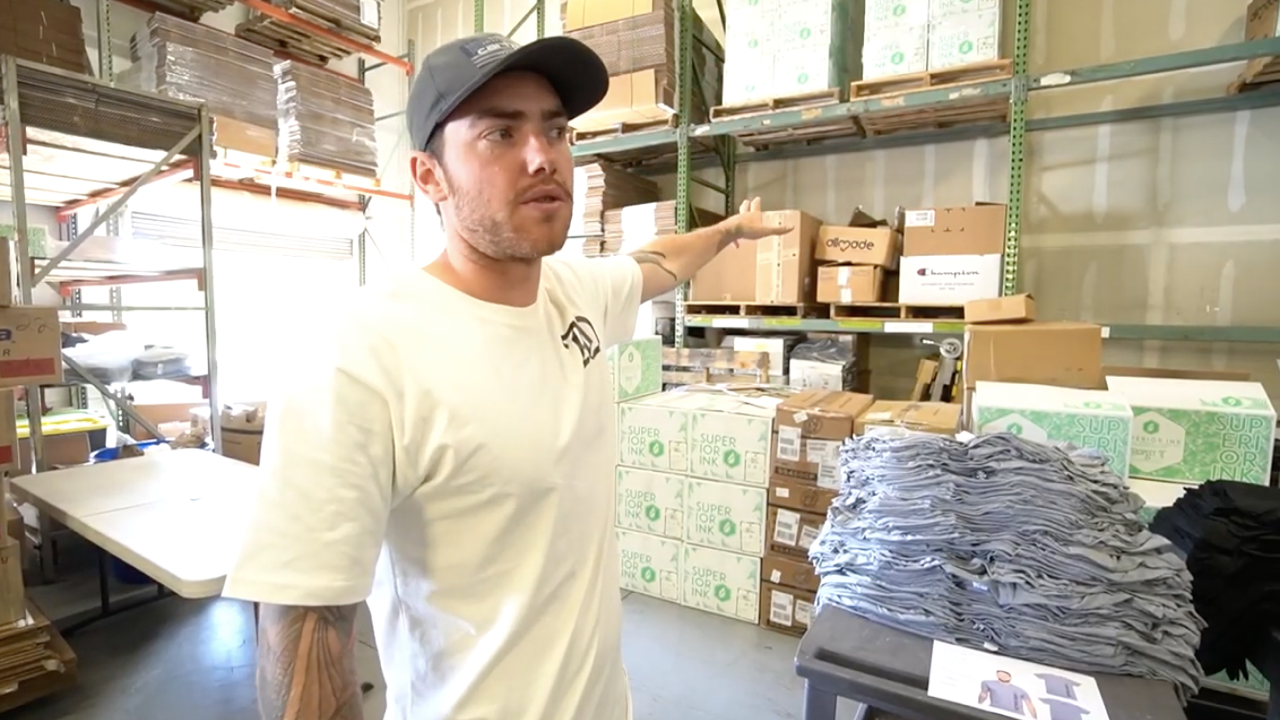 Superior Ink is constantly changing and adapting to the situation at hand. The shop is arranged in a giant U formation with garments and incoming shipments entering in one direction, flowing through the production line, and exiting at the other end. "The space is always evolving," Dom says.
Utilizing a combination of carts, racks, and a streamlined intake process, Superior Ink's team is able to quickly and efficiently bring jobs through their screen printing shop. They're encountering a new dilemma in their business, however: how do you plan and prepare for brands that want on-demand fulfillment?
They've started storing and shipping pre-produced inventory for their customers. "It's overwhelming for a customer when thousands of shirts show up at their warehouse or business," Dominic says. This newfound demand for logistics has stretched the capabilities of Superior Ink's actual printing presses, so they upgraded their ROQ automatics recently.
"A 3 color job with water based inks actually needs 6 or 7 print stations."
Superior Ink upgraded from a ROQ P12 to the ROQ P18. They did that so they could have additional flashes and cool-down stations to accommodate the extra demands of water based inks. The larger presses have also unlocked additional capabilities. By using a larger press with 18 stations, Superior Ink can set up multiple print jobs at once and offer multiple customers on-press approvals at once.
"We didn't necessarily [upgrade our presses] so we could do 14 color jobs. Although, literally a week after we got the press, we got a 14 color job," Dominic says. The old adage about buying a press that you can grow into clearly fits. You don't buy an 18 color screen printing press because you want to print 18 color jobs for every customer – you do it for the flexibility and opportunity it presents.
Press checks are (actually) eco-friendly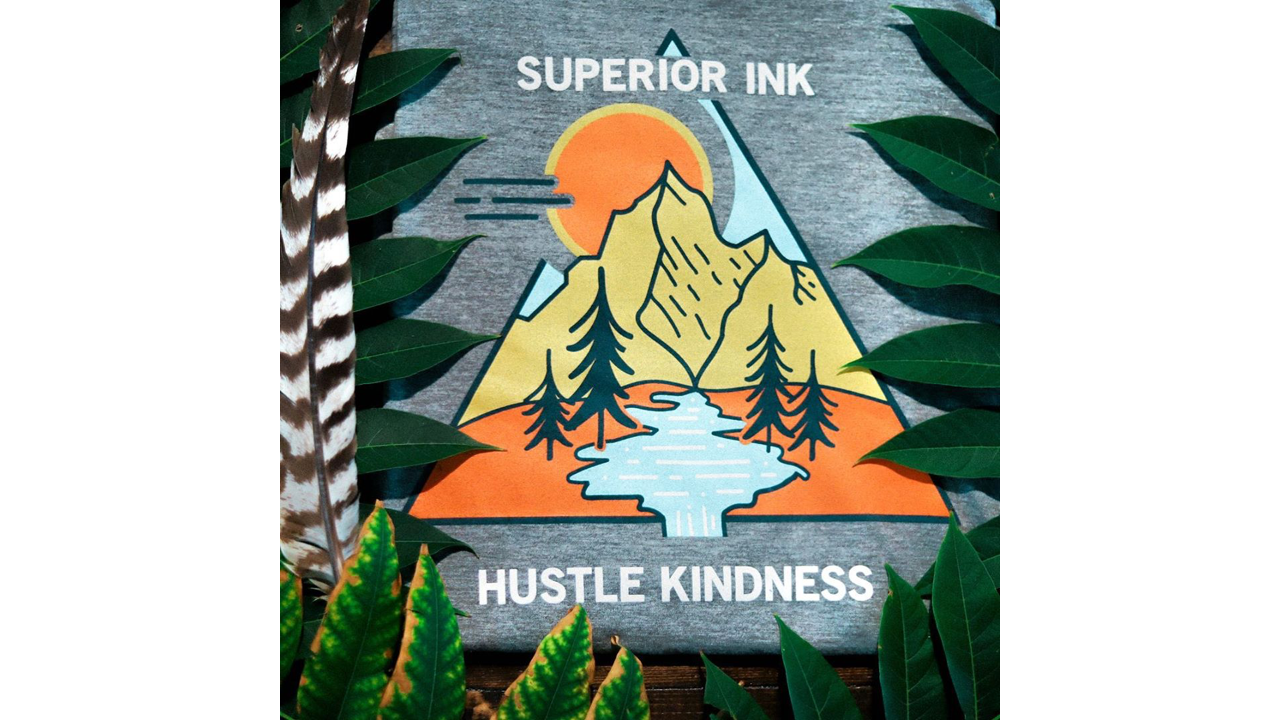 Before they print that 5,000 piece order for a high-end ski apparel company with exacting demands and beautiful artwork on premium garments, Superior Ink's staff utilizes their massive ROQ screen printing press to do press checks. This isn't easy – it includes a bit of back-and-forth with customers. It's not done for every job.
But for certain jobs it's a must. They have a press proof form that has fine print – you have to be on time, you have to
Interestingly, the reason for these sorts of meticulous press checks isn't purely to save money by reducing spoilage. It's to maintain sustainable practices. Misprints aren't just costly. They're wasteful. Reducing waste is one of the core tenets of sustainable practices. Much of what we do can simply be streamlined and improved without needing to reinvent the wheel.
"Seeing [the press check print] in person – it just mitigates the risk of printing something that would otherwise get caught by the customer. Spelling errors, placement issues."
Is legal cannabis a business opportunity?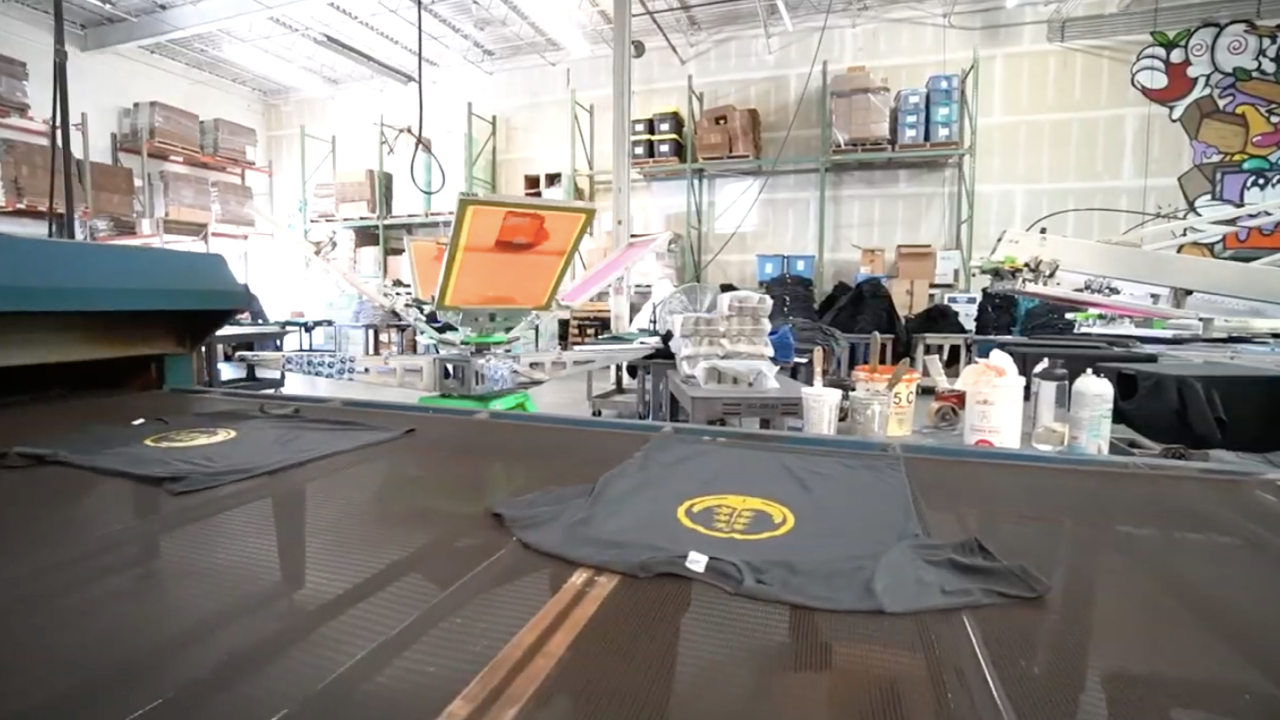 With the passage of an historic cannabis legalization bill in Illinois, Bruce from Printavo wondered how legal cannabis impacted Superior Ink's screen printing business. As they strolled through the shop during a busy day of production, Dominic immediately quipped: "I mean…look what's on the press now."
A procession of black t-shirts with a faded yellow design featuring repeating cannabis leaves rolled down the dryer belt. Dozens of retail cannabis stores and the businesses that they've spawned have utilized Superior Ink's services.
"The tax dollars and revenue from the cannabis industry hasn't just helped our industry because we're producting shirts, but it helps the economy as a whole. We've benefitted immensely from it." Dominic mentions that schools, the homeless population, housing, and business overall have benefitted from the presence of legalized cannabis.
"If you add 500 to 1,000 business to a city, it's going to stimulate the economy," Dominic says. It's not that he wants to wear a pot leaf on his shirt – it's that the large, interconnected nature of Denver's Green Boom led to a boon for print shops (just like it's grown every segment of the economy).
Can a print shop be sustainable and eco-friendly?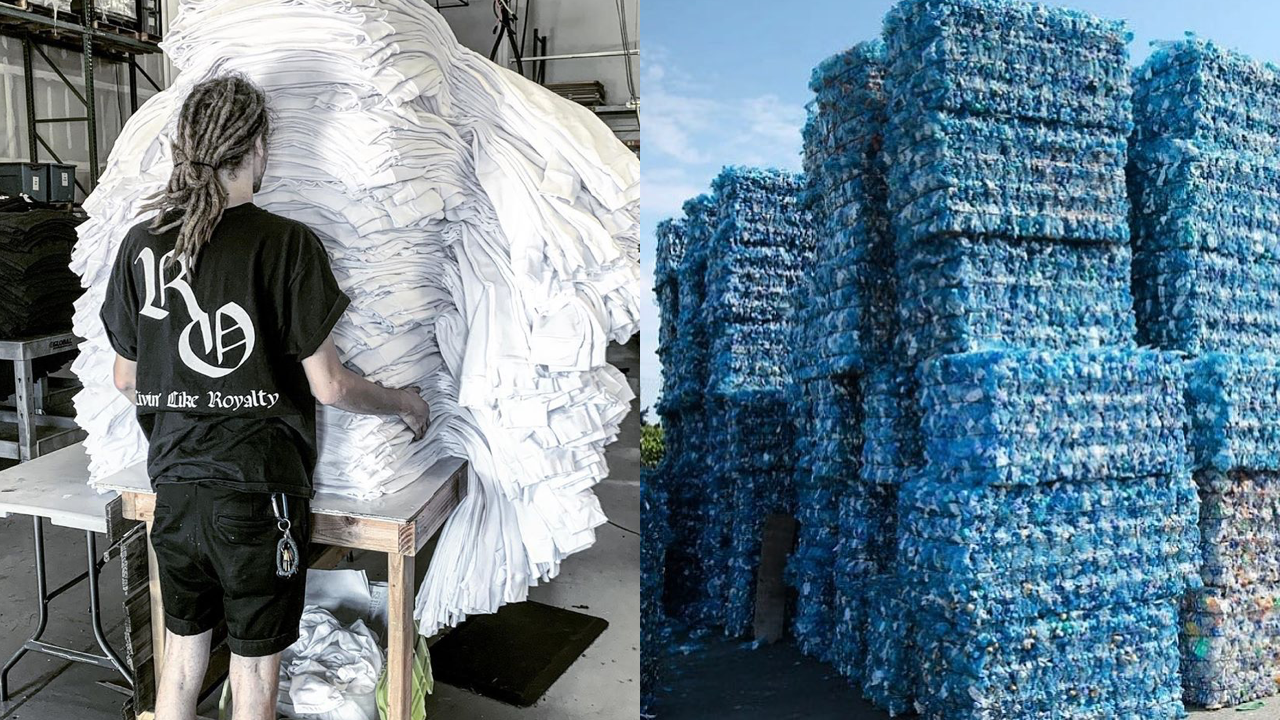 Screen printing, as an industry, is not an ecologically friendly endeavor. It's obvious that Dominic wrestles with this reality.
There's no getting around it: making custom t-shirts is environmentally destructive. The primary issue revolves around the actual production of the garment. Dominic is keenly aware of this and has spent significant time and energy to help Allmade Apparel, a sustainable custom fashion brand, get off the ground.
Dominic laments the fact that water based printing is hailed as an ecological savior. He told us sustainable practices are not just about ink type. Packaging, the garments you print on, the type of waste you produce, the chemicals you're using, your disposal methods, and your spoilage policies are all far more important than the type of screen printing ink you're using.
But, it goes further than that. Dominic chimes in that it takes an entire team to orchestrate a truly ecologically friendly business. "As a collective, be conscious of that mentality. It can't just be [the boss] saying, 'We're going to be sustainable!' We all have to agree that's something we want to adopt."
How far will Superior Ink take that ecological promise?
They don't use their automatic folder all of the time because it requires non-recycled poly-plastic bags. That means they spend a lot more time on labor to fold and bag things. But Dominic insists that it's worth it for the environmentally conscious aspect.
Dominic wanted us to give a specific shoutout to EcoEnclose in Boulder, CO for their eco-friendly packing materials.
Is water based ink the way to be eco-friendly?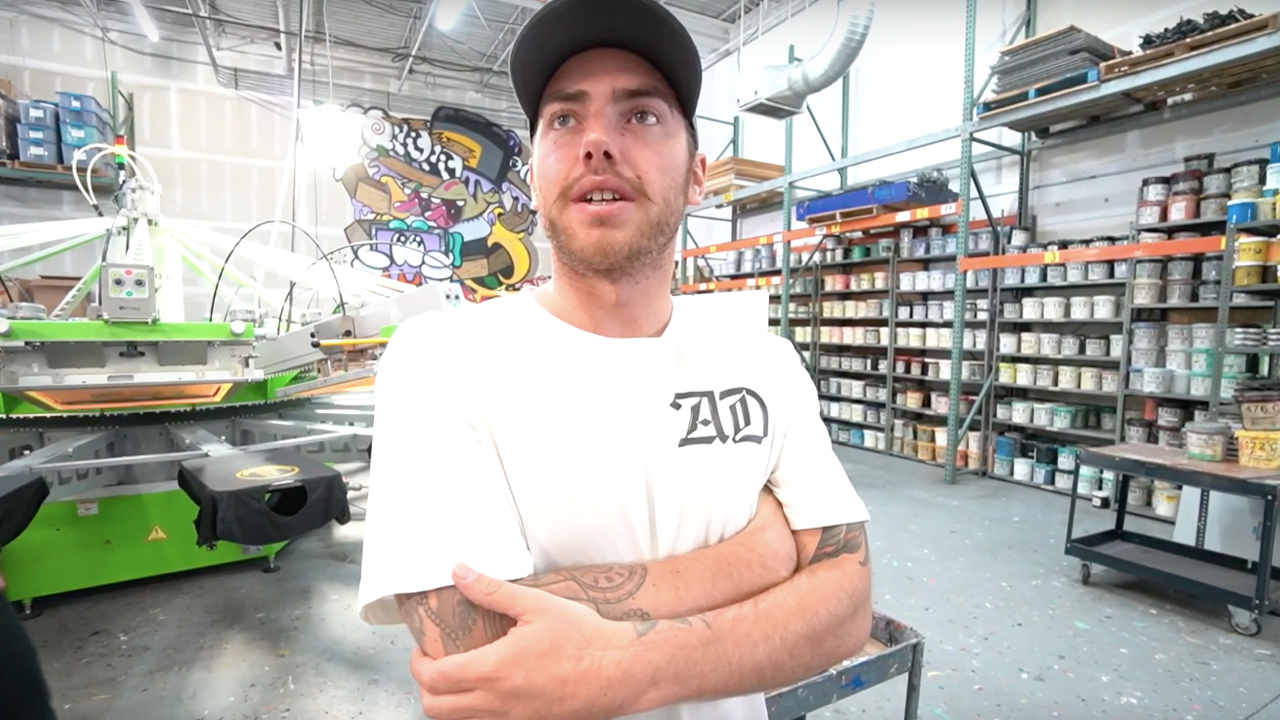 Perhaps surprisingly, Superior Ink isn't a 100% water based print shop. They definitely still print plastisol ink.
Dominic gave several reasons for this: "I don't really think water based ink is really the most eco-friendly option yet until better options come out. We like to give the choice, give the option. Plus, water based ink doesn't work for every type of garment, so we don't want to corner ourselves. We like to push people toward water based, though."
A lot of skate brands don't want water based printing, and things like koozies and other projects still work best with plastisol inks.
Dom lists off the litany of things you'll have to understand and control if you want to really succeed at water based printing: emulsion, humidity in your shop, the array of additives that water based inks need to work well, the garments that print best, curing settings, and more.
With water based printing legends Denver Print House just down the road, Superior Ink feels no pressure to be a research-and-development powerhouse. Instead, they're looking for other ways to improve their practices – and not falling for the trap that there's some magic bullet that will make them instantly ecologically friendly.
"Having stable employees is so important"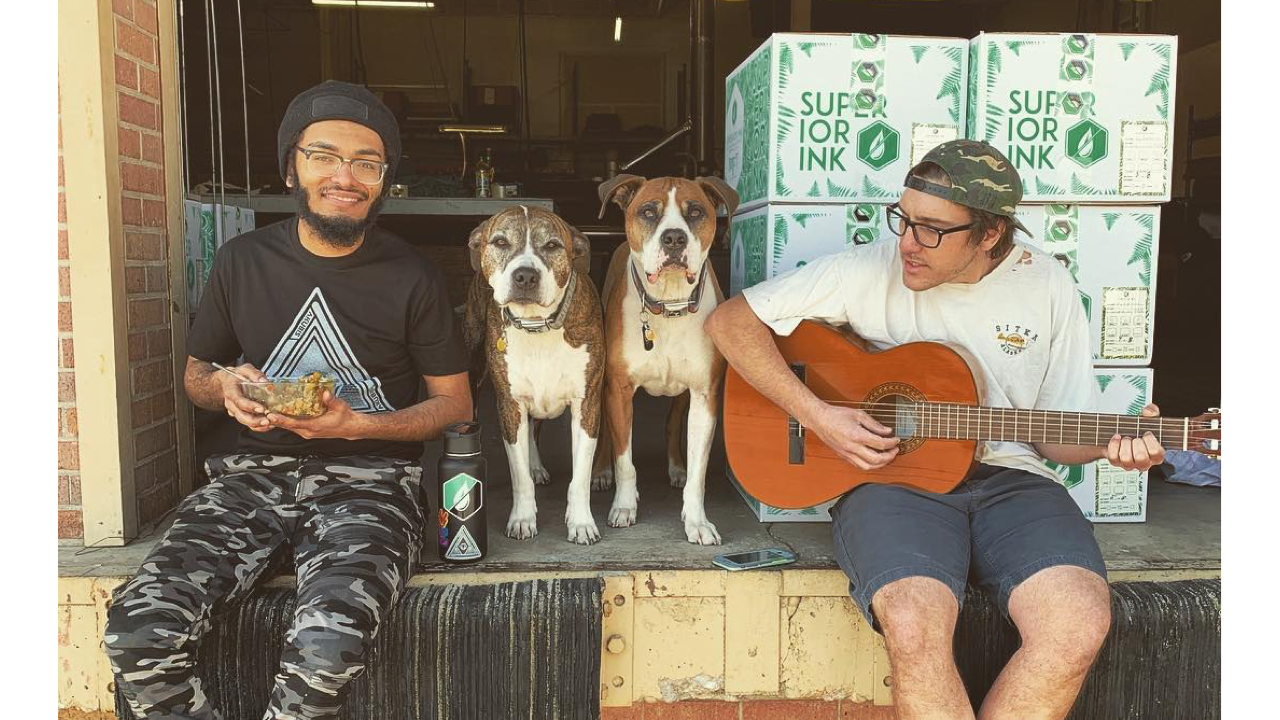 One of the keys to success at Superior Ink is their long-standing team. Dominic has been able to hand off responsibility to hard-working and dependable team members that take ownership of their work. As he transitions toward the next phase of the business' growth, Dominic is perfectly honest about not having everything figured out. "There's no perfect recipe. Honestly, it's about having your staff motivate you."
Dominic insists that understanding what employees need before they need it is crucial. But equally, you must be versatile and adaptable. "Sometimes you need to go to the floor and fold shirts. Sometimes you need to go to trade shows and do strategy work so there aren't lulls in the business." The life of a screen print shop owner is restless.
We've spoken at length with Dominic about his shop's culture. Yet it's not like he can set-it-and-forget-it. Even nearly a year later, Dominic is still battling the same problems and working through the same issues – though they've taken a new permutation. Now the mission is to improve the culture, keep it positive, and continue to have Superior Ink be a place people want to work. "We need key people. I have to carve the roadmap so it's a good environment to work in."
Again and again, this central theme emerges: there are no superheroes in screen printing. Longevity and stability are borne from delegation and responsibility, not heroic hours spent pulling a squeegee.
Handling on-demand shipping and fulfillment?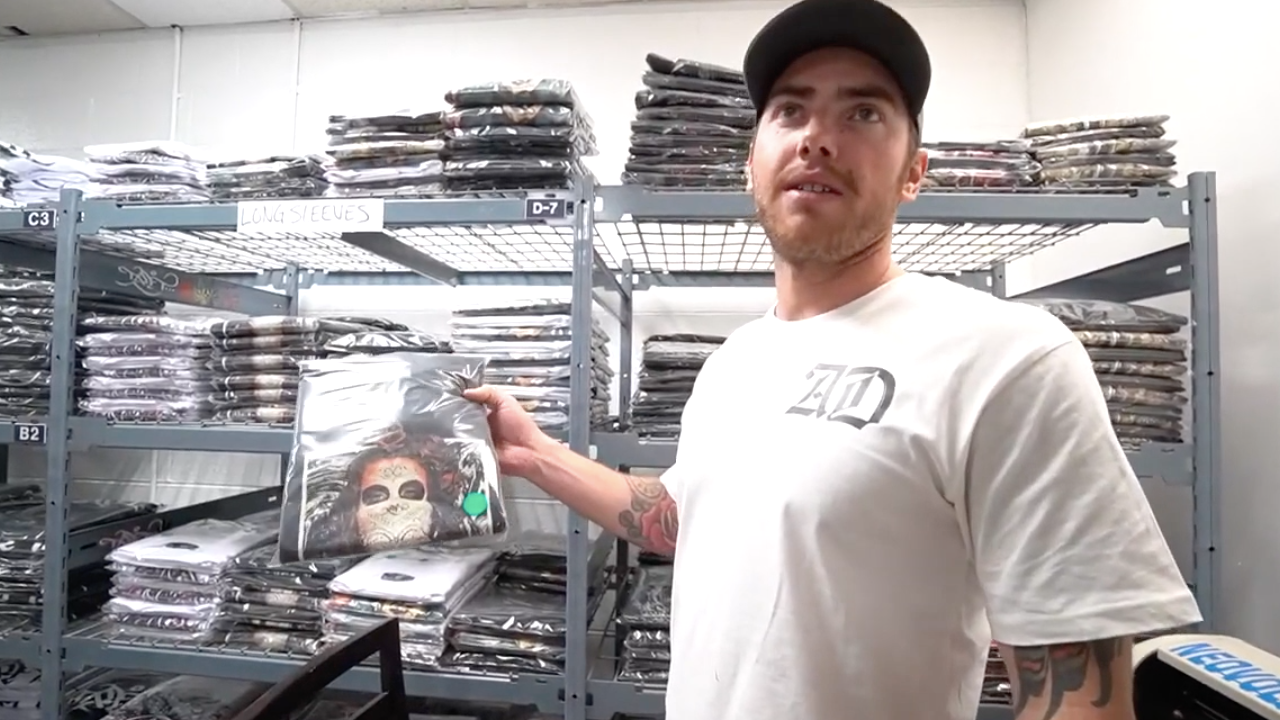 As our culture shifts toward an on-demand economy, custom products will become more popular than ever. But that puts a huge amount of stress on print shops. How can you keep up with Jeff Bezos' automated army of robots? "You're seeing this model more and more," Dominic says, mentioning that brands no longer want to take delivery of thousands of t-shirts at once. Instead, they want print shops to figure it out.
So how do they price their on-demand fulfillment services? They charge a storage fee, or use a pick and pack fee per unit. Otherwise, they can even utilize a revenue share agreement – though Dom argues there's more risk with that.
The hardest part of dealing with online store platforms are simply integrations. "How" becomes the primary question. It's easy to image the what. Actually printing and shipping product on an ongoing basis requires extensive resources as well as trial-and-error.
How are you set up to sell? Everyone has a different online store platform. How are you going to be efficient in getting orders out? Everyone has different shipping needs. How do you deal with returns? How do you deal with customer service?
"That's the biggest challenge, the how," Dom says. "Staffing specifically for fulfillment is tough, and something we're still trying to figure out."
What keeps Superior Ink motivated?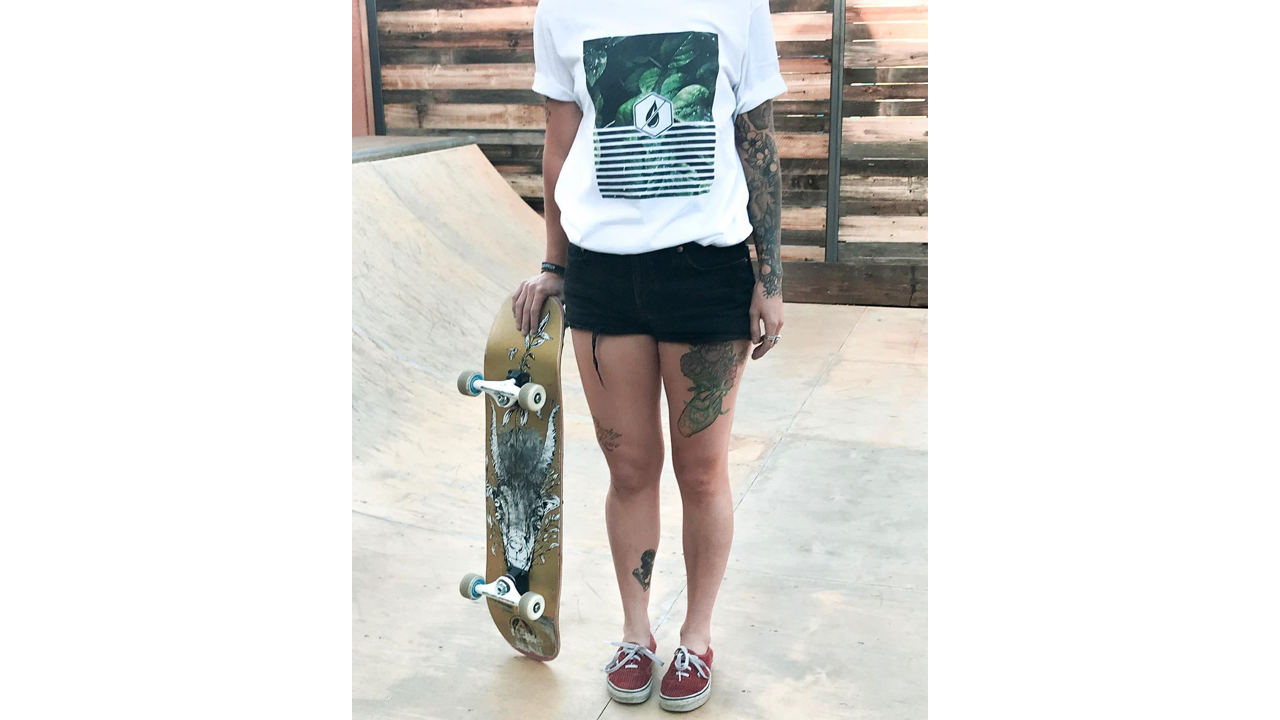 Bruce asked Dominic point blank: how does he stay motivated now? The answer is simple: this is what Dominic wants to do, and he's got an amazing group of people around him.
"This is an industry of driven people from creative backgrounds that are constantly pushing the envelope. What keeps me motivated is the assurance that I'm in the right thing. I would not be happier in any other industry. There's a lot of people that are not stoked on what they're doing."
Remember: you can always stop by Superior Ink for a free season pass at the ski restort of your choosing. Ok, maybe we're exaggerating a little bit. But you definitely want to stop by and see their amazing team in action if you're ever in Denver.
---
We're thrilled to have been instrumental in Superior Ink's growth and development. We're proud to say that Superior Ink uses Printavo to help manage their screen printing shop. Dominic is part of the newest generation of shop owners – those much-maligned Millennials. But it's obvious he's in it for the long haul. Just like Printavo.
Denver continues to grow and change. As the Green Boom continues, the tech scene develops, and its amazing mix of temperate climate and nearby adventures reaches more people, we're sure that Denver's incredible screen printing scene will grow as well.
Be sure to visit Superior Ink on the web and on Instagram!
We're always looking to visit print shops, tell their story, and learn from their unique experiences. Check out some of the shops we've visited recently:
Want us to visit your shop? Drop us a line. We'd love to come by.