Implementation & Training Program
Intensive training & setup.
Busy running your shop? Let us help. We can handle your training, implementation, and data import.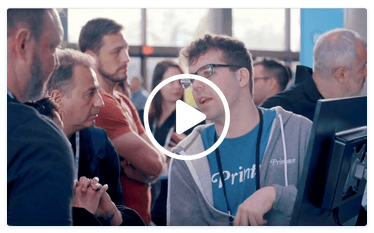 You're busy. Let us train your team.
We work with thousands of shops around the world. Let us get you moving quicker while you focus on your shop.
Intensive Team Training
Multiple training sessions with each department to get your team on the same page and using Printavo correctly.
Customization
Dive into your business, supply chain, and workflow to customize Printavo exactly for your shop.
Data Import
Let us format and import your existing customers and pricing matrices.
Example Training Schedule
Each shop is different. We'll craft a training schedule that works for your team.
DAY 1
Discovery & Workflow Analysis
Dive into your business, supply chain, and workflow
Create a production workflow diagram and mimic it in Printavo
DAY 7
Administrator Training & Guidance
Review your new Printavo account details & imported data
Training managers and walkthrough example order creation, start to finish
DAY 20
Departmental Education
Example order entry with each department to understand the role they play
Equipment, tablets, and accessory recommendations to help keep your team on the same page
Frequently Asked Questions
What are the deliverables?
As apart of the Onboarding Program, we will work with your team to deliver the following:
Customize statuses to mimic your workflow
Apply necessary automations
Import customers
Import pricing matrices
Add necessary users
In depth training with each department
How much does it cost?
Our Onboarding Program cost depends on how intensive the training you opt in for. Generally this is a one-time fee between $3,000 – $6,000.
How long does it take?
Our Onboarding Program works around your schedule and can take as little four weeks.
Ready for Onboarding Program?

Let's get you moving!

Printavo is the air traffic control that our business needed. Our entire business now fluidly moves from initial quotes to completed invoices almost effortlessly. Thank you Bruce and the Printavo Team for preserving our profits and sanity.
– Justin, Oklahoma Shirt Company

I have found Printavo very effective in allowing customers to understand their purchases. That is such an underrated factor in not only landing new clients but keeping them informed.
– Chris, Shirt Agency

I've been recommending Printavo to other people in the industry for a few years now. It's the best, most user friendly calendar, scheduling, and payment service there is.
– Kyle, KadMark