Magnetic Merch in Austin, TX grew from a hobby to a profession in less than ten years.
---
NOTE: You'll notice that Magnetic Merch is called Antic Screen Printing in this article.
The shop has since rebranded as Magnetic Merch.
---
The've reached a pivotal turning point: new ROQ automatic presses, a pivot from contract to retail screen printing, and process-first routines for the Antic team to follow.
Recently married and just pushing through the tail-end of a busy Thanksgiving full of printing, Isaac and Stefanie skipped their honeymoon to meet a deadline. Bruce met up with them while the shop was closed on a weekend.
Antic is an example of what happens when you put standards first: your products become better, your customers love to work with you, and your team stays focused on the mission.
Antic Screen Printing just finished printing 15,000 shirts in 6 days. And to think, it all began with a hobbyist's love of design.
Now, the questions that keep them up at night are more complex. "Where is our happy zone? What can we afford? What do we want our day to day life to look like?"
---
Looking back: "I would say focus on sales instead of art"
Owning a screen printing depends on rock-solid cash flow management. That means being careful with customers that request payment terms. Isaac began as a graphic designer, making t-shirts with the skills he'd acquired during design school.
What was difficult?

Learning to manage the business…I would say, focus on sales instead of art. That would have made things much easier.
Stefanie joined Antic and helped integrate Isaac's vision. "She had to pull the information out of my head," he says. Stefanie had little hands-on knowledge of the screen printing process, so they had to break it down into discrete parts.
As Stefanie mastered the vision for the process that Isaac laid out, he was able to focus on acquiring customers and getting more sales. They've been able to stay on top of their cash flow by moving away from contract printing toward the upscale retail screen printing market.
Core to this is Isaac's focused messaging promoting Antic's mission: inspire and connect communities by creating quality branded apparel. That is an evergreen mission.
Customers first: "We rescheduled our honeymoon to do a big job"
With a 7-day turnaround promise, the Antic team has to dive head-first into challenging jobs. Just before Thanksgiving 2019, they printed a run of 15,000 shirts in just under 7 days. That's hugely challenging, but Isaac seemed to love the rush. "In and out! It was fun to do. It was different. Everyone was happy and had a great time."
Stefanie and Isaac also found time to fall in love. They just got married! Don't worry – they've got a honeymoon scheduled in between printing thousands of shirts. Love is too important to skip, even for a big job. "We value work-life balance a lot!"
Now, they're considering the future for Antic: "It's ideal to have [an employee] that can do it all…so we can go out of town and keep the shop open."
They're thoughtfully examining exactly what size they want the business to be. "Are we growing toward being a megashop with 10 autos? No, not really." They're at a good size, but won't deviate from their high standards just to take a vacation.
Isaac and Stefanie get a rush from printing big runs and meeting their customers' demands. That doesn't mean they'll kowtow to any demand – they're actually "shaving off" their least-profitable contract and super-low volume customers – but it does mean keeping a forward-looking calendar to anticipate what their customers need before they know they need it.
"A lot of times this stuff is last minute. If we had known three months, we could do shirts and tote bags […] so we have to be more relationship-based with the customers."
Humble beginnings: "No airflow, just burning plastisol!"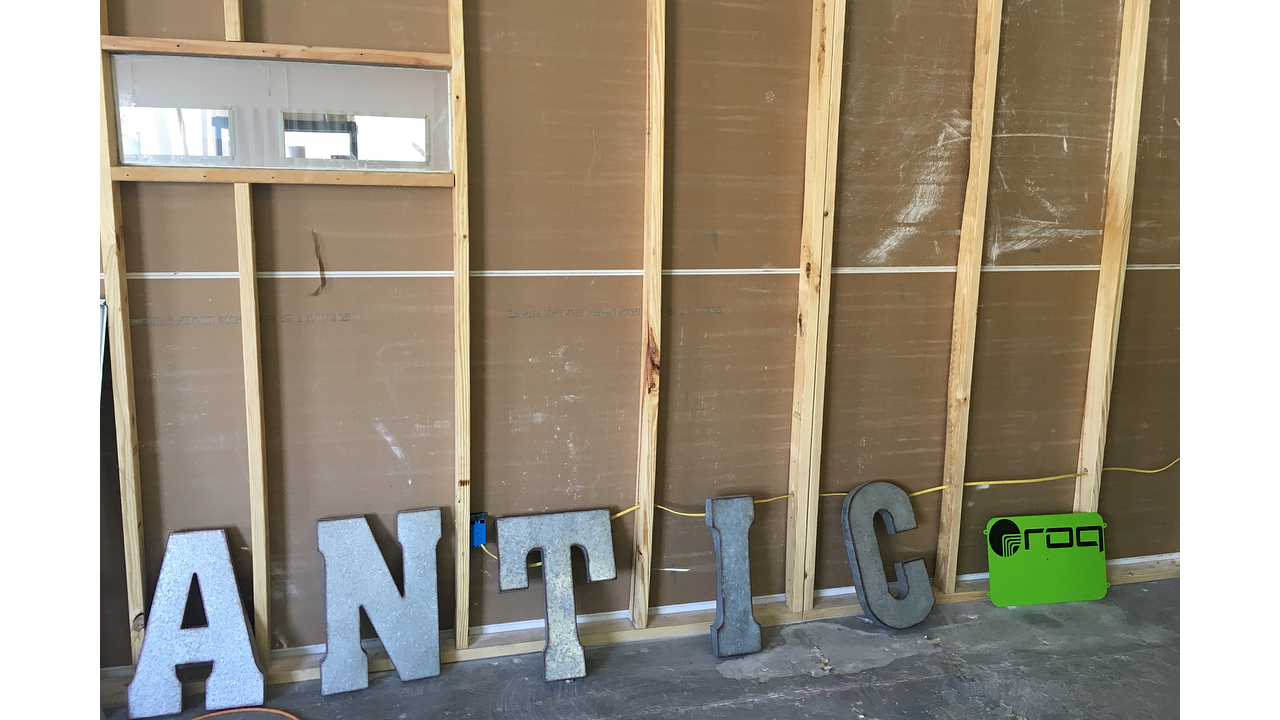 Isaac has deep roots within the screen printing industry: he worked for Ryonet installing ROQ automatic presses. At the same time, he worked on Antic during off-hours.
But before then, he used countless hours in the Texas heat battling fatigue and dehydration to pull shirts off a press and keep his t-shirt printing hobby going. "I actually started with the table, and the screen."
A friend showed him Ryonet's YouTube videos, and they were like a revelation: "I went to Ryonet the next day and bought a manual, a conveyor dryer, an exposure unit."
So why go full-automatic right off the bat with Antic? Isaac understood the benefit that an automatic press has – he'd seen it while working for Ryonet. But he had to learn a difficult lesson: don't overextend yourself with your presses by gambling on one big client.
This is a dumb thing not to do.

I had a large contract customer that was going to help float the cost of [expensive new] equipment. Well, they disappeared.
"This is something I had an intuition about, and I did it anyway," Isaac says. "That put us into fight-or-flight mode," forcing Antic to grow its sales muscles and boost its retail game. "We've revamped the whole process to get there."
Tips and lessons learned: Antic Screen Printing
Isaac has learned a few powerful lessons along the way. Let's break them down for you.
Here are Antic Screen Printing's biggest tips for starting and growing your t-shirt printing business:
Raise your minimums. "

We raised the minimum to 25. We prefer to guide people to a shop that can meet their needs if they only need a few shirts."

Don't rely too much on one customer. "

Well, [the customer] disappeared. So we had to ramp up our business immediately."

Establish processes and systems early. "T

his is the vision. How do we do it?"

Focus on one thing. "It's difficult to manage a business while knowing how to print t-shirts and make art."
Grow your retail operations. "

You work with half as much effort for the same amount of money."
Editor's note: Isaac credited Mark Coudray with helping his gain clarity around his business. Check out this great interview with Mark to learn more.
Onwards: "This is the vision. How do we do it?"
As Antic Screen Printing woos customers with its quick turnaround, focused mission, and simple ordering process, they're sure to grow and expand rapidly in 2020. They've encountered many of the struggles that print shops face, but have persevered despite them all.
We're proud to partner with Antic Screen Printing to help them get organized, collect payment, schedule jobs, get art and quote approvals and much more. Printavo didn't do this for them. But we're happy we got to help.
Why does process matter? Because it lets your business flourish through consistency and reliability – just like Antic.
---
A huge thanks to Isaac and Stefanie for opening the shop on a weekend to talk to us! We are thrilled to see your growth. Last we checked, they've doubled-up and have another massive order (this time for 25,000 t-shirts!) going through the shop. Wow!
Editor's note: We recently wrote 6 Tips for Live Printing Events for Bella + Canvas. It's based on the lessons learned from a large-scale live screen printing event.
Be sure to visit Magnetic Merch on the web. Their Instagram is a lot of fun, too.
We're always looking to visit print shops, tell their story, and learn from their unique experiences. Check out some of the other incredible print shops we've visited recently:
Want us to visit your shop? Drop us a line. We'd love to come by.