Join Printavo at Impression Expo 2020: Booth 3001!
The legendary ISS Long Beach has become Impressions Expo 2020. Held in the same giant convention center at beautiful Long Beach, CA, this is the custom apparel industry's best and biggest trade show in the United States.
This year, expect to see the most forward-thinking companies showing their strongest products:
Screen printing supply and manufacturing powerhouses Ryonet, ROQ, The M&R Companies, MHM, and more
Apparel superstars like Next Level Apparel, Bella + Canvas, Gildan, Fruit of the Loom and S&S Activewear
Industry experts like GraphXSource, Matsui, Nazdar, Sawgrass, and dozens more
Printavo's simple shop management platform
Location: Booth 3001 with Ryonet and ROQ, in the Arena at Long Beach Convention and Entertainment Center
Dates: January 17-19, 2020
Perks: Exclusive product tours of Printavo and our online store platform Printavo Merch, special annual pricing discounts for ISS Long Beach attendees, and a powerful seminar about ways to boost your sales in 2020!
Editor's note: what does 2020 hold for the screen printing industry? We asked The M&R Companies, and here's what they showed us.
Printavo's plan for Impressions Expo Long Beach 2020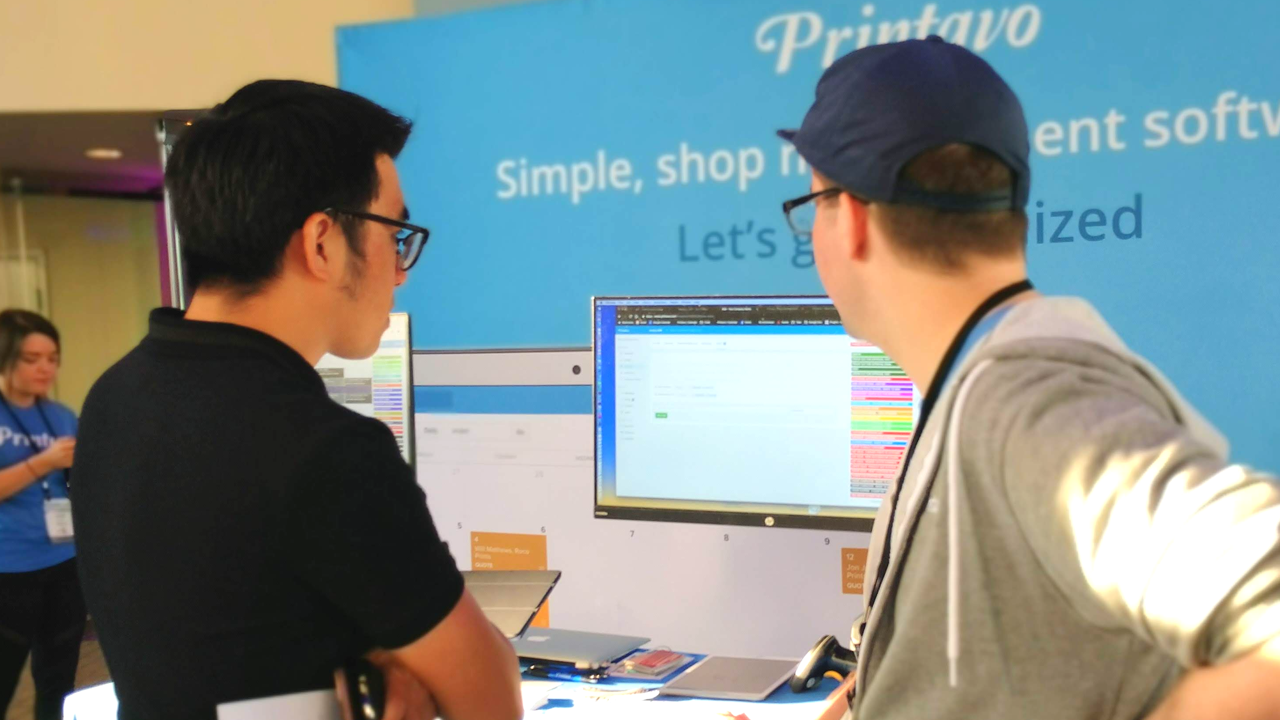 Printavo is excited to meet you at Impressions Expo Long Beach. Join us to tour our powerful-yet-simple shop management software, meet our team…and maybe land an interview for our YouTube channel as well!
Here's what you can expect:
Learn how Printavo power users have leveraged Printavo to maximize uptime, make more money, get more sales, and organize their print shops
Get hands-on tours of Printavo by expert users
Grab a free copy of our book about crafting a successful screen printing business (while supplies last)
Get a special annual discount on an annual Printavo subscription – only available at Impressions Expo 2020
Learn 10 tips to get more sales from Printavo founder Bruce Ackerman and Campus Ink co-owner Steven Farag
Meet the team behind Printavo
Visit us – and our partner, Ryonet – at booth 3001 in the arena! Click here to see a map of the venue.
What is Printavo?
Printavo is simple shop management software.
We help thousands of screen printing, embroidery, DTG, and sign shops get organized and manage their orders. From invoices to art approval to purchase orders to production to online stores (and more) – Printavo is built for you.
But we're also more than just a software company. We host a yearly conference: PrintHustlers Conf 2020 is in July at Ace Hotel in Chicago. We have a community of #PrintHustlers across the world – last year, people came from as far as Africa for our unique two-day conference.
Can Printavo do my online stores?
Our cloud-based tool makes shop management easier and faster.
Now, we've taken it a step further with Printavo Merch. Our simple online store platform connects your e-commerce sales directly to your quoting, invoicing, and production management platform. If you can write a quote, you can make a store – with one click.
Don't take our word for it. See how a shop that makes thousands of online stores a year uses Printavo Merch:
Printavo has straightforward, highly customizable industry-specific features – and is built on a secure and reliable platform. Access Printavo from anywhere that has an internet connection, whenever you want, with unlimited user seats so your entire staff can stay on the same page.
Our core value is simplicity – so you can concentrate on sales, growing your business, and managing production.
Why Impressions Expo 2020?
What's the best trade show for screen printers, DTG printers, embroiderers, and anyone else in the custom apparel industry? It's Impressions Expo Long Beach.
Be part of the industry's legendary, fun-filled, truly outstanding trade show. Make connections, get deep discounts, see the latest technology, and learn from the best in the industry.
This year, it runs from January 17-19 with a new brand, a new mission, and a deeper commitment to learning and education.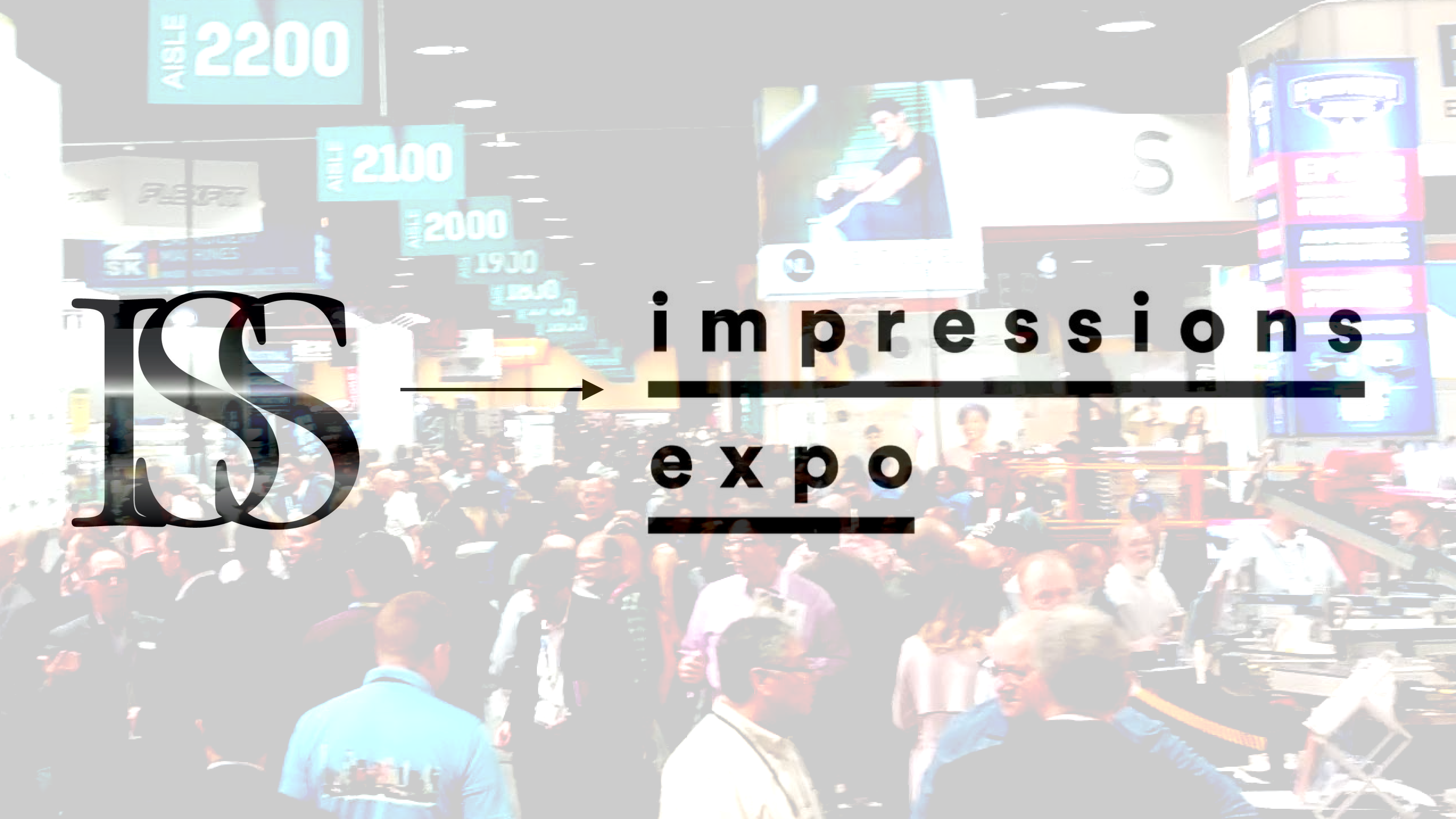 There will be more than 400 exhibitors from every corner of the industry – from equipment manufacturers to wholesale garment distributors to consultants and industry veterans.
Thousands of your peers and competitors will be there. Don't miss this chance to see where the industry is moving!
Education at Impressions Expo 2020: Get more sales!
Printavo founder Bruce Ackerman and Steven Farag from Campus Ink will hold a powerful discussion about how get more sales in your screen printing business throughout 2020.
Steven did more than $1M in online store sales alone thanks to Printavo Merch. He's learned some amazing things as he's grown Campus Ink at more than 20% year-over-year. Bruce from Printavo has interviewed dozens of print shop owners, consultants, and industry experts – and has tons of tips to share.
Sales are the HARDEST thing for any business to do. For custom print businesses, it's a necessity.
This is a can't miss opportunity at Impressions Expo 2020.
When: Sunday, January 19 from 10:45 AM to 12:00 PM
Where: Room 102B, session number S47
What: 10 tips to get more sales
Recommended seminars
There are dozens of incredible seminars and educational opportunities at Impressions Expo 2020. This is the inaugural class for Impression Expo's new ImpressU, so turnout will be high.
You can learn everything from business-oriented insights to deeply technical applied printing skills. Be sure to browse the educational offerings at Impressions Expo 2020 for yourself before you hit the trade show floor.
But – to save you time, here's a handful of sessions we think you shouldn't miss:
Thursday, January 16th
The venerable Mark Coudray brings his expertise to a session called Designing Your Business for Guaranteed Success. If you're not familiar with Mark, check out his presentation at PrintHustlers Conf 2019 to get a taste. "Stop struggling for sales and profit. You need a roadmap for success. This workshop teaches practical methods anyone can use to double or even triple their business and profits, fast." Room 102B, session W05. 9 AM to 12 PM. Sign up here.
If you want to raise your prices in 2020 (which you should), check out Jimmy Lamb's session on building more profit into your pricing model: My Customer Won't Pay That Much. "Profitable pricing is more than formulas, it's also creative marketing." Room 101A, session W08.1 PM – 4 PM. Sign up here.
Friday, January 17th
Industry leaders (and genuinely awesome guys) Brett Bowden and Ryan Moor team up for InstafaceSnapTube, "an in-depth look at how to create great content for social media." If you know Ryonet and Printed Threads, their companies, you know that they know how to CRUSH social media. Room 101A, session S05. 9 AM – 10:15 AM. Sign up here.
Richard Greaves brings his decades of experience to a more business-oriented realm for Job Descriptions for Screen Printers. Writing a great job description is how you can attract the top talent. Richard will guide you through the exact details you'll need to write stellar job descriptions for screen printers. In the arena at booth 3827, session D03. 2:15 PM – 3:00 PM. Sign up here.
Saturday, January 18th
If you want to know how to manage Millennial employees, why not learn from one? Steven Farag shares how to Manage Millennials in this session. "Are these 20 something-year-olds your worst nightmare or your favorite employees?" Room 102A, session S30. 10:45 AM to 12 noon. Sign up here.
Are you still curious about water based inks? They are truly powerful, but you need to know their limitations and strengths. Nathan Foster from B-Unlimited will walk you through an Introduction to Water-Based Inks. Open for technical questions as well. Room 102B, session S31. 10:45 AM to 12 noon. Sign up here.

Sunday, January 19th
Our own Mike Chong is hosting two powerful talks that dive into touchy topics: wages and revenue. The first talk, Afraid of $15 Minimum Wage? 10 Ways to Protect Your Bottom Line With Technology, discusses how Mike has thwarted high labor costs by implementing automated systems. It's in room 102A, session S41. 9 AM – 10:15 AM. Sign up here.
Mike's second session is How Merch Monster Went From $0 to $1M in Three Years, and will share Mike's powerful sales and scouting techniques that helped him get the right customers in the challenging Bay Area market. Growing your print business to $1M is no easy task, and Mike will share his thoughts on reaching his next goal. It's in room 102A, session S46, from 10:45 AM to 12 noon. Sign up here.
Come party with Printavo and Ryonet at Ruckus 2020!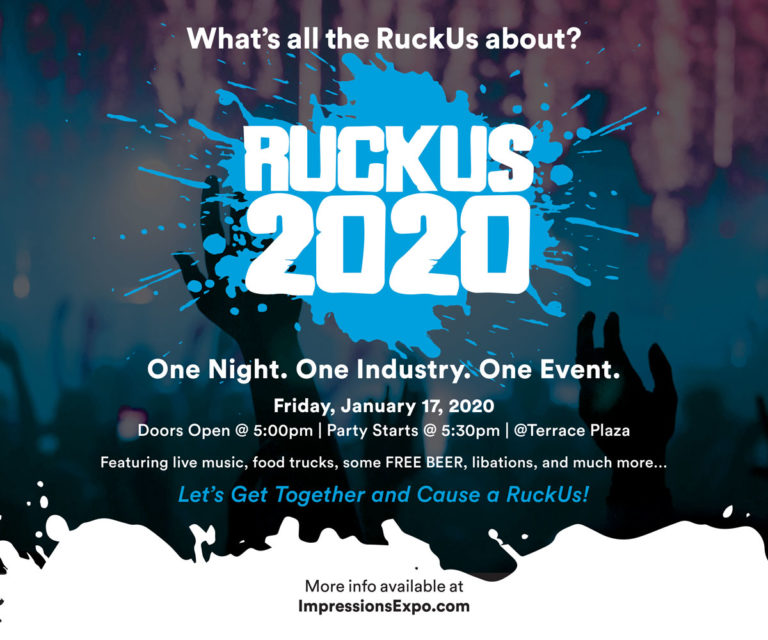 Featuring Mark McGrath from Sugar Ray (and a huge headliner that will blow your mind), Ruckus 2020 is a celebration of the industry's explosive growth and tight-knit camaraderie.
Join us for free beer, food trucks, and a chance to rub shoulders with the industry's most influential players. We're thrilled to sponsor this event – so if you see someone in a blue Printavo shirt, be sure to say hi!
Ruckus 2020 is on Friday, January 17th at 5:30 PM at the Terrace Plaza. Here's more info!