Job ads are advertisements.
Seems obvious, right? But job ads for people that want to work in your screen printing or embroidery shop must be written and targeted correctly. Go where the group you're trying to reach hangs out. Speak their language: Spanish!
---
Deciding who to hire
"It's hard to get rid of bad employees. You invest so much time and energy into them."
Finding workers is difficult. So you'll want to do the appropriate demographic research and planning to find the right employees. Are you near a college campus with lots of recent graduates, or is there a blue-collar community near you?
Wages and competition for workers are high in Oakland. The labor market is tight, and working in a screen printing shop isn't appealing to everyone. But this shop discovered that there was a large Latino population that knew how to screen print near his shop. If present trends hold, by 2030 Latinos will be the majority ethnicity in Oakland (source).
Most of the production staff speaks primarily Spanish. As the shop hired more Latinos, being bilingual is an asset. They hired one bilingual employee who grew into running his production operation. But the shop is happy to employ workers that only speak Spanish.
If you're looking for English speaking staff, we advise using Indeed. The shop talks about using Indeed to hire recent college graduates in this video.
How to: Writing Spanish ads for Indeed
Naturally, you'll need to write the entire job ad in Spanish. But don't worry – with the internet and a little help, you can communicate entirely with applicants in Spanish.
The substance of the job ad doesn't need to differ. Describe the responsibilities, expected hours, pay, benefits, and qualities you want – and deliver a reason those talents work so well for your company.
Here are tips:
Get help writing the ad. If you already have Spanish speaking staff, get some help! You can also pay a translator
Use Google Translate for the basics. You can simply type "translate English to Spanish" into Google to get a basic translation.
Use text or Facebook Messenger instead of the phone. If you're not confident in your Spanish skills, use that layer to translate your message.
Where to find Spanish-speaking workers
"I tried this method and got 20 applicants in less than 3 days."
Finding the local Spanish speaking population that would fit in with his production staff was a real challenge for the shop. Here's what they learned: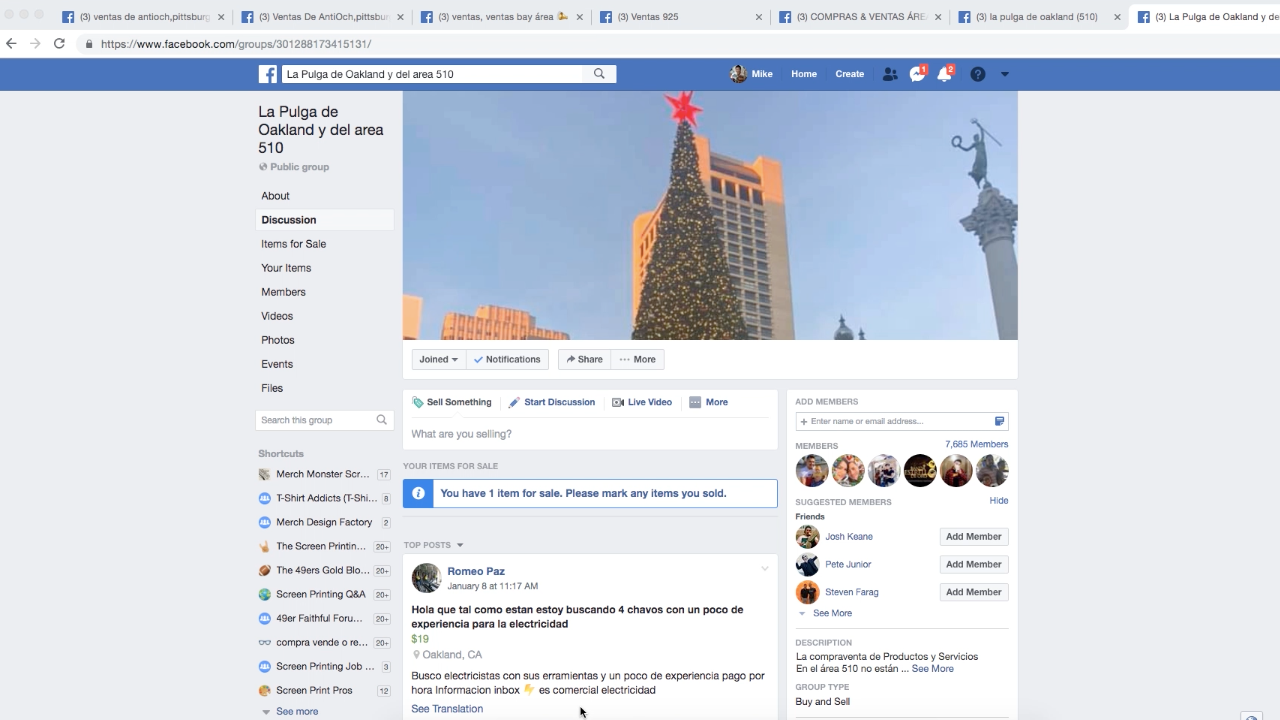 Target local Spanish language Facebook groups. Local buying and selling groups can be a great way to get your job listing out. Keywords: Ventas (sell), compras (buy), la pulga (like flea market). In Oakland, the shop found ten Facebook groups with more than 10,000 members. He recommends posting a high-quality image of the job listing with a brief description.
Talk to groups responsible for helping new immigrants assimilate. Whether that's local churches, nonprofits, or other outreach organizations, it can be a great resource for workers.
Post flyers. Simply worded flyers with a tear-away tab and instructions to text are still an option. Think storefronts, markets, libraries.
Go out into the community. Word of mouth from your current employees and your own involvement in outreach efforts are the most valuable hiring efforts.
You'll want to respond quickly and move fast.
What process to use for hiring workers
There's a clear and consistent process the shop uses to find employees.
Post job to relevant Facebook groups.

Using the ad he wrote above, the shop posts to each group and waits for responses.

Respond quickly via text or Facebook Messenger.

The shop responds as quickly as he can via text or Facebook Messenger to immediately capture their attention.

Hold open interviews, not phone screeners.

The shop holds open interviews in the morning and evening. Phone screeners aren't appropriate for this audience – they take too long and don't give him the information he needs.

Make a shortlist of potential candidates.

Take notes. Make offers quickly and move forward quickly.

Do a group working interview.

You can interview people with your production team in groups or one-by-one. Read more about the strategy for in-person interviews below.
How to do a group working interview
Open interviews with your production team are a great screener. The shop has interviews at 10 AM and 5 PM to accommodate candidates with jobs.
First, the shop has the production meet the candidate. The introduction helps the shop weed out candidates based on things he may not have noticed. Having more opinions on each candidate ensures your blind spots are covered. He takes brief notes on each candidate.
Second, the shop has the best candidates move on to task-oriented parts of the interview. He'll have the candidates work with his production team to see how they take orders, how well they organize and problem solve, and whether they're a good fit for the team. They'll work for a short period (15-45 minutes) and then the shop gets feedback from the team about how everyone did.
From here, he hires the candidates that fit the team – or seem eager to learn. Never underestimate someone that wants to learn how to screen print.
Conclusion
Your goal as a business owner is to find people that can do the work you need done. You also need people that can do the work correctly. Whether someone speaks English or Spanish is irrelevant.
When you find someone that's enthusiastic, capable, and focused you can start developing a role for them in your shop.
Just like you advertise and market differently to certain segments of your customers, you should advertise and hire based on your potential employees' characteristics. Consider these questions carefully when you're hiring:
Who your target employees are.
Where they hang out.
What they watch and do.
How you can find them.
How you can get in front of them.
How to talk to them so they'll respond.
The basics of marketing and advertising apply to job postings. You have to solve a problem and be appealing as a brand – you can't just ring the dinner bell and expect perfect candidates to show up.