We visit Printed Threads for a shop tour at their new facility in May 2021!
Brett and the Printed Threads team have one of the most influential and meaningful brands in the screen printing space.
They let us check out their brand-new space (which has barely opened to the public since the pandemic).
Tune in below!
Read on for an in-depth interview and look inside the Printed Threads empire from March 2020…just before the pandemic hit and changed everyone's world forever.
---
On the latest episode of Printavo's PrintHustlers Podcast, I sat down with Brett Bowden from Printed Threads in Texas.
Brett's humble screen printing company began in a garage and has grown into an industry standard-bearer. You've probably seen Brett and Printed Threads on Ryonet, Bella + Canvas, or The Ink Kitchen.
After doubling in size for 5 years in a row, Printed Threads went from fun to totally exhausting.
So, Brett took an 18-month hiatus to drive around the US in an RV with his family. It turned out to be a pivotal trip for Brett and his team at Printed Threads.
"I came back and was like, 'Oh crap, we have to get out of this giant hole we've created'," Brett said.
"I started Printed Threads when I was 28 years old and didn't really know the basics of running a business," Brett told us. Every screen printer knows how much of a grind this work can be. Building a brand that grows quick makes issues worse.
Brett's advice for screen print shops? "Stop being the firefighter and start being the visionary." By leading his team, delegating, and truly developing the vision and values of Printed Threads, Brett built a strong foundation for his team. "Without that foundation, you have nothing to grow on," Brett added.
But what really sets Brett's shop apart is the cohesive team. After ten years in business, Printed Threads has collected a tight-knit gang of printers, artists, and hard-working, hard-playing Texans.
"I came back and was like, we have to get out of this hole!"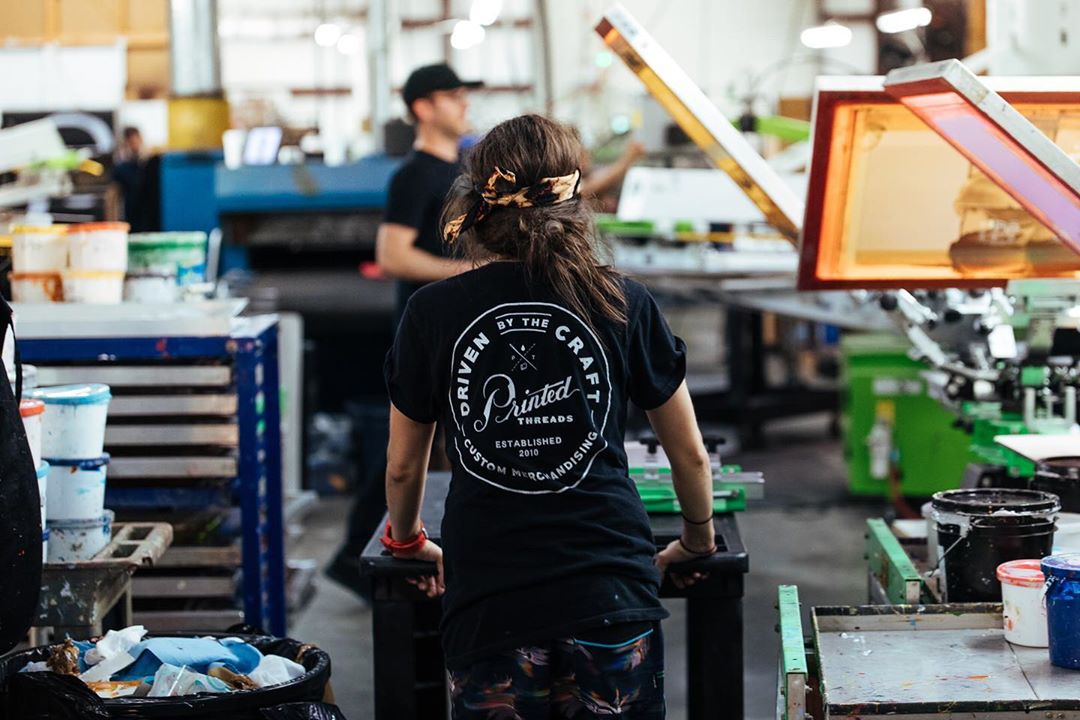 Brett is perfectly candid: he left Printed Threads after burning out.
He threw out the idea of an extended road trip to his wife, and much to his surprise, she called his bluff. "About a year into the trip, it became clear I needed a VP of operations," Brett said. Crazy things had begun happening: lawsuits, employee problems, and loads of other headaches.
Brett righted the ship through a focused effort to build Printed Threads "into a company the employees want to work for."
"Look at big organizations," Brett said. "Missions, core value statements…why do they have all that stuff?"
The reason is simple: there's no other way to organize 30+ people around a single goal. "If there's no vision, then they don't know where they're going," Brett said.
But extracting yourself from the mundane day-to-day grind is hard. Not everyone can hop in an RV for months at a time. You may already be approaching burnout.
Brett still suggests taking some time away from your business, even if it's just for a day or two here and there.
It is completely counter-intuitive: time away from your shop reveals areas you can improve on, areas you haven't worked on, and ways you can make big impacts without actually being on-site. "It's really easy for someone to grab you for 5 minutes…and you can be the savior for everyone there. [But you'll] drown in everyday, mundane stuff," Brett pointed out.
Editor's note: the easiest way to prevent burnout is to stop it before it starts. Here's practical advice for stopping burnout in your print shop.
"Is it ever too early to start stepping away from your business?"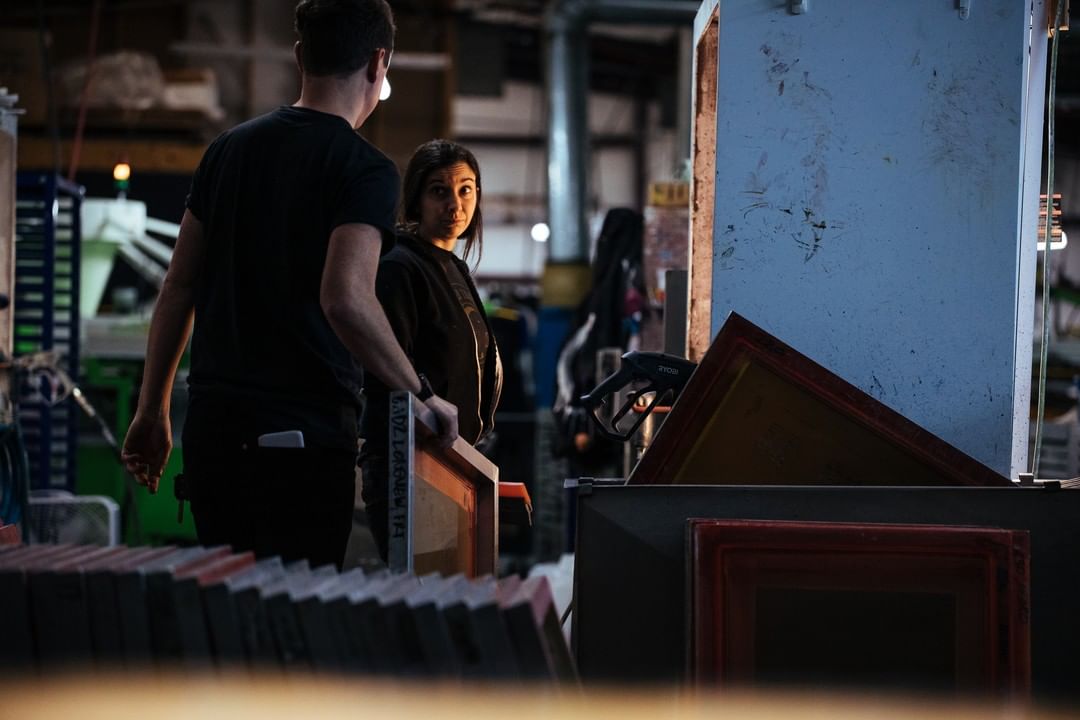 "If you're an owner-operator, you can't step away. But as it grows, the goal is to have someone over each department," Brett told us. Can a small shop really begin the process of developing an organization that runs autonomously? Isn't that something that only big businesses can do?
"Once you're around $250k in revenue, you may have an artist, a press operator, and a customer service person. Who are the leaders?" Brett asked.
Begin thinking about this as early as possible. There is no way to avoid illness, emergencies, and unplanned events forever! You need to develop a plan to keep your business operating no matter what happens.
Brett urged us to consider the difficult question: "How can my business run if I get sick?" Even if it seems unlikely, Brett points out that you can't schedule your emergencies around your business.
"I had appendicitis and had to take a week off just to recover. You don't know when that kind of stuff is going to happen and it happens every single day. You need the insurance of knowing your company can run if you're not there."
Hiring top talent to run the business? "Pay them what you make"
After years of handling too much and being the single point of expertise, Brett took a major leap and hired a Vice President of Operations. Their role? Act like the owner Brett wishes he could be, tackling projects that affect the bottom line and keep the shop operating no matter what.
I asked Brett point-blank how much a screen print shop should expect to pay for top-tier talent to actually run the business.
While this is a bit of a touchy (or perhaps just secretive) subject, it's really something screen printers should know about.
Brett offered an incredible insight: "There are not a lot of people in this industry that make a whole lot of money…but if you're looking for someone to replace you, you should basically pay them what you make."
Brett suggested that a range between $60 to $100k could be reasonable for a true operations manager in a screen printing business.
The goal here? Put the right people in the right seats in your company (an idea fleshed out further in this post).
How Brett found his VP of Operations: "Ryan, our VP of Operations, has been my friend for 20 years. He was working a job leading an app development team. He was looking for something different." Don't think you need to limit your search to screen printers – many people in many industries have the requisite skills to manage the complicated screen printing process.
"It's uncomfortable to get rid of someone that's a poor fit"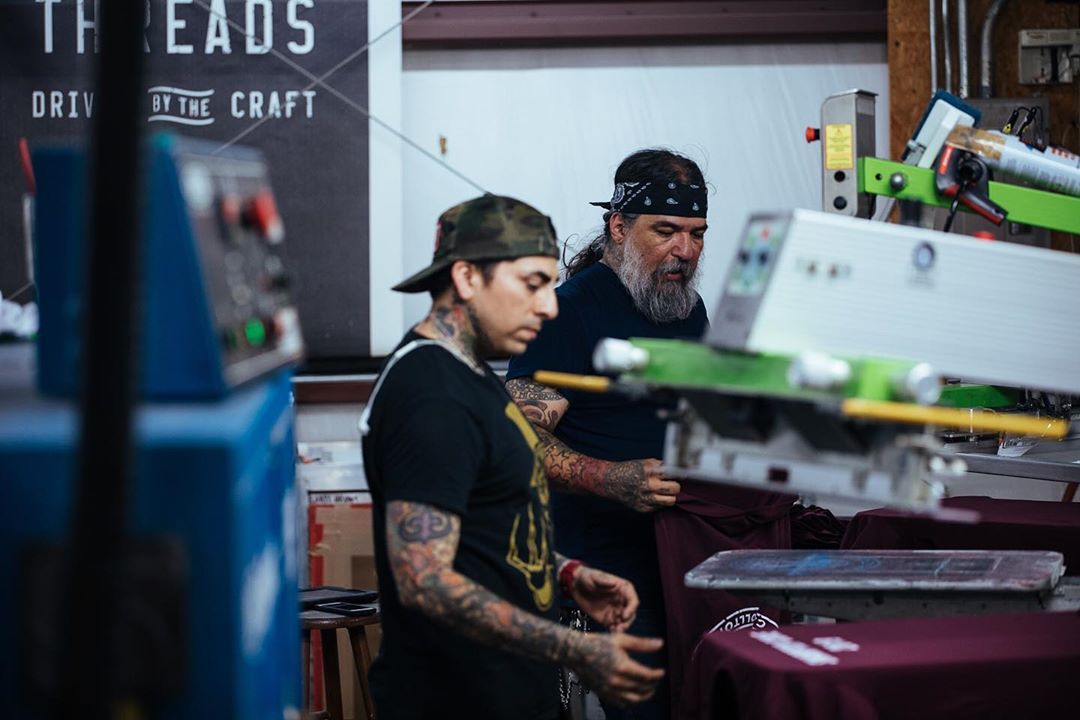 "It is a job, and it is work, and work sucks. So pick a place to work that sucks the least." – Brett Bowden
Brett visited a prominent nationwide fast-food chain recently for a sandwich and immediately noticed something wrong. "I go in there, order my sub, and I'm like…man, these people hate working here."
The last thing anyone wants to do is spend every day around people we don't like while we do something that we hate. That's a recipe for misery. But as we've often noted, screen printing isn't seen as a desirable career. So how can screen print shops be a great place to work? Build a great team.
"You've probably heard, 'Hire slow, fire fast'," Brett said. While that sounds brutal, it's the truth. That doesn't mean that you have to be a tyrant (Brett added "I can be a tyrant, too!"), but it does mean that you should look for signs people aren't a good fit.
Firing people is awful. Truly. But there's a better way: create a culture that doesn't leave space for employees that aren't a great fit. Brett uses a great analogy to explain what he means:
"I have this friend that's really into lawn care. He mows his lawn three times a week. It's crazy. But he won't use weed killer. He doesn't buy Scotts and spray it on his lawn. The idea is if you really care for your grass, it chokes out the weeds. So you have this thriving grass, and it doesn't leave room for the weeds. You can use that same mentality in your business. When someone doesn't fit, they'll know they don't fit. And they'll be like..this is not a good place for me."
Brett suggested "cracking the door open" for employees that aren't a good fit. "Hey man, it seems like you're having a bad time here. I want you to know that's ok. It's ok if you don't want to work here."
What you're really doing is inviting them to the next opportunity in their life.
Tips for creating an amazing place to work: Brett Bowden from Printed Threads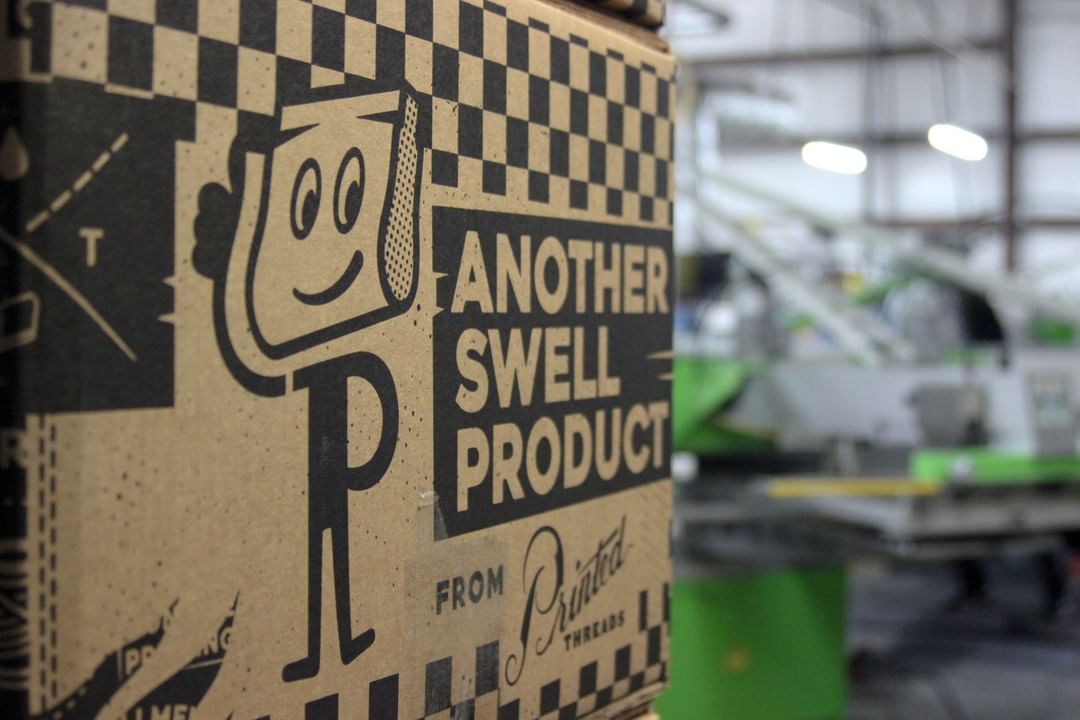 Yes, hiring screen printers is tough. But there are steps you can take to make sure you're really creating an amazing culture in your shop.
Empathize

"

Being a business owner that can relate and empathize to everyone else who works here helps. Hey, I know what it's like to clean screens all day. I know what it's like to print all day. I can help you. Having that empathy is crucial."

Celebrate your wins together

"I want to work and grind but when we're done I want to celebrate together. I think what a lot of companies miss is they don't struggle and then celebrate together. If you do everything together it creates camaraderie."

Create a company your employees are a fan of

"If they're a fan of the company, they won't just let it sink. They don't want to go work at Firehouse Subs or whatever."

Make a mission

"Y

ou should take a Saturday with key employees and be like: what are we doing? What is special about what we're doing? Why do you want to work here? Ask the hard questions. Then write down the vision."

Get a business coach

"There are a lot of entrepreneur organizations. You might pay a few hundred dollars a month to join, but you're getting in with a good group." Note: check out SGIA if you're looking for industry-specific help.

Practice affirmation

"

I need someone here to give high fives. I need the positive vibes. I'm actually really bad at affirmation. I really struggle with. It's part of my personality. I don't say good job, or hey man, here's the high five. But Seth (Printed Threads' longtime employee and marketing/content mastermind) is really good at that."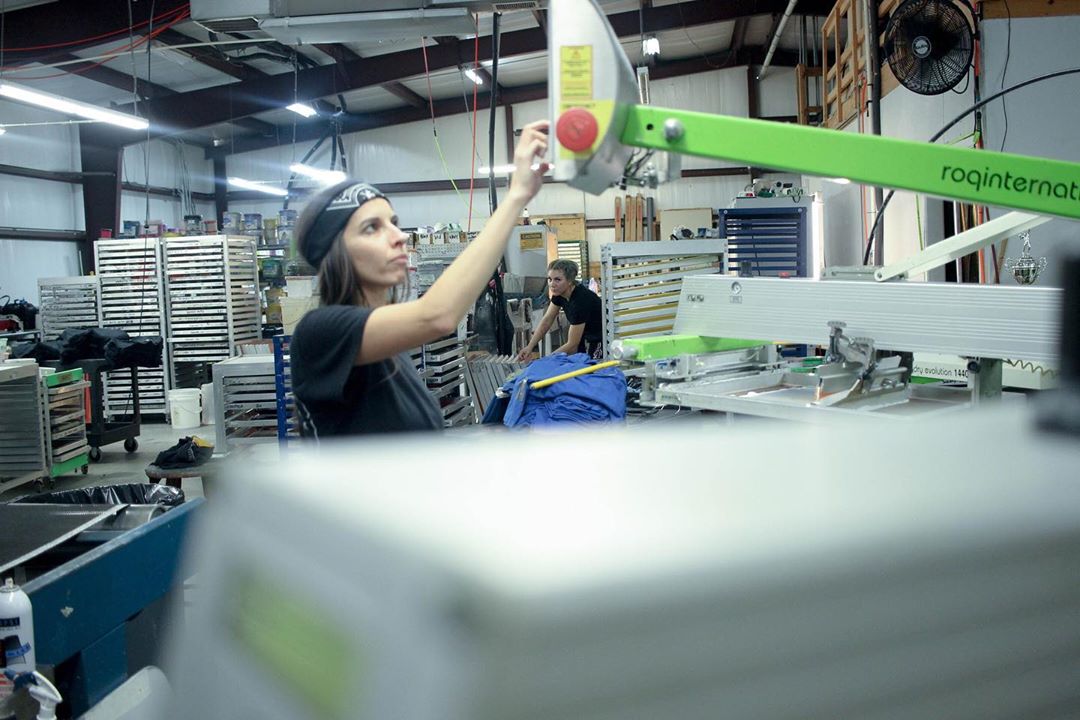 The final word: "I think what most companies miss is that they don't struggle and then celebrate together. If you do everything together, it creates camaraderie."
All images courtesy of Printed Threads from their Instagram account.