Motorcycles. Beer. Screen prints. Skateboards. Tattoos. Texas. Sounds great, right?
Legacy Merch in Ft. Worth, TX has spent more than a decade developing a tightly-knit team. Most of the staff has spent more than a year in the shop. As Legacy Merch enters its next phase of growth and development, they're approaching growth with an eye toward sustainability. They're primed to make a decisive shift away from high-volume contract printing toward more lucrative retail printing.
"We're taking less contract work now. […] When you build a machine to do that much work, you can't just turn it off without getting rid of your staff. We don't want to do that." Contract printing taught them to be fast, effective, and lean – a great way to learn the business, develop processes, and stack experience.
But contract printing simply isn't the most profitable (or sustainable) type of printing for their team and their business.
Keeping employees in a print shop for years is tough. The work is hard! Yet Legacy Merch seems to have found a formula that works: support your employees, pay them well, and keep the workload sane.
When they're not taking lunch breaks at the local skatepark, the Legacy Merch team is cranking out beautiful prints and super sharp merchandise for high-profile clients. And they're taking it a step further by telling their clients' stories.
---
A familiar story: starting out in the garage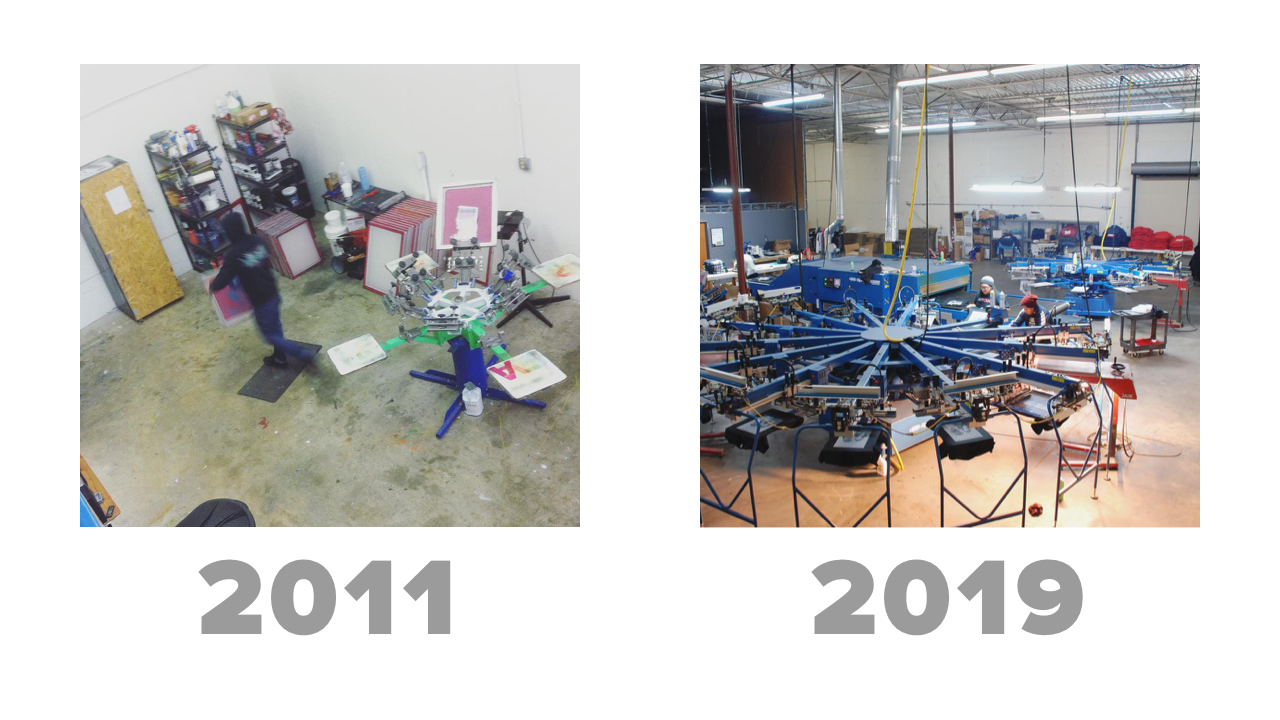 In January 2009, Matt Davis and his brother tried their hand a clothing brand. They spent an afternoon at a music festival, and saw that bands had lines for their merchandise for the entire day – while they only sold a handful of t-shirts.
By the fall of 2009, they had purchased a screen printing press. They spent the better part of a year learning to print, and by 2010 they had their first paying customers. They built their brand printing for clients they like. That's why their client list includes motorcycle brands, skateboard shops, tour merchandise for bands, restaurants and breweries, and even high-end fashion brands.
Over 9+ years, they've moved to 3 different spaces. Right now, they're not concerned with growing the business in size so much as changing the substance of their work. Instead of an 80% contract, 20% retail split, they're aiming to do 70% retail printing in the long-term. This will surely impact the way the shop feels, since the retail vs. contract printing workload is so different.
Matt says the change is powerful, telling us that "[t]here are 10% fewer shirts coming off the press now, but we're making 20% more profit in the business. It's better all the way around. Morale is higher. We're not rushed. The team is happier. We can pay more."
Customer education isn't an afterthought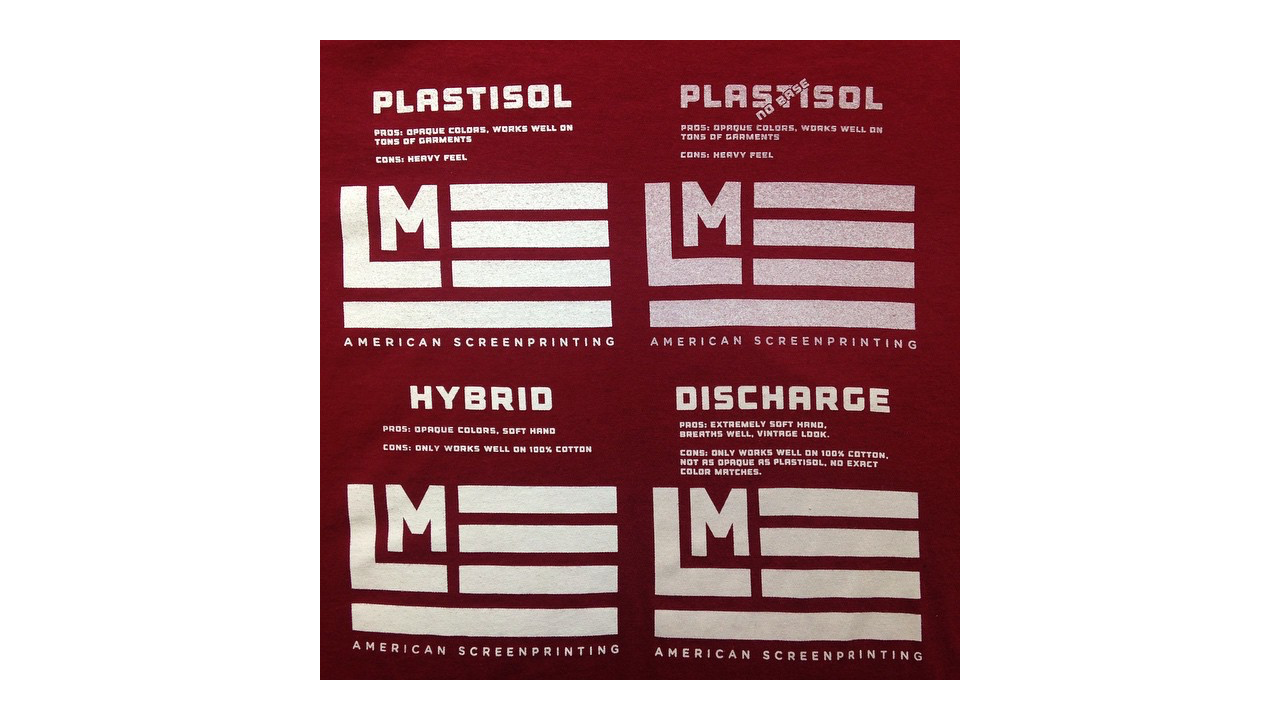 One of the most impressive things about Legacy Merch's website is their super-clear customer communication. Since most customers are unfamiliar with the screen printing process, the ins-and-outs of garment quality, and how exactly to order custom products, this is a huge customer-oriented move to make.
Termed their "Education" section, they run through the basics of ordering through Legacy Merch:
The inks and types of printing they do
The special finishing services they provide

Tags, labels, folding, bagging-and-tagging for retail

Their spoilage policy

Super transparent: "Not every shirt will be perfect"

What they won't print on
Their refunds, cancellations, and returns policy
This doesn't mean Legacy Merch hand-holds every single client. But they want to arm every customer with the knowledge they need to get exactly what they want. They're still the experts guiding clients toward the best possible choice for their brand.
Need an online store or a live printing activation? They can do that. Their clear resources are a great example for any print shop looking to help clients make sense of the printing process without a lot of back-and-forth.
But – Legacy Merch has absolutely focused on their top clients. That's where the real value to their business is. The top 20 clients are on a list in the front office so that every customer-facing representative knows who should get white-glove service. "It helps us prioritize. Maybe we can put that 24 piece quote on the back burner to take care of that big client's needs."
We also love their clever printed sample (pictured above) that shows how different inks look and feel. Why try to explain when you can show and tell?
The story behind the shirt comes first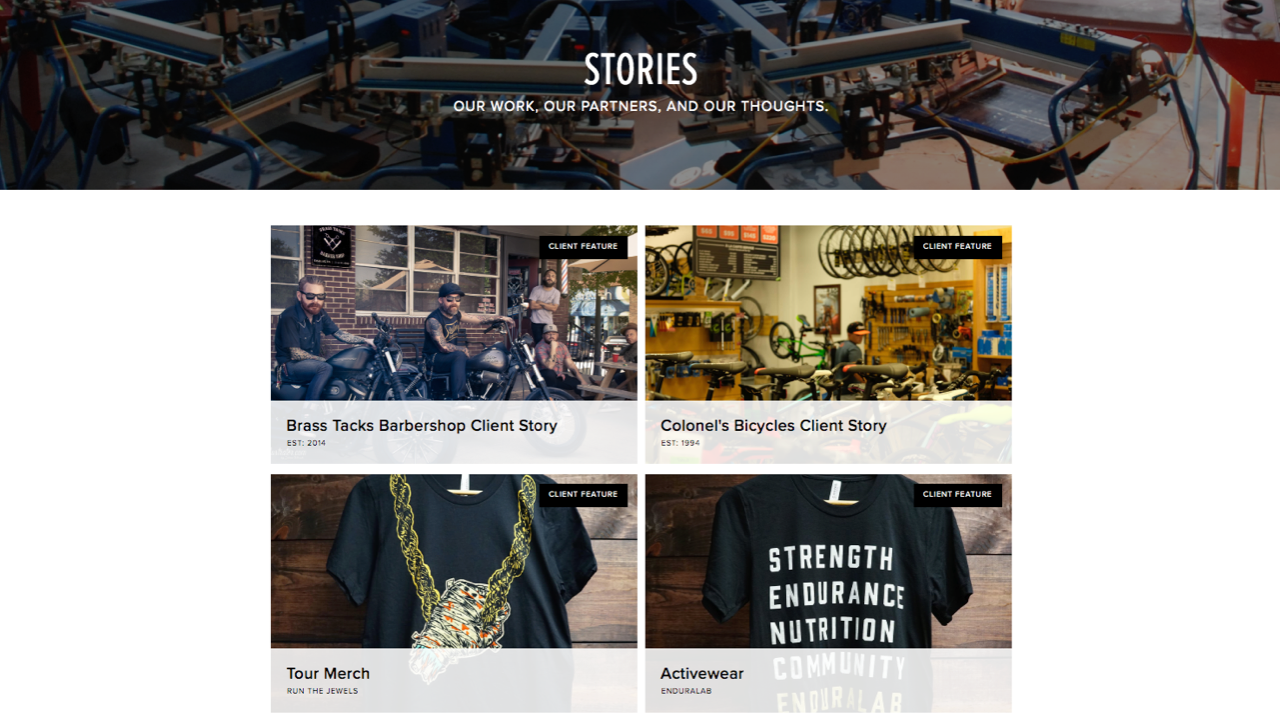 Terminus Tees' Jon Ladd is a big proponent of the story behind the shirt as the best way to market your screen printing business.
The thinking goes like this: anyone can print a t-shirt.
But it takes a truly special company to tell the story behind the shirt – to get at the why instead of the what.
This is a powerful technique for creating a connection that goes beyond a transaction for some shirts. You speak your client's language, enter their world, and make an effort to understand the things they really care about.
Legacy Merch has zoomed in on their clients with a focus on their success. Legacy's website doesn't just tell you that they've printed for a bunch of high-profile clients. They share the entire brand's story with an interview! This puts their customer front-and-center – not the merchandise, not their prints, not their shop, not their inks – and tells the story behind the t-shirts they print. Check out their cadre of customer stories right here.
Legacy Merch has also expanded into live printing. This is another powerful way to get at the story behind the shirt: live printing is often called "live activation" because it imprints potential customers with a positive experience.
Instead of trying to get people to come to you, go where they like to have fun and become associated with that story. Like skateboarding? Find skaters. Like music? Find bands. Want to print for motorcyclists? Find the local clubs and ride with them. "Man, the Legacy Merch guys really had a blast at our event. I've got to get a shop like that to do my merch!"
"Every station has an iPad"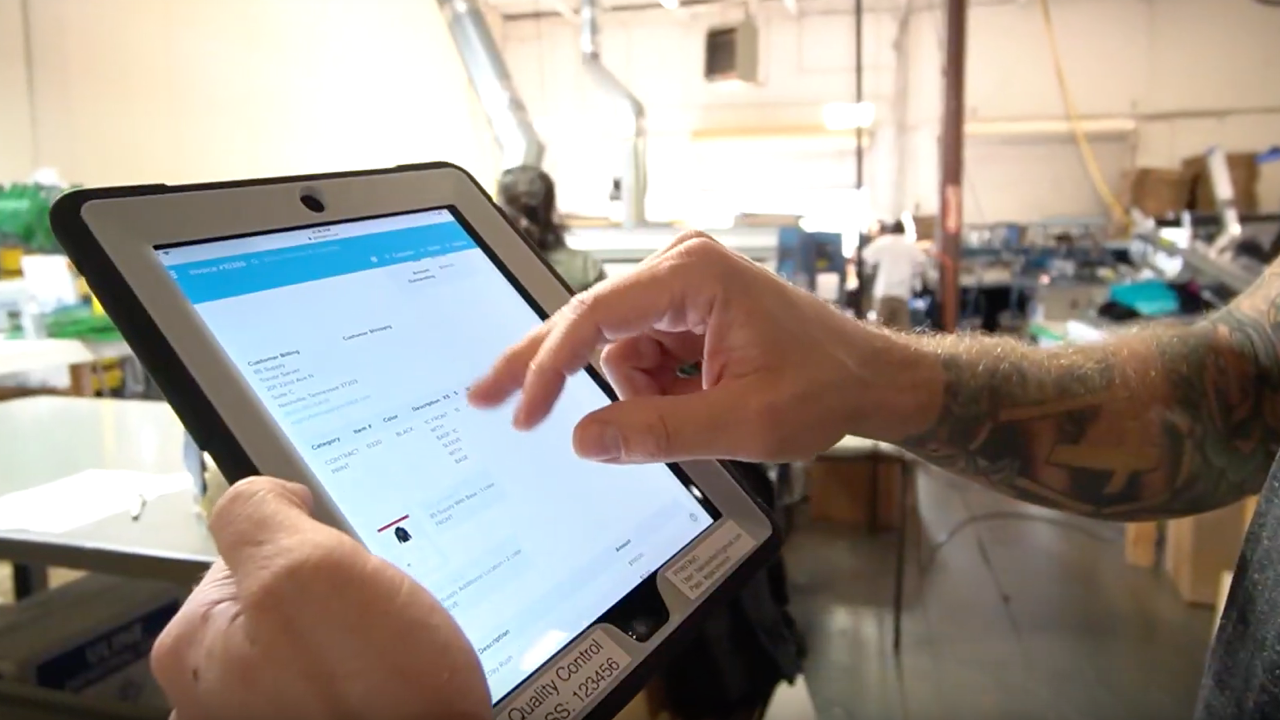 Legacy Merch uses Printavo (and a lot of other helpful software) to keep their team organized.
"Every station has an iPad. Shipping and screen techs work off a computer. Each press has an iPad, quality control has an iPad, embroidery has an iPad." They use Printavo to keep detailed notes, track the status of jobs, and communicate internally and externally. They always know what the print should look like, when it's due, and much more at a glance.
They've fully fleshed out their shop's workflow with Printavo's custom statuses: "We had six or seven statuses. Now we have 30. We set them up to trigger various automated tasks, like email updates or using Zapier to ping someone."
This has let the shop run autonomously – updates to Printavo populate an email folder which is assigned to a specific employee. Their workflow is now fully functional vis-a-vis their software. By dialing in their process, capturing it electronically, and translating it to their shop management software, they've created a seamless and automated flow of information between people and departments.
"It's hard to get a foothold!"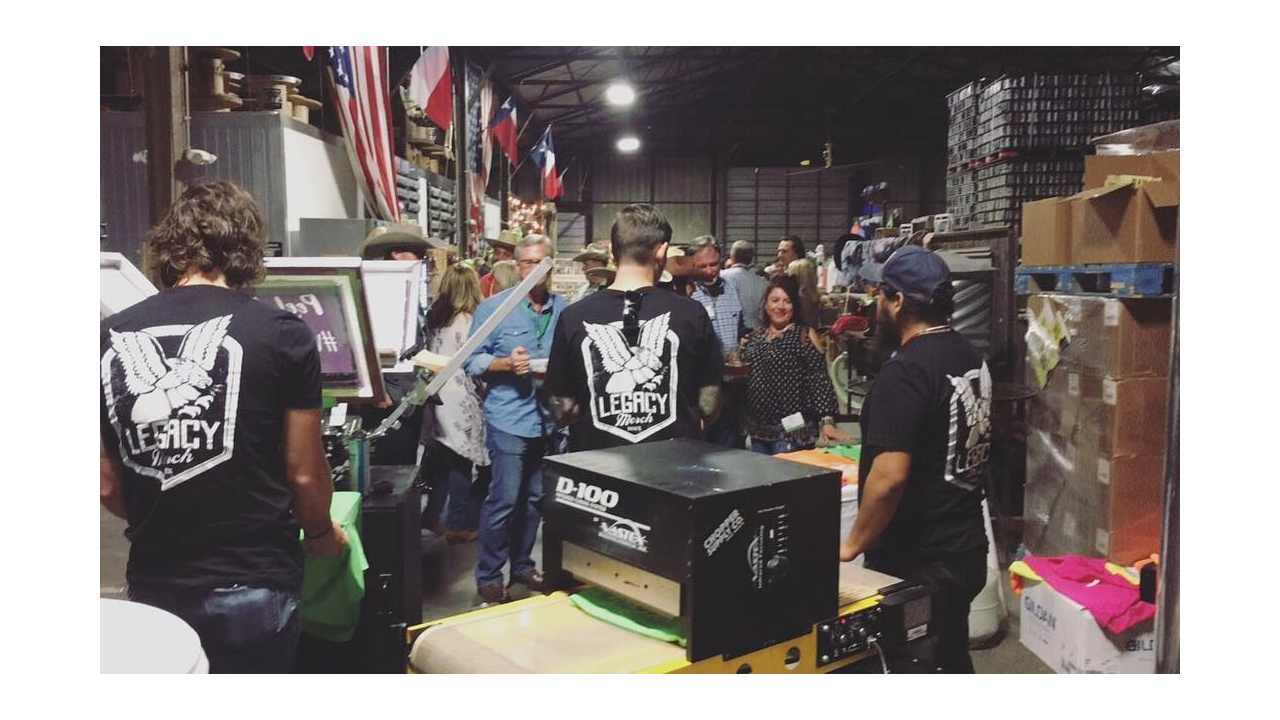 So what's the biggest challenge for a print shop like Legacy Merch? Getting started, for one! But they're over that hump and have matured as a business.
Unsurprisingly, their next great challenge is the same problem shops of all sizes and stature face: "The biggest issue is gathering new clients." The Dallas-Ft. Worth area is full of world-class print shops (like Printed Threads and Trust Print Shop), but Legacy Merch has developed their own brand and identity.
"We have a name and a recognized local brand. But it's taken a long time." With live activation events and a focus on growing their retail printing business, Legacy Merch has clawed their way to the top. It took nearly ten years of relentless efforts, but they've managed to stand out among the crowd and develop a devoted following.
"I want to spend my time with the team"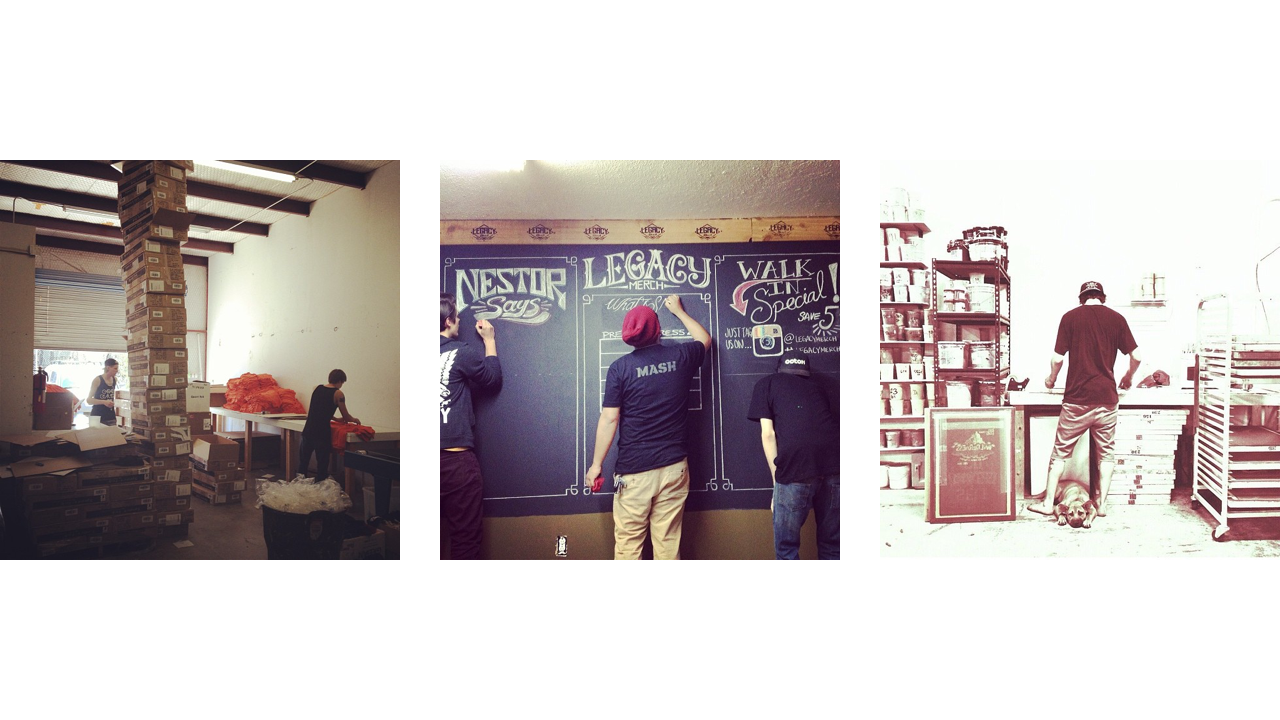 Matt has pushed hard to fully implement Printavo in their shop so that the business can run on its own.
As a small business owner, Matt is used to doing everything (and then some). But he's had to push himself hard to work himself out of the business. The investment in software (like Front App for email and Printavo for shop management) has paid off: Matt took a relaxing vacation this year.
"I went on vacation this summer, and for the first time ever I didn't feel the need to check my phone or turn on the computer. It was a cool feeling." Eventually, you will have to rely on other people to maintain your business and your sanity. The shop didn't burn down. Orders didn't go wrong. He had a slew of emails – and they were all thankful emails singing the praises of his staff. Delegation is a mission-critical skill to develop – and software to keep the team on the same page has been instrumental.
Matt's mission goes deeper than creating a business that runs itself. He's focused on his team. When asked what he'd do if he could do anything, his answer was stunningly clear.
"I want to spend my time working with the team, managing the team, building the team, building the culture, and prospecting new clients. Then, refining processes. I want to spend time with each department this fall, asking them what their pain points. What little things can we smooth out to make it better for them?"
Matt is focused on the long-term vision for Legacy Merch. The team have stayed with Legacy Merch for years, some with 5+ years under their belt. The team has become the driving force for the entire business, and he sees that the next piece of the puzzle is maintaining that momentum for the long haul.
---
We are so thankful that the awesome team at Legacy Merch let us drop by and talk shop. We're honored to be part of their growth and development. Seeing their tight-knit team, fun-loving shop environment, and transformation from a side hustle into a business that sustains 10+ employees is inspiring.
The Dallas-Ft. Worth area is growing quickly, and we anticipate further growth and development for Legacy Merch. As they transition into a stronger mix of retail and contract printing, they'll develop powerful relationships with local businesses and extend their reach further into their community.
Be sure to visit Legacy Merch on the web and on Instagram!
We're always looking to visit print shops, tell their story, and learn from their unique experiences. Check out some of the shops we've visited recently:
Want us to visit your shop? Drop us a line. We'd love to come by.