Whether you are looking to replace your full-time job or just want a side gig, starting a t-shirt printing business can be overwhelming. There are a few choices when it comes to creating a t-shirt printing business. Some require more equipment while others can be started right in the comfort of your own home or office.
There are a few different ways that you can start creating custom t-shirts and apparel. Each option is quite different when it comes to cost, difficulty, easy to scale, risk, and pros/cons. To make it easy, we've ranked each factor so that you can pick which option will work best for you. Learn more about these 5 ways to start a t-shirt printing business this year:
1. Learn To Screen-Print
If you are serious about your t-shirt printing business and want to grow a viable company that provides for you and your family, then screen printing is a great choice. Many new screen printers start out with some equipment in their garage or basement and then move onto open small shops or storefronts in their area.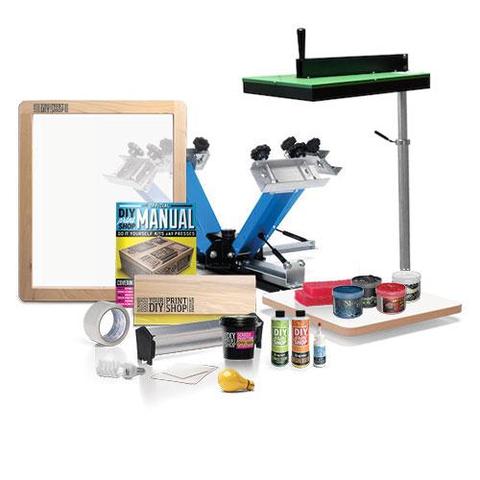 Cost: $1,500-$10,000
Screen printing requires some equipment that can get costly. Most shops start out with seed money that ranges from $5,000 – $10,000. This amount will get you started in purchasing all that you need to create a screen-printing business.
Equipment Needed:

Computer with Design Software
Printer and film
Screens
Emulsion
Drying Racks
Exposure Unit
Washout station
Printing Press (Manual or Automatic)
Inks
Squeegees
T-Shirts
Dryer
Flash Cure Units (optional)
Difficulty: Average-Hard
Most print shops are overwhelmed with the number of steps that it takes to print a t-shirt. Those starting out with the process may find it hard to master the technique. However, the screen printing process gets easier after learning from your mistakes. For more information on how to screenprint, check out these helpful videos from Ryonet.
Easy To Scale: Yes
Many print shops that start out with a starter manual printing press in the garage grow to become huge companies. The beauty of a screen-printing business is that you control the growth. It is easy to stay small and work on weekends and nights as a side gig. You can also choose to grow and scale up if the time comes. The choice is yours.
Risk: Medium
While starting a screen-printing business does require some seed money, there is only a medium risk to this investment. Most print shops make enough money to pay back their seed amount fairly quickly. Used printing equipment, like manual presses, hold their value if you need to sell them after trying out the business for a few months.
Pros:
High-Quality Merchandise:

Using a screen printer to create t-shirts is the best way to produce a high-quality product. The amount of equipment may seem daunting but all beginners learn as they go in the process. You'll be able to produce great items rather quickly with a screen-printing business.

Boosted Sales:

Once you prove yourself to a few customers, you can raise your prices to make some serious cash. You'll get faster as you go which means that you'll make more money as your skills improve.

No Storefront Needed:

Again, many successful printers started out their business in their garage or basement. Through the help of social media, you don't need a storefront to get your product out there to the public.
Cons:
Start-Up Costs:

The biggest issue with starting a screen-printing business is the start-up costs. Not everyone has the ability to sink thousands of dollars into a business or can get a loan to start a business. Saving up and purchasing equipment over a long period of time is an option if you want to start a business in a few years.

Skill Level:

While many screen printers learn quickly, there are going to be mistakes that will cost money in the beginning. Screen printing has many different facets and skills required to produce a quality t-shirt. Not everyone may be cut out to learn and adapt to the process.

Physical Requirements:

Manual screen printers start out strong but the movement to get the job done is quite repetitive. This could cause physical issues like back, shoulder, and joint pain as you must pull the ink over the shirts during the processing system. As your business grows, you can upgrade to automatic presses that will relieve physical issues.
2. Try DTG Printing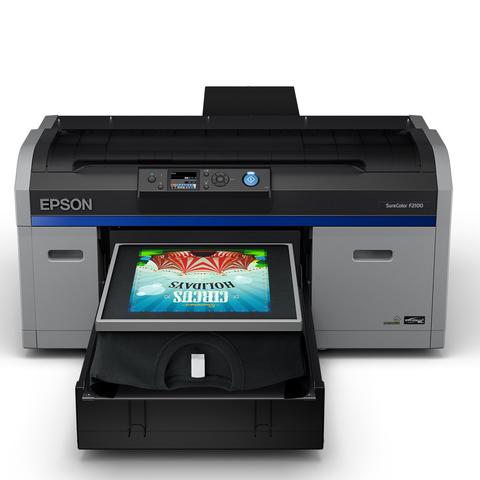 Direct-To-Garment (DTG) printing, is another way to start a t-shirt printing business. This option involves a high-end printer that digitally prints ink onto t-shirts. DTG printing is recommended for smaller jobs that have a lot of detail. DTG is part of the new technology that just arrived in the t-shirt printing world.
Cost: $15,000-$20,000
DTG printing requires less equipment overall but a printer can be expensive. Used equipment is always an option when starting out.
Equipment Needed:

Computer with Design Software
Digital Printer
Ink
Ringspun T-Shirts
Small Rollers
Pre-Treatment Liquid
Heat Press
Difficulty: Easy
While the printing is easy, because the printer does all the work, DTG printing requires more technical savvy. You must know how to correctly convert designs to the printer and also know how to fix technical issues.
Easy To Scale: Average
Many DTG printing businesses start out small and then scale to larger shops. Larger printers can handle multiple shirts every hour making them efficient and quick. Many screen printers choose to add DTG printing options to their shop as they grow due to the high cost of the equipment involved.
Risk: Medium-High
The risk for Direct-To-Garment printing is medium to high based on the cost of the printer. Purchasing just one machine is a lot of money for a young business. The risk is medium-high based on your business experience and overall business plan.
Pros:
Quick SetUp Time:

Printers can quickly print a t-shirt with multiple colors in just a few minutes. Add in some extra time for heat curing and you can have a printed shirt that is fully ready to box in a 5-minute window of time.

Detailed Prints:

DTG printing is perfect for intricate t-shirt designs. The same designs on a screen printer would require a lot of ink, screens, and emulsion. DTG printers use a small amount of ink in a variety of colors making them more efficient.

Physical Requirements:

The printer does most of the work during the DTG process. You can sit in a chair at the computer and perform most of the work with a click of the mouse. DTG printing requires much less physical work than a manual screen-printer.
Cons:
Limited Fabric Options:

DTG printing doesn't do well on t-shirts that are polyester or dry-fit. Ringspun is recommended and other fabric blends may have issues with prints applying correctly. If this is your only way to produce a shirt, your customers will be limited to only choosing apparel options that print well.

Color Matching:

While a client's design may have a certain color shown, not all printers can match the exact same color. This means that some prints may come out slightly different from what the customer orders.

Small Batches Only:

DTG printing is best for smaller jobs that don't have many pieces within the batch. Compared to screen printing, which can run shirts through the process at the same time, DTG printing is limited to printing one shirt at a time which isn't the best fit for jobs with hundreds of shirts to print.
3. Start Small With Heat Transfers
One of the easiest ways to start a t-shirt printing business is to do direct heat transfers. This type of business prints images using a home color printer onto transfer paper. The image is then applied to the garment directly using a heat press.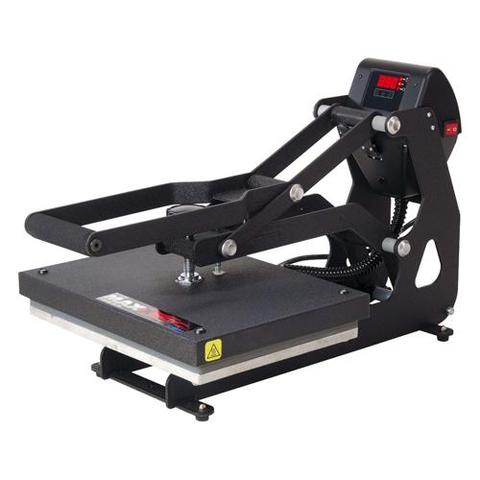 Cost: $500-$1,000
The start-up costs for a heat transfer printing business is relatively low. Many people already have a computer with some sort of basic design software. Color printers are required if you want to do color prints. Clamshell heat presses are also a good idea for quick processing and accurate heat intensity.
Equipment Needed:

Computer with Design Software
Printer
Ink
Transfer Paper
Heat Press
T-Shirts
Difficulty: Easy
The process to print a shirt is quite easy and doesn't require a lot of extra skill. You'll spend most of your time cutting around designs to apply on the shirt.
Easy To Scale: No
While this type of printing is easy, it is not easy to scale if your business grows. The time it takes to cut transfer paper and apply it to the shirt is too long for larger scale printing. This option is best for those single operators who want a side gig that won't replace a full-time income.
Risk: Low
Many printers already have a home computer and printer so the only other larger item to purchase is the heat press. You can get into this business rather easily with just a few hundred dollars of seed money.
Pros:
Perfect For Small Spaces:

Many printers who start a heat transfer business can do so in their own homes. Heat presses don't take up that much room and can easily be added to a home office without issue.

Small Investment:

Heat transfer printing businesses are a small upfront investment. You can start making money rather quickly.
Cons:
Application Time:

Like any printing process, it can take some time to learn how to print t-shirts. The application time in heat transfer printing can be a bit tedious. Prints need to be trimmed for the best application which means that you end up spending a lot of time cutting around layouts.

Growth Capability:

There is a maximum amount of product that you can produce doing heat transfers at home. Many print shops that want to grow beyond the home choose a different printing process that is more efficient and automated.
4. Explore Contract Printing
This kind of t-shirt printing business makes you the middle man of the process. As a t-shirt contract printer, you would receive the shirt from a bulk distributor who has hired you to print on the item. Then the distributor would sell the item to the end-user.
Cost: $300+
The cost of contract printing can vary widely. You could become a contract printer with a heat transfer business in your home. However, you could also run a full-scale screen printing business as well.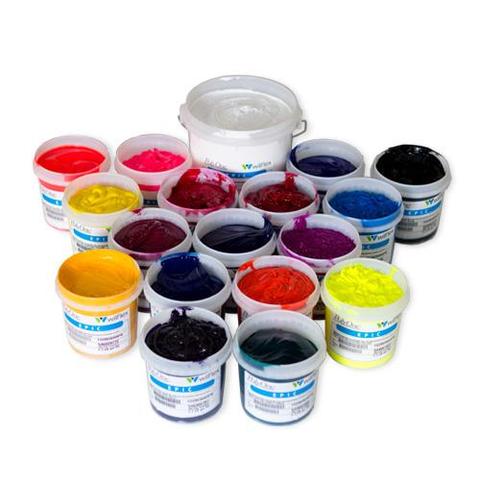 Equipment Needed:

Computer with Design Software
Printer
Ink
Other supplies depending on what kind of printer you choose
Difficulty: Easy-Medium
Contract printing is usually for those printers who already have their own business. It is a side option that helps you get more sales but limits your contact with the end-user.
Easy To Scale: Yes, with the right tools
Again, there are different variations of contract printing. You could scale a contract printing business by becoming the main supplier to a distribution client. However, this can be a hard niche to get into. Most printers do contract printing but don't rely on it as the main part of their business.
Risk: Low-High
Contract printers are at the mercy of the client in producing prints. Since you don't purchase the inventory, there is less risk than other printing businesses. However, you also don't have contact with the end-user who actually wears the shirt. Large distribution companies who use contract printing can easily switch to a competitor as well if they don't like your work.
Pros:
Low Overhead:

The only thing that you need to have on hand in contract printing is your printer, ink, and other supplies. You don't have to worry about t-shirt inventory or shipping to get the printables to your shop. This means that you are responsible for very little product itself.

Good Side Business:

You can work a contract printing business during nights and weekends as a side business. This is a great option for those looking to get their feet wet in the printing world and those who can't dedicate a lot of time to the business as well.
Cons:
Communication:

It can be hard to communicate with a client on when they will get you the product that you can then print on. You fully rely on the client to get you the needed printables so that you can do the job.

Less Control:

You have little to no say when it comes to choosing the font, color, or type of item that you produce when contract printing. This gives you less creative control that is important to some printers.
5. Start to Embroider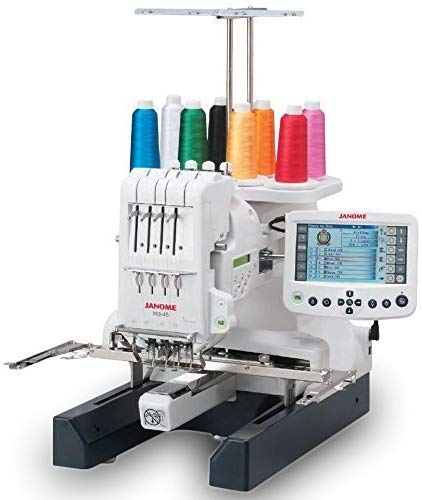 While at first glance you may think that embroidery is a lost art, think again! Embroidery definitely has its place in the printing market. Custom shirts are embroidered as well as many types of hats and bags.
Cost: $1,000-$15,000
The start-up costs for an embroidery business are relatively low. Most business owners who choose to go into embroidery do so because they already love to embroider. That means that they already have a machine, thread, and some of the other supplies needed to start the business. There are many different machines to choose from, including used and new, with multiple heads and capabilities. You can purchase higher quality machines that embroider different items if desired as well.
Equipment Needed:

Computer with Design Software
Embroidery Machine
Thread
Hoops
T-Shirts
Difficulty: Medium
Embroidery machines are different from other printing presses. They require a certain level of understanding and skills to create a top-quality product.
Easy To Scale: Yes
Many printers who start an embroidering business do so in the comforts of their own home. However, you can easily scale up in machine and space to become a full-scale operation. For information on how to grow your business and the latest marketing tips, check out these videos from Ryonet.
Risk: Low-Medium
Due to the fact that many embroidery businesses start out small, the risk is fairly low. If you invest in an embroidery business without any prior knowledge of the craft, it is much more of a risk. Scaling your business to grow with your skills and budget is crucial to achieving success.
Pros:
Unique Printing Option:

While the other printing business options all have the same kind of end product, embroidery is unique. An embroidery business offers a custom way to decorate garments with thread instead of ink.

Less Mess:

As opposed to ink printing businesses, the thread that you use for embroidery isn't messy. Cleaning up loose threads is easy as compared to ink that can splatter and stain.
Cons:
Narrow Niche:

While embroidery is quite unique in the end product, it isn't something that every customer will want to order. The niche for embroidery is narrowed as it is used mainly for names and specialty parts of a garment. Embroidery items are usually an added cost to a garment making your customer base narrow in the wide world of t-shirt printing.
Can't Choose Just One?
While some of these printing options can be a good way to start a business, many successful t-shirt printers use a combination of them. As your business grows, you may have customers who ask for embroidery or want you to print their design on a t-shirt that they provide. Many who start out with a screen printer will add DTG printing as the business grows as well. Any of these processes can be used to start a t-shirt printing business, but they can also be used in combination with one another to create a thriving business and expand your customer base.
Starting your own t-shirt printing business is an exciting time. If you love creating custom items for clients, then you should go far in your business. While choosing which printing style is a good fit for you, there are many factors that go into creating a successful business. No matter how you choose to start your business, know that there is a lot of information here and online that can help you along the way. Consider any one of these 5 ways to start a t-shirt printing business on your path to success.
Sources Used But Not Linked:
https://anatol.com/essential-supplies-and-equipment-you-need-to-start-a-screen-printing-business/
https://www.iconprinting.com/blog/pros-cons-of-dtg-printing/
https://www.t-shirtforums.com/general-t-shirt-selling-discussion/t541506.html
https://colmanandcompany.com/blog/2014/10/embroidery-business-at-home/