Hello Print Hustlers! We hope these latest updates will help you stay ahead of the curve this summer.
At a glance, the latest updates are:
Statuses for Messaging in Printavo. Always know whether a message was sent, opened, or clicked – and what went wrong if there was an error.
Custom URLs for Standard subscriptions. Brand your shop's Invoices and Merch stores.
Better Payment/Expenses CSV files, with two new columns: Payment Processor and Payment Transaction ID
"Print Location" has been renamed "Imprint."
You can always visit updates.printavo.com for the latest updates – and see the progress we've made.
Printavo Messages: Now Featuring Email States – Stay Informed About Your Messages!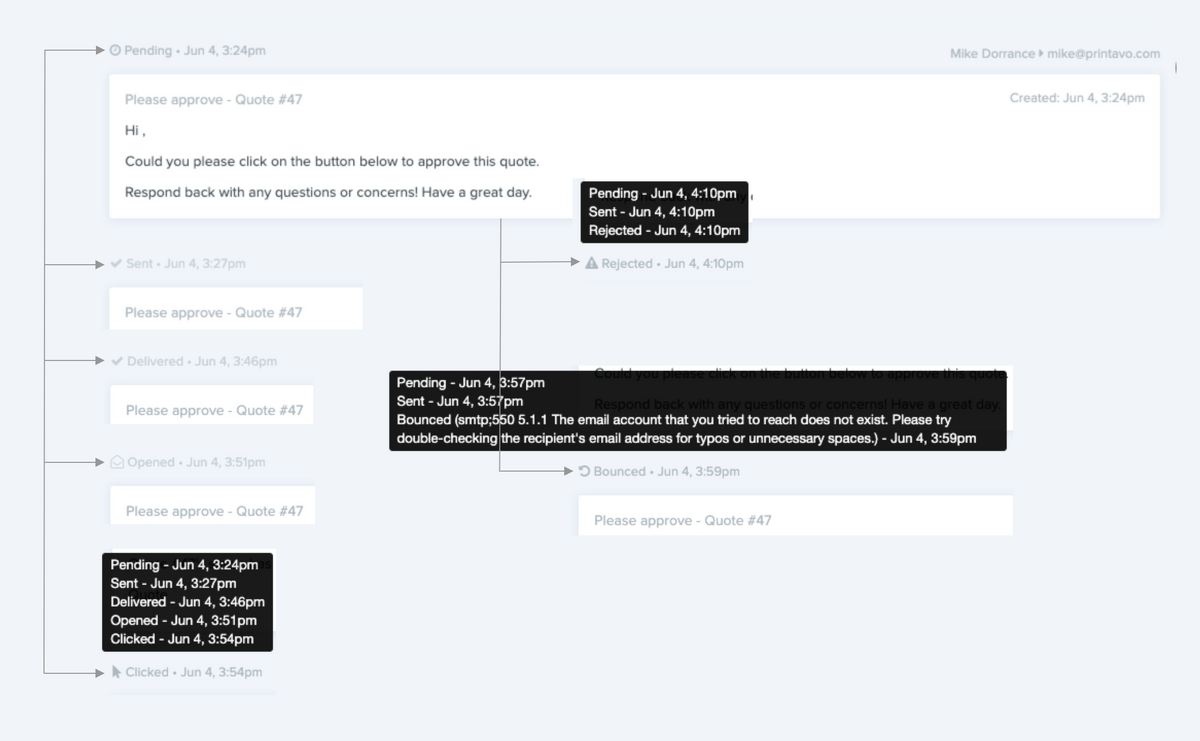 Powerful new changes to Messages in Printavo!
Now your Quote/Invoice shows a message state and a timestamp.
If you hover over that message's status, you will see a history of that message. When there's a problem, a descriptive error will help you troubleshoot your messages.
This makes it much easier to understand what's happening with your messages, generating transparency and reducing wasted time.
The message states are:
Pending

Sent

Delivered

Opened

Clicked

Bounced with Reason

Rejected
Custom URLs for Standard Printavo Subscriptions

Standard subscribers may now use Custom URL Branding.
Simply head to My Account > Shop Information to update your Custom URL Branding.
This change personalizes Public Invoices and Merch Store URLs to match your shop's brand.
Better Payment/Expenses Export – Payment Processor and Payment Transaction ID
Payment reconciliation is easier than ever!
The Payment/Expenses CSV export now includes two useful columns:
Payment Processor

Payment Transaction ID
We've also renamed the CSV file that Printavo generates to Payments-Expenses-Export. This will more accurately reflect the Export page in Printavo, reducing the chance that your exported file is difficult to find.
From "Print Location" to "Imprint"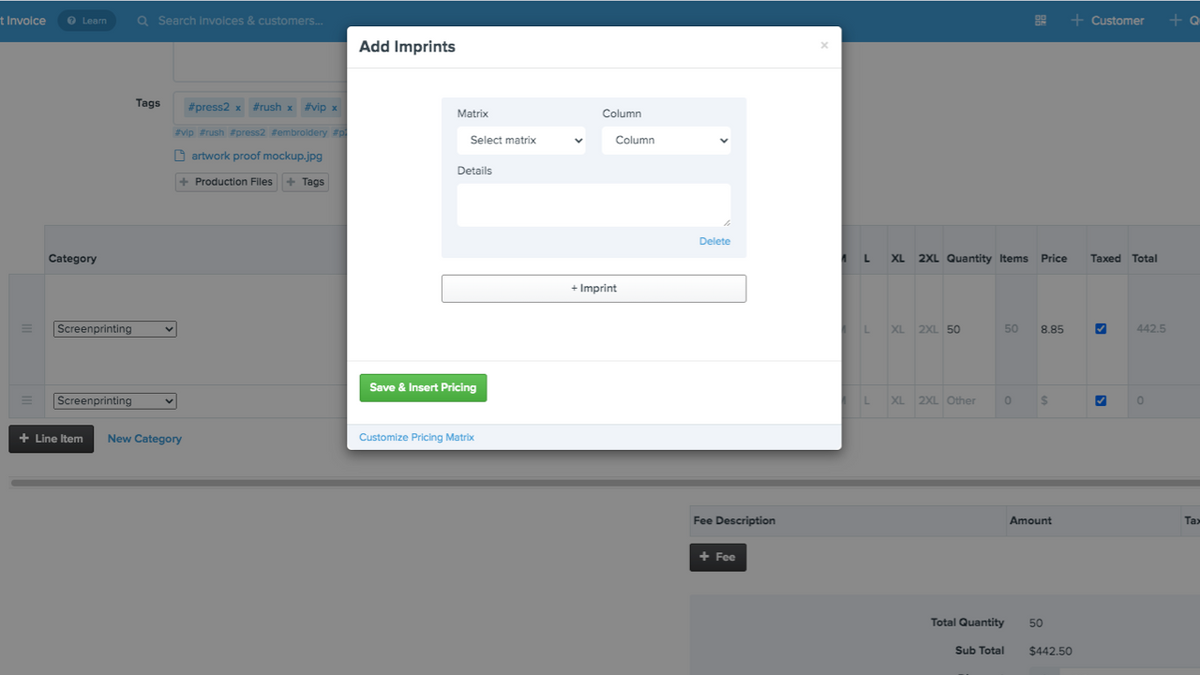 Print Locations have been renamed "Imprints" across Printavo.
This is one foundational part of Printavo's larger initiative to improve quoting and scheduling.
Note: Printavo's API endpoint print_locations_attributes has not been updated.
---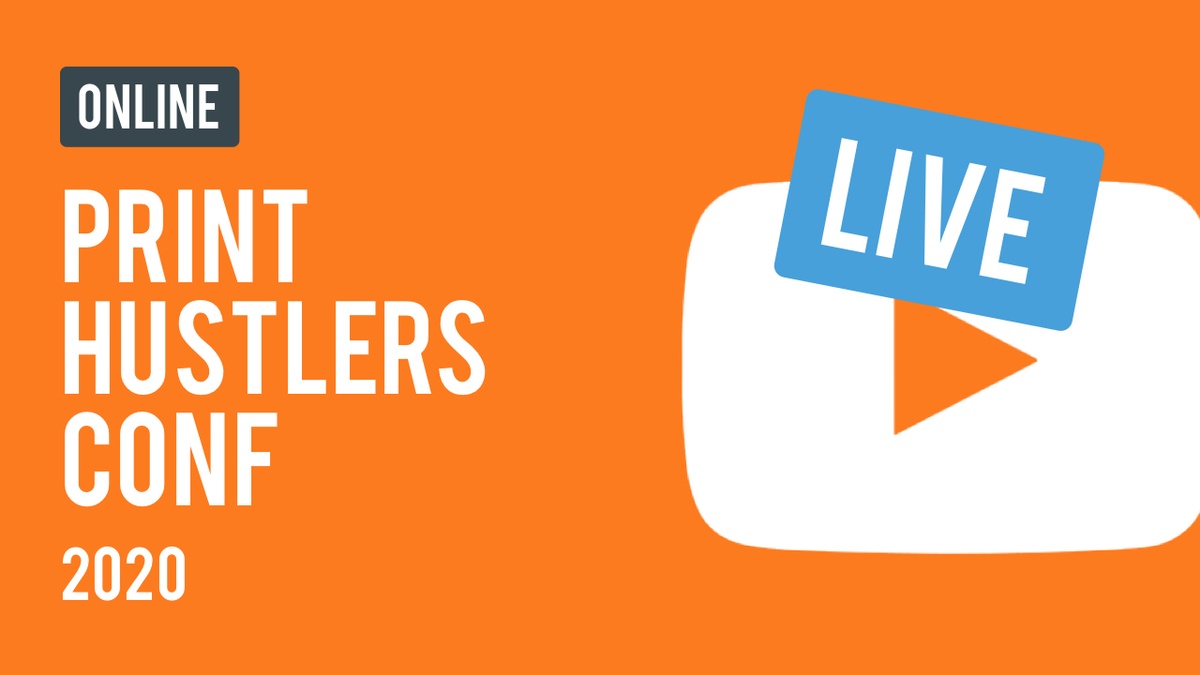 Printavo's PrintHustlers Conf 2020 has gone online!
Join hundreds of print shops across the globe for a live shop tour with SHIRT KONG, a candid lesson on perseverance from Wear Your Spirit Warehouse, and so much more.
Featuring two days of live-streamed presentations to arm you with the resources and knowledge you need to survive 2020, PrintHustlers Conf 2020 is free and open to all.
Join us for this action-packed conference streamed live to your office (or couch).