After a year of writing, our first book is now available to download for free.
Who: Printavo founder Bruce Ackerman, Campus Ink co-owner Steven Farag, Adam Cook
What: A 113-page guide to creating, growing, and sustaining a successful screen printing and apparel decoration business
Where: Now available on Amazon
Why: There are hundreds of tutorials about how to screen print. But there's no go-to guide for building a screen printing business. So we wrote it.
Did you know more than half of screen printing businesses fail within 5 years? They fail because of bad branding, poor business strategy, and lackluster systems – not because they don't know how to print!
A PrintHustlers Guide To: Growing A Successful Screen Printing Business presents a clear path to long-term success. Currently sold out but available here for free.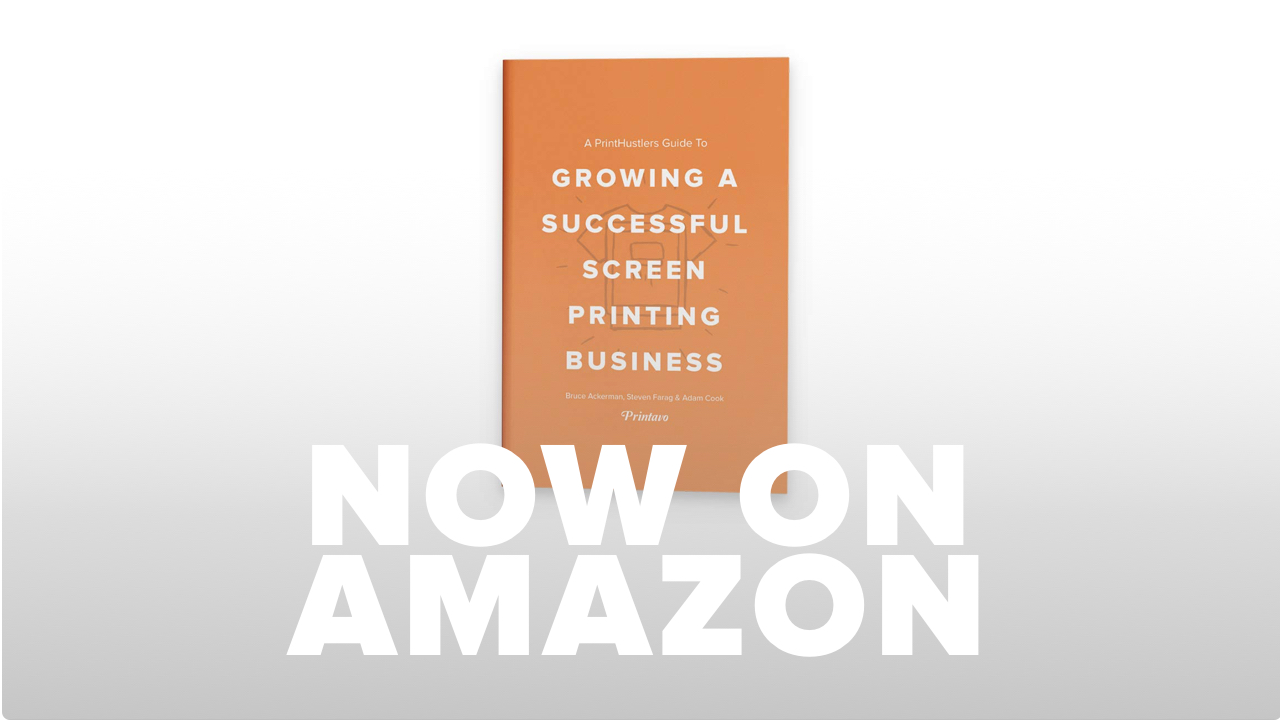 What's inside our book
We've packed this book with 18 chapters of actionable guidance for building your screen printing business. Here's just some of what you'll learn:
Developing a business plan.

"Begin with the end in mind." Most print shops simply haven't developed a true plan for their business. You'll build a rock-solid strategy for easier decision making.

How to build a professional brand.

From colors to fonts, we'll show you how to build a consistent brand that customers will always associate with you (and why it matters).

4 steps for hiring your first employees.

Why hiring for attitude and training for skill is the easiest way to get really great employees – and where to start looking for them.

Managing a sales team.

Commissions, salary, profit sharing…how do you make this work? We teach you to track, teach and inspire your sales team.

How to handle accounting.

Cash-based or accrual-based? How do you decide?

The "maniac marketing" skills you need to get started.

If you're a true Print Hustler, you'll want to know how static and dynamic marketing let you market like a maniac.

Setting up your shop's workflow.

Our bread-and-butter, take your shop from hobby to truly professional with an efficient workflow.

Handling artwork.

The #1 productivity killer: artwork problems. Learn why super simple email templates are the way to cut out bad art.

Pre and post-production.

Want to print faster? Pre-production is how to get there. Want to charge more? Learn how post-production can let you do just that.

Defining what success is to you.

It's your business, your vision, and yours to create. Define your path to success so every choice points you toward your goals.
We wrote this book for everyone that's curious about screen printing, for everyone that wants to gain the independence of owning their own business, for everyone that wants long-term success, for everyone that wants to work in a great print shop.
Keep pushing, Print Hustlers!