On a snowy January weekend, Printavo sent its team to Barrel Maker Printing in Buffalo Grove, IL (just outside Chicago) for Ryonet's Screen Printing Experience.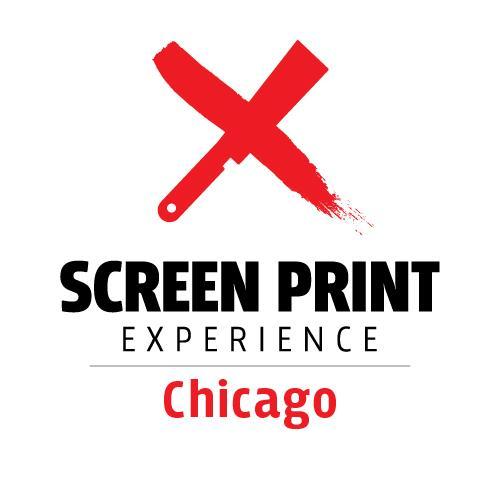 Located in a large suburban warehouse facility, Barrel Maker is one of Printavo's earliest partner shops. Barrel Maker and Printavo have grown alongside each other over the past 5+ years – it's extremely exciting for us to see their development as a brand and a print shop.
Erin and Justin Moore run Barrel Maker like it's a passion – and have taken it upon themselves to share their knowledge through teaching. They have a deep love for this industry and the printing process, and they even run live screen printing events to share their excitement. They're the perfect people to learn from about the art, craft, and business of screen printing.
So was attending this class worth it? Did Printavo get a lot of value out of it? Should you consider taking this class? The answer is unequivocally yes.
Why we went to the Ryonet Screen Printing Experience
The Printavo team attended this class with three main objectives in mind:
Grow our knowledge about the industry we serve.
Get hands-on experience with screen printing.
Observe a true production environment.
The Printavo team has diverse working backgrounds – from dog grooming to running charities to programming – but only Bruce has direct experience working in a screen printing shop. That's why we spent the weekend with Barrel Maker learning the ins and outs of the entire screen printing process: we want to learn as much as we can to better serve our partner shops.
Everyone at Printavo has daily interactions with screen printers. But we aren't screen printers. So there were some real surprises in store for us.
What we didn't know about screen printing
I definitely realize screen printing is more of an art than I thought. You really need to know your craft to be successful. – Laura, customer success
Screen printing is far more detailed and challenging than we imagined
There aren't just a dozen variables in screen printing. There are hundreds – some that you can control, and some that you can't. Each choice you make along the way determines how the print will turn out.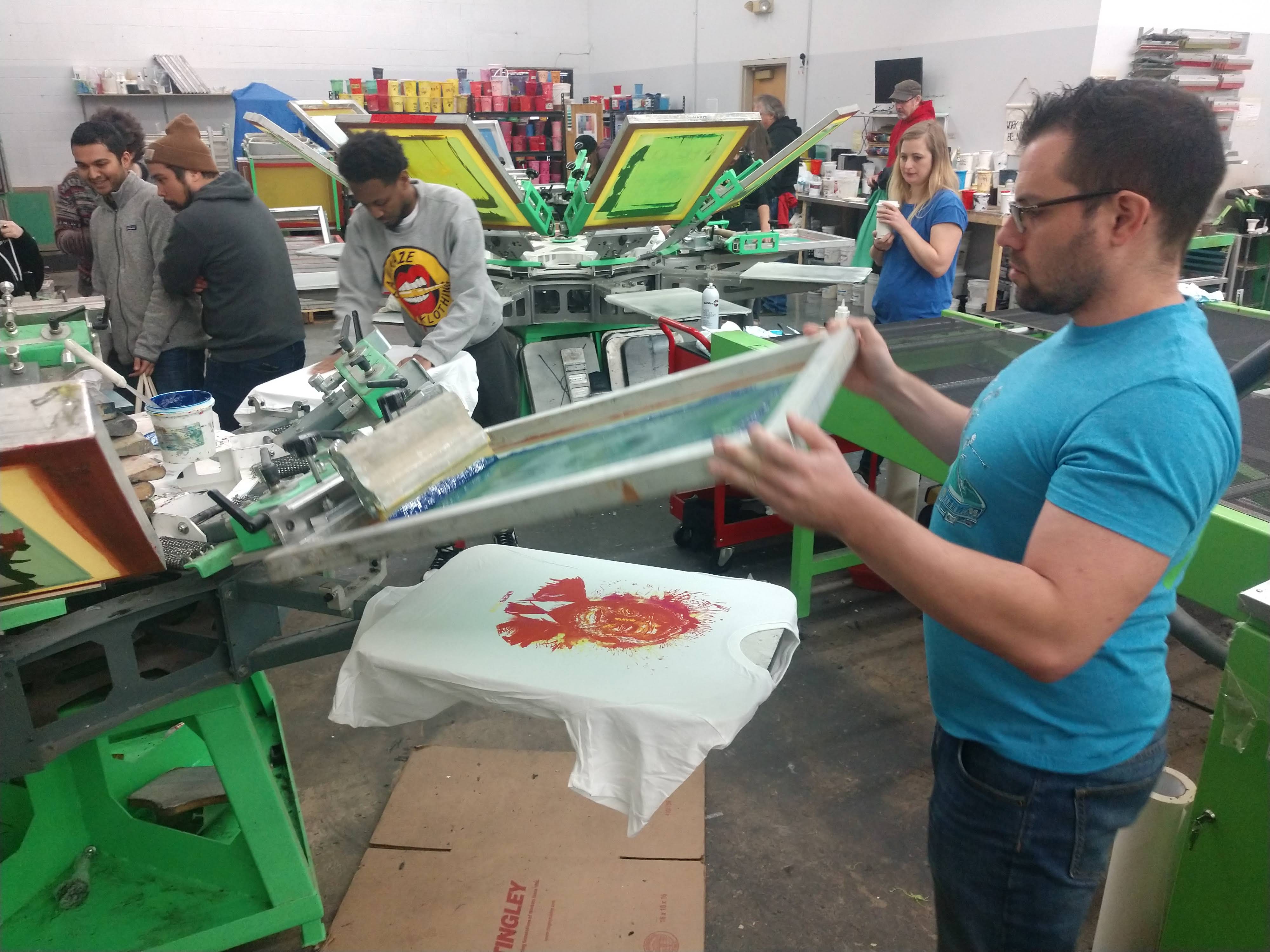 Now that I've seen a shop in action, I have a new appreciation for the incredible amount of work that goes into even the smallest order. I always knew there were different ink types, mesh counts, Pantone matching, etc., but I don't think I realized how much impact each of those choices has on the success of an order. – Steve, onboarding
The screen printing production environment is fast-paced and seriously formidable
No one can just jump into screen printing and be an expert from the start. It requires hands-on training and a long-term effort to improve your knowledge and technique. We were struggling to get one shirt onto a platen and get a decent quality print – so we quickly learned just how challenging it would be to hold workers accountable for hundreds or even thousands of garments.
I was honestly surprised by how much prep goes into each design, the art, the correct ink, the prepping and burning of the screens, the correct type of garment for the ink, there are so many variables to take into account! – Laura, customer success
There's huge variance in how each shop solves common problems
We know that every shop is different, and we hear about it every day from our partner shops. A solution that works for you definitely won't work for everyone. But we were still surprised by the sheer number of problems that screen printers face and the huge variety of solutions for each and every problem.
I wouldn't say this class changed my perspective about working at Printavo (I still love it), but it will definitely impact how I gear my demonstrations. I now have a clearer vision on how we can positively impact workflow, and where we fit in to various processes. – Steve, onboarding
Barrel Maker have jerry-rigged all sorts of novel solutions for little problems they run in to during production – from utilizing a Reptifogger to keep inks wet on their press to making little homemade stations for holding spray adhesive canisters on their equipment.
I assumed most orders are set up similarly. But choosing fabric, ink, screen mesh – not to mention correctly setting up the art for the stencil – all of these choices are really what's making each custom print truly customized. – Nick, onboarding
What's included with Ryonet's Screen Printing Experience?
Ryonet's Screen Printing Experience is a 2-day course designed to give you an overview of everything you really need to know about screen printing.
This seminar has given thousands of screen printing entrepreneurs the tools and knowledge they need to start and run a successful custom printing business.
Several new screen printing shop owners were in attendance from Iowa, downstate Illinois, and nearby suburbs. Each had a unique story that brought them to screen printing, but the drive for independence and financial autonomy in their business was the common thread. Their clear eagerness to learn was met with ample time for in-depth question and answer sessions about each topic.
The class covers a plethora of topics:
Printing films and making high-quality screens

Registration marks and the importance of getting registration correct

Ink types: Plastisol, water based, discharge, graphic inks

Handling dye migration

Challenges with white inks

Mesh counts and the basics of LPI

Picking the right exposure unit

The basics of emulsion science

Materials for printing: carded vs. combed, different textile properties, picking an ethically sourced garment

Separations

Vector vs. raster

Printing for children's garments: legal requirements under CPSIA (phthalate and lead laws)

CMYK and simulated process printing

Flashing and curing

Using underbases correctly
You don't just walk away with a lot of knowledge and insight – you also print some pretty killer designs.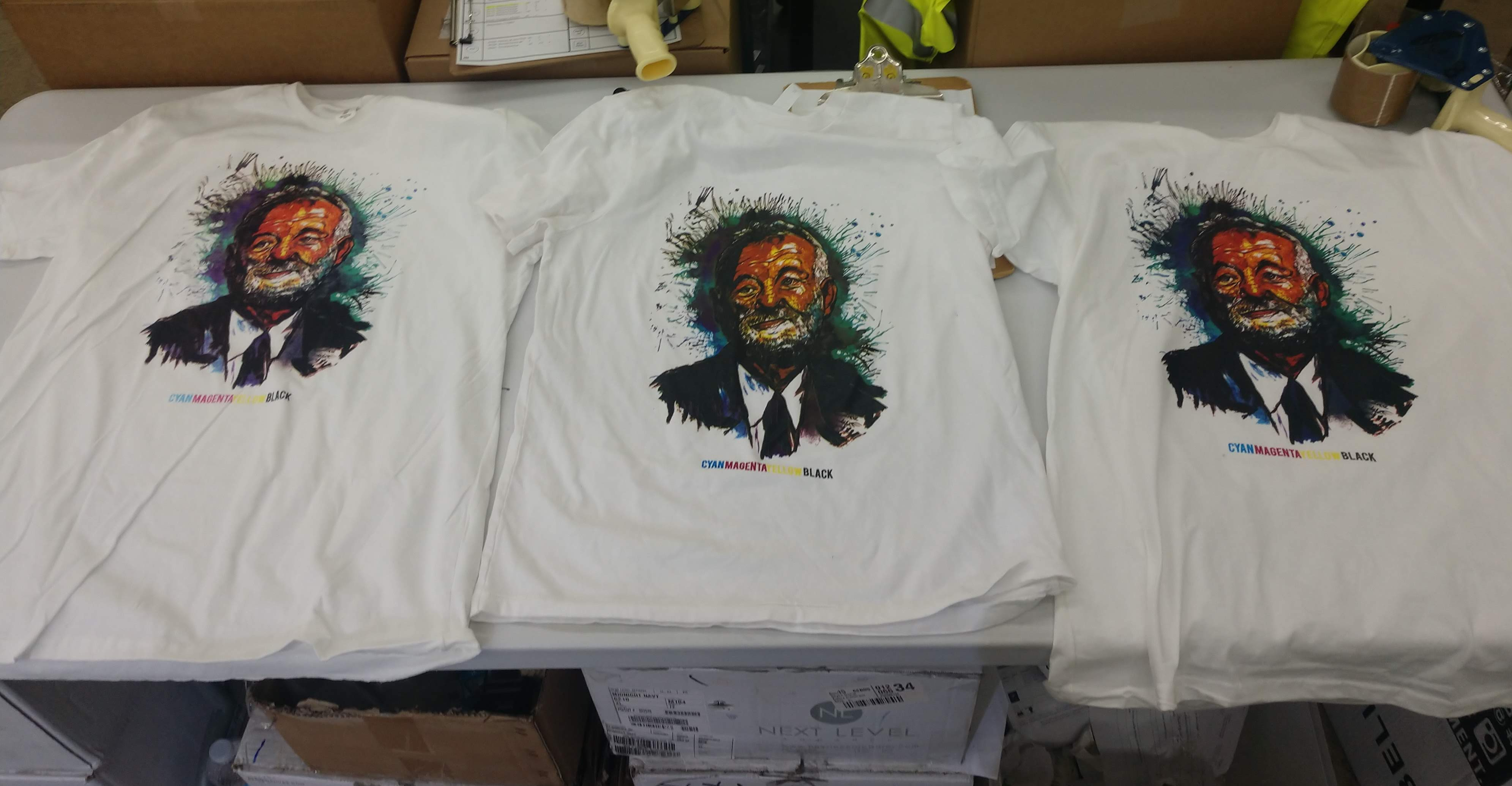 We each wound up with around 10 shirts that we printed. Wearing a shirt that you printed definitely gives you a different sense of pride than buying any old t-shirt off the shelf!
Barrel Maker's art team chooses several beautiful prints for each class and demonstrates multiple printing styles, techniques, and print locations. The Printavo team were big fans of the Death tarot card print and a CMYK process print of Bill Murray.
Is the Screen Printing Experience right for you?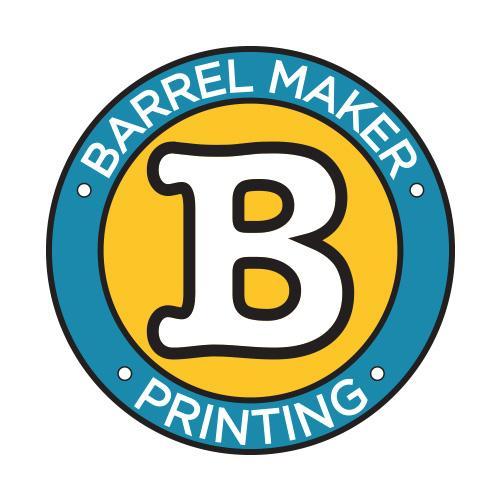 Whether you're looking to learn more, network with really cool people, or ask detailed questions about something that's challenging you – the Ryonet Screen Printing Experience is a great opportunity to do some continuing education.
This class is totally a 10 out of 10. For a few hundred dollars you learn a TON about your business. I would recommend that anyone starting a screen printing business take this class. Total no-brainer. – Nick, onboarding
You will certainly get value out of the class even if you've already established your business. Justin and Erin know so much and were 100% willing to share every available piece of info they had. There's no hoarding the secret sauce here – they're advocates for your success. They offered us all their contact information and urged us to get in touch with questions and problems.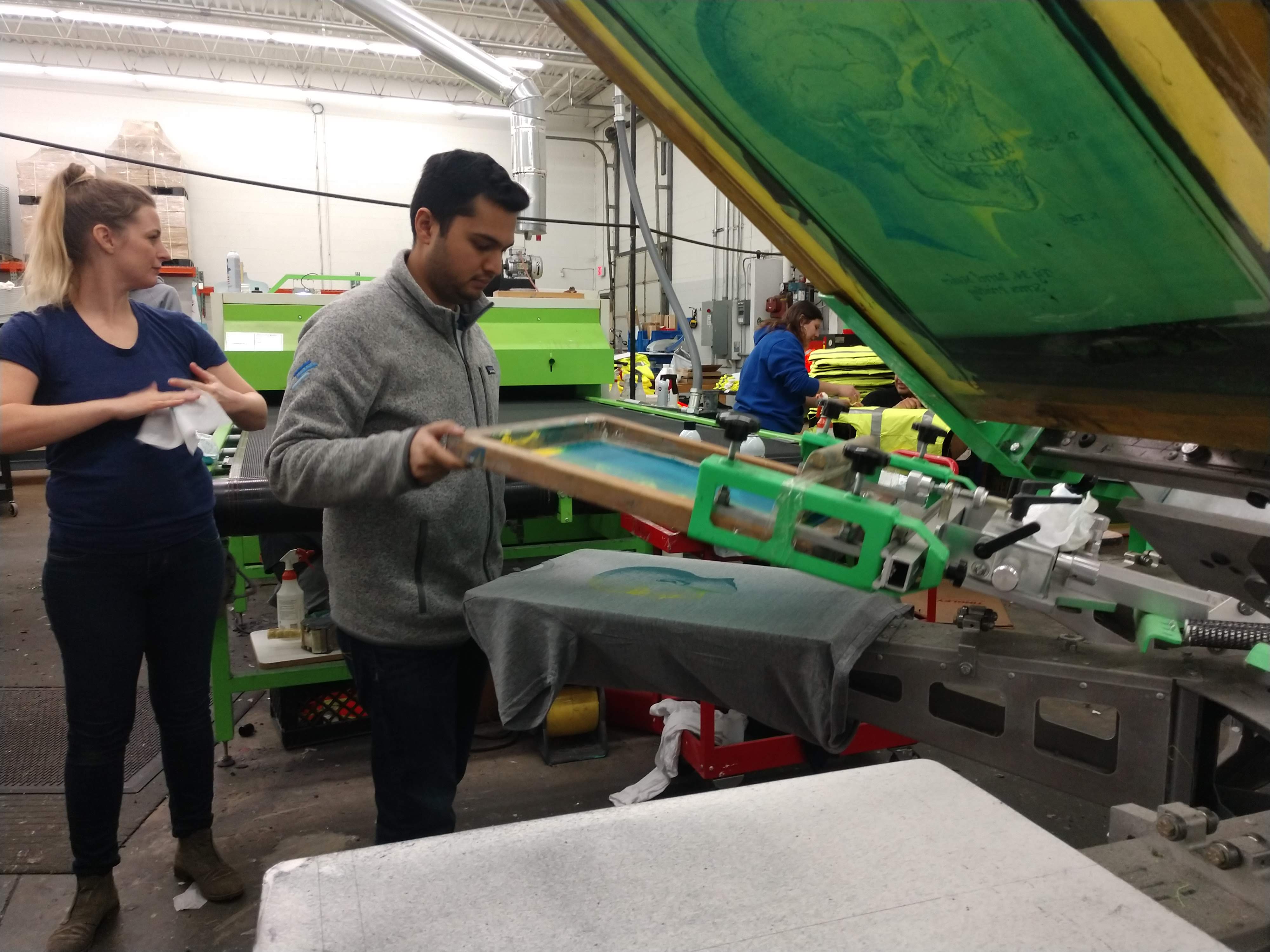 If you're thinking of starting a screen printing business, this is an awesome opportunity to learn from people who have already been through the struggles and challenges you are going to face.
Don't go in blind. Take a class like this. Talk to people in the industry and get advice. To some, screen printing might sound like a simple money-printing industry, but there are so many variables to success. – Steve, onboarding
The big lessons from our screen printing experience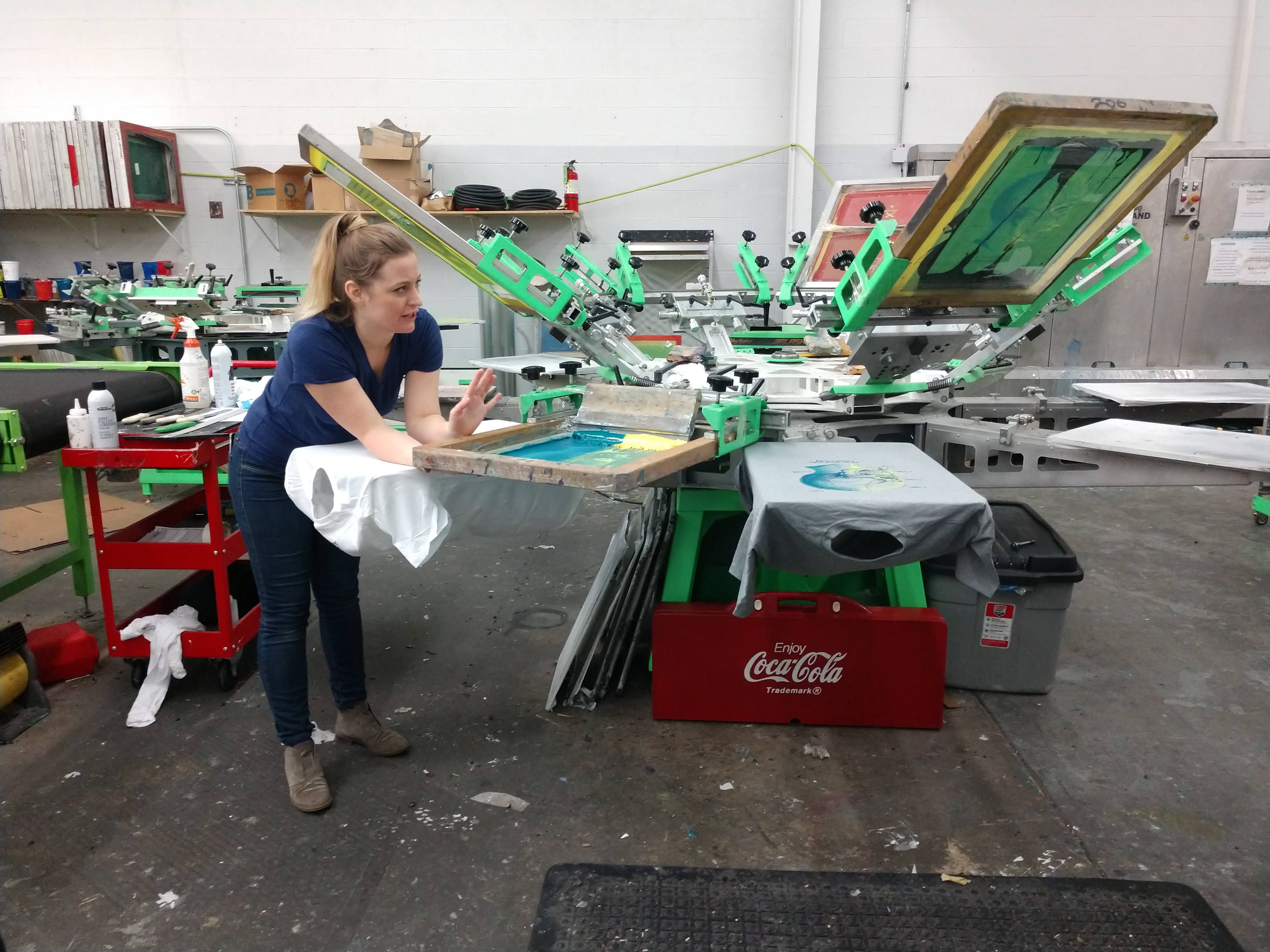 We didn't just have fun with Barrel Maker. We learned some real lessons about screen printing. From the craft and science side:
I assumed that making a really cool shirt was somewhat dictated by the equipment you currently owned. While that is a factor, I realize now you can do a lot of cool stuff by buying a more expensive blank garment, or buying a specific type of ink, or even flooding the screen differently. There's a lot of variation that gets you a cooler product through small choices. It seems like research and time are just as valuable as owning a really nice automatic press. – Nick, onboarding
To the more practical lesson about how challenging the screen printing business is:
The Screen Printing Experience made me feel more connected to the people I speak with every day. I now know what they do on a day-to-day basis and I can really see how Printavo is an incredibly helpful tool for any shop. – Laura, customer success
We used Next Level and Allmade garments – and learned about how Allmade is dedicated to ethical garment production. We were surprised by the horror stories about garment factories, but thrilled to learn that there are people focused to providing fair wages and a healthy working environment in an industry that's unfortunately plagued by worker abuses.
Conclusion
At Printavo, we work closely with artists and craftspeople to grow their business and manage a complicated process – but it doesn't leave a lot of time to actually get involved in the production process we help facilitate. Getting hands-on experience raised our base level of knowledge and gave us a chance to see how inspiring and satisfying screen printing can be.
We highly recommend this class if you have an interest in screen printing, are interested in starting a screen printing business, or want to expand your knowledge, ask detailed questions about specific problems, and gain more experience under the tutelage of experts.