Join SanMar President Jeremy Lott on this episode of the PrintHustlers podcast for a fascinating look at one of the apparel industry's largest and most important companies.
Jeremy manages more than 4,000 employees at his family's company – but he wasn't born with a silver spoon in his mouth. "I really had to prove to everyone that I deserved it. So I worked my a** off to get here," Jeremy says.
SanMar became a distribution company after Jeremy's dad sent every screen print shop in Seattle a letter with his customer list.
"I'm not going to be your competitor anymore. Here's my customer list. But I'd love to be your supplier," Jeremy recounts the letter saying.
By staying small and developing a niche ability to source and manufacture garments like polo shirts, SanMar rose to prominence.
Overcoming one of the apparel industry's major challenges during the 1990s, SanMar strategically moved toward making their own apparel. Jeremy explained: "The power imbalance between the mills and the wholesalers was huge. We started making our own product. From private label, to sourcing – we became a real apparel company." In the 2000s, SanMar expanded its footprint and developed deeper relationships with world-class brands.
On pace to grow at more than 8% through 2020, SanMar – like many others in the custom apparel industry – has been hit hard by the economic downturn caused by the coronavirus pandemic. "But the most important time I spend is with my leadership team. That's really what I prioritize in my day," Jeremy says. Despite not seeing each other for more than 4 months, the talented team at SanMar has stepped up to the challenge – without a single layoff.
SanMar continues to invest in technology to lead the way toward sustainable practices. Jeremy dives into SanMar's focused mission on sustainability, detailing how the company uses king grass to generate clean electricity for its South American manufacturing facilities. From managing 4,000 employees to re-inventing how apparel companies generate energy, SanMar and President Jeremy Lott have led the industry toward a brighter future.
Read on for a transcript of the interview. It's been edited and condensed for clarity.
---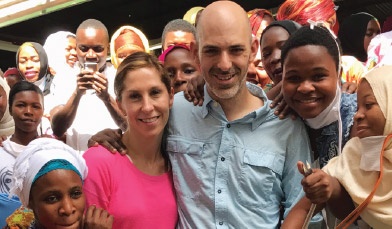 Bruce and Steven: Can you give us a sense of SanMar's scale and your history in the company?
Jeremy: SanMar has been in operation since 1971, so nearly 50 years. We've got 4,000 employees in the United States, alongside 10 distribution centers. We're the largest buyer of apparel in the country. We're based just outside Seattle, WA in a town called Issaquah. I started as a kid in the business, and always wanted to be in it.
My dad got me involved early on. When I was 14, I got to go to trade shows and miss school for a couple of days. I always loved the business.
In the 1980s, all of the t-shirt manufacturers were in the USA. There was a t-shirt shortage in the US. You had an allocation of shirts you could order. You could get more allocation if you could sell more shirts or if you knew the right people, so we would take the [industry reps] on these fishing trips in the summer.
I would bartend for those guys! I learned how to make a mean Bloody Mary in the morning. From these experiences, I wanted to do something in the business. I did a stint as an investment banker and it's not a job I recommend for anyone – then I got my MBA and in June 2002 started at SanMar full-time.
Has SanMar always sold blank goods? How did this start?
SanMar was founded by my father, a decorator. SanMar started because he got a big screen printing order for the Seattle Supersonics and had to order a bunch of t-shirts for it.
He had ordered 100% cotton Hanes shirts. When the t-shirts arrived…some were Hanes, some were other brands, some were cotton, some 50/50 blends. My dad called the wholesale company after he'd placed his order. They basically told him: "You're a COD customer. You've got your shirts. We've got your money. The deal is done."
That's the biggest wholesaler in the country…and that's the way they treat their customers.
So he decided to become a wholesaler. He sent a letter to every screen printer in Seatlle (there weren't many at the time) saying, "I'm not going to be your competitor anymore. Here's my customer list. But I'd love to be your supplier."
Then he went into the supplier side of the business.
How was transitioning into a leadership role at a company like SanMar? You're responsible for 4,000 people!
When you work in a family business you are acutely aware of the fact you're there because you're the boss' son.
I always wanted to prove that I deserved to be there and it wasn't just nepotism. I worked really hard. I came in under the pricing department. But I was never in a position where I could make too big of a mistake and do damage – my dad was smart about how he advanced me in the company.
I was lucky to have him, and other people in SanMar, as a mentor.
They were invested in growing me. They really took me on and worked on me. I really had to prove to everyone that I deserved it. So I worked my ass off to get here.
It's a unique challenge to be in a family business.
When did SanMar transition into a big business? When and how did that happen?
There are a few inflection points that really catapulted the business.
We initially only sold in Seattle. In the late 80s, we were able to get more allocation than competitors. That let us ship down to California. California was this huge market compared to Seattle. That was a big inflection point.
Another one was that in the early 90s we started doing private label brands. The power imbalance between the mills and the wholesalers was huge at the time. So we started making our own product.
Here's an example. The biggest brand of polo shirt at the time was Outer Banks. If they had recognized we were going to Hong Kong to really compete with them, they would have put us out of business. But we were so small that were able to build this significant private label.
So the early 80s with bigger allocations and the 90s with making our own private label brands, those are the two things that really helped SanMar become a bigger company.
How have things progressed since then at SanMar?
From there, we expanded geographically in the 2000s and entered multiple markets to compete. So we grew organically and continued to grow our capacity.
We were a sourcing company into the 1990s and 2000s. And we were pretty good at that. When alphabroder introduced Devon & Jones, they did a great job of merchandising that line. The person who created that was a talented merchant.
It was a kick in the pants for us to be like…you have to be a great merchandising, design, sourcing, and manufacturing company. But we did it.
We've built it from people in great apparel companies in the Northwest. Really a world-class product team. We transitioned from being really a private label and sourcing brand to being a really great apparel company. That holistic approach has propelled our growth.
Were there big missteps along the way?
For sure. But we've consistently figured out how to really turn things in a positive way.
For example, we created Cornerstone, our workwear brand. Laundry companies were consolidating and servicing these big companies with uniforms.
So the thinking was: if we could just have a really basic work pant and shirt, that's 80% of the market. Then we can compete with Red Kap and get some of their laundry business.
We beat our head against the wall for 5 years trying to make it work…but we ultimately wound up just carrying Red Kap. The laundries didn't want to buy the product from us.
So, we taught the laundry companies direct sale.
We beat our heads against the wall for years and then realized we could just make a positive out of it. So, lots of mistakes along the way…for sure! Fortunately, none that have been that big or put us into a hard place.
How do you know if you want to develop a new line or expand what you've created?
We have our retail brands: think Nike, North Face, Eddie Bauer, etc.
Then we have private labels: Port Authority, and so on.
Then, finally, there are our mill brands: Hanes, Gildan, Jerzees, etc.
So we're invested in all three tiers of apparel, but we try to be really thoughtful about the brands that we have. Other companies have more brands than us, but we have the best brands. Our retail partnerships are usually exclusive. In exchange for exclusivity, we don't carry their competitors.
That's what we do with most of our retail brands. With Carhartt, for example, we don't carry Dickies or other workwear brands. Those sit on top of our retail brands price-wise. Each brand has to sit in the right channel.
We don't carry all of the mill brands. We have deep relationships with the mills we carry. We want to service the brand very well.
We tend to sit down and do some math: can SanMar make money? Can the manufacturer? Can the customer? We've looked at brands where one of those things didn't happen – so we don't carry the brand. But the truth is that retail brands are tough. If they can't make an appropriate margin and compete on price, they can't carry that brand!
As most folks know, SanMar is starting to carry Allmade. I know a lot of you have pushed green initiatives, even on the manufacturing side. What is the thought process behind environmental concerns?
Green in general, sustainability – there is a moral imperative to be more sustainable. We have one earth, it needs to be here for our kids and grandchildren. It's becoming more important to our customers and end users. The product needs to be made in safe, sustainable ways. So we've invested hugely in our supply chain to make it sustainable and to be able to continue to improve.
I first talked to Ryan (Moor) about two years ago at Impressions Expo. He told me the story of the t-shirt he was making…but I wasn't sure how it would fit for us. Last year, we got back together, and w had a similar conversation. The Allmade team had built something I thought was really cool: a brand, a product, and something made by printers…it was very printer-forward.
So many founders were engaged and thoughtful with the brand and how they use it. They had something special there. But they didn't know how to run a t-shirt company…that's not what they did. Ryan knew how to sell equipment, they were a group of printers, but the apparel wholesale business is a very different business.
We thought it was a great partnership. They could bring the energy they have and the way they think about it, and we could bring the supply chain, the knowledge, the distribution, the capital…the things we can bring to be really successful.
So…sustainability in making t-shirts. Talk a little about that. What's this biomass concept and how does that work?
We're excited to sell Allmade, but we're also continuing to invest in sustainability in our own brands and our supply chain. Our District line has the Re-Tee, which I can say with confidence is probably the greenest shirt you can buy.
So, we do things like use biomass to generate energy. We have the largest solar installation in South America on our roof. There are so many cool things we're doing in the supply chain to make it as sustainable as possible.
If you think about a textile facility, it's a huge energy user, though it doesn't seem obvious. It is basically giant washing machines and dryers that dye fabric.
Think about your house. Your dryer uses a lot of energy. But think about a 3,000 pound washing machine and and a matching dryer. The energy needs are dramatic. Energy is the 2nd most expensive thing of making a t-shirt, and people don't realize it, but the energy is huge from a cost perspective in the countries we operate in.
When we open a warehouse in the US, we assume we will have power. We think about labor and shipping. But that's not true in South America and other developing countries. You don't just plug into the grid. You operate in an industrial park and generate power as a park or a group of parks.
When we went to Honduras, they were generating power using bunker fuel. It's not a sustainable or clean product. Frankly it generates acid rain. So biomass is a grass that we grow. We grow a grass called king grass. It has a higher caloric value than sugar cane, so when it burns it creates more energy.
We grow this grass, we mill it, separate the liquid and the sold, the liquid generates methane that turns engines, and the solids are burned to generate steam to make more power. So it's a 50 MW power generation facility. What's left goes back into the fields as fertilizer.
It's a very closed, renewable system, and certainly cleaner than the bunker fuel was. We don't own the power generation, our partner there does, but we benefit from part of the cost. Bunker fuel is really cheap. But we think it's a positive trade off because of the environment part of it, even if we could save a few cents today burning bunker fuel.
Let's talk about the pandemic. Where were you? What happened? What went through your mind? What was the quick action plan?
Let's go back to February 11th.
We had a board meeting and we went over the virus in China. We don't do much production in China, but we have fabric there and our supply chain is still affected.
That was a room of very smart people, and no one though someone would come on a plane to the US with coronavirus.
But in Seattle, we were early to see it. We took 5% off our projections for the year. Say, 8% growth to 3% growth. Then 2 weeks later, the NBA had a game and the players walked off the court after a player tested positive pre-game. Tom Hanks announced he had COVID.
The world just stopped. We already had a robust work-from-home team. We already had 500 at-home workers going into this. So we sent everybody else home.
Look, I'm paranoid as a person. I'm anxious. I thought early on: this could get bad.
We went into triage mode because our sales just dropped off a cliff. We did anything we could to cut costs. We started working with our vendors to cut corners. We froze hiring, we cut salaries, I took my salary down to $1, we cut employee hours…
We worked with vendors around orders and lead time. Let's say a typical Gildan order has a 4 day lead time. Carhartt, they might have a 170 day lead time.
You have all these orders in place assuming the business will be good. So the situation was: my inventory is going way up and my sales are going way down.
I'm proud to say we didn't cancel any orders. We worked with vendors to delay, to push things out, to try to get through this together.
But we didn't lay anybody off. We had to cut hours and salaries, but we kept our whole team in place. Those paid real dividends for us as things came back slowly.
It was scary. We had no idea what would happen. But as the business came back, we easily brought people back. We had to shut one warehouse down for 2 weeks because of COVID, but we shifted. We got a government contract to turn factories back on to make masks. That along with our core business coming back has allowed us to bring everyone back.
We're down about 25% from where we were. But that's a heck of a lot better that where we were in April…down 75%. We feel good about how the business has come back.
The other crazy thing was in March, we didn't know if the world would end.
So we took all of our line of credit into cash and we were sitting on cash, which we don't usually do – the adage is really true, when you don't need money, banks are there to lend to you. And when you do need it, they won't return your phone calls!
So we started looking for more lines of credit. So we are close to completing a new line of credit and a term loan to bulletproof the business. No matter what happens this fall with the virus, SanMar sustains through it.
Mental toughness. Leadership. What are your tricks and tips that keep you going? How do you keep everyone pumped up, knowing like…banks aren't returning your calls.
If you ask my employees and my wife you will hear two different stories!
I know what my role is in within the company: strength, calm, strategy. I know that role that I can play. That doesn't mean that I don't get home and I'm like scared and stressed…it was certainly very challenging. I tried to recognize what my team needed and what our company needed and that was really important to me. A lot of people depend on us as a company.
We also really communicated with the team. We tried to be as transparent as we could.
This is what's going on, this is where we are, this is the strategy. I don't know if we've always done that. Every week I was doing webinars, town halls, and meetings with SanMar employees.
It was important for me to stay out in front of the communication so they heard from me directly.
And look, frankly, they knew what was going on. If you're in the call center, and you take 80 calls a day, and now you're taking 5…you know there's a problem. If you're in logistics and you see we normally ship this many packages and now we're shipping this many…it felt like not being totally transparent was really silly!
Being optimistic, being calm, that's how I succeed…if I panic, that does not help anybody. I really tried to focus on what our team really needed. Then I could go home and cry to my wife. And I had some good wine and a few margaritas along the way!
How do you prioritize your day now? How do you say: this is the most important thing to focus on?
I did a better job in the normal world with my work-life balance. Pre-COVID, I would turn off at the end of the day. But as COVID started, I'd wake up, walk 10 feet to the computer, work…break for lunch…go back and work more…then work after dinner. Figuring out how to find that balance was hard!
I'm super fortunate for the team that's in place at SanMar today. It's really world-class. I spend a lot of my day meeting with our teams and our leadership teams. That tends to be the most important thing. When I was doing these bank agreements, I'm on calls with bankers…I'm doing presentations…those things are important.
But the most important time I spend is with my leadership team. That's really what I prioritize in my day.
The coolest part of this, if there are positives to it, is that we haven't been in a room together in 4 months. The team that has worked together incredibly well. We're not a super political organization, but there's always some of that exists. Once we got into the right mode, it was just like: what do we have to do to get through this? Everybody is working together in a really amazing way. The team has stepped up. It's been really cool to be a part of seeing that happen.
I've been working too much and not doing a good enough job balancing things.
We have been so impressed with SanMar throughout this. You have really made sure to have a lot of good come out of this. It will change the landscape after this is over. There's some positive that came out of it.
If our rep in Chicago spends a full day in Chicago in traffic…Zoom presentations might be more effective. They can do 6 presentations instead of 2.
There's ways the technology might have longer-lasting impacts. Obviously, the new normal is a question. But it will be interesting to see how the world changes.
What's next for SanMar?
We continue to invest in technology. That's a huge piece of what we do. We have a huge roadmap: more automation, more things from a customer standpoint – we will continue to make big technology investments. From a product standpoint, things are coming into view next year…nothing I can talk about…that are really exciting.
There are great things coming from us in the next couple of years. We think it's 2022 before sales are back to 2019 levels. We hope it's faster than that. A lot of that has to do when we get an effective vaccine.
I'm optimistic about the future. We've taken some market share, and our business is more durable. And the other piece is our team. We have really pulled together. We're excited.