About the author: Steven Farag is co-owner of Campus Ink in Champaign, IL. He regularly writes for Printavo and works closely with us to offer feedback, advice, and guidance for how to make Printavo even better. Steven's focus on improving processes and workflow – as well as a relentless pursuit of new productivity-boosting tools and automations – has made Steven a leader among the newest generation of print shop owners.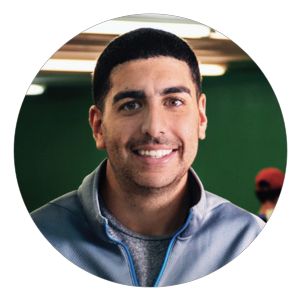 ---
You're worried about Custom Ink. 
Your customers send you designs they made on Custom Ink and ask you to print them. They don't even use your online design tool!
You've had tense conversations with a fairly big client: "Why don't your prices match this quote I got online?"
Every time you check Google for screen printing, Custom Ink comes up. You're probably thinking, "How am I ever going to compete with this massive business?"
Here's a secret: you already have exactly what you need to compete with Custom Ink, and it's something they'll never be able to match. It's customer service.
---
You can't beat Custom Ink with advertising
The sheer scale of Custom Ink is unrivaled. They have a huge network of contract printers and a robust infrastructure for fulfillment. But more importantly, they've invested heavily into advertising, marketing, and SEO tactics. You should invest in those (amazing) tools, too – but don't believe you'll be able to beat Custom Ink just yet.
Just a few examples:
Custom Ink paid $4.5M for a Super Bowl commercial.
Custom Ink has an army of software developers, designers, engineers, economists and expert marketers.
Custom Ink pays for space on MLB backstops and prime-time broadcast advertising.
Custom Ink invented an algorithmic fulfillment system with a coast-to-coast contract printing network.
Custom Ink were the first to market with a robust design tool connected to immediate fulfillment.
Unless your shop is featured in the nearest ballpark and shows up on the first page of Google when you search for "screen printing," this post probably isn't for you. But for the rest of us, there's still hope – despite the overwhelming odds.
You are not Custom Ink. That's good
Although David and Goliath is a great story, you're not destined to a cage match with Custom Ink. They have their market, and you have yours.
Custom Ink dominates the internet with custom apparel and their designer tool (and, unfortunately, this has led a lot of shops to believe that an expensive designer tool is how to win customers, despite a lot of data saying otherwise).
It is tough to find a design tool as good as theirs. They deserve significant praise for the work they've done on the logistics end. So why in the world is it good that you're not Custom Ink?
It's surprising, but here's the bottom line: your shop is far more adaptable than Custom Ink. 
You are nimble, resourceful, and (most of all) not held down by the constraints of a massive infrastructure and the sluggishness that giant scale produces.
As much as the Custom Ink design tool is a standard-bearer for the industry, it's a real curse for Custom Ink. They don't fulfill tons of 1,000 piece orders from a customer-focused design tool – it's likely that their average order quantities are way under 50 pieces! Custom Ink is trapped by its own brilliant business model: small custom orders, fulfilled quickly, with little room for change or adjust course if conditions change.
The first-mover advantage is real. But it's not everything
Custom Ink was started in 1999. Think about that for a second! They've had twenty years of relentless focus on their specific business model.
They were pioneers on the internet long before e-commerce truly blossomed into the economic powerhouse it is today. It is extremely hard to compete with a company that created the digital design and fulfillment space for custom apparel.
Let's be honest: give credit where credit is due!
Teespring, a custom decorating company with amazing tech, raised $55 million to create an amazing e-commerce platform for their customers to design and sell online. Custom Ink has a similar solution, and even with so much funding, Teespring is struggling.
They've been forced into a rebrand and site redesign that likely cost millions. They are even beginning to expand their offerings far beyond custom apparel as their situation becomes more troublesome. As authors Ries and Trout note in their classic marketing book The 22 Immutable Laws of Marketing, "in the long run, and in the face of serious competition, line extensions almost never work."
Custom Ink caters to specific customers (the ones you don't like!)
Custom Ink is not cheap, it sometimes is not quick, and often times it is not the best quality.
That is because Custom Ink is a low-hanging solution for customers with very little industry knowledge. It's for someone that wants a quick fix, not to build a relationship or figure out a supplier for their business. Custom Ink is literally for the worst types of customers print shops serve: low volume jobs, demanding customers, crappy art, no return business. These customers do not know about (or care about) print shops and see the entire thing as a hassle.
Custom Ink is for the customers that are not working on a budget. Instead – they are controlling, strict, and have no interest in collaborating with a professional. They think they know what they want, and they need it quickly. They just want a few goofy shirts for their one-time bachelor party, a bar crawl, or a party. Are these really the customers you want to print for? 
The people who order bulk merchandise for organizations and companies seek solutions that eliminate risk and logistical errors.
If you're put in charge of ordering apparel for a business, you want a partner that you can trust. You don't want to be the person that messed up the entire company's event because you used an online solution!
Custom Ink is in a very competitive and crowded market
Custom Ink has a target on its back. There are a lot of up-and-coming players in their same niche:
There's lots more – that's just a sliver of the companies that are trying to climb their way to the top.
Each of these companies has crafted their own solution for the fulfillment challenge. They're pouring hundreds of thousands of marketing dollars into sophisticated Google PPC marketing campaigns. They've built complicated networks of contract printers and have deep resources backing them.
As a local or regional screen printer, you don't want to compete in this arena.
Your print shop is unique – so nurture your customers
Customers want to be nurtured. Yes, they love frictionless services and on-demand fulfillment. But the thing that keeps customers coming back again and again is a personal relationship.
"Custom printing" really denotes something unique: a product made specifically for and precisely to their liking.
If you are getting custom cabinets for your kitchen renovation, are you going to shop online – or find someone local that can help you from start to finish?
If it is your wedding day, and you are getting a custom-made wedding gown or a tailored suit, will you order your outfit for the big day online – or find an expert seamstress or tailor to help you make sure everything is perfect?
If you are getting a haircut for a big event, do you go to your favorite barber – or just any old barber shop?
The list can go on and on.
You have to understand that your business gives custom experiences and products for your customers. That combination of uniqueness and expertise makes long-lasting impressions. It defines your business in a totally different way than just ordering off a website. Your screen printing management software can make a huge impact here.
Tell your story
Focusing on your competition is not how to build a business. It's actually a way to frustrate customers and employees as you constantly play catch-up to copy and one-up your competitors. It's not a compelling story to try to be someone else. You have to focus on your business and its story to really start connecting with people.
How many people use Custom Ink – and know their backstory? We're guessing that very few people can even name Custom Ink's leaders! The Custom Ink story isn't important – they just provide a service.
Your story is a huge marketing opportunity! Don't be afraid to show your customers how you're better than Custom Ink. You can tell them your print shop's story, and then follow-through with amazing service:
"We offer better value and a truly custom experience." From end-to-end, impress your customer with your communication.

Here's a tip: if you have a customer balk at your pricing, try quoting a similar order on Custom Ink. Show the customer how much they'll save with you – and outline why your service will ultimately be better.

"We'll be there to help you succeed at every step of the process." Be the expert guide at every step of the process – from initial contact to your follow-up contact. Frequently touch base and keep the customer in-the-know.
"We've printed jobs just like this, and we know how to make them turn out perfectly!" Show how and why you'll make a better print: do you have years of experience, or a rich catalog of prints you've done? Wow them with quality.
"We can turn your job around right away." If you can beat Custom Ink's turnaround time, do it. The faster and more immediate the service, the happier the customer. If it's not disruptive to the customer, try to beat the promised in-hand date.
"You can depend on us like you depend on family. We want you to succeed." Invest in your customers' long-term success. Genuinely care about them. Listen for ways you can provide further assistance and ensure their
Your business can't compete directly with Custom Ink. But you have your own story, your own strengths, and real advantages that can convert customers into brand advocates. Find the places you can win and can provide real value – and hammer on those strengths!