Many who have started in the screen printing industry have done so using a manual machine. Manual presses help small business owners like yourself get off the ground, but it probably has also taken a huge toll on the body. There comes a time when every small shop needs to take a step up to the automatic screen presses that can save you a bunch of time, money, and trips to the chiropractor.
Upgrading to an automatic machine can help your business gain traction in this competitive market. While purchasing an automatic screen printing machine is an investment, you will save time in turning around orders. Automated machines do have a bit of a learning curve with different operating systems and interfaces. However, this technology is widespread over the industry and must be learned one way or another.
The benefit of purchasing an automatic machine for your shop is endless: we bet that you'll never regret going automated to grow your business! As you start to make plans for what the next year will look like for your business, make sure to budget in the purchase of one of these Top 10 Automatic Screen Printing Machines for 2020:

M&R
It is likely that you have seen these blue painted machines in either your mentor's or competitors' business. There is a reason why M&R is easily considered a top player in the screen printing manufacturing industry. They are located in Roselle, Illinois and have over 350,000 square feet of manufacturing space. What is cool about this company is that every single machine is made to order. Yes, you can pick from a line of automatic screen printers, but you can also tailor it to fit your needs. M&R stands behind their products and have a high standard of quality when building your automatic screen press.
Source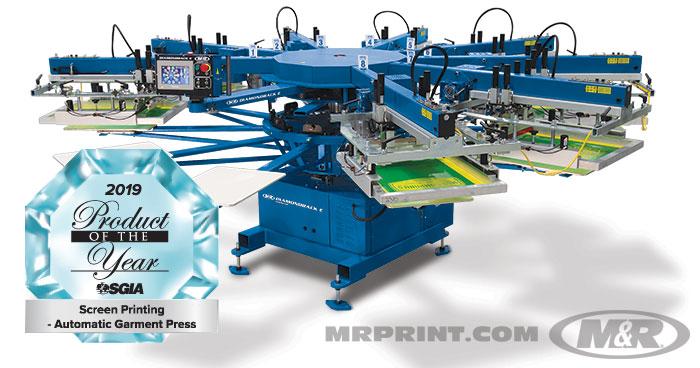 Diamondback E

The winner of the 2019 SGIA Product of the Year in Automatic Screen Printers was M&R's Diamondback E. This is the perfect choice for those shops that want to switch to automatic processes but still need something affordable. The Diamondback E is a great stepping stone to some of the larger presses on this list and carries many of the same standard features. Adding this award-winning automatic screen press into the shop will help you streamline your business and make life easier.

Color Configurations: 6-10
Print Stations: 8-12
Standard Print Areas: 16″ x 18″
Diameter: 11 feet 2 inches – 13 feet 4 inches
Price:
Sportsman EX

This industry-standard is an affordable automatic screen printing option that is a great fit for younger businesses. It is a mid-range screen press that combines quality supply with the ultimate craftsmanship that M&R is so well known for. The Sportsman EX offers multiple color configurations as well as a touchscreen interface. Both of these combined allow you to print faster, and with better quality, than before. There are also a few different sizes of the Sportsman EX that offer larger print areas if needed.

Color Configurations: 6 -12
Print Stations: 8 -14
Standard Print Areas: 16″ x 18″, 20″ x 20″, or 20″ x 28″
Diameter: 11 feet 9 inches – 18 feet 1 inch
Price: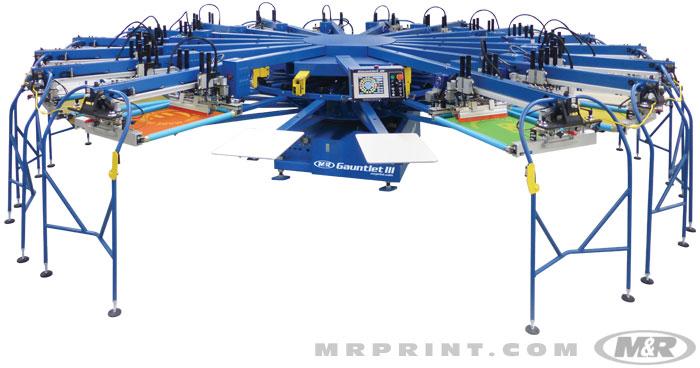 Gauntlet III

If your shop is really ready to crank up production, then the M&R Gauntlet III is your ticket to success. This incredible machine features innovative technology that only lifts and lowers screens, squeegees, and flood bars. This allows the machine to move quickly and yield 20-30% more shirts per hour than other carousel screen presses. The belt-driven indexing system helps make this high-performance machine run smoothly.

Color Configurations: 10-18
Print Stations: 12-20
Standard Print Areas: 19″ x 22″ to 45″ x 22″
Diameter: 15 feet 7 inches – 20 feet 10 inches
Price: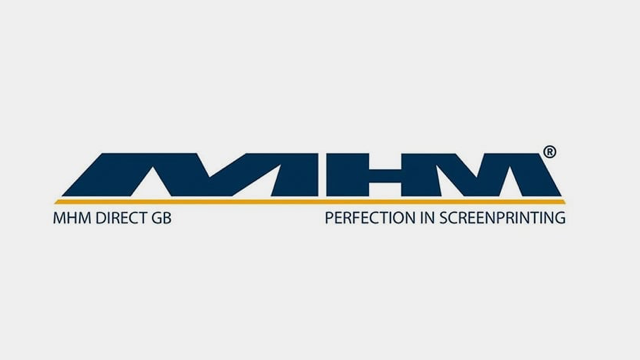 MHM
This Austrian-based company is available to those screen printers in the United States via SPSI distribution. MHM is known for really understanding the press operators who run their machines and making sure that their screen presses make it easier, not harder, for you to operate your business. Many seasoned screen printers swear by their MHM brand automatic screen press that is known for its high quality and re-sale value.
Synchroprint 5000

This flagship carousel machine offers an automatic screen positioning system which is the first of its kind in the industry. It makes screen positioning quite easy using computer technology. You'll only need to adjust the first screen yourself and the rest of the screens will automatically adjust to match the first. The Synchroprint 5000 follows the very popular SP4000 model that impressed many in the industry. This updated version adds more technology with tablet controls as well as Auto Screen versions that help enhance performance.

Color Configurations: 6 -18
Print Stations: 8 – 20
Standard Print Area: 19.7″ x 27.6″, 27.6″ x 39.4″, or 31.5″ x 43.3″
Print Capacity: 900-1400 pieces per hour
Diameter: 16 feet 7 inches – 24 feet 4 inches
Price:
S-Type X-Treme

This easy to use machine has a fast set up process which can help run your business better. You'll find that the changeovers are quick and that the printing is very accurate. The software is easy to use and understand as well. The hybrid control system is easy to operate and you can keep updated on machines using wifi technology from your smart device even while out of the office.

Color Configurations: 8 – 16
Print Stations: 8-18
Standard Print Area: 18″ x 22″ – 18″ x 27″
Print Capacity: 1100-1400 pieces per hour
Diameter: 15 feet 11 inches – 20 feet 2 inches
Price:
ROQ
A true competitor in the screen printing industry is ROQ International. This Portuguese based company has seen a solid growth pattern over the past decade with no sign of slowing down. Their bright green machines are easy to spot in a print shop and ROQ is known for its ability to supply quick service thanks to an extensive international market. This screen printing manufacturer is a high-end brand perfect for those busy shops with a strong future outlook to make them worth the investment.
ROQPrint ECO

You'll be able to print up to 1,300 units per hour with this award-winning machine. The ROQprint ECO won Product of the Year at the SGIA 2018 awards. The electric printheads of this machine help speed up the time between prints. This machine offers 30% faster print speeds than other machines in the same line. The ROQPrint ECO offers electronic micro registration that has proven true since its debut.

Color Configurations: 8-12
Print Stations:10-14
Standard Print Area: 19″ x 24.8″ – 39.4″ x 43.3″
Print Capacity: 1,000-1,300 pieces per hour
Diameter: 14 feet 10 inches – 24 feet 11 inches
Price:
ROQPrint YOU

This mid-range machine is great for those shops that need something fast as well as reliable. The index accuracy of this machine is the best in the business at 0.001 inches meaning that your designs will be spot on! The convertible printheads also allow you to custom create the machine that will work best for the job. You can also add to this press with added features and extras as your business grows.

Color Configurations: 7-20
Print Stations: 8-22
Standard Print Area: 16″ x 20″, 20″ x 28″, 30″ x 39″
Print Capacity: 1000-1050 pieces per hour
Diameter: 11 feet 3 inches – 23 feet
Price:
Anatol
Since 2003, Anatol has focused exclusively on manufacturing the best screen printers in the business. They pride themselves on using electricity to power their machines which cuts down on the noise that other automatic screen printers create. Using only electricity also allows smaller shops to easily convert to an automatic press with just a plug-in rather than extra air compressors and equipment.
Source
VOLT XL

This machine features all-electric construction that is perfect for those looking to add sustainability to their shop. The Anatol Volt XL doesn't use hydraulics or pneumatic compressors like the competitors, making for a truly unique print experience. You'll find an overall simple design that is still mighty enough to upgrade your printing operations.

Color Configurations: 6-18
Print Stations: 8-20
Standard Print Area: 20″ x 28″
Diameter: 13 feet 10 inches to 22 feet 8 inches
Price: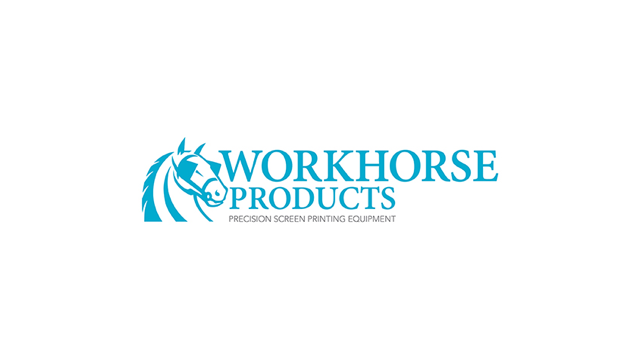 Workhorse
If you are a small to a medium-sized screen printer in the United States, chances are you have been contacted by Workhorse. This Phoenix, Arizona based company markets directly to those smaller shops that could benefit from quality construction along with local dealers and retailers. What is cool about this company is there innovative productivity management system that helps users know exactly what they need to do in order to finish an order by closing time.
Sabre

Sabre is the top of the line machine from Workhorse that offers 4 different models to choose from. This screen press competes with other recommended presses from larger companies. The Sabre offers a simple control system that is not only super easy to understand but will also save you time in the shop. You don't need to take a class to learn this user interface: just play around with it like you would a new cell phone and you'll have it down in no time. The software also has multiple language options that can change at the push of a button for those employees in your shop who speak different languages.

Color Configurations: 6-12
Print Stations: 8-14
Standard Print Area: 20″ x 20″ or 20″ x 28″
Diameter: 12 feet 6 inches – 18 feet
Price: $37k-$70k based on options
Lawson
This St. Louis company is well known for its long history in the garment industry. Founded in 1949, Lawson has adapted to this ever-changing industry with ease and perfection. They pride themselves on machines that are quick to set up as well as easy to learn. Many shops just starting out may have a manual Lawson machine that is still used years later, showing their quality and ease of functionality.
Trooper

This fully automated screen press is a great choice for smaller shops that need to automate but may not have the room or the funds for a big machine. The machine runs on air compressors which are included in some pricing options. The controls are simple and easy to learn for those who want automated technology but not all of the software that comes with it. This is a great option for those smaller shops looking to automate without a big price tag.

Color Configurations: 6 – 8
Print Stations: 8-10
Standard Print Area: 16″ x 18″
Diameter: 11 feet
Price:
Remember that every screen printer has their own opinion on which automatic presses are the best. We've combined the top presses that have either won awards recently or have proven their capability. For specifics and more information about any of these presses, please contact the manufacturer directly. Consider any of these Top 10 Automated Screen Printing Machines when trying to scale up your business in 2020.