NEW: Upload & Download Printavo Price Matrices
Printavo shops may now upload and download their Pricing Matrices as CSV (spreadsheet) files.
Shops may still manually create and edit Pricing Matrices within Printavo.
Before: Printavo shops had to edit Price Matrices directly.
After: Printavo shops may use any correctly formatted CSV file to upload Price Matrices. They may also download Price Matrices as CSV files.
We made this change because Price Matrices are a core business component. Editing Matrices quickly and accurately is crucial. This change makes editing and improving your Price Matrices much simpler.
What it is: upload and download Price Matrices as CSV files (spreadsheets)
What it does: enables faster and easier editing and improving of your Price Matrices
Why it matters for your shop: more accurate pricing yields more accurate quotes and more profitability. Price Matrices are now very simple and easy to edit.
Download the Printavo Price Matrix CSV Template file to begin building your own Price Matrix.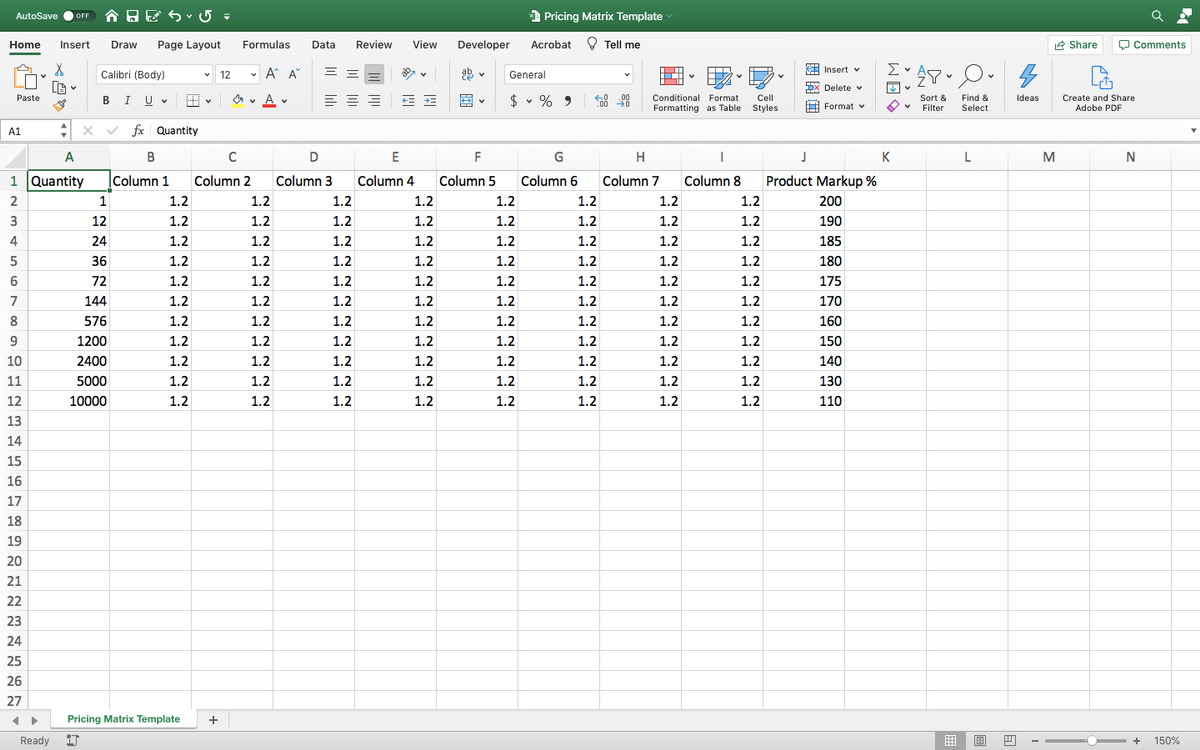 Need help creating a profit-driven screen printing price matrix? Learn more.
NEW: Edit Shipping Addresses and Delivery Services For Printavo Merch Orders
Before: customers could enter the wrong address while ordering from a Printavo Merch store. Printavo shops had no way to update the Shipping Address or Delivery Service.
After: Printavo shops can update a Merch order's Shipping Address.
We made this change to improve the workflow for changing addresses or delivery services within Printavo Merch.
What it is: a simple way to edit Shipping Addresses and Delivery Methods for online store orders
What it does: lets shops change how or where customers receive their online store orders
Why it matters for your shop: your shipping and delivery for Merch orders is more reliable and flexible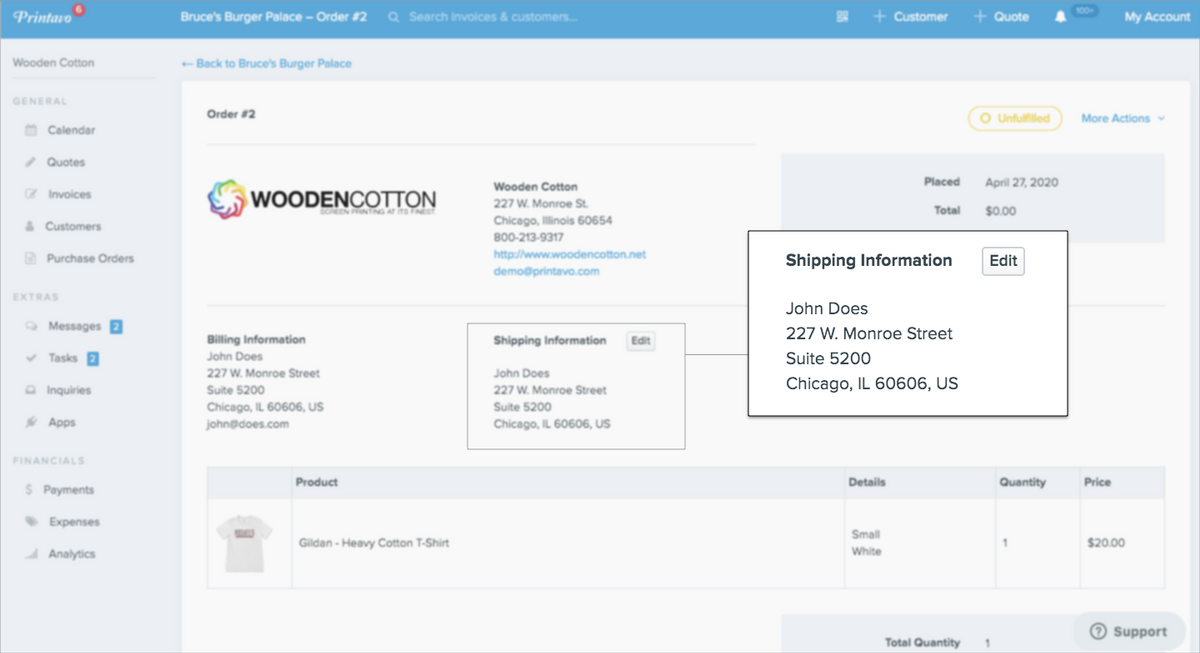 Note: in order to change a Shipping Address or Delivery Service on a Merch order, your Merch store must meet two criteria:
The Merch store has an Active Shipping Provider

The Merch store order is Unfulfilled
Simply click the "Edit" button under Shipping Information on the Printavo Invoice for that order to update or change the information as needed.
Important note about shipping costs for Merch Orders: additional charges for shipping will be charged to the shop, not the customer.
However, Printavo will alert you of any price changes.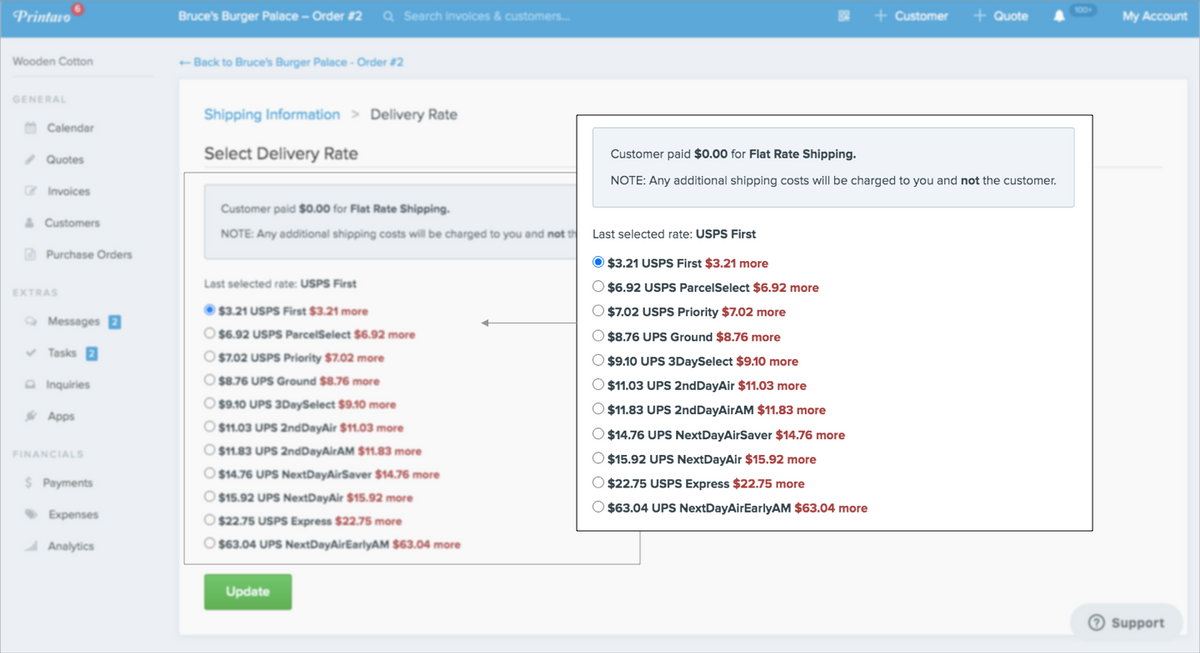 Additionally, two new columns have been added to the Merch Store Order Export CSV:
Customer Selected Shipping Cost

Customer Selected Delivery Method

NEW: Sort Printavo Quotes by Owner
Use our powerful Quotes Index to manage your pipeline and learn who owns any given Quote in your shop.
We made this change because transparency is essential to any Quotes Pipeline. Sales staff can easily see which Quotes require attention.
What it is: the "Owner" column in Printavo's Quotes Index is sortable
What it does: sorts Quotes by Owner to easily check on different sales staff
Why it matters for your shop: this makes it simpler to manage your Quotes Pipeline, increasingly accountability and transparency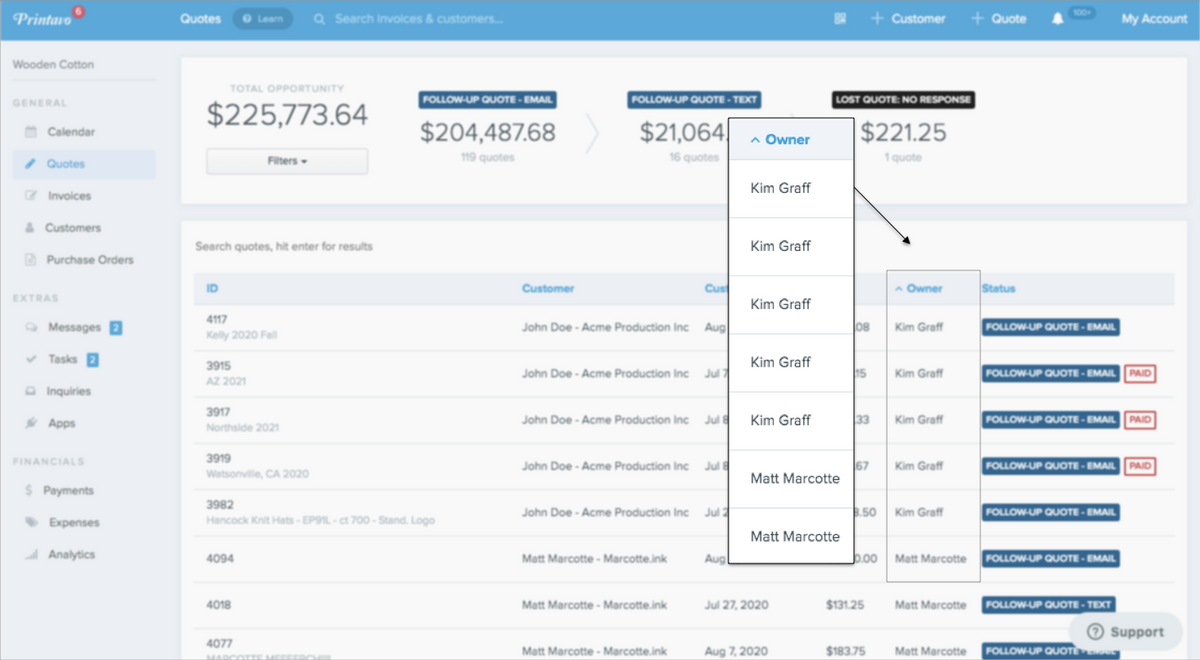 Clicking the "Owner" column will sort your Quotes alphabetically by the Quote Owner (from A to Z). Click again to sort from Z to A.
IMPROVEMENT: Printavo Merch Coupons and Discounts
Before: if two Merch stores had the same coupon code, the coupon code may not apply correctly.
After: Merch coupons are validated individually for each store. This means one coupon code will apply to one Merch store. You can still use the same coupon code between stores if desired.
We made this change because Merch coupons should be simple to use and easy to administer at the individual store level.
What it is: Merch coupons apply only to the store you've made them for
What it does: assigns coupon codes to one Merch store at a time
Why it matters for your shop: it's easier to manage coupons and discounts for individual Merch stores.
Remember: you can always see the latest updates for Printavo directly from Product Manager Mike Dorrance at updates.printavo.com