The Yetee in Aurora, IL has helped raise millions for charity with their powerful merchandise. Featuring bold artwork, a strong sense of identity, and a truly impressive website, The Yetee has created their own niche.
UPDATE: Check out The Yetee at Summer Games Done Quick 2020! $5 from each sale is donated directly to Doctors Without Borders.
By helping Awesome Games Done Quick and other high-profile organizations donate millions to charity, The Yetee boosted talented illustrators and artists. Some have even landed dream artist jobs at big video game and merchandise companies thanks to their exposure on The Yetee's daily shirt market and merchandise.
We were lucky to sit down with Mike, co-owner of The Yetee, for a conversation about their unique business.
"There are other 't-shirt a day' websites out there," Mike explained. "But we're trying to work from the artist's side."
The Yetee's focus on art isn't a coincidence. Mike grew up fascinated by design, even learning to screen print at a local university. "We made our own screens out of 2-by-4s…I don't even know how we got images out of them."
From Cuphead, Super Meatboy, and Awesome Games Done Quick to the Wonderful 101 Kickstarter, The Yetee's customer list will make any gamer, artist, or screen printer envious. Unforgettable prints, t-shirts, artwork, and merchandise align to make The Yetee totally unparalleled.
---
"We saved all of our money for the first two years until we could buy a shop"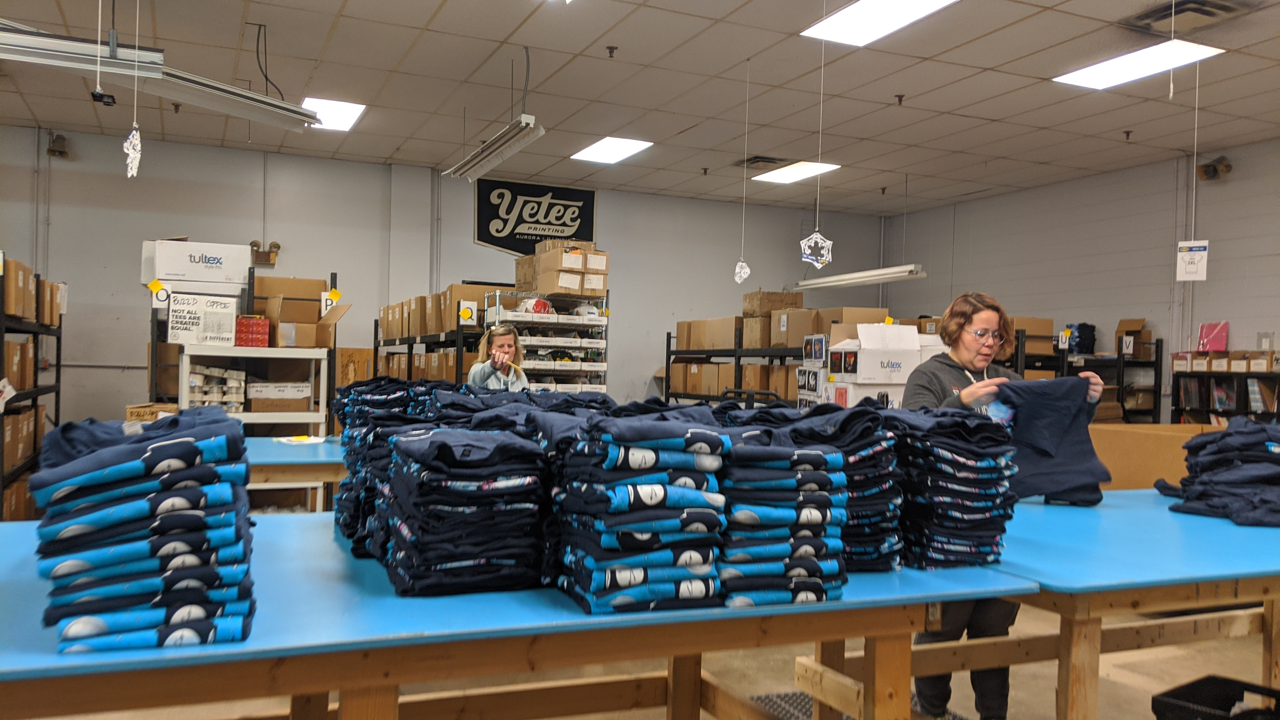 The Yetee began about ten years ago at local pop-up shops, selling toys and screen printed posters. Mike and business partner Glen O'Neill worked together and began brainstorming ways to grow their tiny pop-up operation.This was well before online stores were easy and you could promote your brand across a dozen different social channels….before Instagram, even!
The lighbulb moment? "It's easier to sell t-shirts than posters," Mike realized.
They started by outsourcing their t-shirts to local contract printers, taking orders online through their website. "We cobbled together different web services to make a website," Mike said. The Yetee was quite literally inventing their own e-commerce platform on the fly.
The early mover advantage let them capture a lot of sales through their website, but issues emerged. Mike and Glen never set out to own a print shop. But it became obvious they'd need to invest in printing equipment if they wanted to capitalize on their growing business.
"Taking orders 24 hours a day was a production bottleneck and a customer service nightmare," Mike lamented. "We couldn't control the print shops or the speed we got the shirts." It was time to take matters into their own hands.
"Good relationships with great artists are our backbone"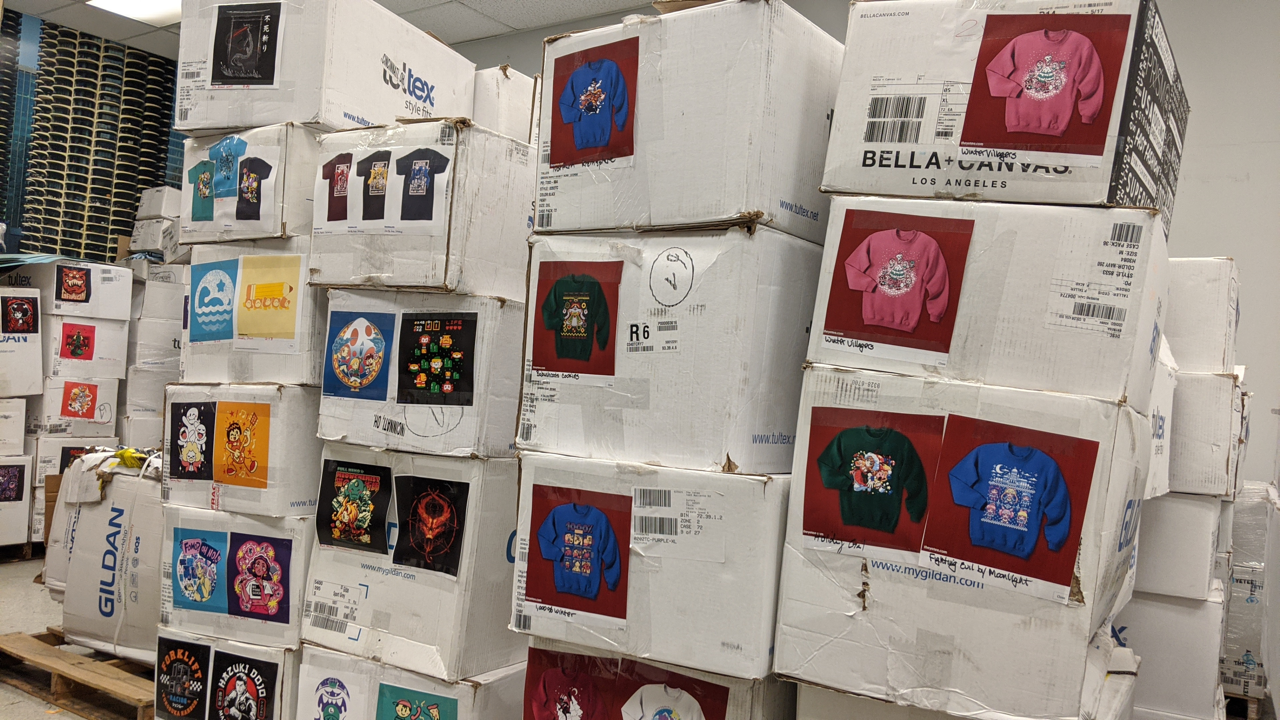 From the moment you first see The Yetee's amazing website or visit their Instagram, their art stands out. The focus on compelling design, great illustrations, and eye-popping colors is part and parcel of The Yetee brand.
The Yetee features two t-shirts a day, priced at $14 each, from unique artists and illustrators on their radar. Artists can submit art to The Yetee, who keep careful tabs on the artists they work with.
"We've watched great groups of artists mature and grow, even going to work for cool companies like Disney and Lego," Mike explained. "Designs come through our submission process, we check out their portfolio, reach out, and grow with them."
But how did this happen – and is focusing on artwork a good path for screen printers?
"It depends on what kind of business you want to have," Mike said. He explains a scenario familiar to every screen printer: "Let's say a customer brings in a bad JPG they stole off the web," Mike said, "You have an artist in your shop that can help you set up bad art for screen printing, and that can be great."
Even when a customer is frustrated they have to pay for artwork, Mike pointed out that solid systems for communicating about art approvals can develop a relationship between that customer and the artist.
Editor's note: if you're an artist or illustrator looking to boost you profile and sell merch, The Yetee has an amazing infrastructure to help you: The YeteeMart.
"Delegating is a big thing I've been trying to do the last couple of years"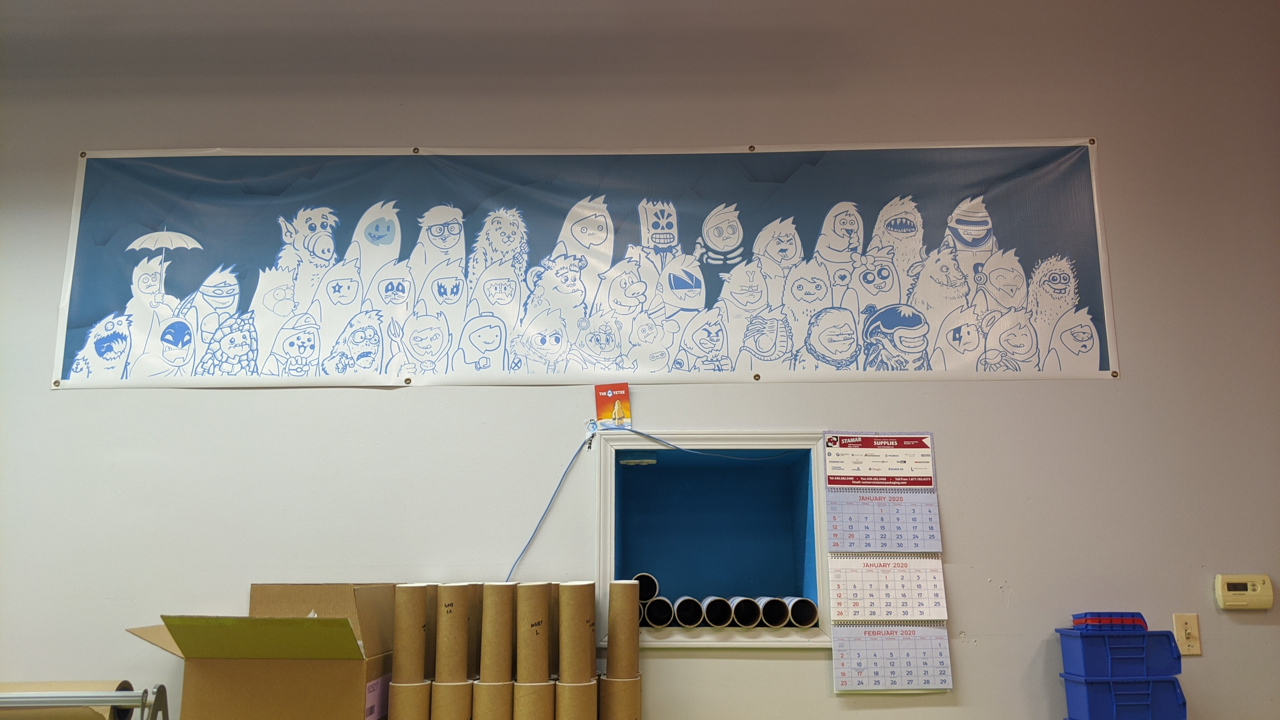 "I've done everything they tell you not to do," Mike lamented. "We have 20 employees now, and the bigger it gets, the more stressful it gets." To beat burnout in his shop, Mike had to learn the invaluable skill of delegation.
What is delegation, really, but trust? "I used to have my hands in everything. I knew what was going on. Now I rely on people. In the long run, if you don't delegate, you won't sleep. You will crash and burn," Mike explained.
The things that keep Mike up at night revolve around his team. When you're a business owner, you're the ultimate source of authority for your employees. You sign the checks, and you're responsible for their livelihood. "When you sell direct to consumer, there's no way to force people to buy things," Mike said. "It can create a lot of stress, and that's why we're growing our contract printing side."
The Yetee dove deep into e-commerce and fulfillment, and their massive folding operation is a testament to just how seriously Mike takes his role in The Yetee. Each shirt isn't just printed with amazing art, it's hand-folded and carefully sorted. They're aiming for a "wow" moment for each customer.
Tips and lessons learned: The Yetee

The Yetee's team has been through some real challenges as a print shop.
Here are Mike's biggest tips from his unique experience co-owning The Yetee.
Your customers have to pay for artwork time.

"You have to charge for your art time," Mike explained. Otherwise, customers undervalue it and abuse generous artwork policies.

Get an exposure calculator.

"I'll be on the Reddit r/screenprinting telling people to spend $30 on an exposure calculator," Mike said. "You can burn 4 screens and lock in your exposure instead of wasting time burning 1,000 screens."

Read about screen printing (so you know what mistakes you'll make).

Mike recommended Screen Printing Today, "because you'll learn how to fix your mistakes before you even make them."

Delegate early to avoid burnout.

Rely on people. "If you don't delegate, you will crash and burn," Mike told us. You have enough stress.

Use the skills your employees already have.

"Stacy is a photographer with a real attention to detail, so she started doing pictures and marketing for us," Mike pointed out. Whether they're an artist, a photographer, or an athlete – find a way to leverage the skills that people already have.

Grow with your customers.

The Yetee has grown with their customers. AGDQ (one of their biggest clients) rocketed into an entirely new stratosphere of visibility and cultural relevance.

Run two shifts before you buy another press.

"We had room for another press, but the team convinced me to run two shifts. That saved us a lot of money."
The Yetee has crafted a truly special place in this industry for themselves.
By capturing a specific industry with imagery that captures their attention, a website that's imminently useful, and a team that speaks their customers' language, The Yetee has enjoyed a period of rapid growth and expansion.
The right partner for a great cause: Games Done Quick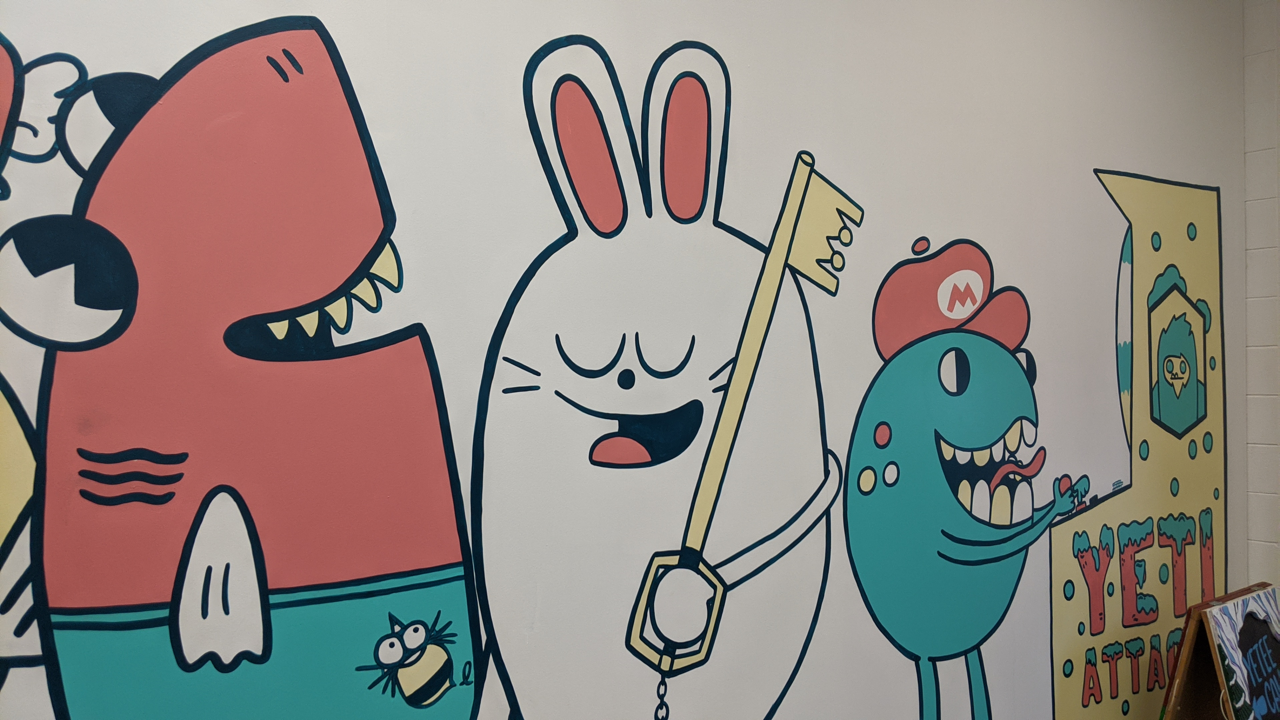 The Yetee is also a great case study in how a strong relationship with the right customer can drive your growth forward. "We know we're going to get 30,000 shirts ordered twice a year," Mike celebrated.
Amazing Games Done Quick is a biannual charity event. Gamers from across the world gather to speedrun games – beating them as quickly as possible, often setting World Records in the process. They're raised more than $3 million for The Prevent Cancer foundation in 2020 alone. The Yetee has been instrumental in their success, arming AGDQ with powerful merchandise.
So how did it happen? A little bit of a luck and a relationship with the right artist.
"An artist we knew hooked us up with AGDQ. But it wasn't this massive telethon that raises millions of dollars then," Mike said. "They struggled with the amount of shirts on site, so we eventually sent a full-time team to each event just to sell shirts." Being on site for AGDQ "is amazing," Mike said, particularly since the event grows and grows with each year. Now, it's a live-streamed event that draws viewers and donations from across the world. There's nothing like it.
This biannual rush event requires tons of planning and preparation before, after, and during the event. The Yetee meets extensively as a team to prepare, even printing shirts ahead of time that they know will sell in large volumes. But it also grants them some operational security, since they know that they'll have reliable orders for large quantities of merchandise.
---
We really appreciate Mike and The Yetee team for taking time to chat with us. It's inspiring to see a business that has focused in on something so fun. The joy you feel when you walk in the door at The Yetee translates into everything they do.
After building an e-commerce juggernaut, boosting the careers of numerous artists, and capturing a devoted audience, The Yetee has crafted something every print shop could be envious of. We're thrilled to see what's next for The Yetee's team!
Printavo's team is always looking to visit print shops, tell their story, and learn from their unique experiences. It's our favorite thing to do: visit the shops that inspire us to make Printavo even better.
Want us to visit your shop? Drop us a line. We'd love to come by.