Ryan Moor from Ryonet, ROQ, and Allmade has made a huge impact in the screen printing industry. But the question remains: what's up with Ryonet in 2020?
Between Ryonet, Allmade, and the newly formed ROQ.US, and giving away an entire screen printing press as Impressions Expo 2020, Ryan has his hands full. So what's up with Ryonet? It's changing: better before bigger.
ROQ.US is the newest endeavor. Why ROQ.US? Ultimately, it's an answer to a big question: "How can we take this ROQ equipment that really changes lives…and give more resources to printers using the equipment?"
Why you'd want to hear from Ryan Moor:

Ryan has helped hundreds of thousands of entrepreneurs begin their screen printing journey. "We have an entrepreneurial market in the US, and that's unique," he told us.

An advocate for small businesses, a lifelong screen printer, and a truly inspiring businessman, Ryan Moor offers a perspective on the industry that no one else has.
"Did Ryonet sell out? Does Ryonet own ROQ? What's up with Ryonet?"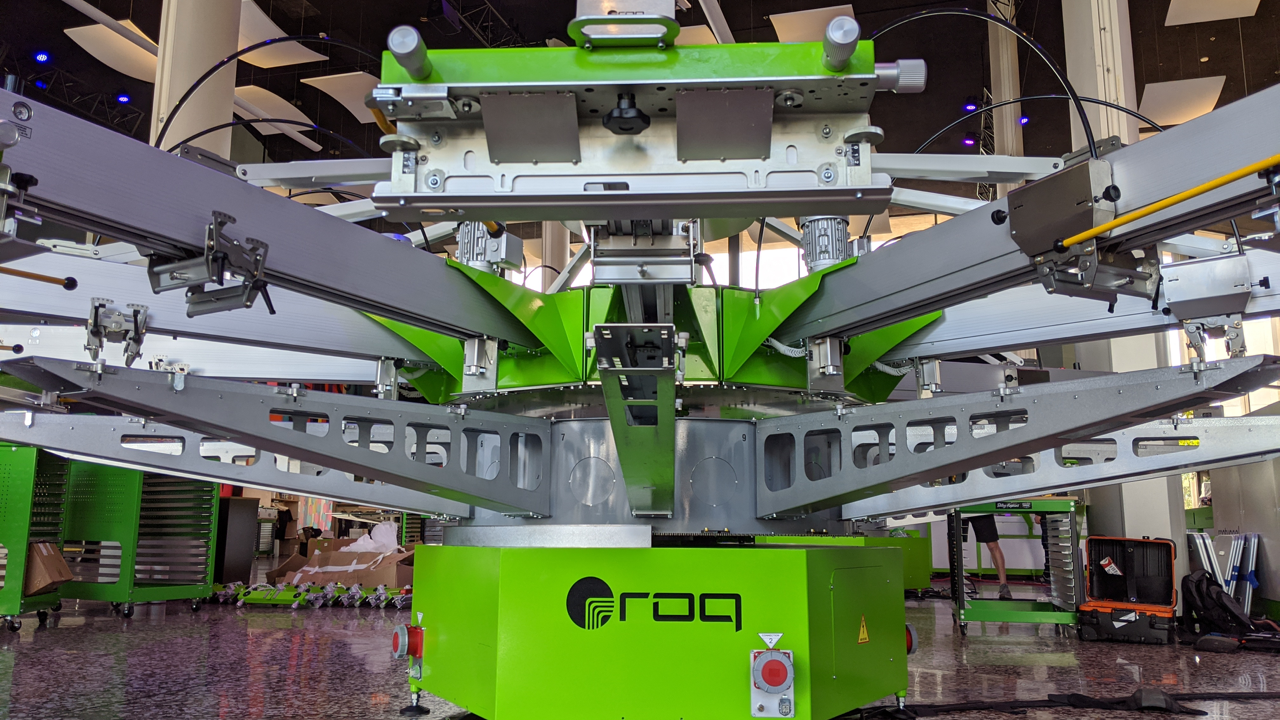 Here's the word, straight from Ryan himself:
Ryonet isn't selling out.
Ryonet doesn't own ROQ International (ROQ is a 37+ year-old manufacturer based in Portugal).
But ROQ.US is a new endeavor to take Ryonet's existing knowledge about ROQ and expand it.
Ryan was super candid with us about the plan: "Ryonet and screenprinting.com are moving off to the side, like sister companies. We want to grow the ROQ business. We had this whole side of our [ROQ distribution] business: installation, financing, managing all of the ROQ process. So our team joined ROQ.US."
ROQ.US: Global roots, but based in Orlando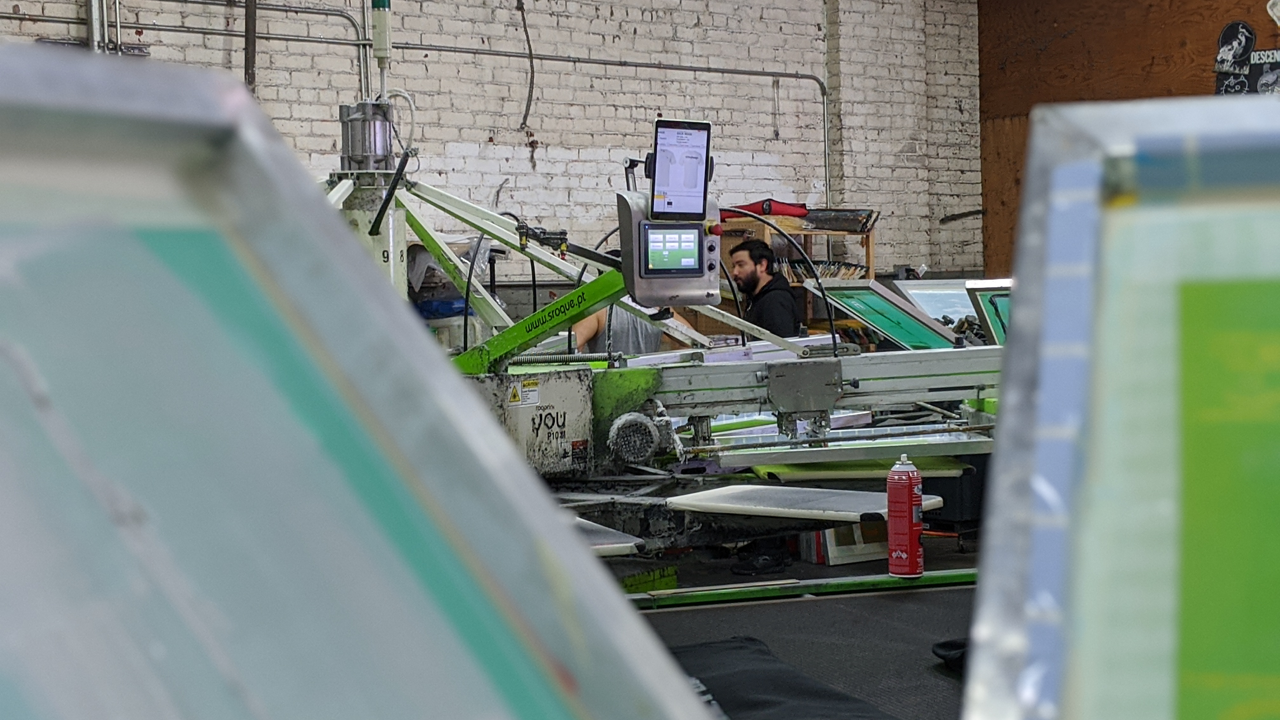 ROQ.US will be, for the forseeable future, centered around Orlando, FL. This move represents the first step in a totally new phase for ROQ's operations in the US.
The same talented team that handled installs and learned so much about ROQ presses over the past 8 years can now focus solely on their mission to help ROQ develop a loyal following in the US. "I want you to be able to pick up your phone, dial into your press, submit a ticket, order a part even if it's out of warranty and make the whole things streamlined and not a burden for anyone."
So why Orlando? "It's closest to Miami, the major eastern seaport," Ryan explained. "Ryonet has offices in Washington state, but teaming up with ROQ will allow Ryonet to leverage a company that has a global reach and decades of experience in large-scale screen printing."
Ryan explained why investing in ROQ is so crucial for the US market, framing it in terms of a common objection that US screen print shops have: "This other company has been around for 35 years, so I know their screen printing presses are great…and you guys have only been doing this for 8 years!" After all, their first US-based ROQ was only installed in 2012 at Twin City Tees (and their second, pictured above, was in Family Industries in Los Angeles).
Ryan pointed out that ROQ has actually made presses for 37+ years in Portugal – and they do it for industrial print companies like the Ningbo Screen Printing Company in China with more than 100 of the massive ROQ Oval presses. There's no lack of manufacturing skill – so Ryonet has stepped in to put boots on the ground.
Investing in the future: digital is here to stay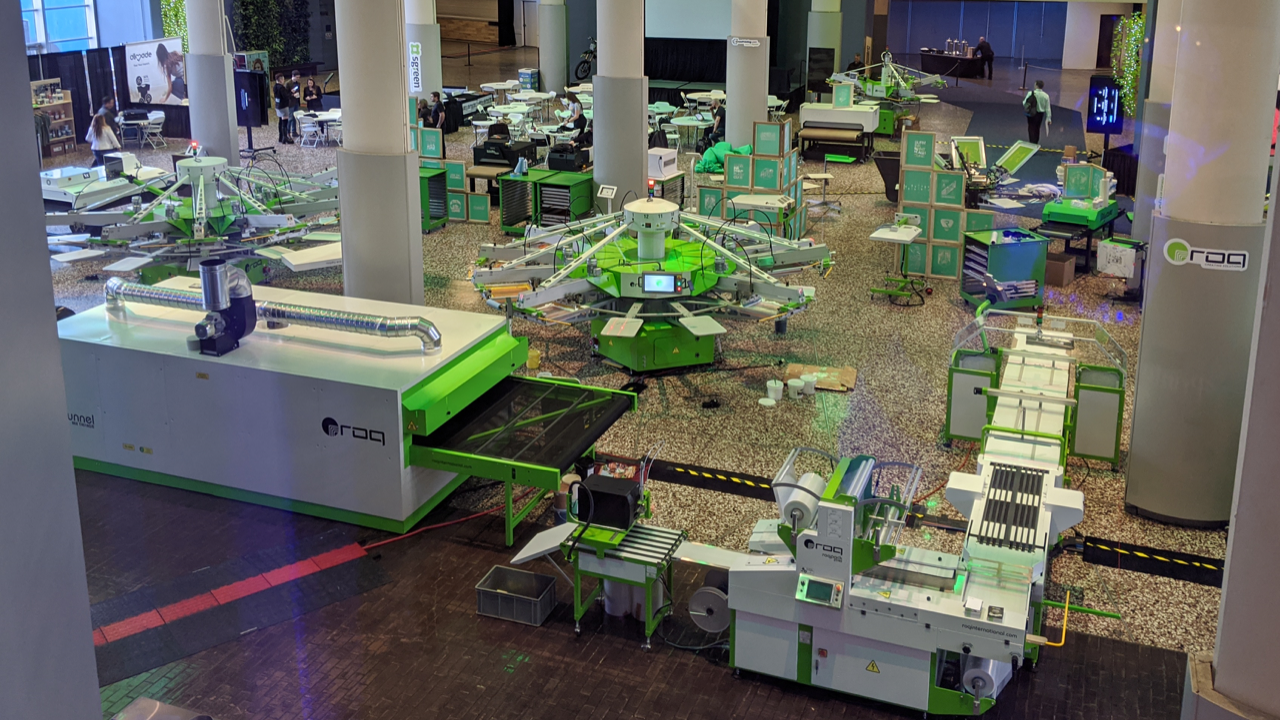 "There's a huge market for digital printing. It's all web to print. But 98% of shirts are still screen printed. But as that 98% turns to 95…then 90…then 85%…what happens?" – Ryan Moor
"Where will screen printing go next? That's the big question," Ryan said. From M&R's Digital Squeegee to ROQ's Hybrid printing system, there's no question that the industry's biggest players have made a choice to move toward digital printing.
But what if the market doesn't materialize? What if it goes totally digital? Why would anyone want to risk thousands of dollars on a new screen printing press with so much uncertainty in the market? ROQ has an answer: build something that can adapt.
"Even 10 years from now, if you want 10,000 Printavo shirts, you'll probably screen print them. But what if you could do all of it with one setup?" Ryan asked. "They want 2 full-color shirts, it's full digital. They want 200, it's hybrid. You can expand, grow, add different modules on the same machine."
Digital is eco-friendly, on-demand, and exciting. And it's obvious that Ryan (and ROQ) is keeping up with the market and looking to lead the way.
What's up with Ryonet? Better, then bigger
2020 is shaping up to be a pivotal year for the screen printing industry. Ryonet's mission isn't to grow as big as they can as fast as they can. Instead, they're going to get better…then bigger.
After a seismic shift away from industrial-scale screen printing in the US during the 1990s, Ryonet has proven pivotal to growing the "entrepreneurial" screen printing market in the US. Whereas the custom printing process is industrialized abroad, with shops owning hundreds of large oval screen printing presses and using panels to print instead of full garments, the US market is unique on the world stage.
"So for ROQ to come to the US – it's totally different. It requires 1-on-1 relationships with the shops," Ryan remarked. The entire goal of Ryonet's ongoing investment is surprisingly simple: Ryonet wants to be more than your first distributor.
"Our resources are aligned now […] Ryonet has helped 200,000 screen printers grow, but they grow and move to another supplier. So it's time to manage the full lifetime value for our customer and develop more touch points throughout that long-term relationship," Ryan told us.
This process has been difficult. Ryonet can't pivot on a moment's notice. It's taken months of iteration, pitching, development, meetings, and honest conversations to discover what should happen next. But it's obvious from Ryan's candid conversation that he's determined to do the right thing for screen printers: make Ryonet a hub not just for equipment, but for the entire ROQ community.
Liked this? More recent interviews and articles
We publish unique content like no one else in the screen printing industry – all of it designed to arm you with actionable tips and takeaways to help grow your screen printing business.
Here's a few of our favorites:
You can follow us on YouTube and Instagram to stay up to date with our latest work.
---
Join Printavo's amazing community at PrintHustlers Conf 2020, an elite conference for the best and brightest in the custom apparel industry. Now in its fourth year, PrintHustlers Conf has brought shops from across the world (even Nigeria!) for two days of incredible presentations, seminars, and relationship building.
If you want to meet the industry's biggest players, learn from the best, and have a blast at an incredible venue with amazing people, then Printavo's 2020 PrintHustlers Conf is the place to be.
Where: Ace Hotel in Chicago
When: July 24-25, just after the ASI Chicago show.
What: A gathering of the industry's finest for candid discussions and solution building (and some fun, too)
Curious to see what PrintHustlers Conf is like? Read our in-depth recap of PrintHustlers 2019.
Thanks to our sponsors: Ryonet, ROQ, Allmade, Jerzees, Easiway, IT Supplies, and Supacolor.