Embroidery management software is how embroidery businesses grow their sales, increase their productivity, and deliver products faster to customers.
While there is a glut of embroidery software designed to help you design, digitize, price, and even outsource your embroidery (as this overwhelming Wikipedia chart of embroidery software shows) – there are often large operational gaps in the software.
Some programs haven't seen updates since the 1990s, aren't accessible from the internet or your phone, or are simply insufficient for actually managing a growing business.
Embroidery is one of the fastest-growing segments in custom decoration. Because you can embroider a wide range of products – from polo shirts, to hats, to medical uniforms – the embroidery process is complex. Your shop, your machines, and your embroidery business are set up to your specifications. The nuts-and-bolts of how you embroidery vary from business to business.
But what makes embroidery businesses similar? They all need strong processes for handling customers and delivering orders effectively. There are industry-specific needs: quote approvals, art approvals, stitch-outs (or mockup) approvals, shipping, online stores, wholesaler access, and more.
Embroidery design software: not enough to run a business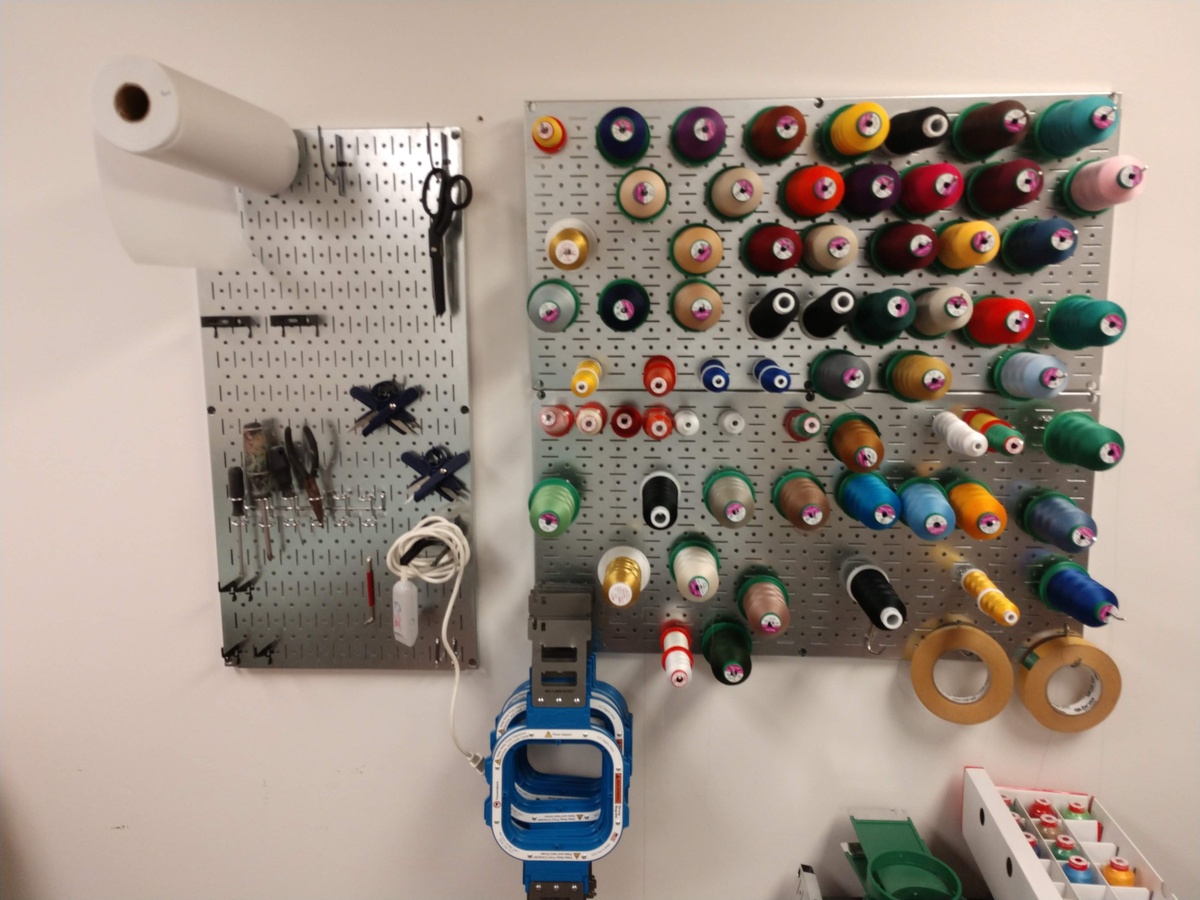 While Wilcom's incredibly powerful suite of embroidery design tools is considered a gold-standard by some embroidery shops, it's only one piece of the puzzle.
Managing your embroidery business requires great design. That's true!
Embroidery software, generally speaking, makes it easier to actually create embroidery patterns. But even the most robust embroidery software leaves the most crucial parts of your business – invoicing, quoting, communication, internal processes and workflow – to a hodgepodge of disjointed systems that don't speak to each other.
To illustrate what we mean, let's walk through a typical embroidery order:
Customer contact.

Storing, communicating with, and managing customers

Quote approval.

Getting your customers to agree to prices and details

Art creation.*

Crafting the art to embroider

Art approval.

Getting approval from the customer for the art

Payment collection.

Job planning.*

Determining proper technical details before embroidering

Wholesale ordering.

Securing garments, hats, and other products to embroider

Job status updates.

Keeping customers and employees informed about where an order is in your process

Shipping.

Getting labels, tracking numbers, and more

Follow-up.

Reviews, reorders, and more
Embroidery software only works on two of those layers in the process: art creation* and job planning*. Arguably, every other step in this process is just as crucial as the actual design and embroidery you plan to do.
Luckily, Printavo manages every aspect of your embroidery business listed above. It's an end-to-end solution that leaves the technical process and prowess to your best embroiderers.
What embroidery management software is available?
Growing your embroidery business so it can scale up is no easy task. That requires more than great design.
It requires an end-to-end platform for managing customers, employees, files, and more.
Printavo for embroidery management
Trusted by thousands of print shops in more than 40 countries, Printavo's embroidery management software is the ideal platform for successfully growing and scaling any type of custom printing or embroidery business.
Printavo lets embroidery shops:
Run their business remotely. It's cloud-based, and accessible anywhere there's internet.

Utilize contractors. Send files, quotes, and work orders easily.

Run online stores. Collect payment, order details, and do fundraisers – all seamlessly integrated into your production management software!

Improve their approvals process. Quotes and art approvals are friction-free with Printavo – and includes a powerful Quotes Pipeline to boost your sales and revenues.

Send files. Seamlessly send DST files.

Utilize unlimited users. Have a favorite digitizer? Just give them a Printavo account and let them upload their files directly to your shop.
Stitch counts, digitizing, and outsourcing
Stitch counts: If you're like most embroidery shops, your stitch counts are reflected in your embroidery pricing. More stitches equals a higher price – and more pieces equals a lower price per piece. Most embroidery design software can help you get accurate estimates of stitch counts.
Digitizing: print shop owners are endlessly familiar with digitizers. A requisite for stellar embroidery work, embroidery digitization is simply digitizing an embroidery design for a given embroidery machine. Digitization, simply put, is a set of instructions for an embroidery machine. It tells the machine what to stitch, where to stitch it, which colors to use, and many more crucial details.
Note: with Printavo, you can seamlessly send DST and other embroidery file types directly from your shop management software. No third-party services (Dropbox, Google Drive, etc.) required.
Outsourcing: what if you can't afford a large embroidery machine?
You don't always have to do everything in-house! Remember: embroidery can be outsourced to many embroidery mills that do contract embroidery, just like many screen printers use contract printers.
Outsourcing: if you do enough embroidery work, you'll eventually land an order that your shop can't fulfill. Perhaps it's too technically challenging, it's simply too many hats or garments, or it's too quick of a deadline for your shop to meet. This is where contract embroidery and outsourcing become a lifeline.
"I don't need a 6-head Tajima for our shop – we're just so focused on screen printing. There's an embroidery mill down the road with something like a thousand heads. So we send our embroidery to them, and they do an incredible job." – Justin Moore, Barrel Maker Printing
Pricing your embroidery
How do you price your embroidery?
Do you just wing it, hoping that each job ends up profitable? Sometimes embroidery jobs work perfect, and your margins are great. The customer is happy. You ship everything on time.
But sometimes, there's a problem – whether it's because the job took too long to quote and get approved, a shipping or purchasing error, or simply miscommunication with a customer or employee. Can you account for those issues too?
Yes. Use price matrices to create multiple tiers of service for your embroidery business. "Good, better, best – that's the level of service we offer," says Campus Ink co-owner Steven Farag. Your "Good" tier should likely be priced higher than your current offerings. After all, the goal is to maintain profitability.
Steven Farag laid out the crux of pricing issue with embroidery: "How can anyone expect to turn a profit if you're racing to the bottom to compete with a giant embroidery shop that can charge way less than $1 per 1,000 stitches?"
Printavo's simple shop management software utilizes custom pricing matrices. With a few simple calculations, you can set prices that match the value you're bringing to the table – rather than quoting each job individually and simply hoping for the best.
---
Frequently asked questions about embroidery software
What is the best software for embroidery?
The best software for managing your embroidery business is Printavo. A robust, affordable, yet simple platform designed for custom apparel and printing applications of any type. Printavo is trusted by hundreds of custom embroidery shops across the world to manage their workflow.
While Printavo can manage your business and your workflow, there are two other great embroidery software options for design and embroidery-specific problems:
What is the best free embroidery software?
Most embroidery machine manufacturers recommend specific software that's included with their machines, including Ricoma and Tajima. You can try Printavo's simple shop management software for free here.
What is the easiest embroidery software to use?
The easiest embroidery software to use to manage your business is Printavo. Its focused design, flexible customizations, and powerful industry-specific features allow you to integrate with TSC Apparel, S&S Activewear, AlphaBroder, and SanMar's catalogues.
How do you digitize a logo?

The easiest way for any embroidery business to digitize logos is to use an external digitizing service. We're fans of GraphXSource. They'll even work directly within your Printavo embroidery management software to seamlessly send digitized art directly to your shop – they do more than just screen printing artwork! Learn more about GraphXsource and Printavo here.
Do I need software to download embroidery designs?
Usually, you don't need any special software to download embroidery designs. Embroidery files are most often DST or EMB files. Printavo can store and send DST and EMB files as needed by using Production Files. If you're struggling to open an embroidery file, SewWhat-Pro can open and edit virtually any embroidery file format directly.
Can I only do embroidery with Printavo?
Printavo is designed for all kinds of custom printing applications, including embroidery. Screen printers, on-demand fulfillment services, and many other custom print shops use Printavo to manage their workflow, invoices, quotes, pricing, and much more.
Can I use QuickBooks for embroidery?
Yes. QuickBooks is ideal for embroidery shops since it's a simple way to track your business expenses and invoices. Fortunately, Printavo syncs directly with QuickBooks Online – so you can keep your same accounting system intact!
How do embroidery shops actually use Printavo?
Embroidery shops can create flawless workflows by using Printavo's Status Change Notifications. By using email or text messages, you can automatically notify anyone inside or outside your organize – and include a link to the Invoice with all of the info they need.
Shops use this to get digitizations, ask for stitch outs, and even have contract embroidery shops directly use Printavo to communicate to them. You can simply give a digitizer or artist a new account under your Printavo – and they can work seamlessly into your embroidery process.