In 2022 alone, Printavo shops processed 29.5 million orders!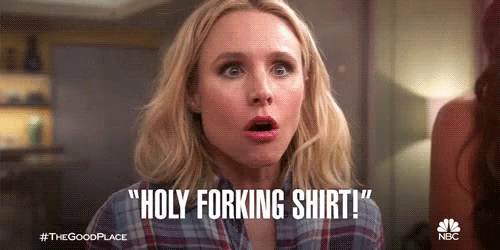 That's up 61% from 2021 when you all cranked out 18.3 million orders!
We've also been busy at Printavo HQ. Our engineering team grew quite a bit, and with that we were able to work on some super solid updates to the platform!
Here are 8 things that Printavo came out with this year (read on to find out how they benefit you):
Printavo's Embedded Payment, Refund, Deposit, & Dispute Management Solution
Printavo's Mockup Creator
Printavo Merch Contact and Communication Improvements
Power Scheduler
Pre-set and Auto-apply Exportable Invoice Fees
"If ____ approval is declined," Automation Trigger
Invoice & Customer Profile Privacy Setting
Unlimited Pricing Matrices
1. Printavo's Embedded Payment, Refund, Deposit, & Dispute Management Solution

What is it?
An all-in-one tool to accept ACH and credit card payments, process full-and-partial refunds, and monitor your deposits – right in Printavo! (Please note: While this solution is currently available only for US-based shops and for core Printavo orders (i.e., non-Printavo Merch orders), we have plans to cultivate a tool that works internationally and to expand our payment and refund functionality into Printavo Merch.)
Where to find it:
Why/How is it helpful?
For starters, with our embedded financial solution, there's no more logging into multiple systems and making changes in various platforms just to make sure your numbers are accurate and both you and your customers have the money you're supposed to have. Let's look at some examples:
ACH as a payment option for your customers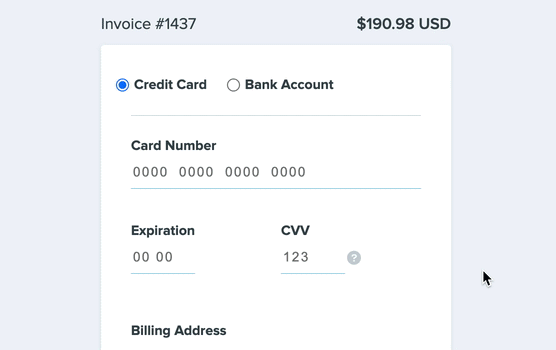 ACH, eCheck, Bank Transfer – poe-tay-toe, poe-tah-toe – Printavo now offers ACH as a payment collection option for US-based subscribers on non-Merch jobs in addition to credit card payment.
Mandatory ACH payment request thresholds (optional)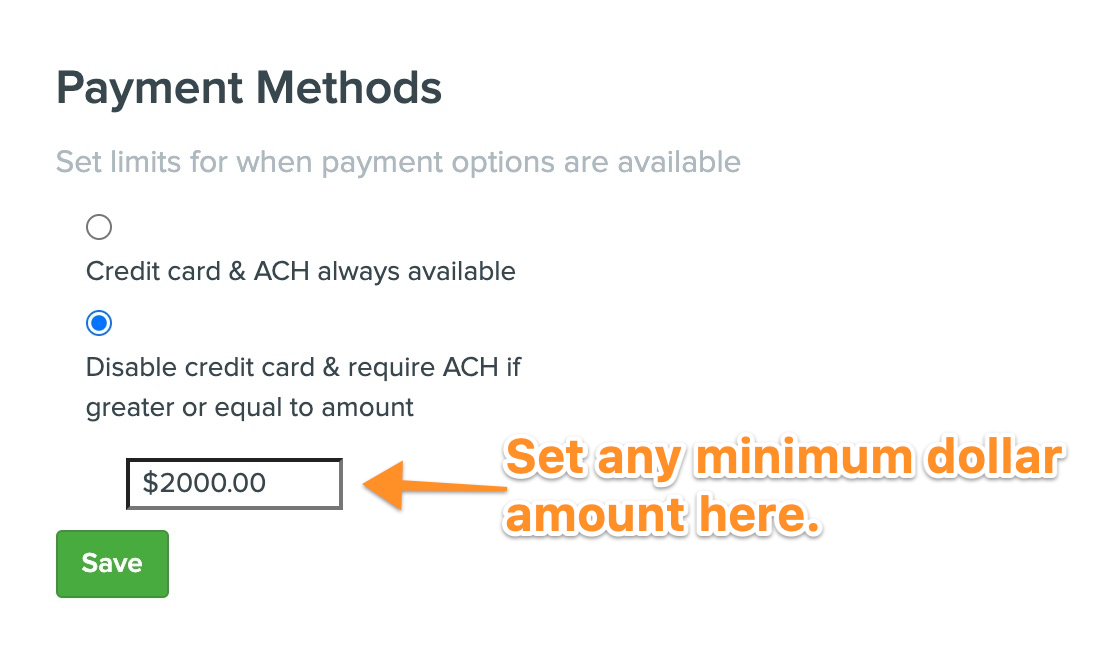 If you choose to use it, this feature allows you to require that your customer pays by ACH when the cost of a job hits a minimum amount. For example, if a job costs $2,000 or more, you can require ACH payment.
Full and partial refunds in Printavo with a simple click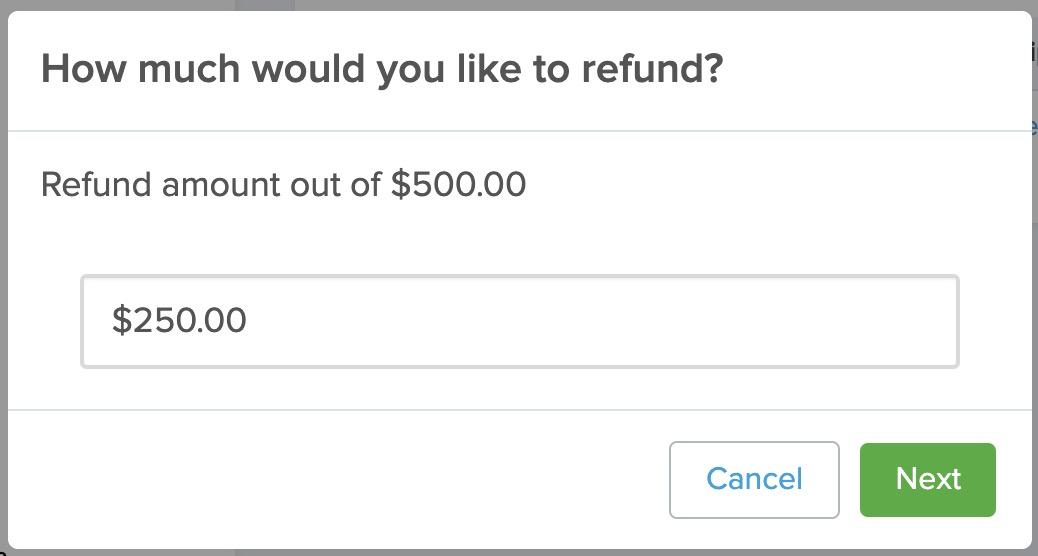 Need to refund a full or partial payment? Printavo's embedded system makes that easy, with no need to leave the platform! Simply select the payment you need to refund and enter the amount you'd like to send back to the customer.
View your deposit information directly from Printavo
As payments process, Printavo will make daily deposits into your bank account. You can view these deposits directly from Printavo's "Deposits" page. Again, no need to log in to any other system – everything you need is in your Printavo account.
Manage disputes directly from your payment portal in Printavo
Did a customer initiate a dispute on a payment they provided? Easily manage customer disputes by challenging or accepting them via your disputes portal accessed directly through Printavo.
Payment support = Printavo support
Having an issue with something payment related? With Printavo providing its own payment solution, your payment support is now managed by Printavo's support team. Email us at support@printavo.com with any questions or issues that arise with your payments, refunds, deposits, or disputes!
Need more help? Check out…
2. Printavo's Mockup Creator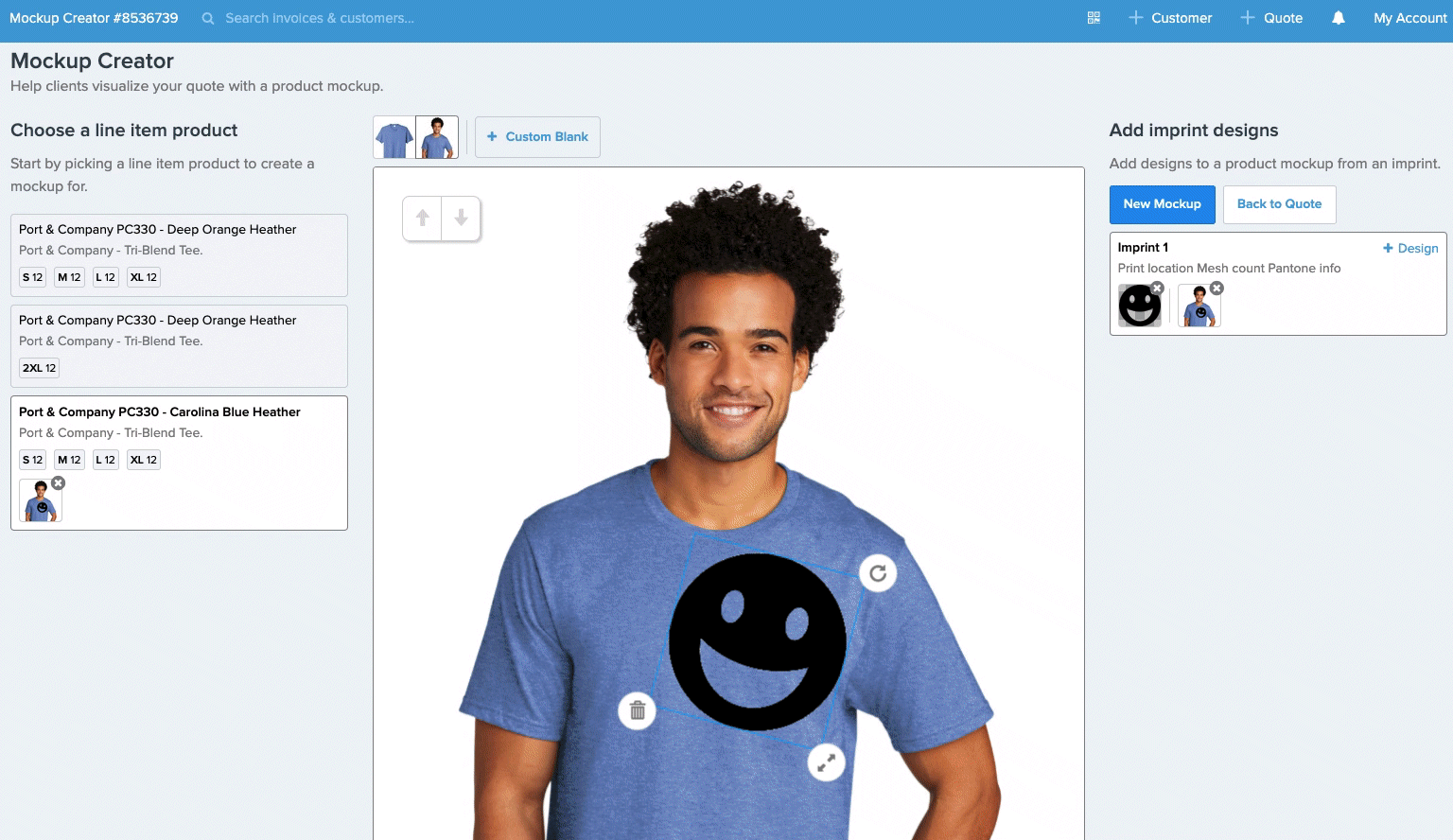 What is it?
A super-neat embedded tool on the Quote/Invoice builder that allows you to easily create multiple mockups on the real images of the products you're offering your customers.
Where to find it:
Why/How is it helpful?
Printavo's Mockup Creator helps you close deals faster!
Imagine the scenario where you send a sales person out to a school's athletic department trying to sell them on an online store. The school wants to see their logo on products A, B, and C. But, oh wait, now they want to see them on products D, E, and F. These look good, but what about with reversed colors and on products A, C, and Z?!
Your sales person may not have Adobe Illustrator right in front of them (let alone the knowledge of how to use it), so let Mockup Creator help them close the deal!
Let's break this down a bit more:
Mockup Creator pulls real product images from catalogs
If you connect your Printavo account to the available distributor catalogs, the mockup creator will pull the images sent to Printavo by the distributor when the particular item is selected on your quote/invoice. You can also use custom product images for the mockup creator!
Live edit images with built-in recoloring, background eraser, and undo/redo features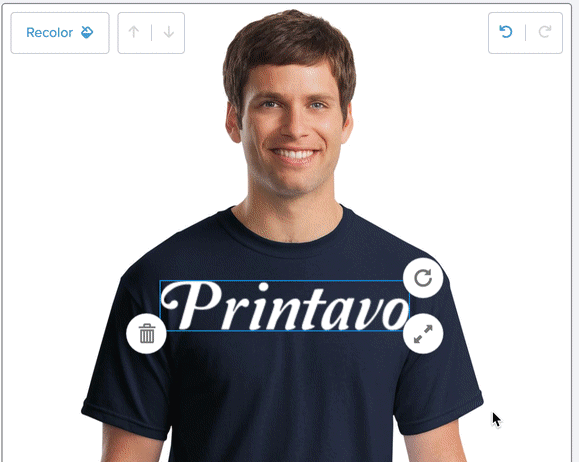 No need to go back and forth with the art department. Just arm yourself with some SVGs or PNGs and increase your sales power to close the deal faster.
Mockup Creator images become Printavo Merch images!
Building a store live for your customer? Combine Mockup Creator's live-edit tools with Printavo Merch and have your client up and running in minutes.
Need more help? Check out…
Speaking of Printavo Merch…
3. Printavo Merch Contact and Communication Improvements

What did we do?
A couple of things! First, we added the ability for you to add a custom contact for individual Printavo Merch Stores. Second, we added the ability to toggle fulfillment emails on a per-store basis!
Where to find them:
The settings of any individual Printavo Merch store.
Why/How is this helpful?
Optional Custom Store Contact
This update in Printavo Merch allows you to set a custom contact for your individual Printavo Merch stores. What does this mean? Well, previously, by default, you, the print shop, were the contact for all Printavo Merch stores. Sometimes that's helpful, unless you're the softball team coach.
The Optional Custom Store Contact allows you to direct the people purchasing from your store to the best person to answer their questions (e.g., the person who is running the softball team, the head of the fundraising group, etc.). This provides a better overall experience both for your customers and for the folks making the purchases. No more phone tag between the purchaser and the organizer. Get your time back!
Fulfillment Auto-Email Toggle
Now, in Printavo Merch, you have the option to toggle the auto-generated fulfillment email that's sent to purchasing customers ON or OFF.
Historically, Printavo Merch stores would automatically send an email to all purchasing customers informing them that their order was ready when said order was marked as fulfilled in Printavo/Printavo Merch. Sometimes that was really helpful! But we learned that, sometimes, our customers may not mark orders as fulfilled at the same time customers are receiving their products.
Now, when this toggle is turned OFF, the purchasing customers will not receive any email when a Printavo user selects Mark as Fulfilled or Mark all as Fulfilled for a Merch order/invoice. When the toggle is turned ON, the purchasing customers will receive an email stating that their order is ready for pickup or that it has been delivered.
Need more help? Check out…
4. Power Scheduler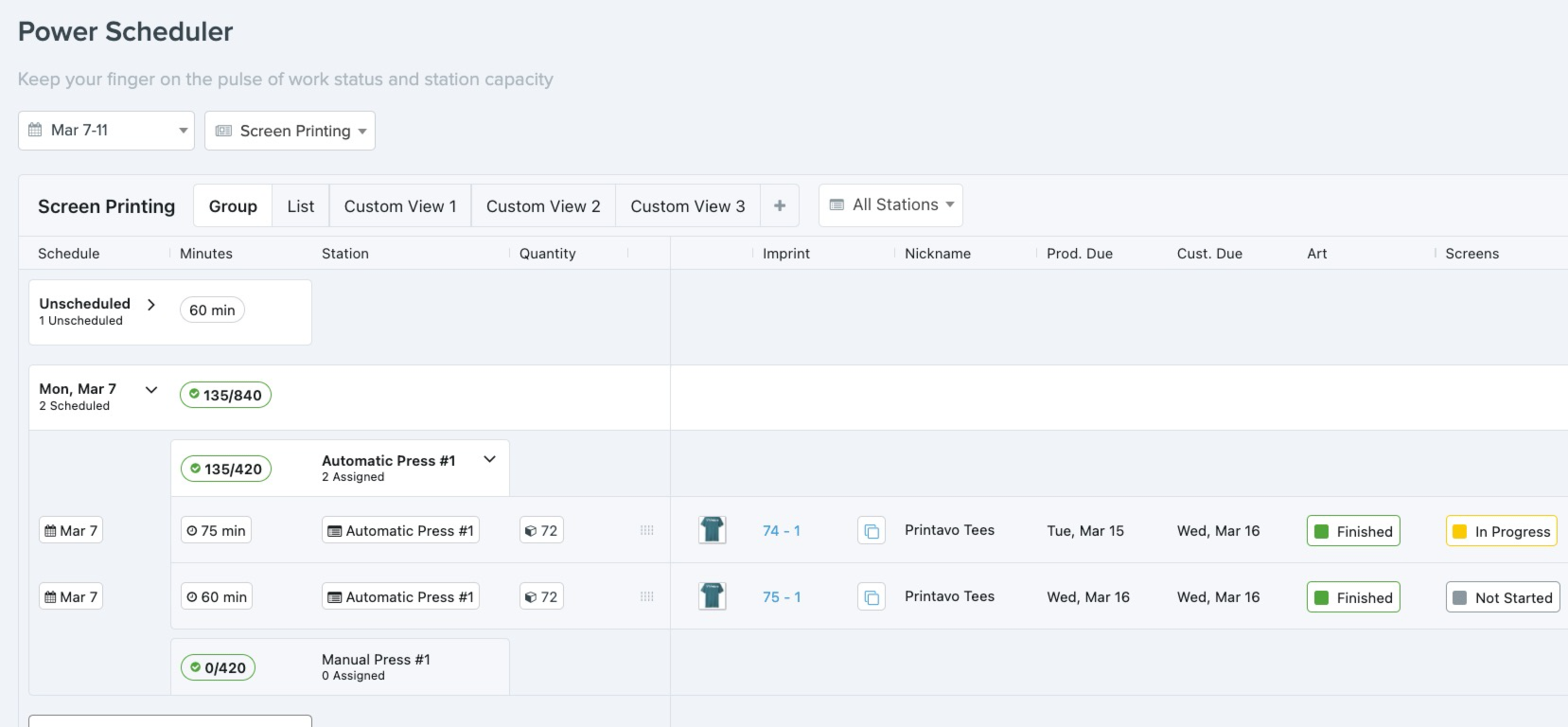 What is it?
Printavo's Power Scheduler allows you to manage multiple types of decorations and equipment to better track jobs across departments. (Please note: Power Scheduler is available to Premium tier subscribers of Printavo.)
Where to find it:
A native feature of the Premium tier of Printavo. (Need to talk to someone about upgrading? Send us an email!)
Why/How is this helpful?
As we all know, every job you do for a customer has multiple steps to each stage. Additionally, some jobs require multiple decoration types to be completed (e.g., your customer requested shirts that require screen printing and embroidery).
With Printavo's Power Scheduler, if you want to simultaneously prepare screens, ink, and thread for a job while you're waiting for blanks to arrive, you can easily communicate across multiple departments what's been done and what still needs to be done.
We'll share some capabilities below, but for a full list of everything Power Scheduler can do, check out our Power Scheduler Deep Dive.
Power Scheduler Saved Views
Rather than continuously rearranging, hiding, and revealing columns for an optimal view at your workstation, it is possible to save views on the Power Scheduler.
"Super Admin" Printavo users can save these views to be visible either just for themselves or for any user with access to the Power Scheduler. Non-admin users can still save views, but will not be able to share the views across users.
Export your schedule
For additional viewing options, Printavo's Power Scheduler can be exported to either .CSV or Microsoft Excel format.
Schedule history and time in step status
Scrolling down on the "Schedule" tab of an individual job will reveal its Schedule History. Here, you can see who made what changes to the imprints related to this job and when, as well as how long it took for the imprint to progress its step statuses.
Need more help? Check out…
5. Pre-set and Auto-apply Exportable Invoice Fees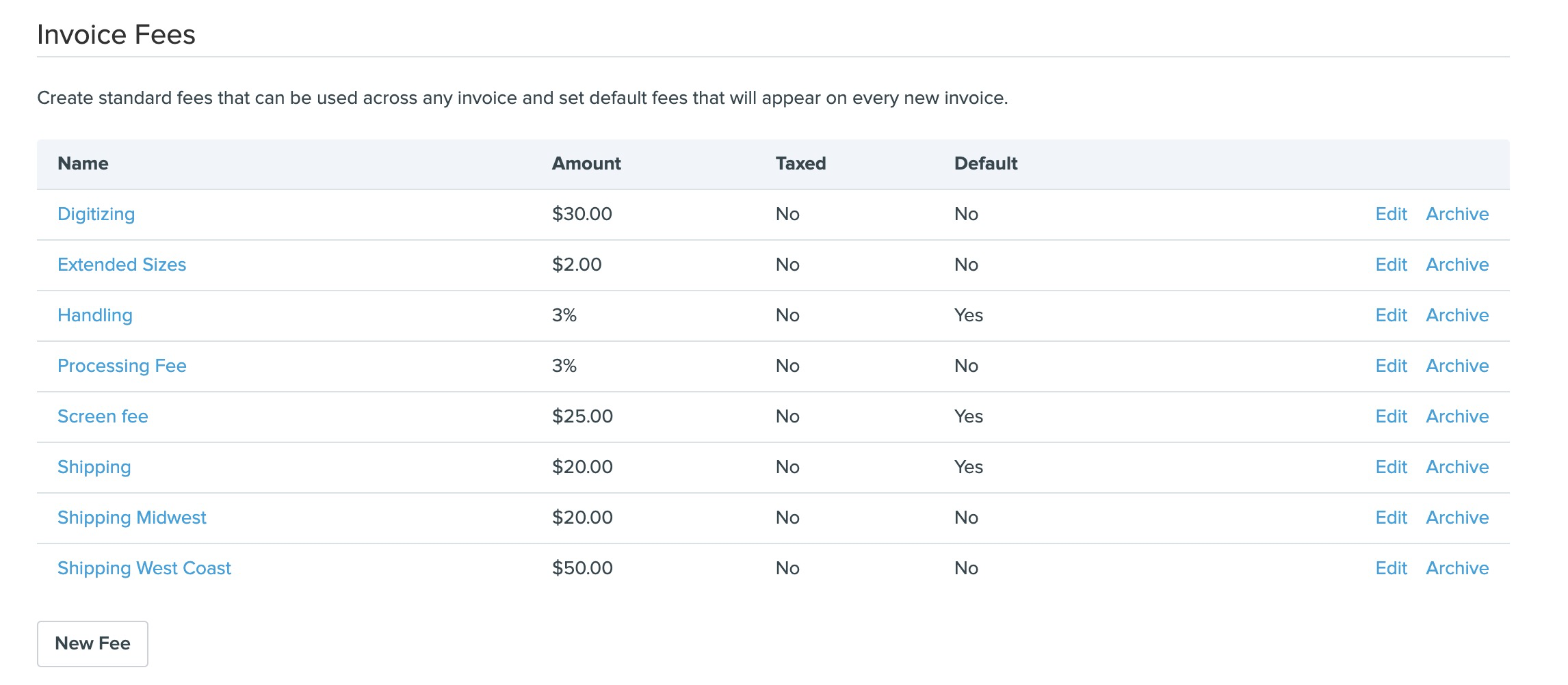 What are they?
Printavo users can now pre-set and automatically apply both dollar-based and percentage-based fees to their jobs. These fees are exportable on Printavo's native Quotes/Invoices export, as well as via the QuickBooks Online export to those users where that is available.
A Note About Percentage-based fees:
We recommend utilizing percentage-based fees for Rush Fees or Late Fees only. If your shop is considering adding percentage-based fees for other purposes, we strongly recommend that you look into the laws and regulations first. There are VERY STRICT rules that govern who, how and the manner in which this practice can be done.
Where to find it:
Why/How is this helpful?
Automatically apply a fee to every new invoice – no more forgetting – get it right every time!
Some shops have fees that they apply to every single job that they do. This used to be a manual process in Printavo. Because shops would have to add these fees every time it followed that they'd sometimes forget (because we're all human).
Also, some shop employees may not know how much they should charge for a fee. This results in the employee having to take time out of their (and your) day to ask you. Or worse, they'll just skip adding the fee altogether.
Now, you can create a fee and have it apply to a job by default! This way, you won't forget to add the fee and, though quantities may sometimes need to be adjusted, the amount of the fee will be taken care of for you.
Export your fees via native Printavo export or QuickBooks Online export
Easily view your fee data over time by exporting fees via Printavo's Quotes/Invoices Export and working your Excel (or Sheets, or Numbers, etc.) magic. Further, if you're subscribed to Printavo's Premium or Standard tier and you're capitalizing on our QuickBooks Online Export, Printavo's fees will export to QuickBooks Online as normal line items.
Need more help? Check out…
6. "If ____ approval is declined," Automation Trigger

What is it?
A brand new automation trigger (complete with its own new shortcodes!) that allows you to build out automated actions if a customer declines an approval type. (Learn all about easily building automations in Printavo!)
Where to find it:
Why/How is this helpful?
Take appropriate action when a customer declines an approval
Printavo automations save shops significant time on repetitive tasks. They're also great at notifying you when you need to take action to continue the progress of a job!
Now, when a customer declines an approval, you can set up Printavo to automatically change the job's status, notify specific individuals of the declination, and even assign tasks to the responsible entities to move the job forward!
Need more help? Check out…
7. Invoice & Customer Profile Privacy Setting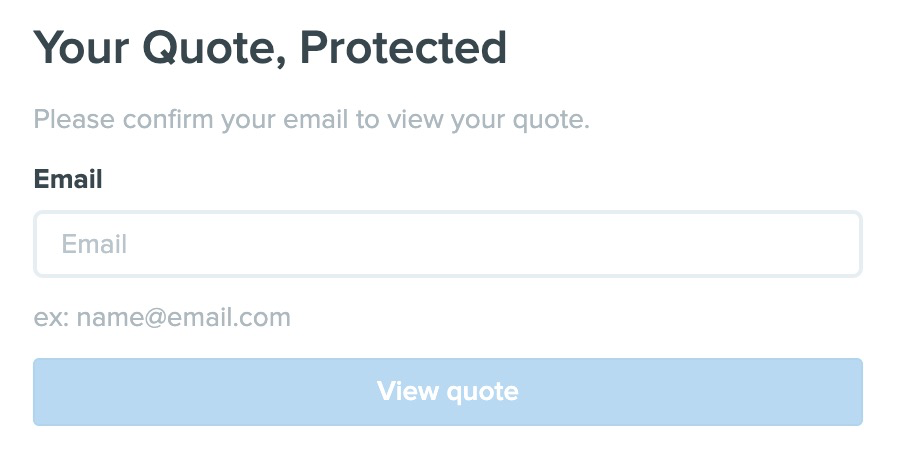 What is it?
A setting that allows shops to toggle on a "Private Email Link" that makes Invoices & Customer Profiles accessible to specific recipients only.
Where to find it:
My Account > Invoice Information
Why/How is this helpful?
Increased privacy on customer invoices and profiles
When this setting is toggled on, a customer/recipient will have three days to open the emailed/texted Profile or Invoice link via Printavo to automatically be taken to view their profile or quote/invoice.
There is no change to the customer experience if they open their link within three days. Without access to this unique emailed link or after the three-day link expiration, the viewer will be required to enter their email address associated with the order.
What is considered an authorized email for a quote/invoice?
Customer's Email
Invoice Owner's Email
Any email sent a message
Any email sent an automation
Any email sent a payment request
What is considered an authorized email on a customer profile?
The main Customer's email can view their own as well as any Contact's public profile
A Contact's email can only be used to view their own public profile
Need more help? Check out…
8. Unlimited Pricing Matrices

What is this?
Pricing matrices in Printavo allow you to automatically calculate item pricing based on the type and amount of work that you're doing (learn more here).
Where to find them:
Why/How is this helpful?
Every Printavo subscriber can create as many pricing matrices as they need to accommodate they work that they do and the customers that they serve
That's it! Regardless of your subscription tier, you can create as many pricing matrices as you need to accommodate the work that you do and the customers that you serve. Need 3 matrices? No problem! Need 100? Also no problem!
Need more help? Check out…
Questions?
If you're not yet a Printavo customer, try us out for free by signing up at printavo.com. Want to see Printavo in action? Email us at sales@printavo.com and we'll show you around! 🤘
If you're a current Printavo subscriber and have questions about your account, reach out to your dedicated success manager or email us at success@printavo.com. We're happy to help! 🙂