If you need some inspiration for your screen printing shop's website, look no further.
Branding is everything for screen printers. And great brands know that their website is where it all begins. These screen printing websites have nailed it – they're either pitch-perfect, vividly beautiful, or extremely useful and purpose-driven – but all of them serve as strong branded statements.
Any shop can print you a shirt. So your online presence is how you can truly set yourself apart.
We've seen a lot of amazing shops struggle with their websites. We've also seen small startup shops grow and thrive because of incredible websites.
Sending the right signals from your brand takes time and iteration, but the payoff is huge. In a competitive market like custom apparel printing, your website is proof of your expertise.
Here's 7 of the best screen printing website designs out there.
Industry Print Shop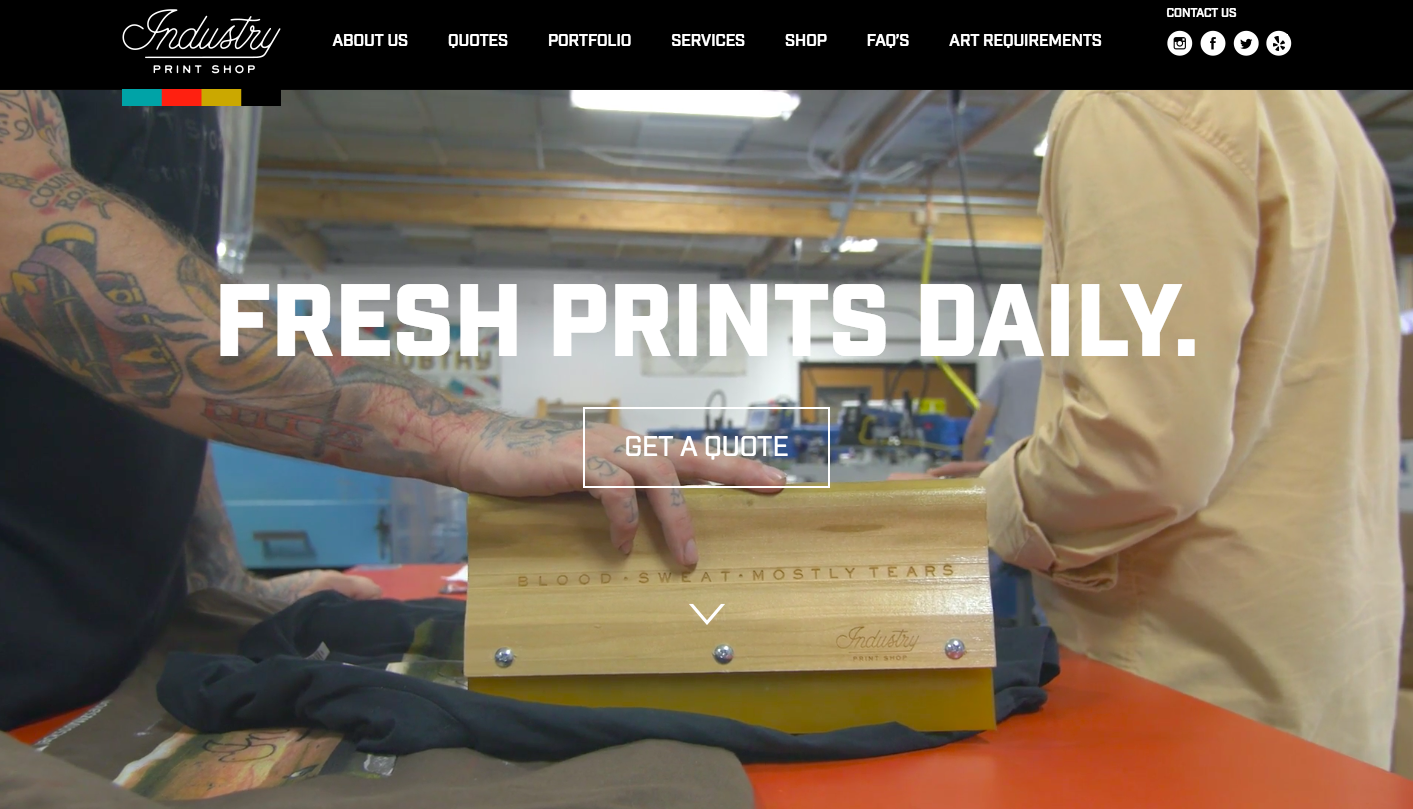 Who: Industry Print Shop from Austin, TX
What you can learn from it: Simple, high quality video of your shop and printing process is more than enough to generate excitement. Keeping your objective ("Get a Quote") front-and-center makes everything clear
Why it's great: Industry Print Shop shows that less is more. The website is simple but effective
What sets it apart: Great integrated video combined with a simple user experience. This website drives the customer directly toward contacting the shop. It introduces what they do in clear terms. You're left with a sense of certainty and forward motion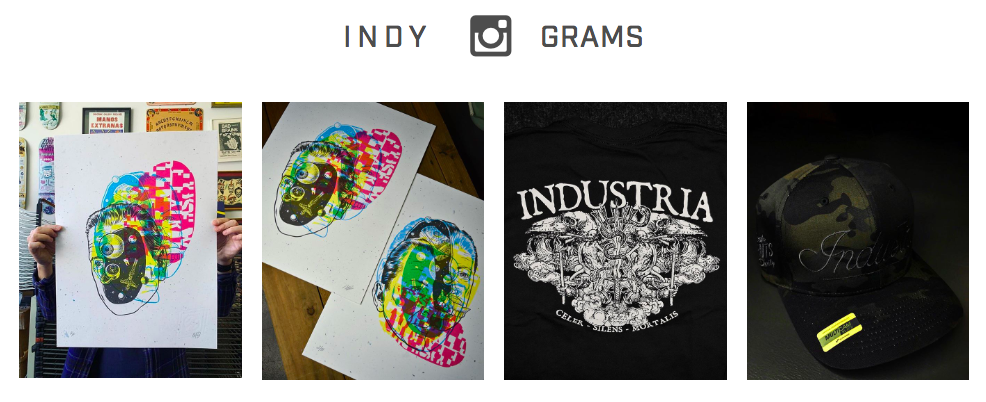 Industry's website combines compelling video footage with bare-bones language to make a strong impression. The basic homepage's structure is masterfully professional:
Simple call to action. The prominent "Get a Quote" button is front and center. The user knows exactly what to do, and the company sends a clear message about where they want you to click.
Clear branded statement. Industry cleanly defines the scope of their work and what their brand focuses on: "

From concert posters and fine art prints to custom t-shirts and apparel,

Industry stays true to the hand pressed aesthetic of screen printing."

Examples of work they've completed for clients. A simple portfolio is linked to – right from the homepage. Users want a quick way to see proof and examples. Not only are the prints beautiful, they're perfectly photographed!
Their recent Instagram photos. You can immediately connect with their recent work and get looped in to their social media work.
Shirt Kong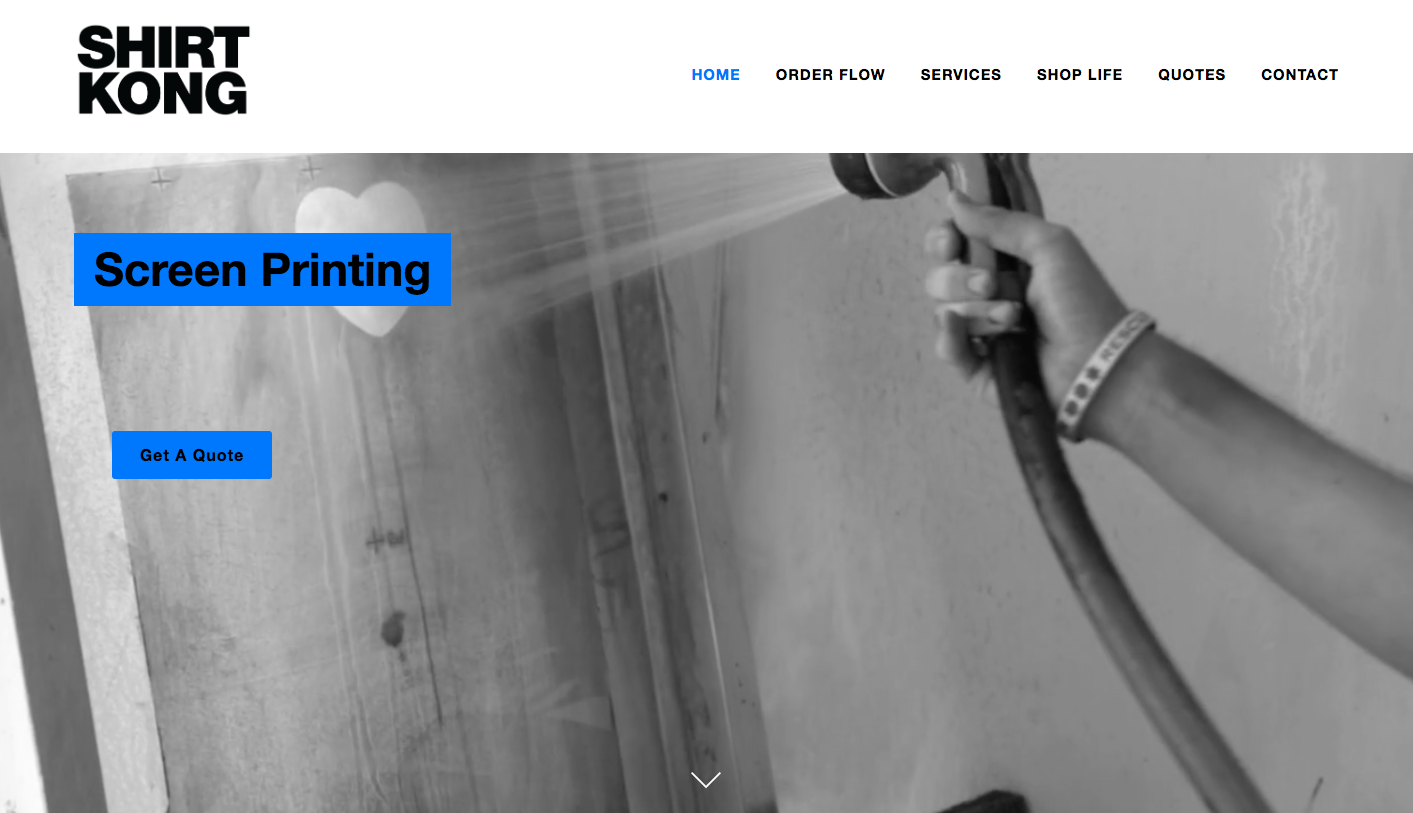 Who: Shirt Kong from St. Louis, MO
What you can learn from it: Don't outdo the competition – follow Jason Fried's advice and "underdo" the competition
Why it's great: It's exactly what it needs to be. No more or less (and it's worked great for Shirt Kong)
What sets it apart: You don't need a fancy online designer tool, a sprawling website, or a fancy SEO-oriented blog. Trust your customers and they'll trust you
We're big fans of Shirt Kong. They do some of the coolest video content of any screen printing shop. Check out the Shirt Kong Instagram to see what we mean.
Owner Andy Rudman was kind enough to answer questions about the site when we reached out to him. What he said was a perfect examples of how his website reflects his values as a print shop owner:
I haven't paid much attention to other print shop's sites, so I didn't realize ours was comparatively simple, but that's what I was going for when I designed it. I built the current website a few years ago. It's pretty basic, but I really like the simplicity.

Ordering a t-shirt can get complicated and I want to make it easy as possible.

The site shows us doing what we do, describes the ordering process and provides a few options to contact us. We receive multiple contacts every day, so it works. Also, it pairs really well with what we do.

We're a custom shop that focuses on service and design. Our competitive advantage is that there are five graphic artists here every day that can design a killer shirt. I didn't want to get away from that with an online design feature, so I've rejected that ever since it was available. I wanted to stay true to who we are and what we do well.
There's not much more to stay than that, is there? Shirt Kong has nailed simplicity.
Hey Monkey Design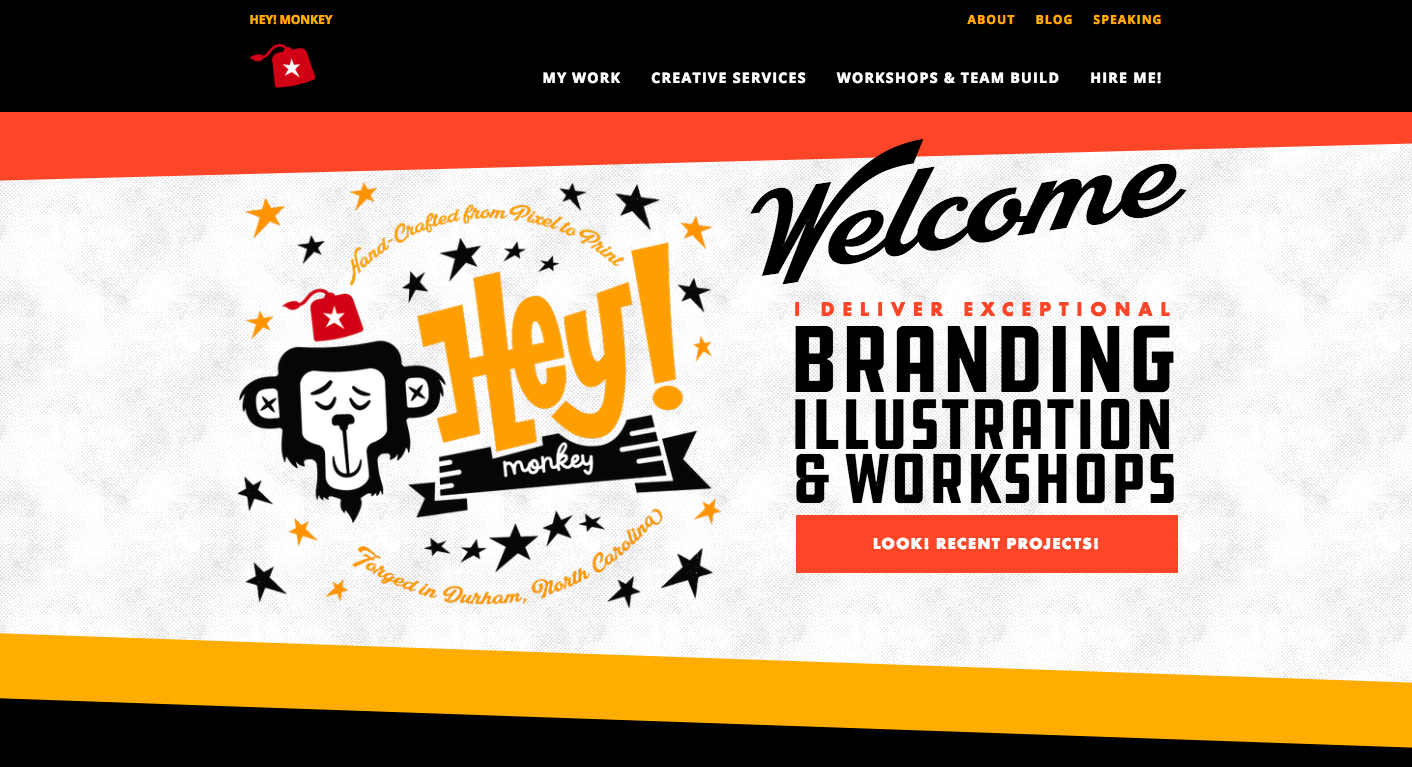 Who: Hey Monkey Design from Durham, NC
What you can learn from it: Your brand can be as shamelessly unique as you are
Why it's great: The combination of killer design and inspired copy makes users feel like they're about to be involved with something very fun
What sets it apart: The "voice" of Hey Monkey Design comes through strongly: humorous, straightforward, friendly. The user really wants to start a conversation with this brand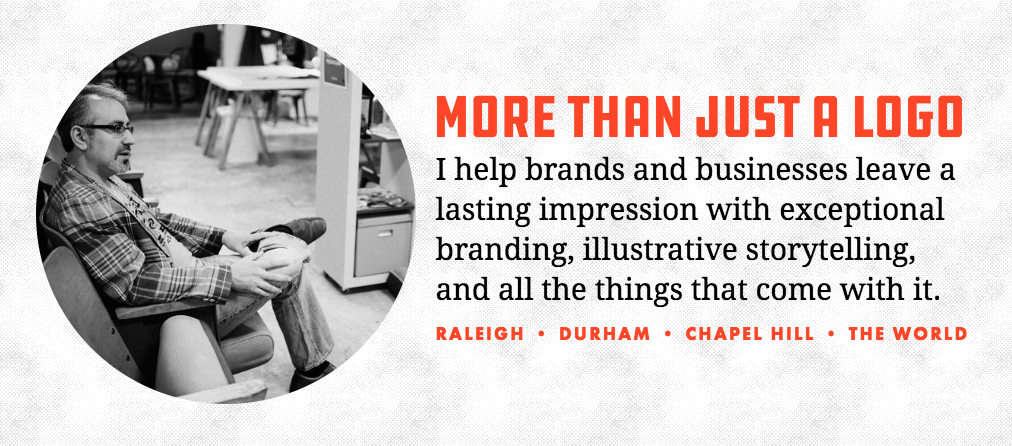 Lenny Terenzi of Hey Monkey Design refreshed his brand and website for 2019, and the results are truly impressive. A master of design and copywriting, Terenzi runs toward his brand's uniqueness instead of shying away from it. There's a passionate voice that's backed up with highly emotive text design. It combines to feel personal and honest.
We reached out to Lenny and he had this to say:
My main goal was story. To really let people know who I was and who they were going to work with. I am not a high production print shop. I am a designer who specializes in branding, brand strategy, illustration, and then screen printing as a service to my clients and as a team building and workshop endeavor to others. Yes, I do commercial work, but that is not what my business is about.

It is about elevating design and brand and having hand-pulled screen printing as an extension of that.

My new site dialed in my voice. Who you meet is who you read about on my site. There is no doubt what you are getting into with me when you read through my site. It is a great client qualifier. I am open about rates, asking about budgets, and communicating that I may or may not take on jobs based on how they fit in with my vision of growth.
He roots the website in community – events, classes, workshops – and prominently places the brand in Durham, NC. Not only is there a sense of place, there's a real sense of identity. Lenny knows who he is, he knows why his shop exists, and his website reflects these values.
Yet, similar to Industry Print Shop above, the homepage is fundamentally simple:
A clear statement of purpose. "I deliver exceptional branding and illustration workshops. Look! Recent projects!" Users really want to know what that looks like!
Hero video and location. The shop's city is prominently featured, bolstering the sense that Hey Monkey is about more than just printing – it's about community and connection. (Here's what a hero image is)
Recent projects and social proof. Prominently featured brands and logos that the shop has created act as assurance that Hey Monkey means business. Recent projects are presented as Case Studies and form a complete picture of what Hey Monkey can do for its clients.
Upcoming workshops. The focus on events and workshops is brilliant. Users want to take part in this brand, not just buy something from it.
Real Thread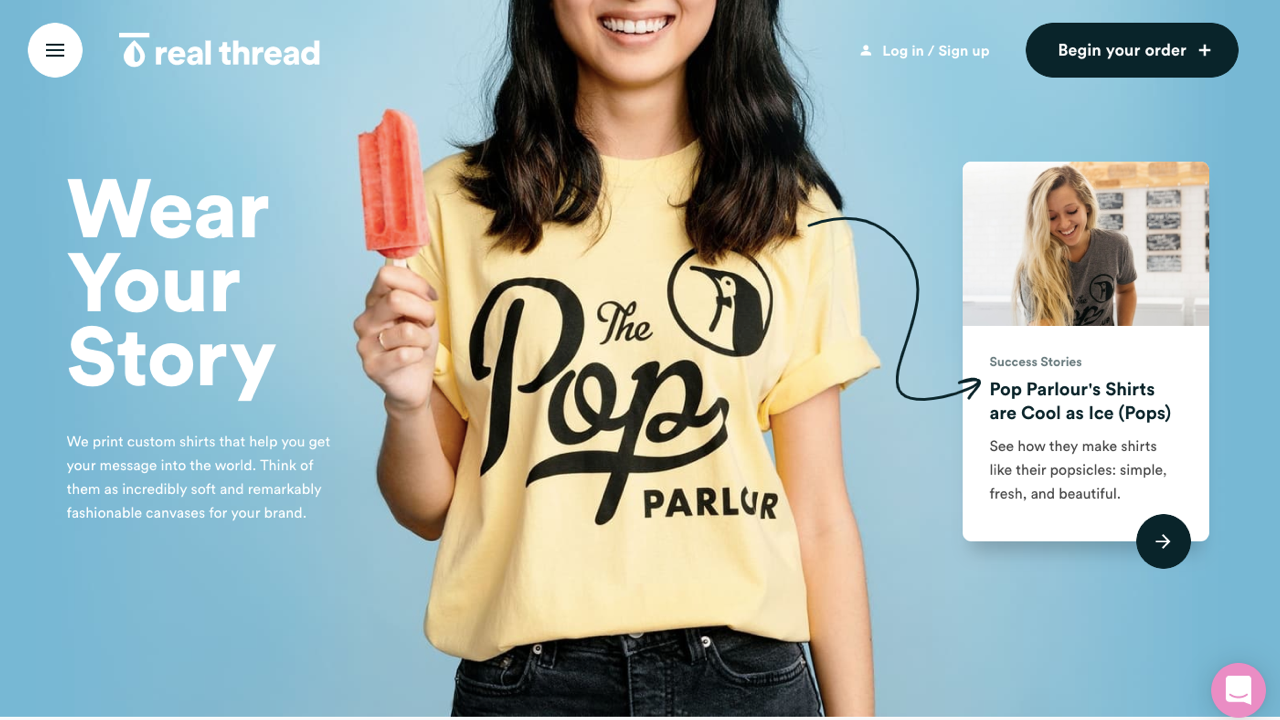 Who: Real Thread from Orlando, FL
What you can learn from it: Focusing on one element of your shop (in this case, soft shirts) focuses your messaging and design
Why it's great: Colorful and professional, this website shows you just how good this shop is
What sets it apart: The bright and clean colors combine with an interactive scrolling experience to make this website feel like a high-end product
We're still totally blown away by how great this website is.
Big, bold, colorful, and highly interactive, Real Thread doesn't just show you that they're professionals. They blow you out of the water with how high-end their website feels. It's equal parts advertising and art – more like using an Apple product than a print shop's website!
Right from the get-go, you're urged to tell your story. Real Thread makes an emotional connection from the very beginning. Focusing on the softness of their shirts is clever, but it's obvious they're more concerned with selling their entire package. Great service, brand ideation, and soft shirts. – it's a huge factor in how customers choose garments and it's something that requires no technical knowledge to understand. If the shirt is soft, it's better, right?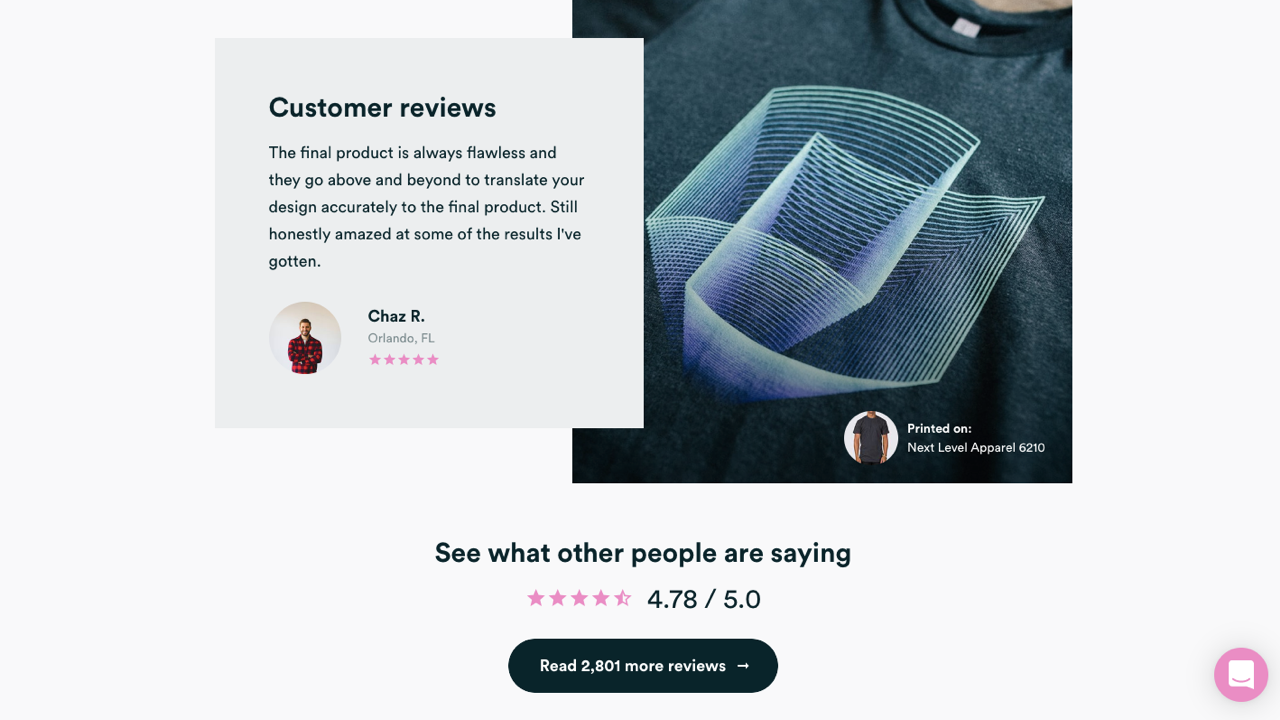 The homepage is customer focused. They want to show that they're good – but they're really here to make you better. The site uses some great techniques to draw users in:
Interactive elements. From simple buttons to the site's scrolling animations, Real Thread feels "touchable" right away. Users want to interact with this design.
Answering common questions and addressing concerns. Real Thread has focused on customer satisfaction, and it shows through their focus on their product. They combine social proof – thousands of reviews!

– with examples of how they're focused on the customer above all else.

Resources that urge action. One of the more unique elements, Real Thread offers downloadable design assets to help you create your perfect shirt. They also address their fulfillment services, guarantee that they'll deliver on time, and nudge the user toward signing up by offering a 1% credit through their loyalty program. The combined effect is a heightened sense of urgency.
Simplify a complex fulfillment problem. Real Thread offers end-to-end fulfillment services, so the complex merchandising is left to them.
Real Thread is a great example of how a website can project a print shop's purpose and move beyond a sales tool.
They use great copy, simple but professional imagery, and clear examples to tell their clients' stories. This is a wildly effective technique. You don't just want to order shirts...you want to emulate someone else that's become even more successful because of their merch.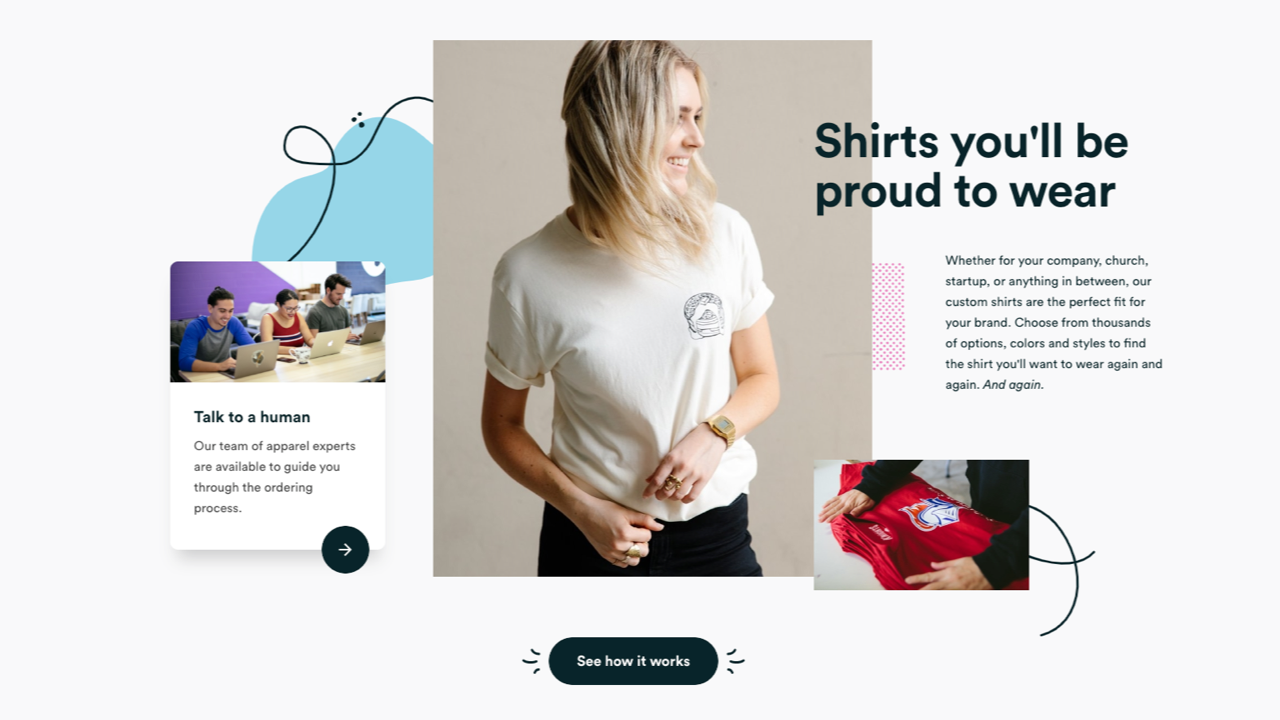 Barrel Maker Printing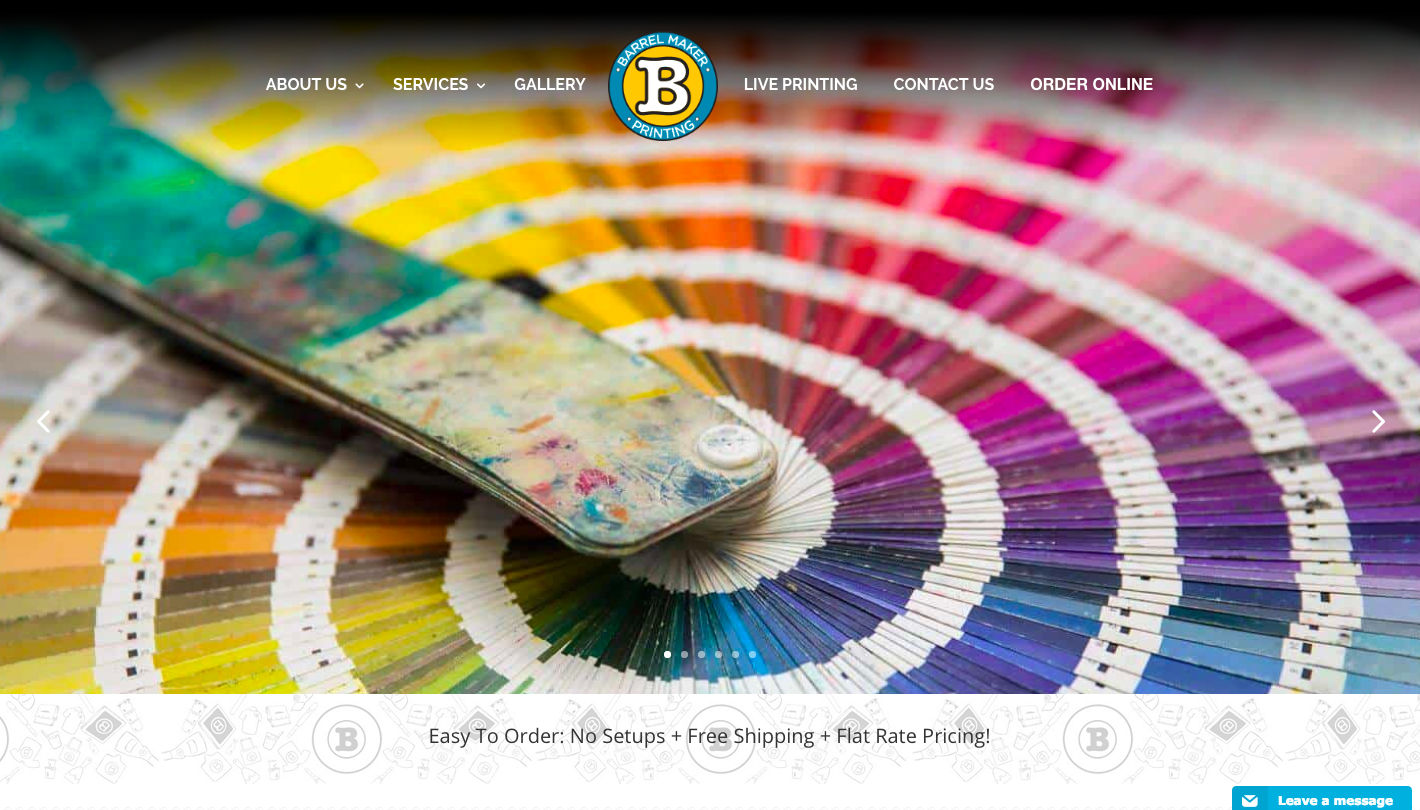 Who: Barrel Maker Printing from Chicago, IL
What you can learn from it: Showcasing your team creates a powerful human connection
Why it's great: By utilizing the rich visuals in their print shop – inks, equipment, tools – they show what they do. As you scroll, more colorful images greet you.
What sets it apart: Barrel Maker's design balances eye candy with useful info. The team behind the brand is prominently featured
In case you didn't know, we are huge fans of Barrel Maker Printing and visit their production shop whenever we can. Erin and Justin Moore regularly host live screen printing events (and have a stunning website for that side of their business too) and are anchors for the custom printing community in Chicago.
But what really sets their homepage apart is how focused they are on showing their employees. This is a delightful way to create a connection with customers: show the people behind the shirts. They invested in high-quality photos that are intimate and unique – close-ups of their employees' eyes that zoom out to reveal a full portrait when you hover over them.

Users don't just want to trust the people behind Barrel Maker, they want to impress them and connect with them.
The homepage's structure is delightfully simple:
Colorful hero images and a statement of purpose. There's barely any copy on this page, but the copy that is there does a lot. It explains what they do, who they are, what their mission is, and shows their past clients – all in one easy-to-digest place.
Latest Instagram posts. The highly visual theme continues with a simple grid of their latest Instagram posts. Users can quickly connect with Barrel Maker and see what they're up to.
The employee section. Mentioned above, this is prominently displayed on the front page. It's no accident – putting a face to the brand creates an instant connection.
Newsletter sign up and contact form. While Barrel Maker doesn't utilize a traditional call to action button, they do give users a fast and easy route to connect. You can join their newsletter or get in touch for a quote easily straight from the homepage.
Trust Print Shop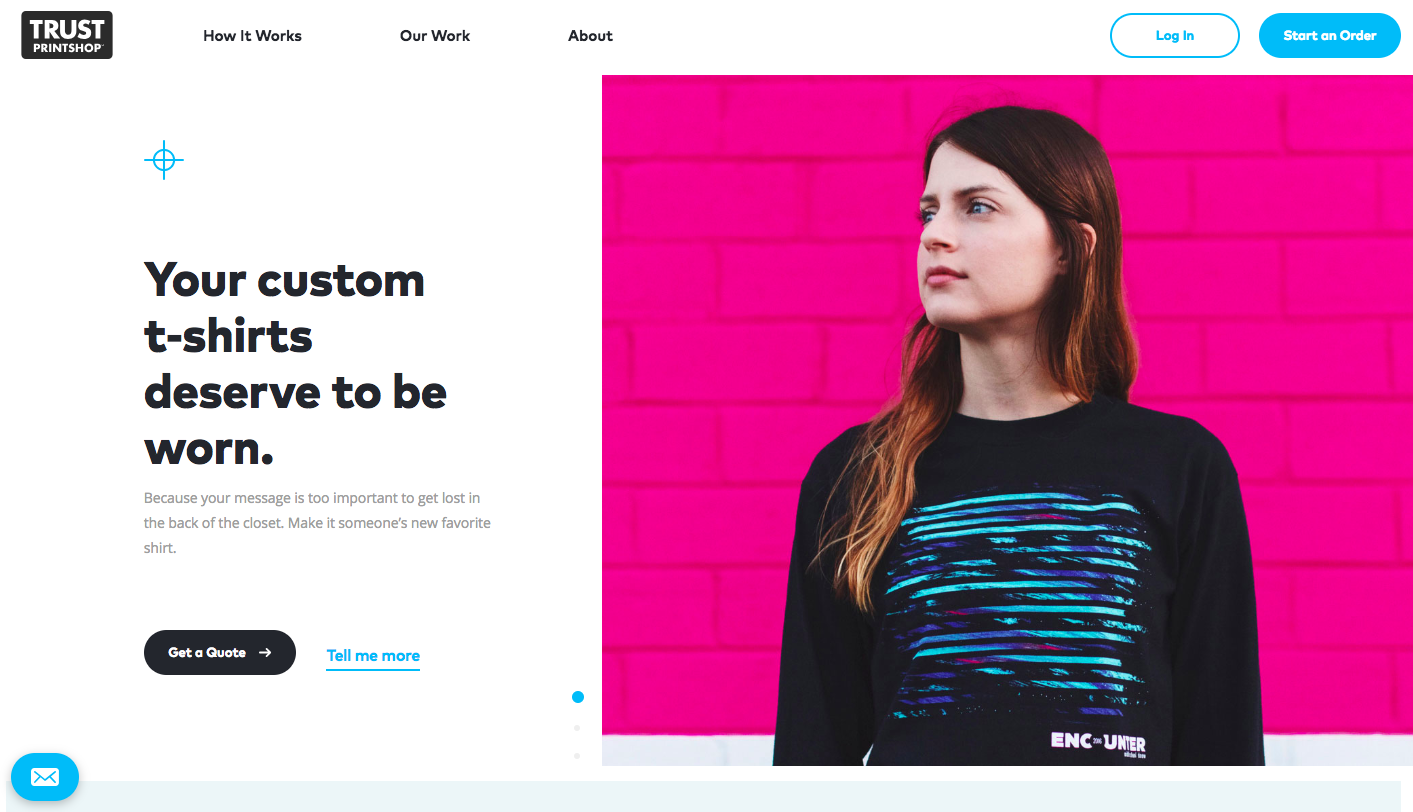 Who: Trust Printshop from Fort Worth, TX
What you can learn from it: Less is more, but making something simple doesn't mean lower quality of interaction
Why it's great: The user can only take a few paths through this website, and all roads lead to contacting the shop or starting your order
What sets it apart: Clean and functional, Trust masterfully demonstrates how a shop can leverage limitations to create a great user experience
Trust Printshop's website is an immediate stunner. It's bright, colorful, and simple. You aren't overwhelmed with options, but are instead funneled toward "Get a Quote" and finding out about the shop's process. Just check out how they only offer 3 menu options:

They show you their logo, offer more info about their ordering process, show off their recent work, and even lead you to more info about the shop's history and employees. But that's it! Nothing to overwhelm you, nothing superfluous – just the basics. By limiting what users can do, the design simplifies the paths that users will take through the site. This means curating the best possible experience for every visitor is a simple and streamlined process: point them toward the (really good) quote generator and leave everything else out.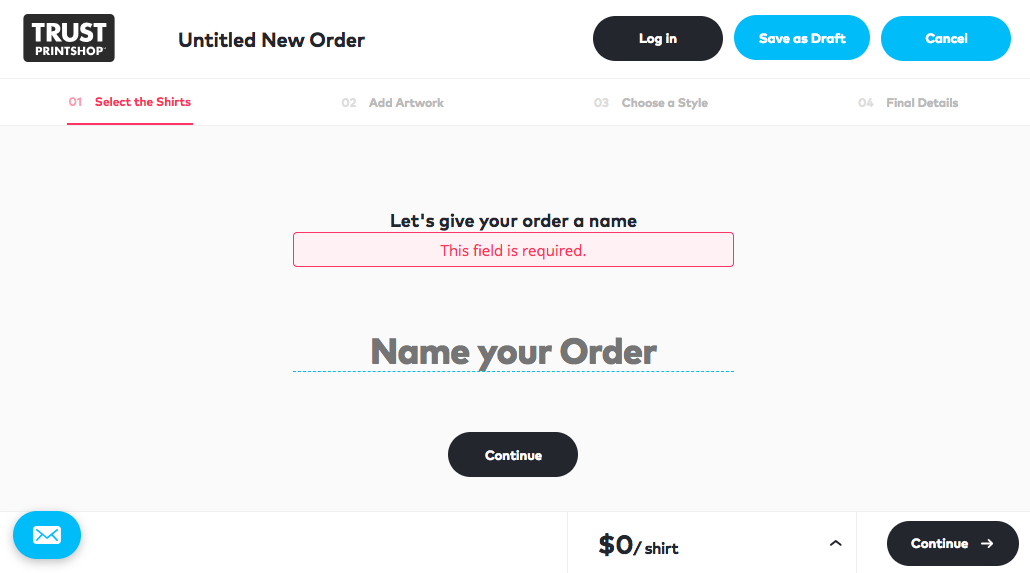 Trust goes a step further with the content on their homepage. It's equal parts persuasion ("We've worked really hard to make the process easier so you can focus on the important things") combined with proof. Here's the moves they make:
Emphasize stress-free ordering for busy people. Trust knows its core audience is marketers and busy entrepreneurs. That's why they emphasize their process as much as their product.
Large pull quotes from reviews. They let the customers do the talking. This strategy is a winner because no one wants to read a sales pitch. But something a customer actually said? That's interesting.
Offer a sample. This is a great technique to show how serious (and trustworthy!) Trust Printshop is. You can drop in and get "your new favorite shirt," for free. Now that's a serious hook!
Custom Ink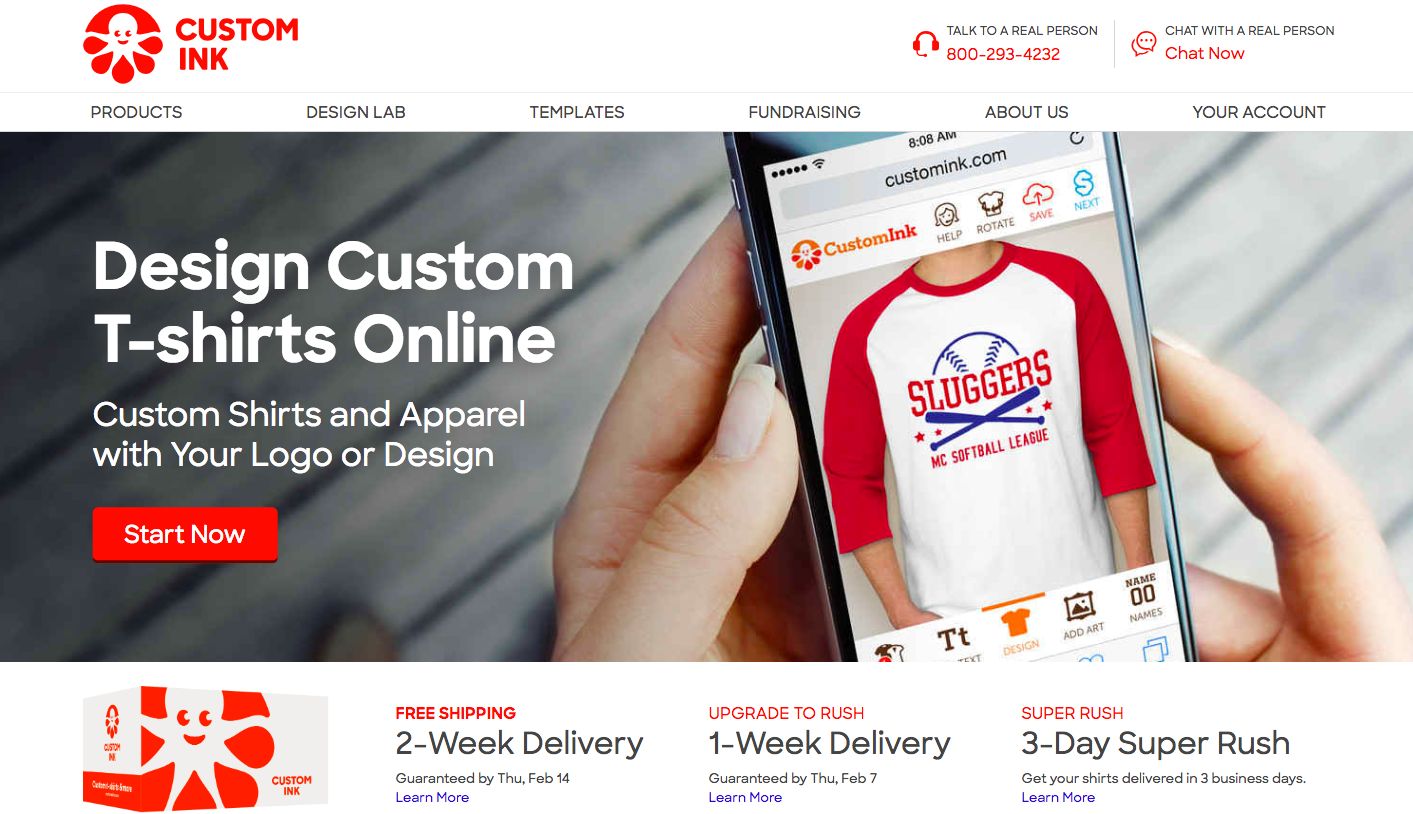 Who: Custom Ink from Fairfax, VA
What you can learn from it: See how a truly large corporation (~$300 million yearly revenue) uses design to communicate
Why it's great: There's absolutely zero ambiguity: you're here to buy and design custom t-shirts
What sets it apart: Custom Ink's site is the product – it's not about the garments here, it's about getting the customer to start their order
Wait a second, what's this doing here?
Yes, we're going to give credit where credit is due – Custom Ink has put in the work to design a slick and wildly useful website. The simple "self-serve" nature of their website is something a small operation simply can't expect to pull off. But there's still plenty to learn from what Custom Ink does.

They have to get their website right, after all. It's the backbone of their business, and it's certainly possible to make the argument that Custom Ink's product is their website. But there are several interesting moves they've made that are worth considering:
Their hero image is someone using their product. Not the shirt – but their custom mobile designer. Contrast that to the hero images of the other shops. It's less "authentic," but equally informative ("You can use your phone to design your shirt!")
Extreme clarity about next steps. The "Start Now" button isn't just a call to action – it's basically the only thing a user can interact with. You have no choice but to get started!
"Talk to a real person / Chat now." This is a great move. Custom Ink is accomplishing two things here: they're putting their service and contact info right there, and they're showing that customers can get help immediately if they need it.
Shipping options. Custom Ink begins the upselling process right from the start. 2-week delivery is "good," but you can upgrade and get your new shirts even faster! The specific completion dates give concrete information that customers can act on.
Custom Ink's website isn't beautiful. But it is well-designed. It's useful, offers customers instant gratification, and is simply one of the most trafficked screen printing websites on the internet. There's plenty to learn here.
---
Did we get it right?
With the infinite creativity and capability of screen printers and custom printing shops, websites are just another facet of a successful business. But they're more important than ever, and you can learn a lot from the people who've nailed their web presence. Entire brands have been built around little more than a printing press in a garage and a great website design!
But we're sure that we missed something amazing.
Want yours considered, or think you've got a great candidate? We'll keep updating this article as we discover more amazing screen printing shop websites.
Leave a comment below or reach out to us on Instagram!