Screen printing machines, also called screen printing presses, are the most productive piece of equipment in any screen printing business.
Understanding the screen printing industry can take time. There's no central place for reliable information – so we've compiled the info you need to learn more about screen printing presses.
This article will cover:
What to know about screen printing presses (including common terms and how they work)
Where to look for screen printing machines
The major manufacturers of screen printing machines
The best brands and screen printing machines on the market
Where to learn more about screen printing
With the right screen printing press, you'll be able to print thousands of t-shirts, hoodies, raglans, uniforms, boxes, and just about anything else you can imagine for fun and profit.
What is a screen printing machine?
Most automatic screen printing machines work by printing an image on t-shirts with a set of automatic squeegees that pull ink through a nylon mesh screen. The t-shirts are placed on rotating print pallets (or platens), moving around the press until the shirt has had each color of the design printed on it.
The typical screen printing machine layout has print stations arranged like the spokes on a bicycle wheel around a rotating pneumatic (or electric) center. Each spoke represents one print station.
Screen printers will refer to machines by the number of screens (or colors) and print stations (or platens) the machine has. For instance, a screen printing machine that's referred to as a "6/4 press" would have 6 screens and 4 stations. The same basic logic applies to automatic screen printing machines.
Note: a screen printing machine typically prints fewer colors than it theoretically can. This is because screen printers need cooling stations (where the shirt pauses temporarily before being printed on again) and flashing stations (where the shirt is cured for better printability) to print effectively.
From giant oval-shaped screen printing machines designed for high-volume printing in Asia to compact automatic printers for novelty items like beer koozies and hats, there's a lot of variety!
But the big takeaway here is this – there are two types of screen printing machines. Manual and automatic screen printing presses. The difference is that an automatic press actually moves the squeegee over the screen (instead of having a worker do it).
Screen printing businesses typically begin by printing manually, then upgrade to an automatic screen printing press once their business has grown large enough (more about that later).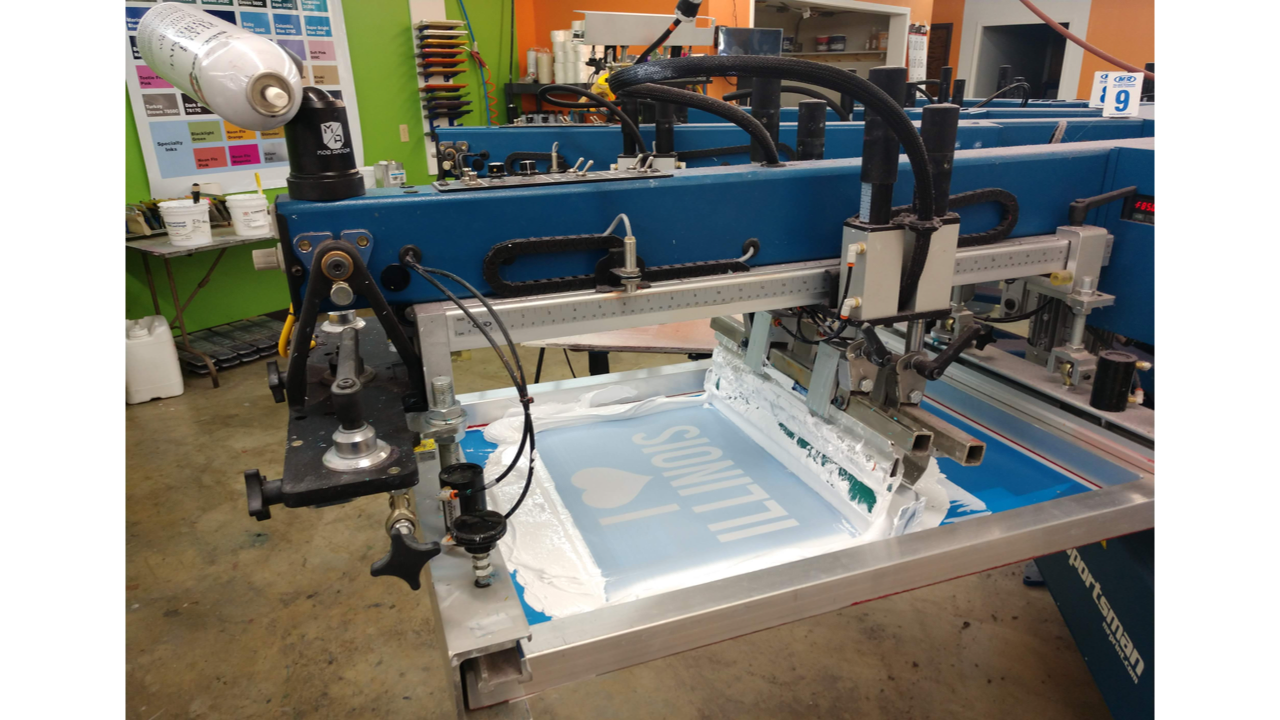 Why buy a screen printing machine?
Screen printing is everywhere. A burgeoning industry conservatively estimated at $9 billion yearly in the US alone, screen printing is used for far more than custom t-shirts.
Printers across the world are printing for marathons, sports teams, school districts, unions, local governments, and hundreds of other clients. Screen printing has specialized applications in technology, consumer electronics, cars, building materials and dozens of other industries.
On-demand digital hybrid printing and the advent of simple and affordable online stores has created a new gold rush to find the best solution for instant fulfillment of custom t-shirts and other printed garments.
Automatic screen printing machines make manual screen printing obsolete. Instead of forcing a worker to pull a squeegee thousands of times (leading to exhaustion, burnout, and even carpal tunnel syndrome), the machine pulls the squeegee with perfectly consistent speed, pressure, and angle every time.
If you want to make more money screen printing, automatic screen printing machines are how large-scale, high-volume merchandising happens.
When should you buy an automatic screen printing machine?
Purchasing a large automatic screen printing machine can be a pricey investment, easily running into the tens of thousands of dollars for a complete screen printing setup.
There's a huge variety of companies that manufacture screen printing machines. There are also companies that manufacture traditional "manual" screen printing machines – a typical starting point for a business that's starting off with screen printing.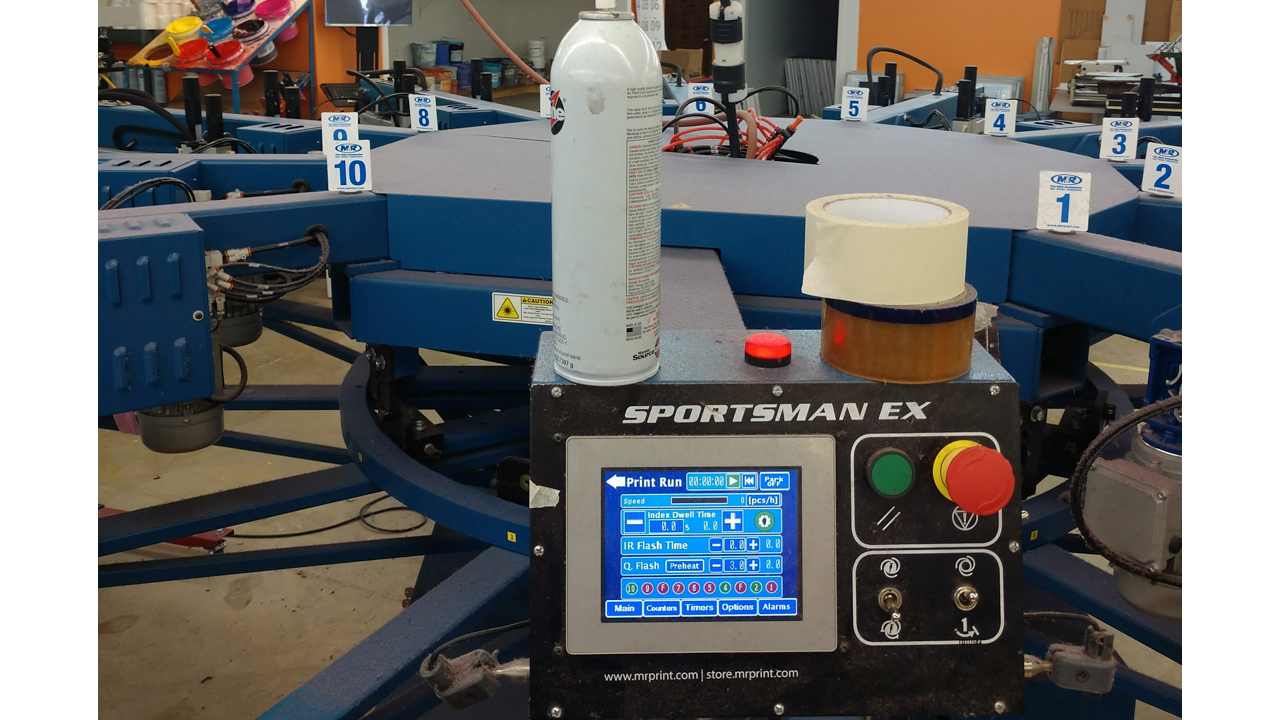 Besides the press, you'll need to invest in equipment to complete the screen printing process:
Dryer or heat press. This cures the ink you print onto t-shirts by using heat (typically around 350 degrees F).
Printer for transparent film printing. To burn your screens, you'll need a printer that can print on transparent films.
Flash curing unit. If you plan to print more than one color, a flash unit will be indispensable for curing shirts between colors.
Lightbox or exposure unit. You'll need to be able to expose your screens to UV light to harden the emulsion.
Good screens. Your prints start with your screens – so be sure you're investing in them.
Software for art separations and shop management. There's great software for screen printers available that can make shop management (invoicing, quoting, managing jobs) and artwork separations much easier.
There are multiple all-inclusive screen printing starter kits available from several distributors. We'll discuss those further down. Be aware that screen printing has a higher cost of entry than most hobbies – and if you're tasked with screen printing for a client but have never screen printing, it's easier (and better) to use a local print shop.
Who makes screen printing machines?
Before you rush out and buy your first screen printing machine, get the lay of the land and feel out which brands cater to your sensibilities.
There are three widely-respected screen printing machine manufacturers: M&R, ROQ, and MHM. There are also other manufacturers worth mentioning.
Remember that your business plan should come before your technology plan! Screen printing is an extremely expensive hobby – but a very lucrative business opportunity.
Here are the major manufacturers of screen printing machines:
The M&R Companies
The M&R Companies manufacture a robust line of blue screen printing machines and equipment. We visited their facility and took a tour – check out the video above!
In business for more than 30 years, this Illinois company has a 350,000 square foot facility with more than 500 employees. M&R is widely considered one of the top manufacturers of screen printing presses. There's a robust market for used screen printing equipment, and M&R machines are known for their desirability and resale value.
Painted a distinct blue, these screen printing presses are known across the world. M&R has invested heavily in fabrication and machining capabilities, producing uniquely high-quality machinery that has developed a reputation akin to Honda or Toyota. They're reliable, simple, and built to last.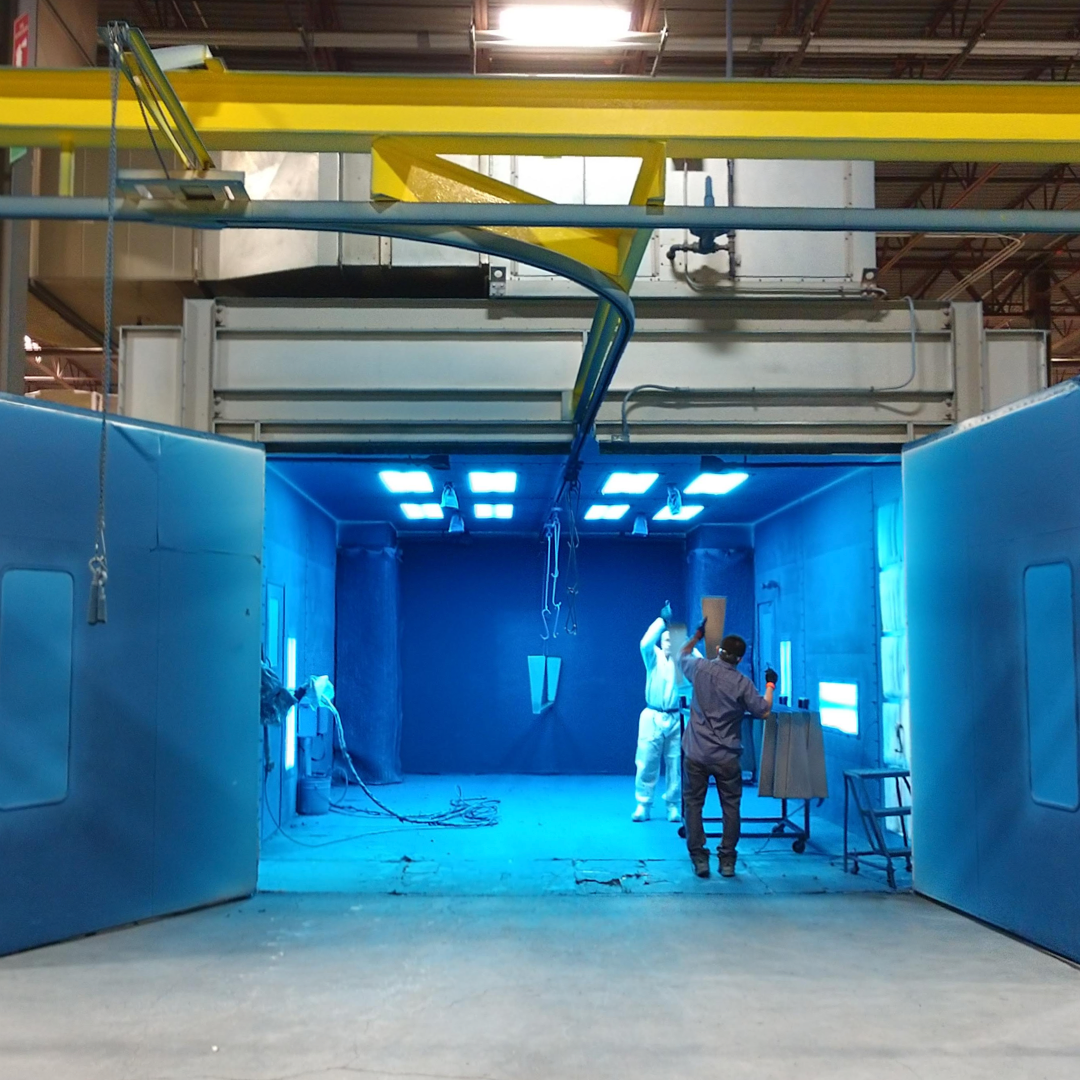 All of M&R's screen printing machines come in various sizes, allowing the customer to build a solution to meet their needs.
You can specify the number of print stations on most models. Interestingly, each machine is made-to-order for every customer – you aren't buying these off a lot. They're handmade just for you.
Their line of automatic screen printing machines includes: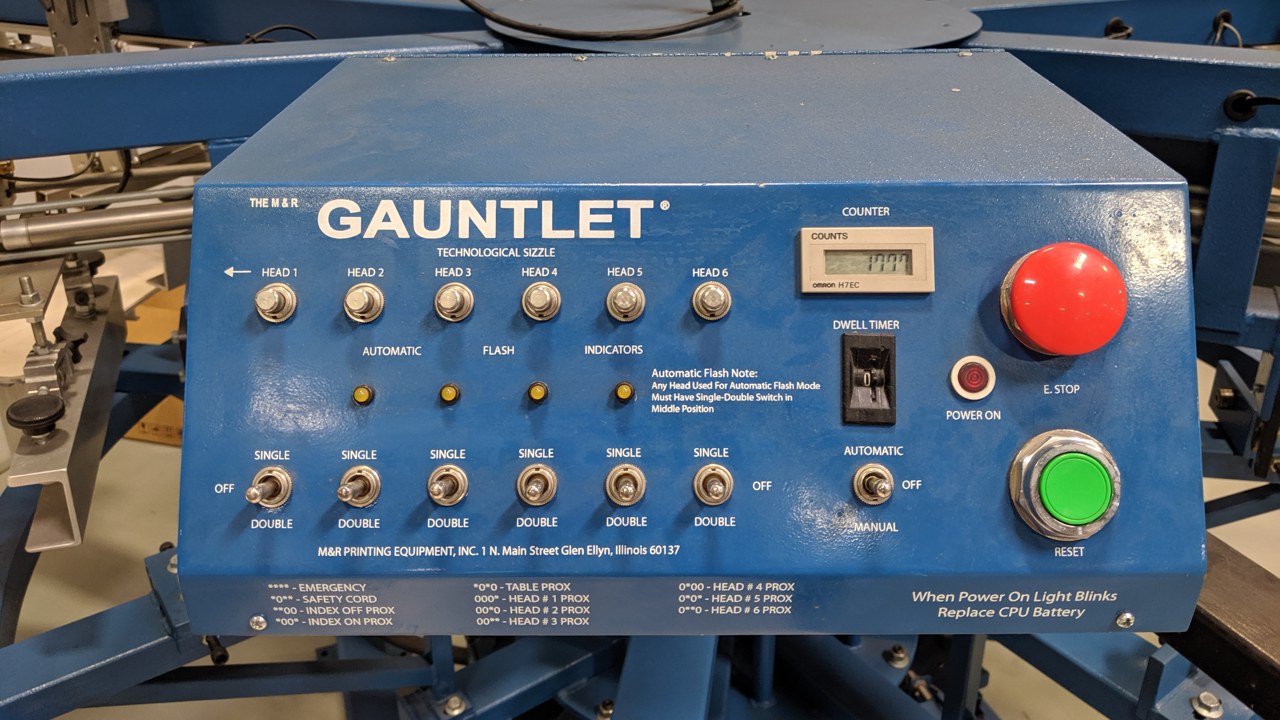 M&R Sportsman: An affordable option, the Sportsman line of screen printing machines are an industry standard.
M&R Diamondback: Another affordable option, lots of print shops start with Diamondbacks.
M&R Challenger: A revolutionary screen printing press since the 1980s.
M&R Gauntlet: The screen printing machine that changed the world, Gauntlets have been in operation for decades.
Other M&R screen printing machines: M&R manufactures large oval-shaped units for high-volume production that can expand to have hundreds of t-shirts on-press at any given moment.
Visit M&R and learn more about their trusted lineup of screen printing equipment here.
Ryonet

Since 2004, Ryonet has led the way for online sales and distribution of screen printing machines and equipment. Started by Ryan Moor after his experiences with merchandising for punk rock bands (including his own band), Ryonet offers a youthful and positive take on the garment decoration industry.
Ryonet owns screenprinting.com and has a robust video library of how-to videos – some with millions of views. They're very much the face of screen printing on the internet, but their supply chain and distribution management has taken the business to new heights in the past few years.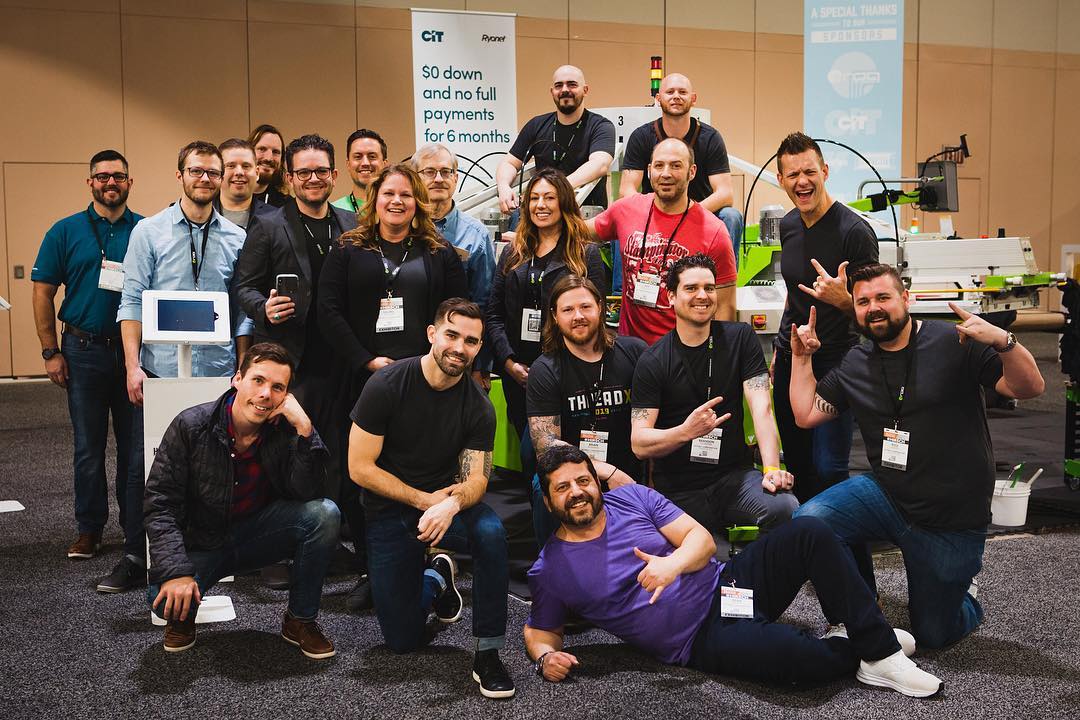 Ryonet has partnered with Portugal's ROQ and US-based Riley Hopkins to sell screen printing machines across North America.
They also have an extensive stock of screen printing starter kits, inks, screens, emulsions, supplies, and much more. It's also worth noting that Allmade Apparel falls under the Ryonet umbrella – they promote ecologically-friendly t-shirts and garments made for fair wages in Haiti.
ROQ
A Portuguese company known for their trademark bright green color, ROQ International services 70 countries and has more than 450 people on staff.
They've enjoyed 20% compounding growth for the past 12 years, and have made significant inroads toward becoming one of the world's most trusted manufacturers of screen printing machines.
The company changed its name from S. Roque to ROQ, and has focused their manufacturing process on making their machines easy to maintain and service. ROQ has ventured into the international market, and built a worldwide service and supply network. That means parts and supplies are typically close by – wherever your print shop is.
We visited ROQ's awesome facility outside of Porto, Portugal during Ryonet's first annual ROQ Adventure Summit. Truly an amazing journey!
ROQ also makes folding and packing machines for t-shirts and garment decoration. These impressive machines tend to get a lot of positive feedback and are truly incredible to see in person (see it in action in the video above).
ROQ's machines are known for retaining their value over long periods of time. They're also known for having incredible reliability records. To use another car comparison, ROQ is a bit higher end – think Lexus rather than Toyota – and ROQ loyalists are a vocal, serious, successful bunch.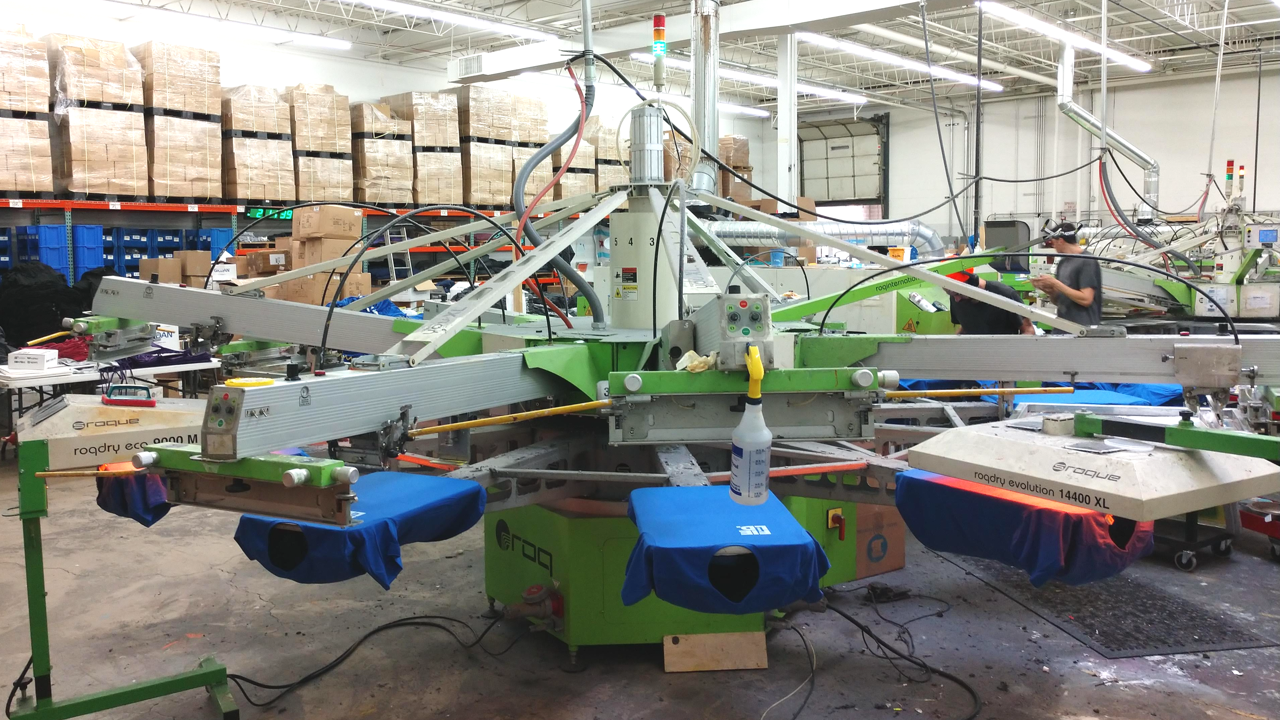 Their lineup of screen printing machines, similar to M&R's lineup, is customizable according to the needs of the print shop.
ROQprint ECO: Award-winning machine capable of printing around 1,300 units an hour. 10 to 20 colors.
ROQprint YOU: "Fast, reliable, durable," this mid-range screen printing machine is ubiquitous. 8 to 20 colors.
ROQprint NEXT: Is a "20% more productive" screen printing machine. Next-generation tech, 8 to 20 colors.
ROQprint NANO: An automatic machine for small print purposes.
ROQprint OVAL: A large-scale, high-volume machine with an oval shape instead of a circular shape. Known for printing multiple jobs at the same time.
Ryonet partners with ROQ to distribute their screen printing machines in North America. ROQ distributes the machines throughout the rest of the world.
Riley Hopkins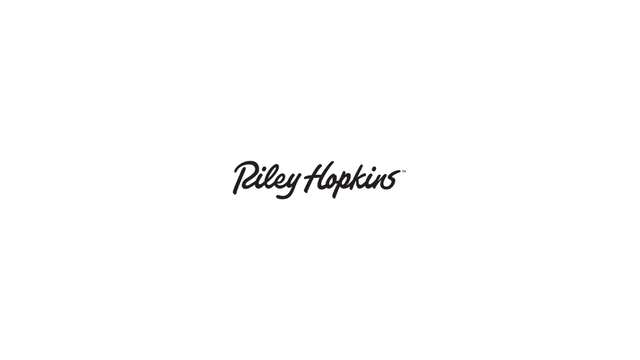 Riley Hopkins screen printing presses are how a lot of people start screen printing – and hundreds of these presses are still in use even when the print shop has an automatic press. They're highly reliable machines, known for longevity and durability. Riley Hopkins presses are also highly customizable.
Riley Hopkins, in partnership with Ryonet, offers the following screen printing presses:
Riley Jr Table Top: a one-station screen printing machine designed for beginners, can be mounted on a table. Around $600
Riley Jr Multi-Station: a multi-station screen printing machine mounted on a table. Around $2,000
Riley 300: Highly customizable professional screen printing machine, up to 8 colors. 6 stations. From $4-6.7k
Riley 350 (pictured below): From $4-7.6k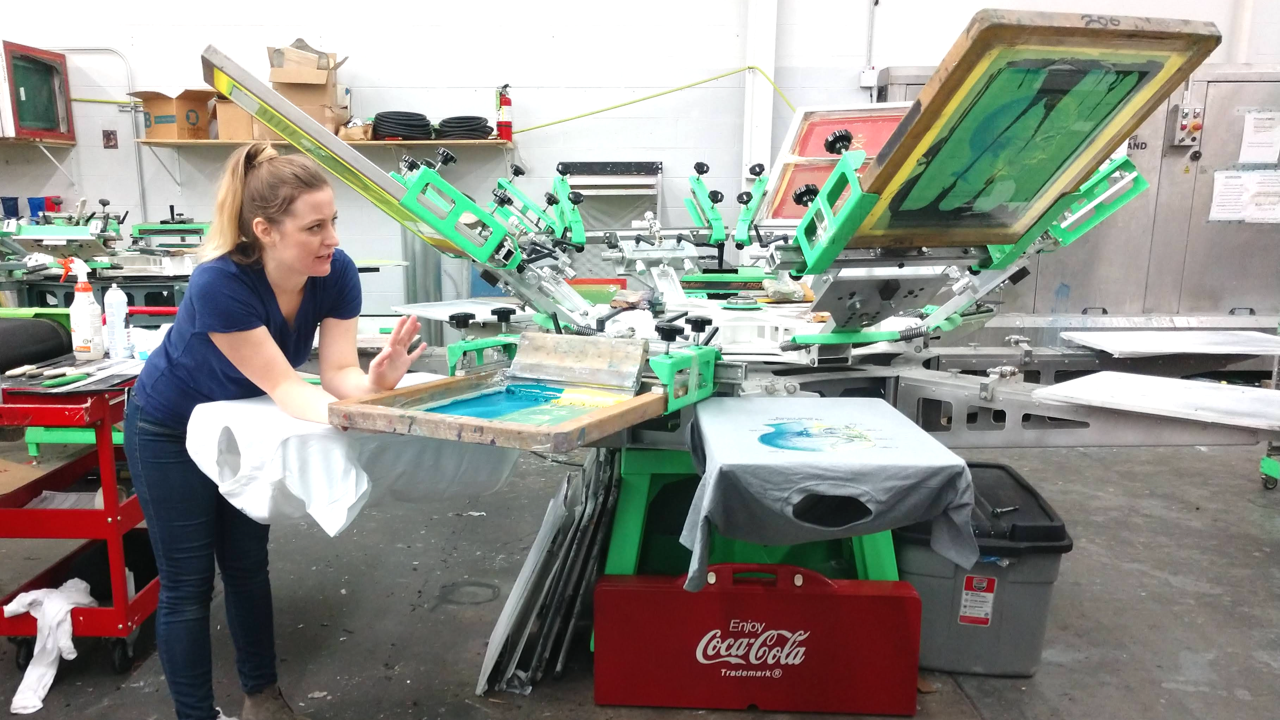 With optional micro registration, Riley Hopkins manual screen printing machines are professional production-grade equipment that can print beautiful and complex designs.
Their famous and affordable Silver Press has jump-started thousands of screen printing businesses.
MHM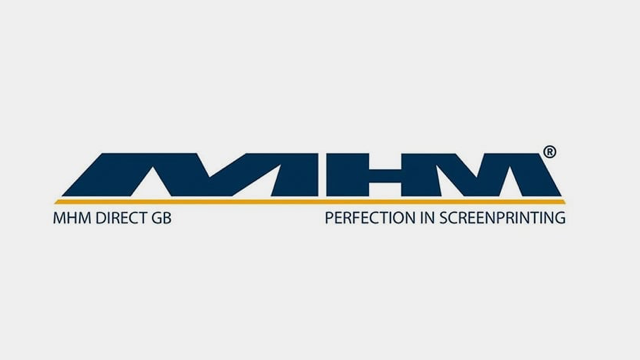 An Austrian-based company, MHM manufacturers screen printing machines that are widely considered some of the finest the industry has to offer.
They're known for being designed with the press operator and printer in mind. MHM's screen printing machines have many top-of-the-line features including:
An adjustable print area for printing large or small prints
A motorized screen positioning system that "remembers" where screens go
"GOTO" function (allowing a press operator to adjust all screens at once)
Push-button pallet change feature
Fast squeegee change-overs
Centrally controlled off-contact
And a unique pin-locking registration system that allows for super-fast setups and super-tight registration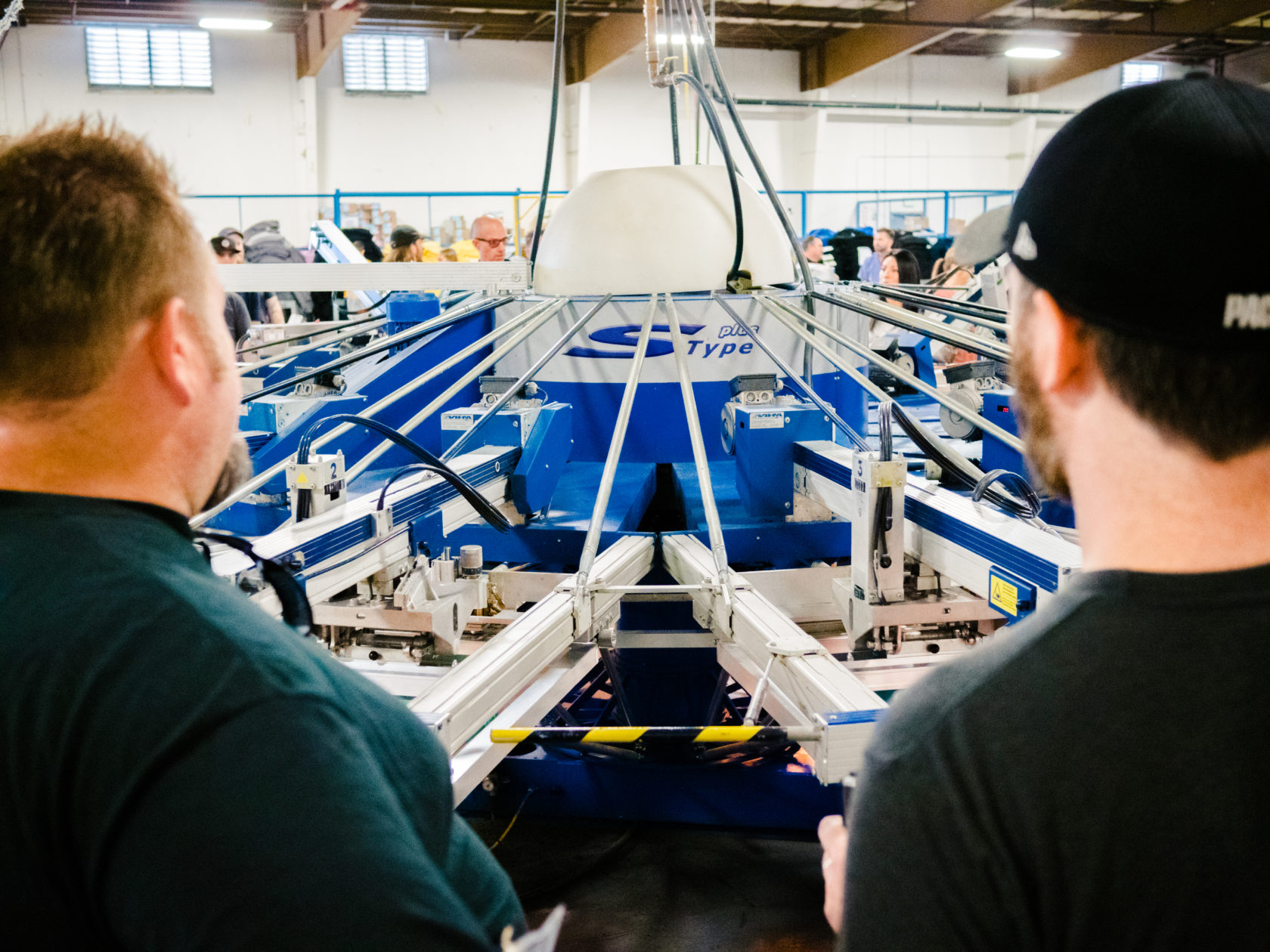 MHM manufactures several tiers of presses, most notably:
Synchroprint 5000. Their flagship medium-to-large screen printing machine. The latest model includes a detailed suite of software to manage the press.
X-Type Plus. With 6 to 12 colors, this high-performance midrange press is widely respected.
S-type X-treme. 8 to 16 color presses designed for high-volume printing.
IQ-Oval. Expandable and capable of fitting dozens of print stations, these presses are popular in Asia and are known for printing multiple designs and garments simultaneously.
MHM had been distributed in the US via Hirsch. However, that partnership has since lapsed. MHM is now distributed in the US through SPSI, which has dedicated itself to providing top-notch service and sales throughout North America for the Austrian company.
It's obvious that MHM designs their screen printing machines with the press operator and screen printer in mind. The print station is specifically designed for ease of use and simplicity during production screen printing.
Lawson Screen and Digital Products Company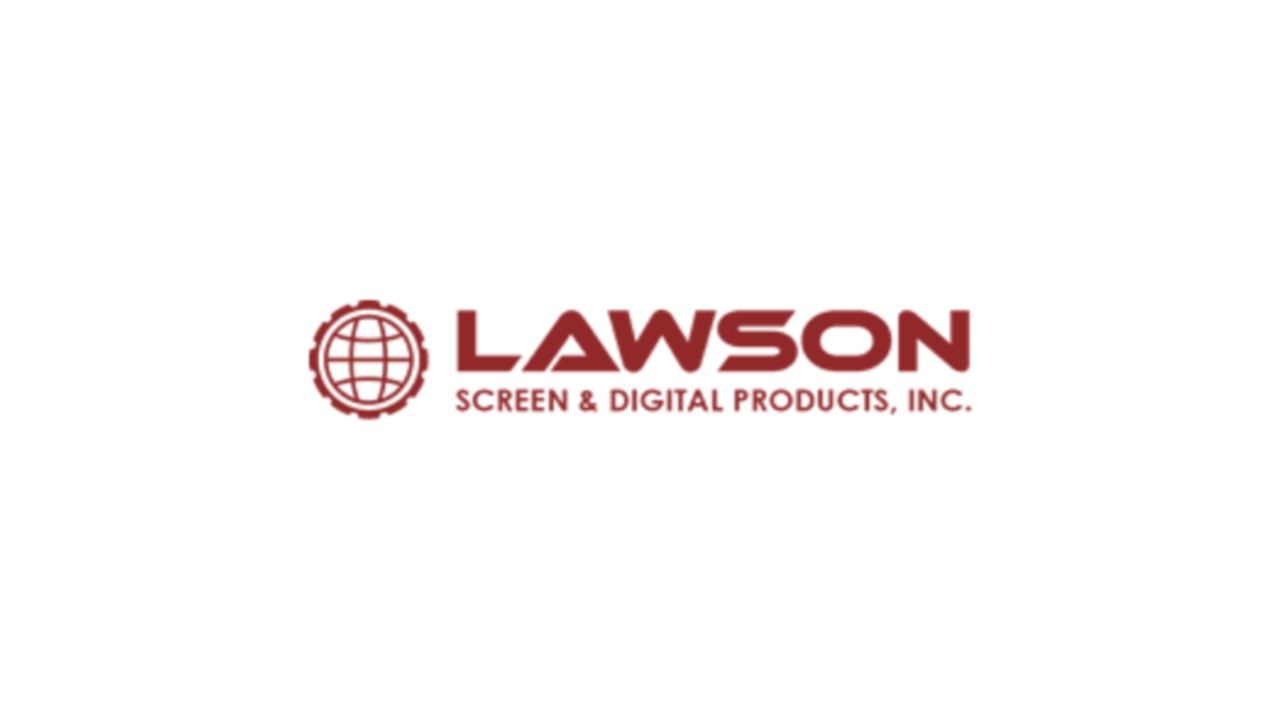 Founded in St. Louis, MO in 1949, Lawson is a well-known supplier and manufacturer for the garment decoration industry. Lawson's automatic screen printing machines are focused on ease of acquisition and rapid setup time.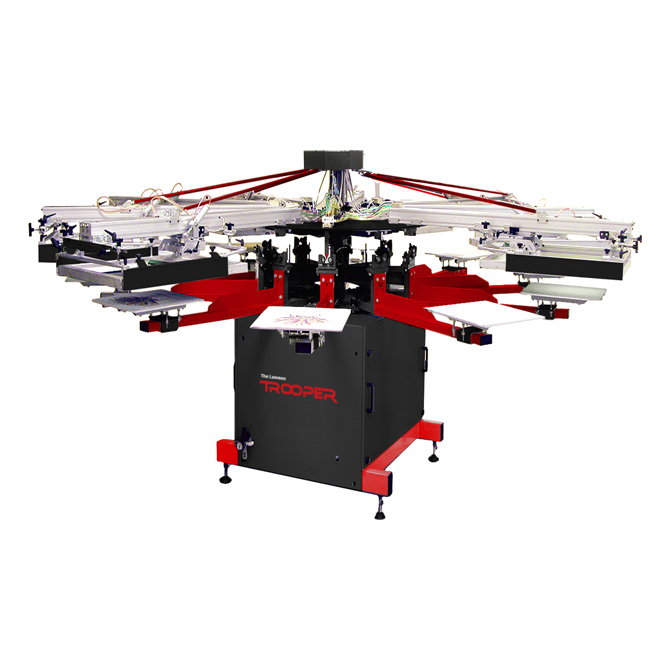 Trooper Express: This machine ships fully assembled, so very little setup time is spent putting it together. 2 colors.
Trooper PC Automatic: 4 colors. Proprietary software, high productivity rate.
Trooper XL: Up to 8 colors.
Lawson also boasts a wide range of equipment and supplies for screen printing: from screens to exposure units to flash units. They also buy and sell used screen printing machines.
Lawson also manufactures a line of manual screen printing presses that are renowned. The 1980s-era Lawson press at Campus Ink has been in service for more than 30 years (and has the lint buildup to prove it – see below).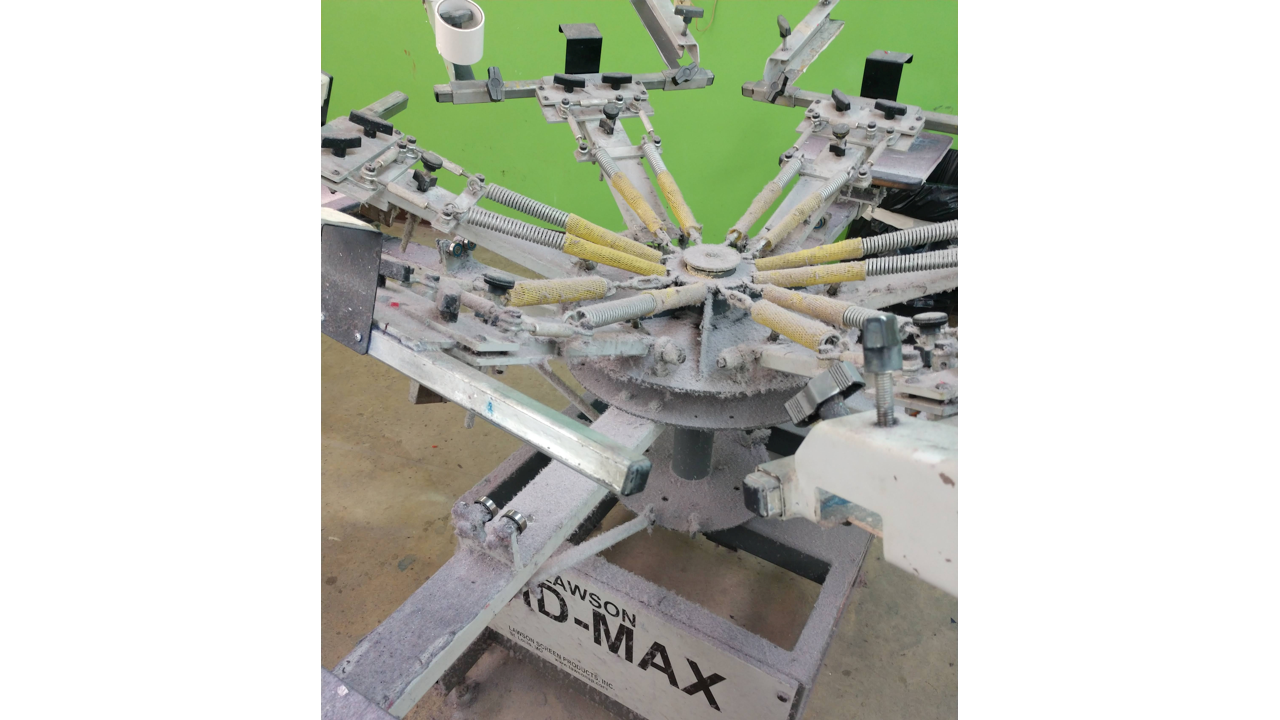 Lawson, like many other screen printing machine manufacturers, custom builds their machines. You can work with Lawson to get a press that's made exactly to your specifications – their machines vary in size and allow screen printers to order more printing stations.
Anatol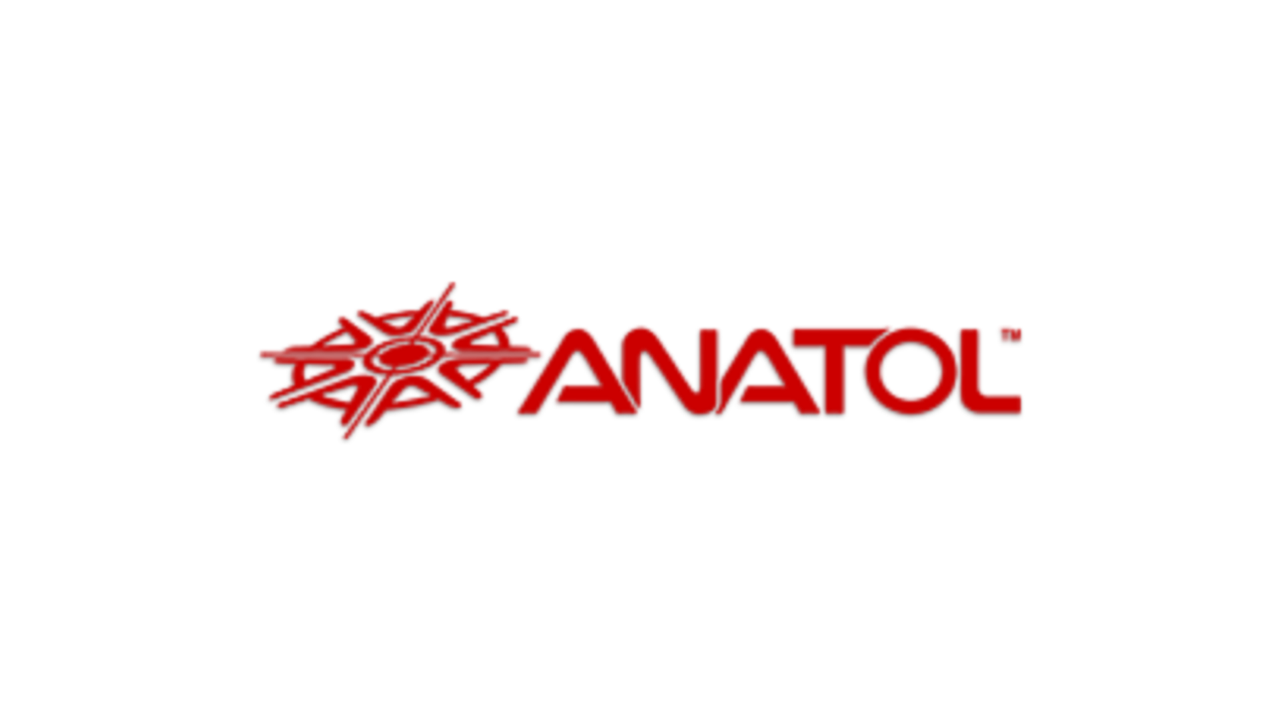 Anatol, founded in 1982, has focused exclusively on screen printing manufacturing since 2003.
They've developed screen printing machines that are "the safest and most user-friendly." Their machines are sized from "S" to "XL," just like garments. Anatol has also led the charge in having presses with a computerized press operator interface. The on-press tablet allows granular control over a variety of settings such as squeegee speed and angle.
Anatol has also broken the mold by using electric components to drive their Volt screen printing machines instead of pneumatics and hydraulics. This means their presses are quieter than most models (there's no noisy hydraulic or pneumatic components or compressors).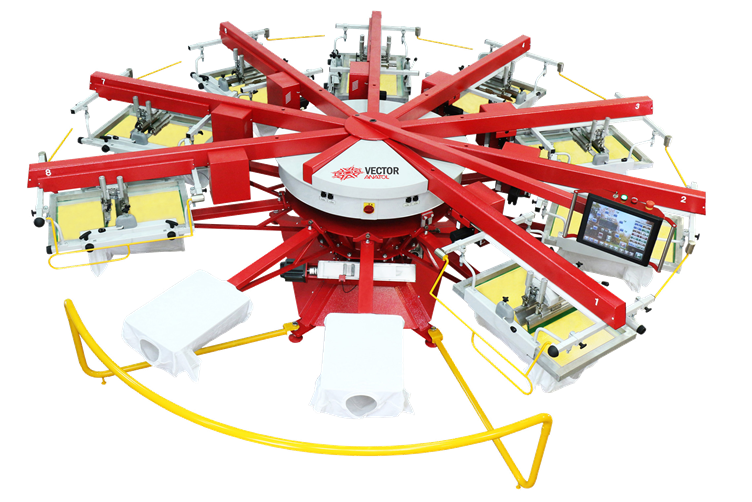 They currently offer the following models:
Volt: With a large print area and all-electric construction, the volt is Anatol's cleanest offering. Up to 20 stations and 18 colors.
Vector: Anatol claims this screen printing machine uses less air to operate its pneumatic squeegees. This saves on maintenance and acquisition costs. Up to 20 stations and 18 colors.
Titan: "Small but mighty," these presses are built for industrial production. Up to 12 stations and 11 colors.
Anatol's bright red and yellow presses are a very reasonable option for anyone shopping for a small-to-medium sized screen printing machine.
American M&M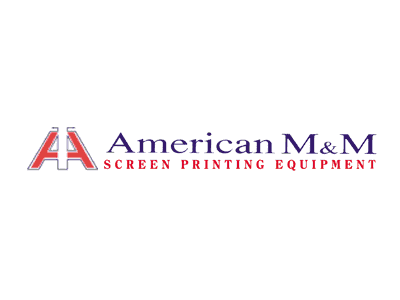 Based in Chicago, American M&M is a popular choice for high-quality screen printing products for graphics applications.
American M&M is now part of the larger A.W.T. World Trade which is a larger screen printing manufacturer.
You'll find the following graphic (read: printed media) screen printing options through American M&M:
Cameo: Known for speed and durability with high accuracy. Very versatile and user-friendly. A great dependable option for beginners.
Daytona: State of the art technology with a flatbed screen printer. Smaller size than other options with the same capability. Minimal setup time.
Hercules: Multicolor press that can use up to 7 colors. A very accessible machine with outside loading heads for double checks and accuracy.
S-912: Compact and on wheels, this screen printer is great for those starting out or who need to fit an extra printer in a confined space.
Vanguard: A high-performance machine with new technology that is both tool-free and easy to use. Great for those experience screen printers who want to improve output.
Viking: A large screen printer for a serious business. Viking mix technology with production for great operation.
American M&M also offers several traditional screen printing machines for custom t-shirts and garments:
Centurian: A state of the art textile printer that can print up to 75 dozen garments per hour. The Touch-Screen Interface makes programming and operation easy.
Rototex: A smaller textile printer that has a lower profile and rotates to save production time.
X-Press III: This innovative machine can handle up to 14 colors on 16 stations. This option has been engineered from the ground up with the best features included in standard options.
Digi-Tex: Used primarily for those screen printers who specialize in jerseys and sportswear. Includes a split-pallet feature that makes printing faster and easier.
The X-Press III is comparable to similarly sized M&R, ROQ, and MHM units. However, AWT's machines are much less common than the major manufacturers. We suggest finding a shop that uses M&M machines and inquiring about them first-hand.
Workhorse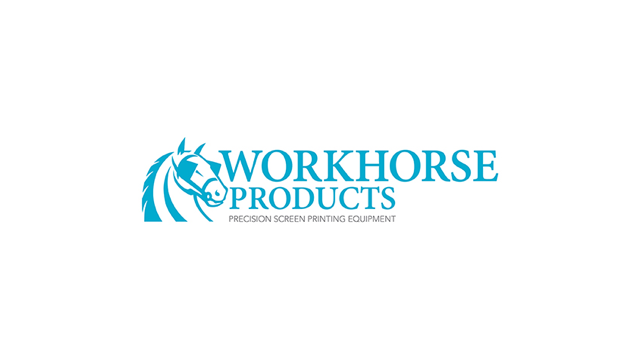 Headquartered in Phoenix, AZ, Workhorse Products focuses on providing equipment for the printing industry through local dealers. With regional districts and on-demand sales and service, the Workhorse brand has gained popularity in recent years.
Workhorse has specialized in aggressively marketing to and supporting small-to-medium sized screen printing businesses. There is a real niche for affordable screen printing machines that can meet the needs of entrepreneurs.
Workhorse treats their pricing is a bit differently than other manufacturers – they typically display an MSRP (even on vendor websites) – while other major manufacturers will only provide quotes to qualified candidates.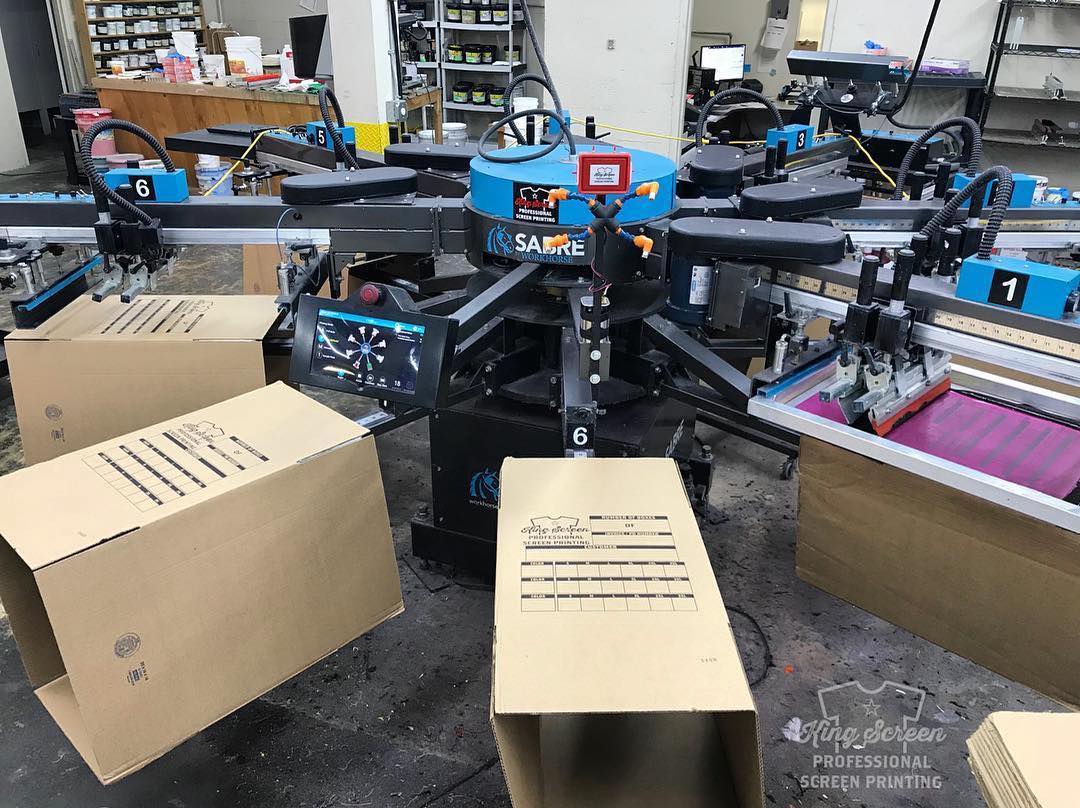 Check out these screen printing machine options from Workhorse:
Freedom Express: Great for those new to the world of screen printing, the Freedom Express features a 15″x15″ print area and has a fully pneumatic press assembly. The operating system helps press operators print fluidly and reduces user error. Priced around $23k depending on the options you choose.
Cutlass: Available in a 6 color, 8 station setup or an 8 color, 10 stations setup. Good performance along with fast printing makes this a great investment. Ranges from $30-$36k.
Sabre: 4 models to choose from, ranges from 6 to 12 print stations. The Sabre competes with ROQ and M&R's middle-sized presses. Priced from $37k to $70k+ with all options.
We remain impressed by Workhorse's interesting computerized press management system.
They relay statistics about productivity through a web portal directly on the press. This sort of software for screen printing is likely the next horizon for the industry's integration into cloud-based production management systems. It's obvious that Workhorse is situated for growth in the coming years.
Vastex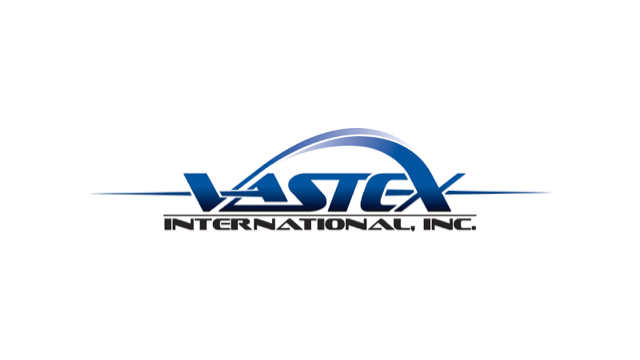 Started by a husband and wife team in 1960, Mike and Fannie Vasilantone have innovated numerous solutions for the growing screen printing industry. Their company has grown and now resides in Bethlehem, Pennsylvania and is run by their son, Mark Vasilantone.
Vastex is committed to providing high-quality products as well as educating those who want to start their own screen printing business. Vastex University offers the widest selection of screen printing classes in the nation and is a valuable tool for newcomers.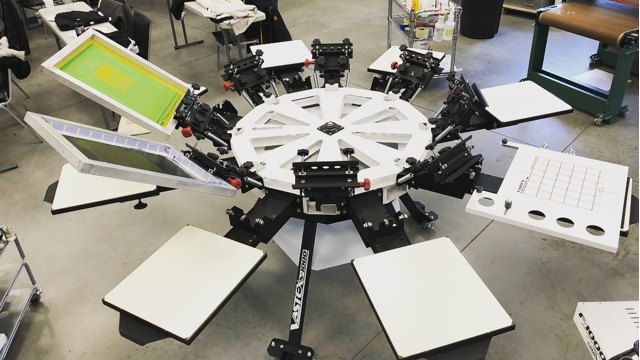 Vastex's top-of-the-line manual screen printing presses are considered the industry's finest.
They are crafted to last for 25 years or more of service.
But Vastex also offers several tiers of manual screen printing machines, each with their own use cases. Consider the Vastex lineup:
V-100: This tiny press is a good option for those on a tight budget or mobile shops. 1-4 stations and colors.
V-1000: A small manual unit that is rated for commercial use. The unit can be expanded up to 8 colors when desired.
V-2000HD: With an astounding 25-year warranty, this manual screen printer is incredibly well made and ready for high production. 1-10 stations and colors.
Vastex currently doesn't manufacture any automatic screen printing presses. Instead, they help businesses select ROQ presses that will meet their needs once they've outgrown their manual press. They're worth mentioning because of their wide variety of products – screens, emulsion, other supplies, and even hands-on educational opportunities.
How much does a screen printing machine cost?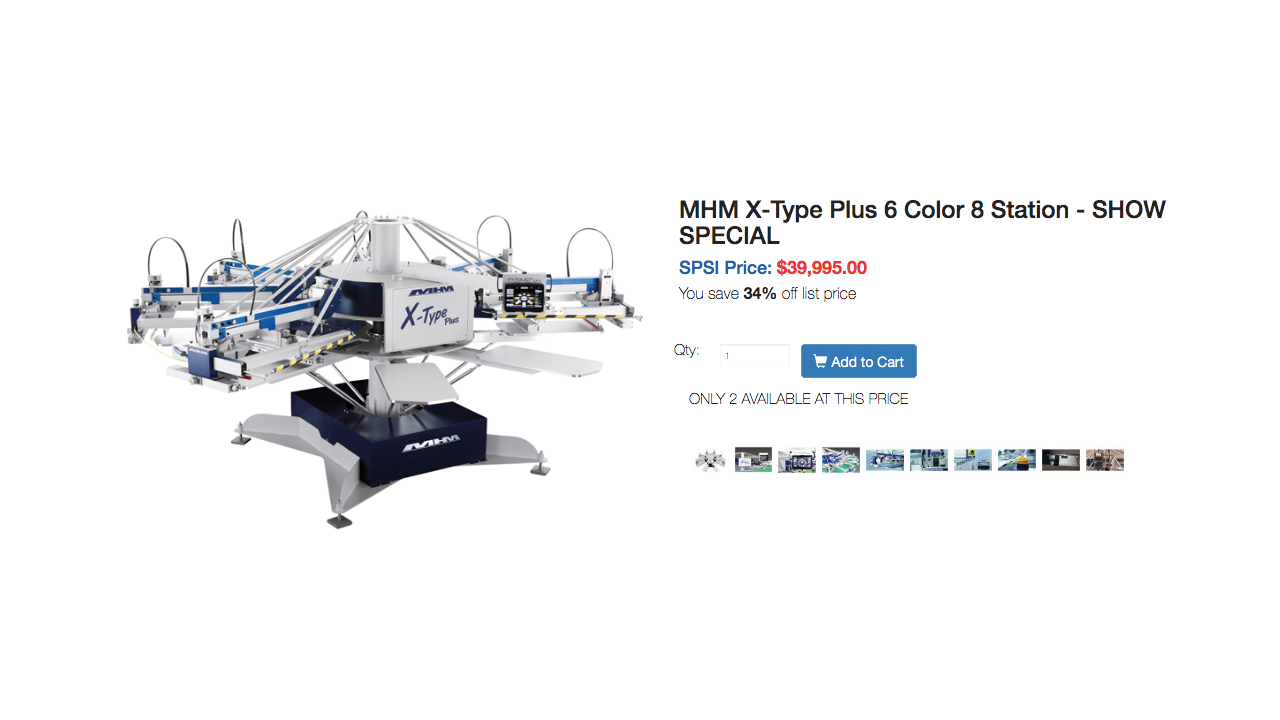 This is a hard question to answer – each manufacturer prices their machines differently.
However, a new automatic screen printing press from a major manufacturer like M&R, ROQ, or MHM costs between $30,000 and $80,000 for anywhere from 8 to 16 printing stations.
Manual screen printing machines can cost as little as $1,000. Costs vary depending on how many print stations you want, how many colors (or screens) the press can hold, and whether the press has fancy upgrades (like micro-registration knobs or pneumatics).
Automatic screen printing machines, when purchased new, cost from $15,000 for the smallest models to $80,000 for top-of-the-line printing presses. Cost varies according to the number of print stations, the number of colors (screens) the machine can print, whether a flash curing unit is included, and which manufacturer options are selected.
Some recent examples of screen printing machine prices:
DigitSmith, an outlet for used equipment, listed a used M&R Sportsman EX 8 color, 10 station press at about $50,000 (no year indicated, fairly modern and new press).
MHM has offered a new X-Type Plus (6 color, 8 station) at about $40,000 (pictured above)
A well-used 2008-model M&R Sportsman 6 color, 8 station listed for $19,000 online recently
Another shop sold two ROQ presses (both large 10 color, 12 station units) for a little less than $120,000
The goal here is to show that screen printing machines vary wildly
Like buying a car, you can always opt for used screen printing machines. One quick tip: be sure you get the right documents proving ownership of the machine. Consult with a lawyer about any large purchases like an automatic screen printing press.
Remember: costs can balloon quickly when you factor in the cost of your curing dryer, the cost of technology for coating, burning, and reclaiming screens, and the variety of modifications you may need to do to your facility.
Like buying a car, there is lots to know before you buy a used machine. Screen printing machines are typically sold new, but the used market is robust. There, you'll want to know:
The year the press was manufactured
How many impressions the press has (presses often have millions of impressions)
Whether the press comes with squeegees and floodbars
Whether the press comes with pallets
Whether there's a flash unit for curing included with the press
Any repairs or major maintenance that's needed
Whether your building can handle the electrical load
What's the best screen printing machine?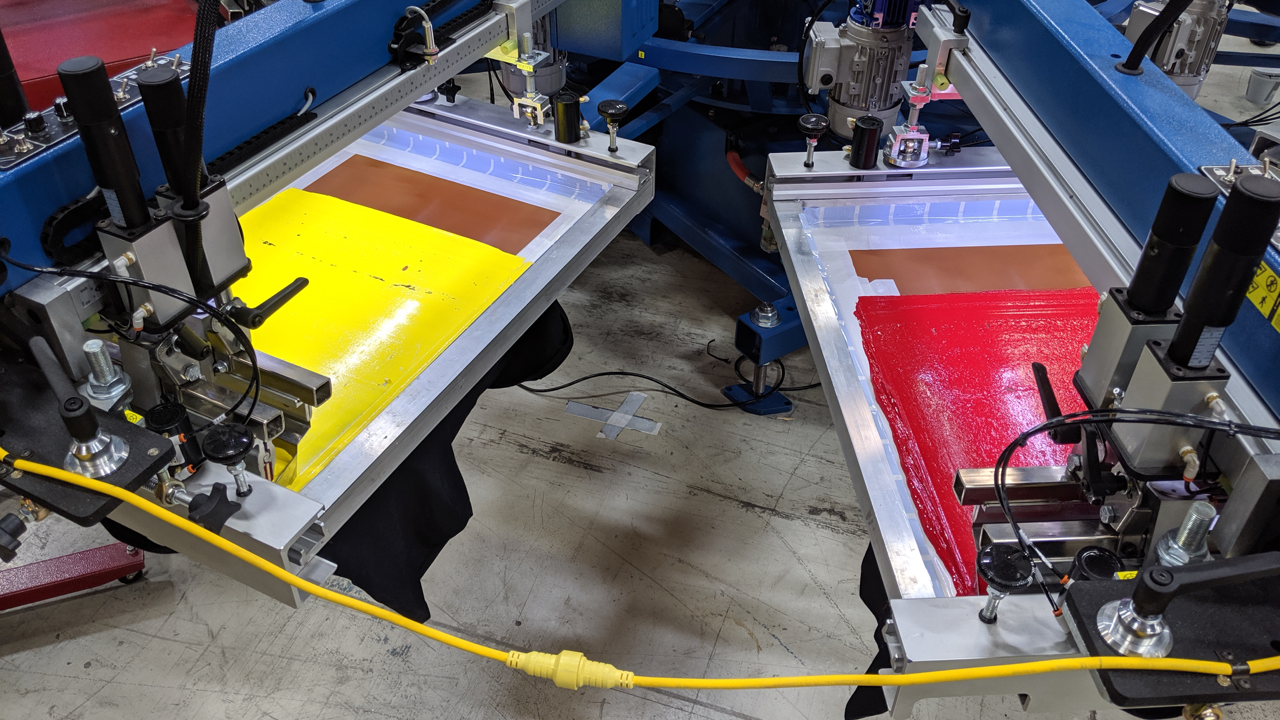 As you can see, there are a lot of options when it comes to purchasing your first screen printing machine.
Each company has different specialties that may or may not be right for your business. We recommend researching these companies further to find the best fit for your shop – reach out to shops that run similar equipment and ask questions about reliability, things they don't like, and anything they would have wanted to know before purchasing the machine.
Maintaining your screen printing press matters a lot. The saying goes:
If you don't schedule maintenance for your press, your press will schedule maintenance for you – and you won't like the time it chooses.
M&R, ROQ, MHM presses are present in most major screen printing facilities in the USA (i.e. 12 or more automatic screen printing presses). That doesn't mean there aren't shops that run Anatol and Workhorse. But we've seen that major operations tend toward the major 3 manufacturers.
The best screen printing press is typically one that can accommodate all of your business' needs but will also allow you to grow. We've heard from countless print shops that they wish they'd bought a slightly larger press with a few more printing stations. Take that advice seriously! Buy something just slightly bigger than you think you'll need so that in five years' time it still suits your business.
Ask five screen printers what the best press is and you'll likely get five different answers. Here are several prominent shops that each use and love different brands of screen printing machines:
Where can I learn to screen print on an automatic screen printing press?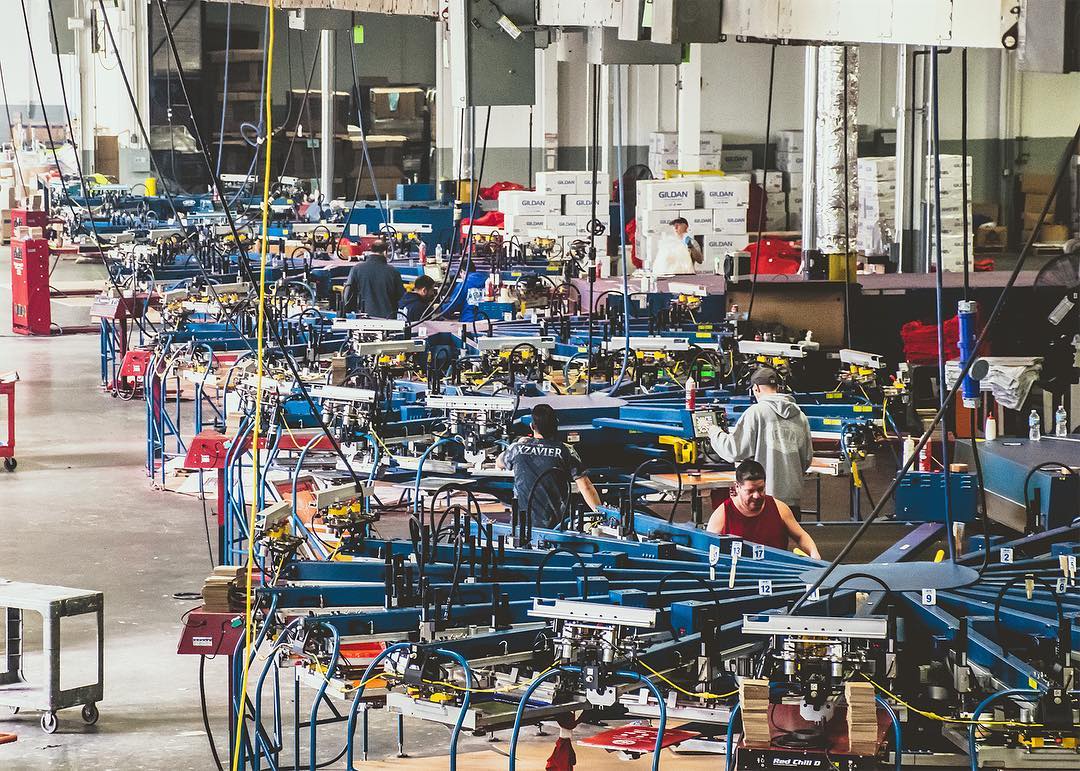 Screen printing is currently an in-demand skill. There are lucrative opportunities for hard-working people that want to learn and are motivated to screen print. Starting your own business is just one way to get there.
Greg Kitson at Mind's Eye Graphics in Decatur, IN offers a variety of hands-on training modules – from beginning with the basics of screen printing to in-depth, machine-specific tutorials and technical training for advanced automation techniques like computer-to-screen printers.
Each manufacturer and press has different procedures, but basic terminology and knowledge of screen printing will help you learn faster. We suggest contacting the manufacturer of your press directly and inquiring about learning opportunities.
M&R commonly hosts educational events at their Chicagoland facility, Ryonet and ROQ hosts classes across the US, and there are dozens of screen printing trade shows where you can learn more. You should also consider reading Scott Fresener's classic book, Printing T-Shirts For Fun and Profit.
Additionally, Printavo has published a book about running a successful screen printing business. We suggest you take a look.
---
Conclusion and summary
Screen printing machines are how screen printers make more money and grow their businesses. These machines are the foundation of an industry that has grown to $9B annually and shows no signs of stopping.
While there are alternatives to screen printing (like DTG printing), we see a strong future for screen printing. Hybrid printing will continue to improve, but the fundamental speed and power of a screen printing machine won't be improved upon in the near future. Screen printers can affordably and quickly print thousands of custom garments.
The major screen printing machine manufacturers are: M&R, ROQ and MHM – with other, smaller, but equally impressive companies doing good work as well.
Screen printing machines cost as little as $1,000 for a manual press, while automatic screen printing machines cost between $30,000 and $80,000 when purchased new. Used equipment offers a steep discount, but slightly more risk. If you're handy, definitely consider buying used.
The best screen printing machine will vary according to who you ask. Typically, screen printers love the brand of press that they run in their shop. Few screen printing shops run more than one type of press, though there are some that do.
Now that you know the basics of screen printing machines, who sells them, and how much they cost, it's time to learn more: