The screen printing process is a mystery to many new screen printers. While the overall process is simple enough, there are lots of details to learn.
Before you dive in and spend thousands on new screen printing equipment, take some time to learn about the process. Screen printing is process oriented – meaning that if something goes wrong, you may have to start over at the first step.
If you're looking to make some quick cash printing shirts, understanding that there's a process you must adhere to will help you hustle harder – with more consistent results for your customers.
Contents
---
What is screen printing?
Screen printing is a widely used printing technique with thousands of applications. Using a mesh screen and a stencil image, screen printers deposit ink on everything from t-shirts to electronics.
A (not too) brief history
Modern screen printing begins in the early 1900s. There is evidence of silk screen techniques being used in China during the Song Dynasty hundreds of years before, though the technique was used for documentation, art, and tapestries more than for garments. The silk trade acted as a limiting factor on the spread of silk screening, since silk was heavily in demand for garments rather than for use in industrial and artistic applications.
Thanks to breakthroughs in chemistry in the 1900s, early screen printers made hardened stencils with light-sensitive emulsions. They would then press ink through this stencil for a variety of purposes, from posters to light industrial applications. A second major technological breakthrough meant that screen printers were no longer limited by silk: nylon mesh was developed by Du Pont Chemical in 1939. Nylon mesh becomes the standard for mesh screens used in screen printing within a few short decades.
T-shirt screen printing is rumored to have began by soldiers in the US Army and Navy. The crew-neck t-shirt was developed as a common undergarment for soldiers during the second World War, and the armed services used screen printing to print on garments and materials (think of the common "ARMY" shirt). Some soldiers reportedly learned screen printing vis-a-vis their experiences in the armed services and used screen printing afterward to start businesses.
Andy Warhol popularized screen printing as a pop-art medium in the 1960s. His famous prints of soup cans, Marilyn Monroe and other iconic images boosted the profile of screen printing as an artist's medium. Rapid development in the material and scientific front followed in the next decades, and by the 1970s there was a robust market for multicolor screen prints. A globalized trade for cotton, ink, and other raw materials used in screen printing developed quickly.
Throughout the 1980s and 1990s, screen printed t-shirts became a commonplace consumer good. Millions upon millions of t-shirts are printed and sold, and robust multicolor screen printing techniques are developed. By the 2000s, advanced screen printing technology was commonplace in screen printing shops of all sizes. The industry captured billions in sales, with consumer merchandise maintaining growth throughout multiple recessions.
By 2021, screen printing has blossomed into a large umbrella of services. Screen print shops do much more than print t-shirts. Screen printers typically dabble in multiple decoration techniques, mastering embroidery and DTG printing alongside screen printing – or outsourcing work to a robust network of contract printers throughout the world. At the highest level, screen print shops are actually tech companies: they have mastered software, hardware, and web services to provide their customers with seamless and custom online experiences.
Screen printing timeline
960-1279 AD

Chinese artisans develop silk screen printing
Silk screening is known in Asia but neglected in Europe

1910s

Photo imaged stencils (light sensitive emulsions) are developed

1939

Nylon is invented by Du Pont, the building block for modern screen mesh thread

1940
1950s

Post-war boom enables a robust supply chain for materials for modern garments and fuels consumer demand

1960
1962
1970s

Mark Coudray and other technical screen printers develop powerful techniques for printing lifelike colors, including Coudray's iconic Nocona prints
Early screen printing industry develops
Screen printed t-shirts become commonplace

1980s
1990s

Simulated process screen printing becomes commonplace, with colorful t-shirts and designs becoming standard
Screen printed t-shirts become a massive market
Computer-aided printing software like Adobe and Corel become standard
Digital printing emerges

2000s

Ryonet formed by Ryan Moor (wholesaler and industry leader)
Cost of entry to screen printing lowers, entrepreneurial market forms in the US
Advanced separation and imaging software make colorful and photo-real screen prints fast and easy, even for novice screen printers

2010s

Digital printing captures progressively larger marketshare
Digital screen printing marketplaces like Custom Ink balloon in size and scale

2020s

Online e-commerce becomes standard
Website-to-press automation becomes possible, even for smaller businesses
Pros and cons of screen printing
What are the pros and cons of screen printing? We'll explain.
Pros
There are many upsides to screen printing, but four major pros stick out: it's entrepreneurial, it's great for printing in large quantities, it can be done at home, and it's super easy to sell online. You can, with determination, pick up screen printing and create your own small business in just a few months.
Entrepreneurial
Screen printing is a highly entrepreneurial industry. This means that no single company has a stranglehold on the market, despite there being some large players.
Thousands of entrepreneurs use screen printing to build brands, market companies, and make money on the side. This entrepreneurial market means that there's a thriving and creative culture around screen printing.
Since screen printing is just printing something on a t-shirt (or really any other type of item), there are practically limitless applications. People will always want custom clothing, mugs, merchandise and more.
Affordable for large quantities
Screen printing is the ideal way to mass produce almost any type of printed garment or merchandise.
Once a screen printer gets going, they can typically print 100+ items per hour by hand on a manual press and 300-700 per hour if they have an automatic screen printing press.
This means that screen printing is an affordable way to produce large quantities of t-shirts and other apparel with custom designs.
Simple enough to do at home
Screen printers are famous for starting in their garage at home. This holds true today!
That's because a basic screen printing setup is achievable with very little investment, space, and expertise.
It's not unreasonable to imagine you could spend a single weekend on YouTube and learn the fundamentals of screen printing.
Easy to sell online
Online stores are simple to make and navigate, and people expect them.
T-shirts and other merchandise are fundamentally perfect for online stores: they ship well, are affordable, and last for a long time.
This make screen printing the perfect partner to anyone that wants to sell something online.
Cons
Screen printing isn't easy, though. It's expensive if you only want to print a few shirts. It's a crowded market, so there's a lot of competition. The process, as well, is a challenging one with lots of variables that you'll have to master. And it may have a negative environmental impact.
Expensive in small quantities
While screen printing can be done in your home, that doesn't mean it's cost effective to print one or two shirts.
A single shirt with a custom screen print from a print shop is probably almost impossible to afford. The screen printing prices don't make sense unless someone orders a certain quantity or more.
Why? Because the process is so intensive! Read on to find out why.
Highly competitive
There are lots of screen print shops. The old adage in the business is that there's always someone that can do it cheaper or faster.
This means there's a ton of competition. Not just on prices, but on service!
Challenging process
Screen printing is not easy. As you'll soon learn, there are a lot of screen printing variables that you'll have to learn to control.
Bad for the environment?
Is screen printing bad for the environment? It seems that the textile industry is responsible for a large amount of waste and pollution.
Screen printing also uses a lot of energy, water, and chemicals during its process. From emulsion to ink, most print shops may have a hard time quantifying their environmental impact.
Whether the benefits outweigh any risk is your judgment to make.
What can you do with screen printing?
Screen printing is wildly versatile. From t-shirts (likely the most common application) to things like electronic circuitry, screen printing is a multi-faceted industry that ranges from garages to super high-tech applications.
T-shirts
Virtually everyone on the planet has a screen printed t-shirt.
They're one of the most common consumer goods, and exist for practically every type of group you can imagine.
T-shirt screen printing is a huge industry, generating billions of dollars in sales annually and employing millions worldwide.
Sweatshirts and fleece
Hoodies, sweatshirts, and other fleece garments are hugely popular.
Screen printing adds significant value to blank garments, and high-end fleece garments command a serious premium.
Hats
Yes, you can screen print on hats. Though it's more common to use screen printed transfers, you can actually print directly onto hats.
Most decorated hats are embroidered, but you'll still see plenty of screen printed hats if you look closely.
Posters
Screen printing on "flat stock" is a time-honored tradition. While digital printing has eclipsed screen printing for things like billboards, the poster market enjoys significant collector attention.
Posters for everything from government agencies to concerts are widely collected, though fewer and fewer print shops offer this service.
Electronics
Screen printing is used to print on everything from complex circuitry to the actual circuits themselves.
Yes, you read that right, you can screen print circuitry! This works by literally printing conductive materials onto computer chips.
Since screen printing can maintain an extremely high resolution, it's often ideal for very small-scale applications. The machines used for this kind of application are highly specialized.
Skateboards
Screen printed skateboards are still a major commodity.
While many boards are digitally printed, others are printed the "old-fashioned" way with a specialized screen and process designed specifically for the curvature of a skateboard and its wooden surface.
…and more
Screen printing isn't limited to these categories. You've probably seen screen printed:
Mugs
Boxes
Bags
Signs
Packaging
Stickers
Keychains
License plates
Windows
and virtually anything else that you can imagine seeing ink on!
Screen printing techniques
There are simply too many variables in screen printing for us to cover here!
From inks to comparing cotton to polyester,
Screen printing software
For an analog process, the business of screen printing requires a surprising amount of software. 
Shop management
Printavo is a one-stop solution for managing the most important parts of a screen printing business. It's the print industry's leading screen printing software. From scheduling to invoicing to online stores, Printavo is custom-tailored to the screen printing industry – whether your shop has 100 employees or just one.
Click here to try Printavo for free.
Art
Adobe Illustrator and Corel Draw are the industry's two standard-bearers for producing awesome screen printing designs.
You'll want a firm grasp on vector vs. raster images so you can really make prints that pop.
More software
We've written extensively about screen printing software here, listing and explaining more than 30 pieces of software that handle everything from taxes to artwork (and the difference between vector and raster!).
How does the screen printing process work?
Screen printing is process-driven work. There are three distinct phases to screen printing, and it's vital to understand the holistic nature of the process.
If you make an error in one step while screen printing, it's likely you will have to start over from the beginning.
Pre-press
Before a t-shirt is ever screen printed, a lot of administrative work happens behind the scenes.
Usually, a customer orders custom t-shirts (either as a retailer or on behalf of a group) and has to negotiate several aspects of the order with the screen printer through the print shop's sales team. In the newer print shop model, customers may order individually or in bulk through the print shop's website.
The pre-press process involves everything that happens before ink ever touches the shirt. In our experience with thousands of print shops, the majority of time and energy in a screen printing business is spent in the pre-press phase!
On-press
This is the actual phase when a screen printer prints the apparel or merchandise.
While it seems the bulk of our focus as screen printers is often on this part of screen printing, it's invariably just a portion of what it means to be a screen printer.
Post-press
Many screen printers struggle with the follow-through. Once a product is printed, it has to be shipped or delivered – an easy step to neglect.
But there are other activities that happen after the job is done. Everything from documenting the job, marketing it, getting a review from the customer, and then re-marketing to the customer so they're incenvitized to come back.
The post-press area is where many screen printing businesses flounder: they're competent printers, but they forget that the job doesn't end once the shirt is shipped.
Preparation is key to screen printing
The most important part of the screen printing process is preparation.
You will hear this time and time again from industry professionals: great prints start with a great pre-press process!
Pre-press preparation and organization is the key to successful growth in screen printing.
The typical pre-press process doesn't begin when a screen printer arrives at their shop and starts putting ink onto a screen.
We're going to spend a lot of time on the details and edge-cases during the pre-press process. We can't overemphasize how important this entire section is to your success. The smoother, faster, and easier your pre-press process, the better your business can become.
Step 1: Sales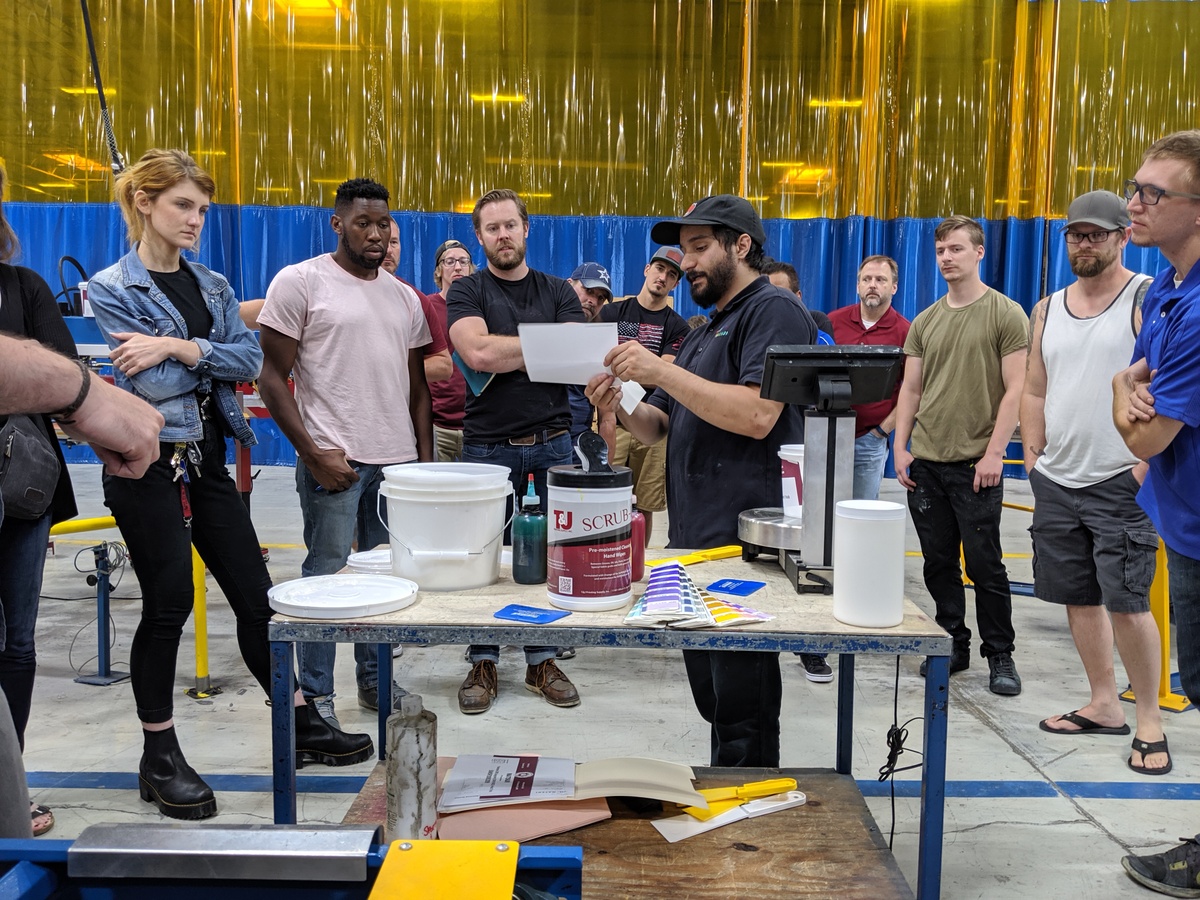 So screen printing doesn't begin with ink or shirts. No, the screen printing process begins with sales.
We've written extensively about screen printing sales. Each and every shop has their own methods for getting sales, and each salesperson typically has their own unique style for attaining sales.
But what does it mean to make sales part of your screen printing process?
You must sell profitable orders that your shop can print on time and up to the customer's expectations. Nailing your screen printing prices isn't as important as you think. It's more important to provide a lot of value to your customers. More on that in a moment.
If you sell a screen printing job you can't actually print, what should you do?
Maybe you can find a contract printer to take it on – but if you're new or don't have contract printer connections, you need to take your shop's ability into account while you are selling. In other words, don't sell jobs you can't actually print unless you know a good printer that will help you out!
As a rule of thumb, you should sell screen printing orders that are:
Larger than 24 pieces (so it's worth your time to print!)

Easier to print, with fewer colors (so your quality is high and costs are low)

Easy to meet deadlines for (so you aren't waiting on shirts that are backordered)
Most print shops choose two to five niches that they capitalize on, and that's how they provide real value to their customers.
For example, some prints shops focus exclusively on printing highly detailed images of cars for car enthusiasts and auto shows. They provide value by knowing the right cars to feature, the right people to market to, and the right way to print these demanding images.
Some only print high-visibility merchandise for government agencies. They provide value by understanding the inks that work best with high-vis, and they even understand the legal requirements that their garments might have to meet. They know the local Department of Transportation real well!
And still other screen printers are dedicated entirely to band merchandise for music tours. They know which bands to target, what products to offer, and what kinds of things actually work when you're selling merchandise.
The point is that you should nail your niche to get more sales and make the process easier. Industry expert Mark Coudray told us at PrintHustlers Conf: "The riches are in the niches!"
Note: we've written extensively about how to get more sales for screen printing.
Step 2: Quote and artwork approval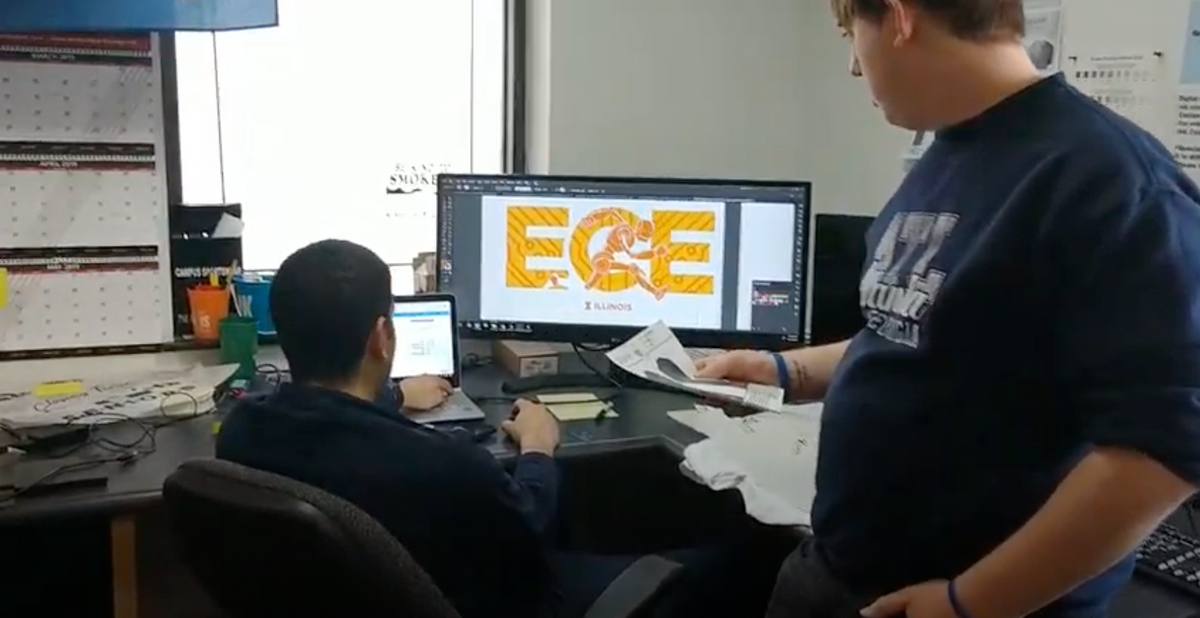 One of the trickiest parts of the screen printing process is the Quote and artwork approval process. 
Did you ever think about this? Your customer needs to approve – in detail! – every part of the project you're working with them on. After all, it's a totally custom project!
More importantly, we've discovered that print shops typically have thousands of dollars in outstanding orders that are stuck. They're just quotes that never got approved!
You've sold the job, agreed on the numbers, but still need to get the green light from your customer that every single detail is correct. So nail that process as a screen printer and you'll make more money, faster.
Without complete approval, you're gambling with your business: what if the customer wanted a change, something was misspelled, or they want more shirts at the last minute? 
Your approvals process should give you time to plan the job appropriately! You need to account for approvals in your turnaround time: if a customer wants something in 5 days, is that actually enough time to print the order…and go through approvals for quotes, art, and more?
We recommend that you implement some kind of well-documented system to help you track and organize your quote and artwork approvals.
Note: Printavo's screen printing management software has a powerful automated system for staying on top of your Quotes and Artwork approvals.
Step 3: Choosing the right garments and inks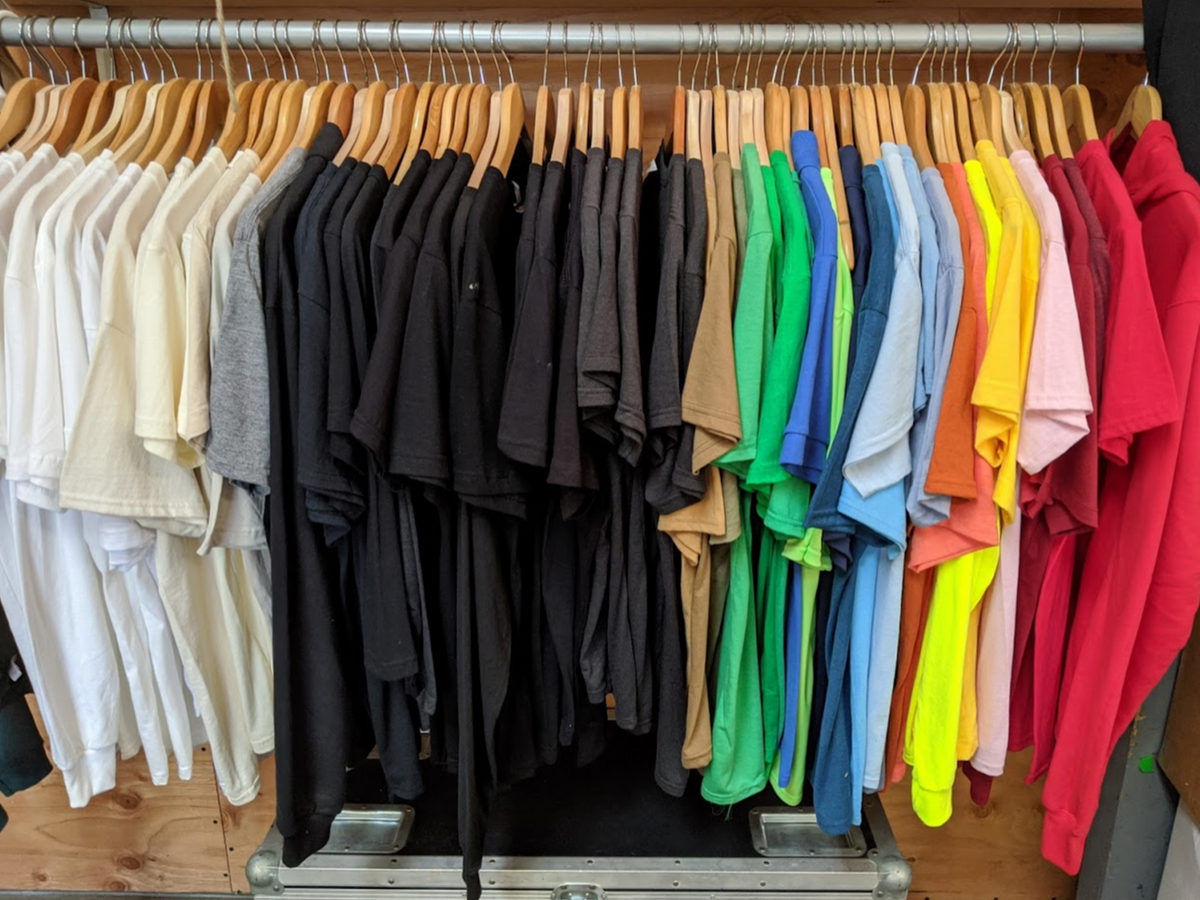 Once your quote and artwork have been accepted by the customer, you have to figure out the puzzle: how do you actually make this design and print come to life? 
There are virtually unlimited combinations of garments, inks, and printing processes in screen printing.
Hopefully you're not planning to use pink ink on a black shirt without using an underbase – you do know what an underbase is, right?
Are you printing plastisol on cotton, keeping it super easy or simple? Or are you going to use water based inks alongside a discharge underbase to make the print feel like the t-shirt? Maybe you're trying to figure out how to get a softer screen print?
You must understand screen printing ink and how it interacts with fabrics to nail this step.
Or, keep it simple and just offer limited options to your customers. Good, better, best is a simple and classic way to organize the merchandise quality you offer. 
Weird fact: many people consider the most affordable mass-produced t-shirts (thick, heavy cotton tees) to be the "highest quality" shirts.
Step 4: Ordering wholesale t-shirts and garments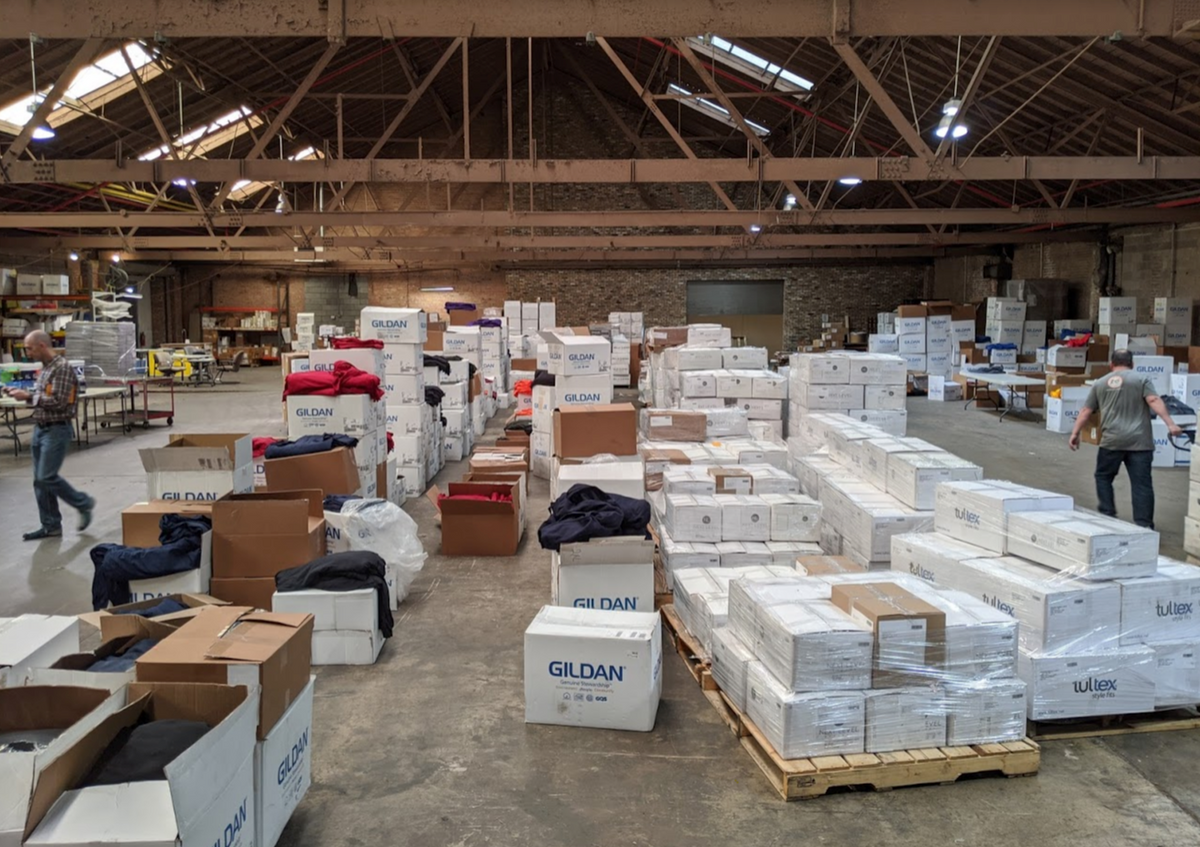 The odds are good you don't have the right garments on hand, unless you keep a lot of inventory on hand. Most screen printers in the US don't keep large amounts of inventory (though the shop pictured above is an obvious exception – they print thousands of shirts a day).
So, if you're like most screen printers, you'll order apparel through a wholesaler.
The major garment suppliers in the US are:
Each garment wholesaler specializes in different areas: SanMar offers exclusive lines like Nike, Carhartt and more, alphabroder has a truly giant inventory, S&S Activewear is known for speed and consistently, and TSC Apparel provides some of the best athletic apparel. 
"SanMar was founded by my father, a decorator. SanMar started because he got a big screen printing order for the Seattle Supersonics and had to order a bunch of t-shirts for it." – Jeremy Lott from SanMar
It's great to have a working relationship with these wholesalers. They're supportive and know how important it is to maintain a close connection to screen printers. 
You can learn how to order t-shirts from wholesale vendors quickly: they're eager for business!
Note: each wholesaler listed here is integrated directly into Printavo, making quoting and sales a super seamless process. Just punch in the item you're looking for by name and you'll have quick access to pricing and more.
Be sure to proactively plan your wholesale shipments: it may take 3-5 business days just to receive certain merchandise.
Step 5: Intake and internal communication about the order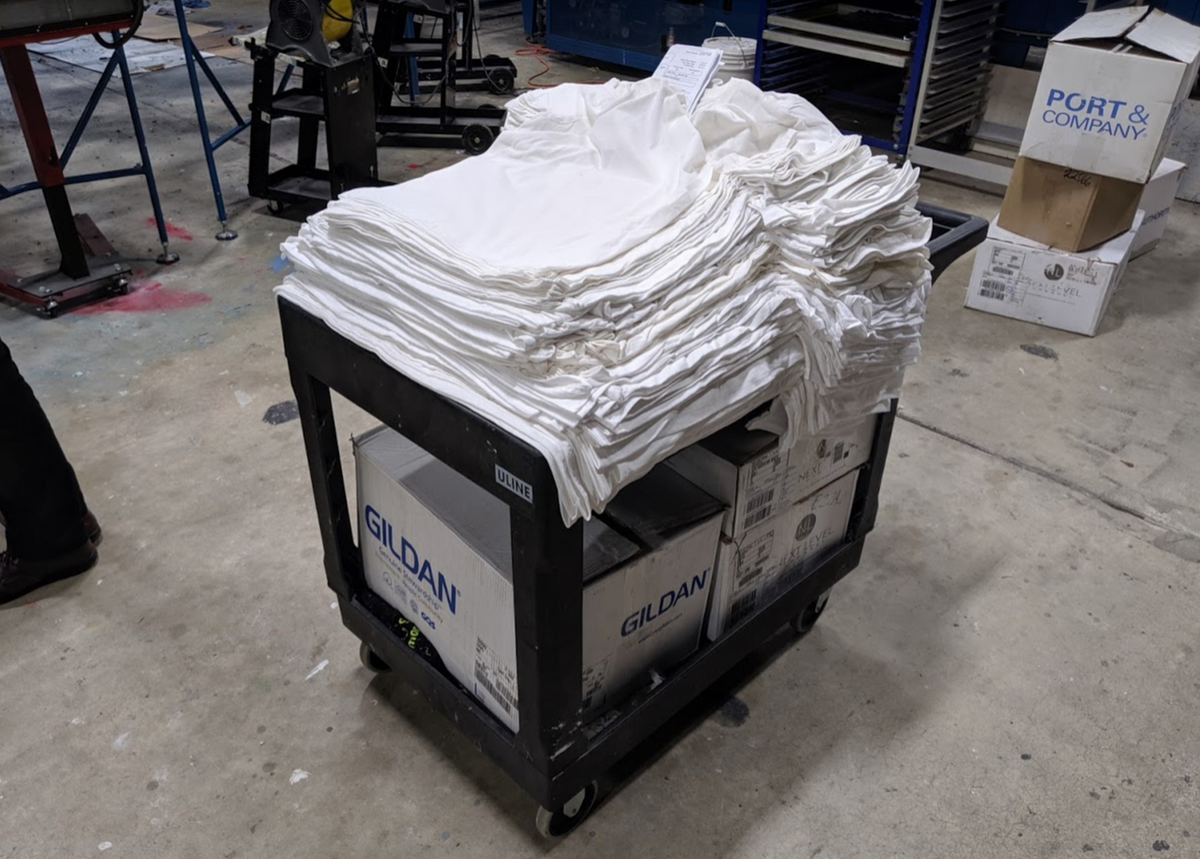 You've sold the order, got the goods, and are so close to printing that you can taste it.
But don't rush through this next step: it's crucial!
Order intake is part of your sales process, yes – it's the details you take from the customer to get specific information about the customer and what they need.
But this step is also the process you use to receive garments and "stage" orders when they arrive at your shop.
Most shops use a combination of wheeled carts or bins to control the flow of t-shirts. It's best to have a clear system in place for receiving that ensures your team isn't losing garments, misplacing items, or otherwise disrupting the smooth flow of an order through your shop.
This same process is part-and-parcel of the internal communication process in your shop. We think the way Printavo handles this process is incredibly smooth, so we want to share it. 
Once a Quote has been approved, the order is moved to a custom job status in Printavo called ORDER INTAKE – GOODS INCOMING.
Everyone in the shop can always see what status jobs are in, so anyone that visits that job knows what's happening with it. Changing the status can send a notification via text or email as well.
Usually, the intake department will then handle the order.
Once they've got the goods counted in and ready to print, they'll change the job to a status like GOODS READY – PREPARE SCREENS. Then, the next department – the screen room – takes control of the job.
Step 6: Making screens for screen printing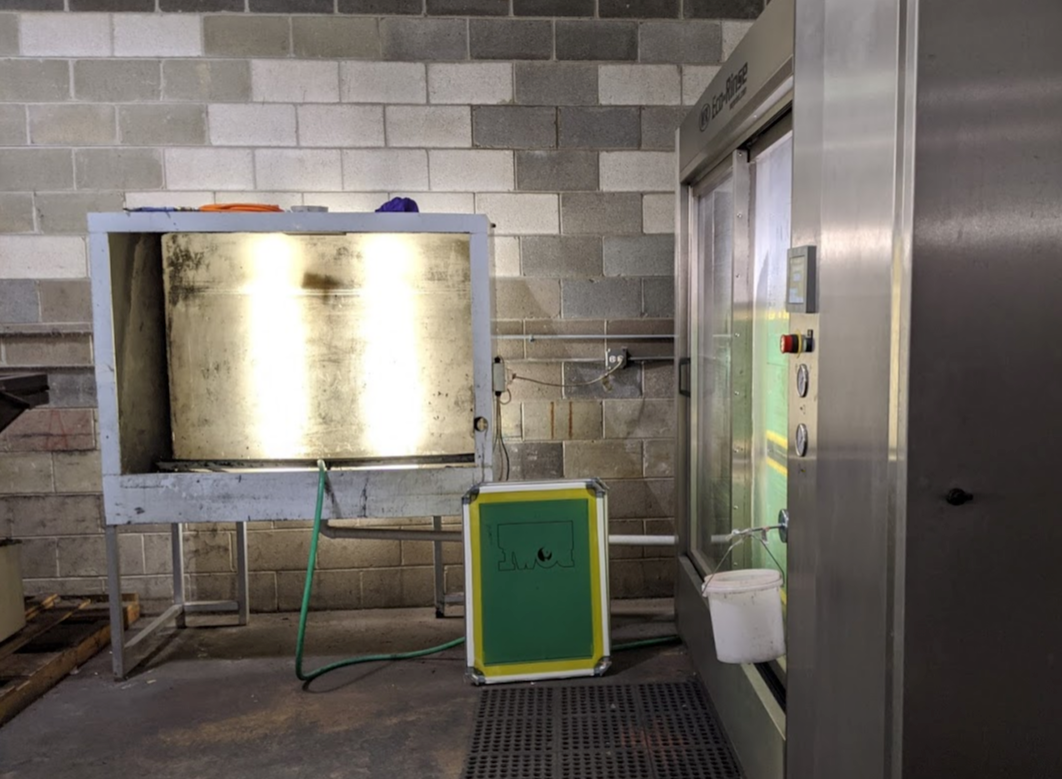 Once everyone in your shop is on the same page about the order, and your customer has confirmed the Quote and approved the artwork…it's time to make (or more accurately: image) your screens.
If there's one technical skill to master as a screen printer, it's everything that goes into making great screens.
From emulsion to exposure, you want to have the best possible understanding of the basics of making screens if you want to be a great screen printer.
Here's the basic process for making screens for screen printing:
Ensure your screens are clean and free of emulsion, inks, debris, and tears.

Good, clean screens are a must. Use a quality screen cleaner to clean your screens each and every time you print. Ideally, you use a tension measuring device to ensure your screens are the correct tension each time they are reclaimed.

Coat your screens with emulsion.

Apply a thin, even layer of emulsion on both sides of the screen with a scoop coater. 

What is "emulsion" for screen printing? It's a light-sensitive chemical designed to harden when exposed to light.

Let the screen dry.

Emulsion takes some time to dry. We suggest using a dust-free area, such as a cabinet or container – and keeping it away from any dirty areas in your shop, including your washout booth.

Image the screen.

Typically, screen printers use transparent films printed by an Epson inkjet printer to image their screens. You'll line up your transparencies, then expose your screens to a powerful light (your exposure unit).

What does "imaging" mean? This will harden all of the emulsion

except the emulsion hidden from light by the ink on the transparent film.

Think of this like creating a "stencil" for your ink to pass through.

Wash the screen out.

You use water to rinse out emulsion that wasn't hardened by the exposure unit. Typically, shops also check to ensure that they've achieved a high-quality stencil image at this time – all edges, details, and important features are preserved. The screen is then dried or wiped down again at this point.

Set the screens up (register the screens).

Screens for one-color jobs are simply aligned with the platen on the screen printing press. Screens for multiple color jobs must be registered correctly  – meaning that all of the screens align precisely with each other. How long does it take to register screens? Registration can be a time-consuming and challenging process, taking anywhere from 10 minutes to an hour or more for a complicated screen printing job. Most shops stage their screens for each job while a press operator is responsible for setting up and breaking down their own screens.

Print.

Finally! Screens can be used and reused as long as the emulsion doesn't break down or the screen doesn't fail – some shops even keep screens for their most common designs and logos on hand.

Clean and reclaim the screens.

Screens are used and re-used, so a used screen goes through a simple process to "reclaim" it. Ink is removed, the screen is soaked in a chemical to help remove the hardened emulsion, then a pressure washer is used to remove all emulsion from the screen. Many shops use additional chemicals (such as degreasers and dehazers) to keep their screens pristine.
The screen process is, if you didn't notice, a loop. Screens travel through this process over and over until they're worn out, lose tension, or break.
But, no matter how you image your screens (or the exact process your shop uses to make screens), your screens are the single most important operational detail relating to quality. Great print shops know how to make great screens, full stop.
Curious about the cutting edge of screen printing technology? Check out our guide to CTS and DTS machines for screen printing.
Step 7: Printing on press…where the action happens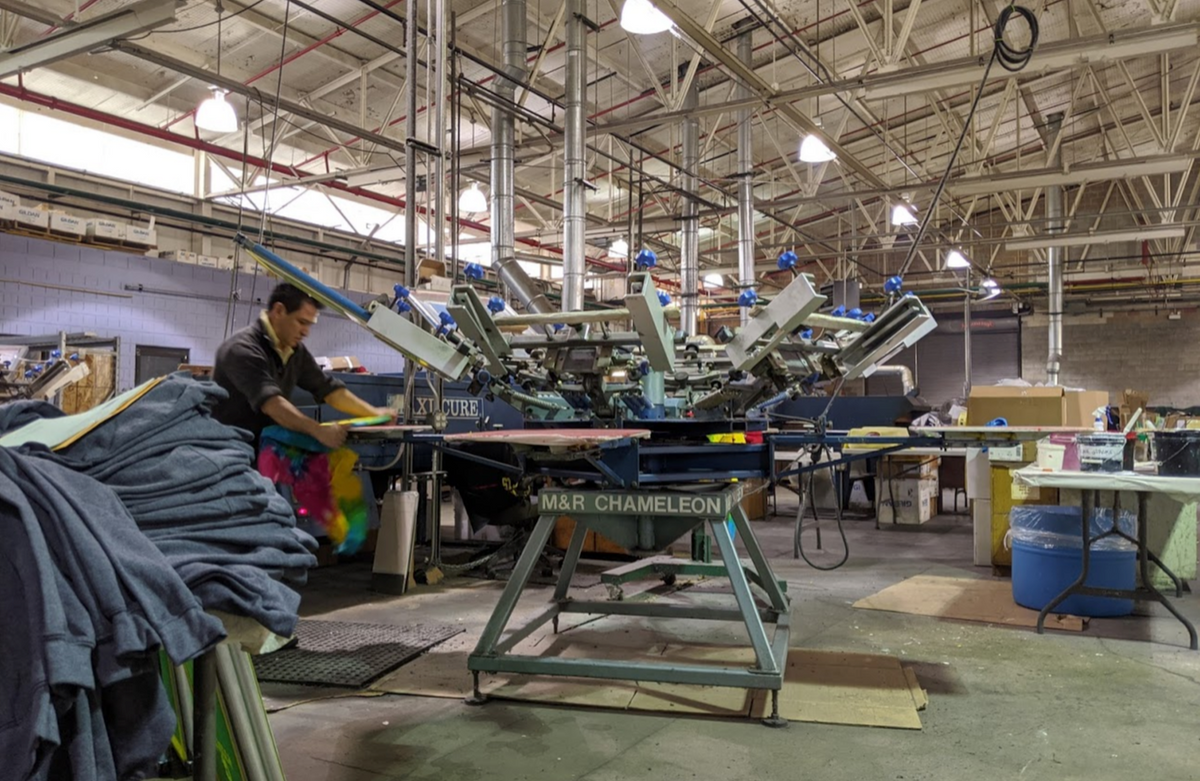 While it's exciting to print t-shirts, your actual on-press time is a sliver of your business.  Preparation is everything in screen printing.
It's not unusual for the administration (read: the order intake, quote approval, art approvals and revisions) and preparation (the pre-press process) for a screen printing order to take longer than the actual printing. Think about it: a 250 piece order might take 5 hours of time to agree on – but only an hour or two to actually print.
Screen printing is about much more than dragging a squeegee across a screen: it's a process and the actual printing is just a small part of that process. Get one piece of the screen printing process wrong and you'll likely have to start over from the first step.
There aren't many businesses that have such a process-intensive product – so treat the screen printing process with respect!
Most screen printers follow a process like this while printing:
Press operator stages the t-shirts and supplies.

They may or may not receive the t-shirts they will print. Typically, they'll use a printed Work Order or an on-press tablet to confirm details of the job. Inks, squeegees, spray tack, t-squares, and other tools are retrieved as needed. This may or may not fall under your pre-press process – in a large, automated shop, the press operator is typically handed everything they need to print the job and never leaves the press. In a smaller shop, the press operator may do many jobs!

The t-shirts are printed – the press operator loads, prints, and unloads the shirts.

Load t-shirts onto the platen, ensuring they're centered every time. Use spray tack to keep your platen sticky so the shirt doesn't move while you print it. You (hopefully) pull your squeegee across the ink, versus pushing it. Unload t-shirts and send them through your curing dryer immediately.

The ink on the t-shirts is cured.

Depending on the type of ink you use, you will have to cure your ink. Water based inks take about 3x longer to cure than traditional plastisol inks! Most plastisol inks need to reach an internal temperature for a set amount of time – be sure to carefully read the details of any ink you use. If you don't cure your inks correctly, the prints will wash out – and your customers will be upset.
Step 8: Quality assurance, shipping, and beyond!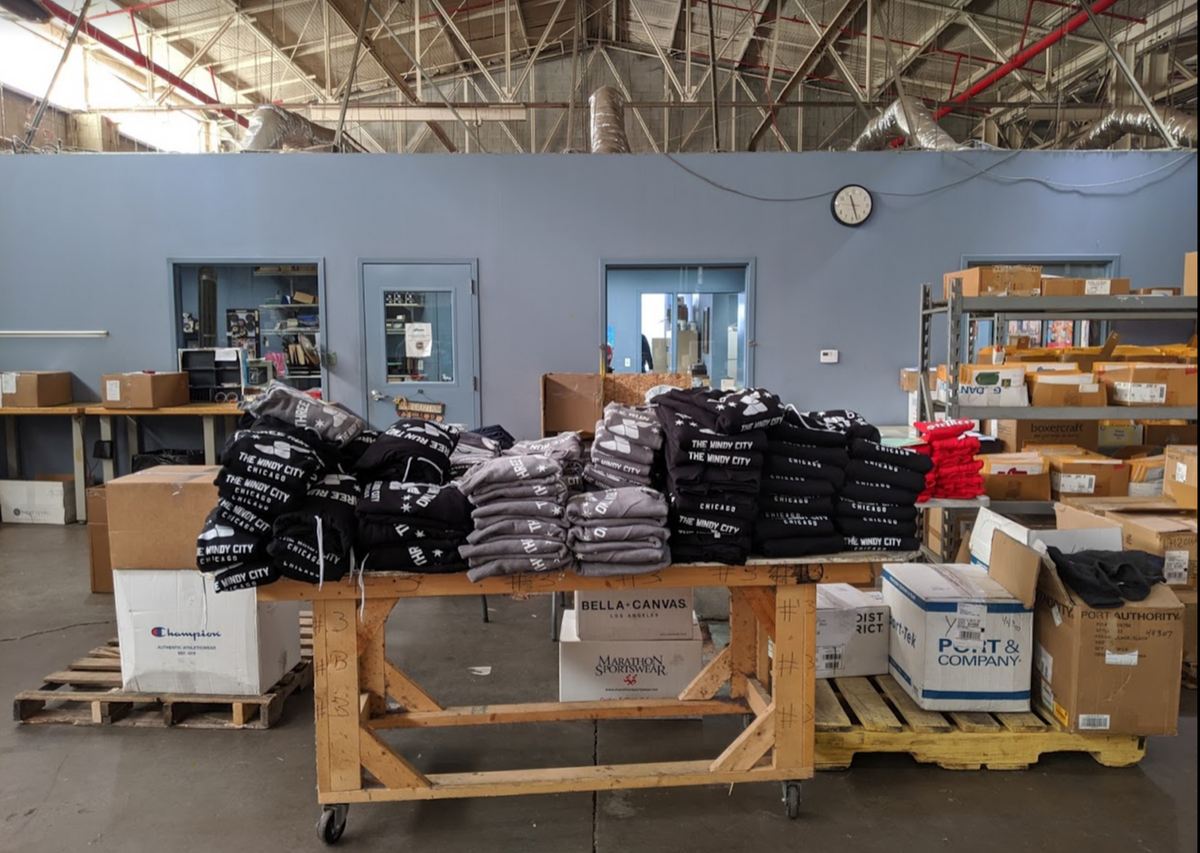 We've meticulously prepared our order, done the hard work of printing it, and now we must do three crucial things that every screen printing business should do:
Assure quality through a QA (quality assurance) process.

Most larger shops have a person dedicated to checking each and every t-shirt after it is printed and cured. This role is often called the "catcher." This person is the first line of defense again spoilage and misprints – so they're very important!

Package and ship.

Whether you bag-and-tag, ship straight through polymailers, let customers pick up, or deliver directly – you must ensure every product gets to every customer accurately.

Always include a postcard, sticker, or other Thank You goodie with every product you sell – this increases retention and makes it more likely the customer will mention you positively on social media.

Follow up and get a review.

Bad reviews on Google, Yelp, and social media will kill your business! You should

seriously

consider building a way to get reviews. Always ask for reviews – whether it's in a follow-up email, phone call, postcard, or social media post. You can STOP bad reviews by asking people to contact you if there's a problem with their order.
Conclusion: Process first (if you want to succeed at screen printing)
The biggest and most important insight we can leave you with is this: screen printing is a process.
While you are making a product, the real product of any screen print shop is actually its process. Each job is custom, unique, and totally different – so what stays the same is the processes underlying each job. 
Good preparation is essential to good screen printing.
There is not a successful screen print shop that ignores the process and leaves it to chance in the entire world.
Screen printing and process-first thinking go together like bread and butter.
The three-phase process you should focus on involves pre-press activities (where you should and will spend the majority of your business' time), on-press printing (often just a fraction of the revenue-generating time in your business), and finally post-production follow-ups (to build and maintain customer relationships, get reviews, and keep your business in good standing). 
Getting just 1% better every day is the goal. What can you do today to learn, improve, or develop your process?
Need help with your screen printing process? Look no further than the Customer Success team at Printavo. Industry professionals that can help you discover new efficiencies and chart a path to a sustainable process in your shop – whenever you need them. Join Printavo's screen printing management software and get access to this incredible resource at no additional cost.